Celtics-Hawks Game Preview
By Chris Forsberg
ESPNBoston.com

Don't expect a repeat: Sure, the Celtics put a 23-point thumping on Atlanta when the teams met in November and, yes, it came on the tail end of a back-to-back. But Boston expended a lot of energy Wednesday in New York and won't have the motivation that a head-shaking loss in Toronto provided before the first meeting with Atlanta. This could be a night the Celtics desperately need their bench players to provide a spark if the starters come out of the gates sluggish, especially after Doc Rivers leaned on a tight eight-man rotation Wednesday.
No Rondo: Of course, the Celtics might have to use their entire roster out of necessity. VP of basketball operations Danny Ainge told Boston radio station WEEI on Thursday that Rajon Rondo will miss a couple of weeks because of a sprained left ankle suffered in the fourth quarter against the Knicks. That means Nate Robinson could be thrust back into the starting lineup -- a starting lineup that already features rookie Semih Erden pinch-hitting at center with Shaquille O'Neal, Jermaine O'Neal and Kendrick Perkins all sidelined.
No Joe, no Jamal either: The Celtics do catch a break as both Jamal Crawford (Atlanta's sixth man who slayed Boston last season) and Joe Johnson won't suit up for the Hawks. Still, winners of eight of their last 11, the Hawks will get no sympathy from Boston, especially with Atlanta having enjoyed three of the last four days off (the Hawks lost in Detroit on Tuesday).
What's A Few Tenths Among Friends?
By Henry Abbott
TrueHoop

Pierce
Here's where we encounter two long-term concerns about NBA crunch time.
The first is that replay can only be used when there are certain triggers, for instance to determine if a shot was a 2 or a 3, or if a player was fouled. Paul Pierce hitting a jumper is no reason for the referees to huddle on the sideline and tinker with the clock. To me, every fan at home can review that play, and I can't imagine why the NBA would want the referees to be in the minority of those who, with the game on the line, don't know what really happened.
A bigger concern is that even while Matt Moore shows the clock was slow to stop in a crucial moment, the scoreboard operator nevertheless behaved perfectly.
NBA SCOREBOARD
POSTSEASON
TOP PERFORMERS
- 06/08/18
Rondo Out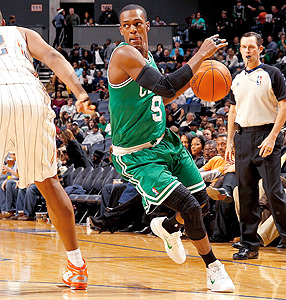 Nathaniel S. Butler/NBAE/Getty Images
Celtics VP of basketball operations Danny Ainge said Thursday that point guard Rajon Rondo will be out "a couple of weeks" after spraining his left ankle Wednesday night against the Knicks.
Future Power Rankings
By Chad Ford and John Hollinger
ESPN.com

The Spurs continue to be the most resilient team in the league. For years we've been expecting some sort of slippage on the court, but the team continues to perform at an elite level season after season.
But it can't last forever. Tim Duncan, Manu Ginobili, Antonio McDyess and Richard Jefferson, all at least 30 years old, can't keep going at this pace, and Tony Parker (28) is the only proven veteran in his prime.
The good news is that the Spurs have slowly been injecting some youth into the program, as George Hill (24), DeJuan Blair (21) and Tiago Splitter (25) all appear to have bright futures.
Given the Spurs' stellar management, we think they'll continue to find ways to keep themselves in contention. Despite the occasional misfire (e.g., trading Luis Scola, drafting Ian Mahinmi), the Spurs' brainpower and spending power make it hard to be too pessimistic about their future.
To read the entire column, click here.