Who Has To Step Up For Boston?
Weathering The Storm
By Chris Forsberg
ESPNBoston.com

Garnett
The loss of Kevin Garnett will certainly hurt the Celtics in the short term; they'll particularly miss his quarterbacking skills on defense. The numbers drive this home: The Celtics are plus-14.4 in point differential per 48 minutes when Garnett is on the court this season; they're minus-3.7 when he's not. Offensively, Boston's field goal percentage goes from 51.8 percent with Garnett to 46.9 without him.
The Celtics, however, have weathered storms without Garnett before. They've played 49 regular-season games without him during the new Big Three era, maintaining a .673 winning percentage during that time. But as coach Doc Rivers noted after Wednesday's game, Garnett isn't the only one absent this time around.
"Usually without Kevin, we have everyone else," Rivers said. "As Paul [Pierce] said, 'How many more can we take?' If Kevin misses games, we're without Kevin, [Rajon] Rondo, [Kendrick Perkins], Delonte [West]. The list is getting really long. I don't think anyone will feel bad for us."
Boston is likely to use Glen Davis in the starting lineup (even if the Celtics would prefer to keep him in the sixth man role he's thrived in this season). Boston brought in the O'Neal brothers (as Rivers likes to call them) -- Shaquille and Jermaine -- to bolster the frontcourt. In fact, Boston is so comfortable with its depth there (even with rookie center Semih Erden battling a stomach bug that forced him to miss all three games on the holiday road trip) that GM Danny Ainge said he's more worried about Boston's backcourt.
To read the entire column, click here
Kevin Love Is Proving You Wrong
By Ric Bucher
ESPN The Magazine

Love
Over a lunchtime salad and meticulously reassembled BLT, Kevin Love explained how someone with below-average hops and average wing span can Dyson more missed shots than high flyers like Howard and Blake Griffin or "Inspector Gadget"-armed opponents like Zach Randolph or Marcus Camby.
It starts with assets a little harder to identify. Like the ability to read the speed and trajectory of a ball and predict where it will land after it hits the rim. There's no way to quantifiably show that Love is one of the best at it, but he clearly is. Sure, he's studied his teammates enough to know a missed shot by Darko Milicic generally drops off the front rim while Michael Beasley's misses carom off the back rim or skip long, but he's never created a catalogue in his head of opponents' shots and where they typically go, as Dennis Rodman allegedly did. That would be too rigid. Love allows for the awkward bounce and plans accordingly.
"There's just something I have in my head of knowing what direction the ball is going," he said. "I go to the median area. So if it goes long, I'm there, but if it takes an awkward bounce, I can still get to it."
Love also has a deep reservoir of pride. He's too cool to squawk when anyone suggests he's not athletic -- his dad being the brother of Beach Boy Mike Love might have something to do with that -- but he'll let you know at some point he disagrees. His athleticism just comes in a different form. It's in his massive, nimble hands that never give a rebound up once he has it. But don't think he's not strong because he doesn't have chiseled arms. His real strength is down below, where his massive calves, powerful hips and a 37-inch waist keep longer, leaner opponents out of the space he expects the ball to land.
To read the entire column, click here
NBA SCOREBOARD
REGULAR SEASON
TOP PERFORMERS
- 11/30/21
Point Perfect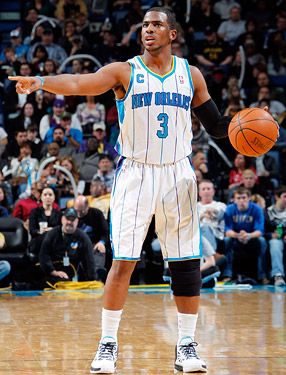 Layne Murdoch/NBAE/Getty Images
Chris Paul leads the league in steals, but trails Rajon Rondo and Steve Nash in the assists department. Paul had 20 points, 11 rebounds and six steals in an 83-81 win over Boston. Rondo did not play.
A Bull On D
By Nick Friedell
ESPNChicago.com

Rose
DEERFIELD, Ill. -- With all of the eye-popping numbers Derrick Rose continues to rack up on offense, it's easy to forget that some of his biggest improvements over the past month have come on the other end of the floor.
"His defense looks a lot better to me," Bulls head coach Tom Thibodeau said after Thursday afternoon's practice. "I think he's been very consistent."
That's not to say Thibodeau is dismissing the 24 points, 8.5 assists and 5 rebounds Rose averages on a nightly basis. It's just a reminder to all that the 22-year-old's game isn't just evolving on one level, but on many.
• To read the rest of the column, click here