Report: Allen And Mayo Fight
What's Wrong With The Suns?
By John Hollinger
ESPN.com Insider

Sometimes bad things happen to good people.
Take the Phoenix Suns, for instance. Ask anyone in the NBA to make a list of the league's good guys, and Grant Hill, Steve Nash and Alvin Gentry are assuredly going to be someplace near the top. Top to bottom, in fact, Phoenix's locker room may be the most pleasant in basketball.
The Suns' play, alas, has not been. After winning 54 games and roaring to the conference finals a season ago -- losing only after an epic midrange shooting performance by the Lakers, as the esteemed M. Haubs noted at the time -- the Suns suddenly find themselves lost in the wilderness. Heading into tonight's conference finals rematch with L.A., the Suns are just 14-18, and today's Playoff Odds give them only a 10.2 percent chance of returning to the postseason.
What the heck happened? Bad management, basically.
To read the entire column, click here.
Rookie Watch: Hayward Moving Up
By David Thorpe
Scouts Inc.

As part of the rookie orientation program, the NBA should teach the baseball story of Wally Pipp and Lou Gehrig. You remember Pipp, the guy most famous for being replaced for one game by Gehrig, who then went on to set an incredible record of 2,130 consecutive games played. It's a great lesson: Every day is a chance to improve your career. No matter what has happened in the past, an opportunity to play is an opportunity to restart.
You know who's been studying Pipp? I'll give you a hint: He had never scored in double figures this season before busting out with three consecutive games of 17, 11 and 13 points (on 15-for-28 shooting) to go with 14 boards during that span. His team won two of those games in its fight to be a top-four seed in the West. And just before those games, he had been one of the league's lowest-performing players.
Who is he? None other than Utah's Gordon Hayward, who finally looks like the player we saw in college.
To read the entire column, click here.
Celtics Ready For Spurs
By Peter May
ESPN Boston

BOSTON -- The Miami Heat stopped by on opening night. But, as we've seen the past month or so, that was miami, as opposed to the current MIAMI that is terrorizing the league. As for the rest of the NBA elite, the Orlando Magic, Dallas Mavericks, Utah Jazz and Los Angeles Lakers have yet to grace the TD Garden floor this season.
Their time will come. On Wednesday night, Celtics fans are in for a treat. The teams with the two best records in the league (as opposed to the two best teams, which covers the rampaging Heat) will meet when the San Antonio Spurs make their annual visit to Boston.
To read the entire column, click here
Cavs Look To End Streak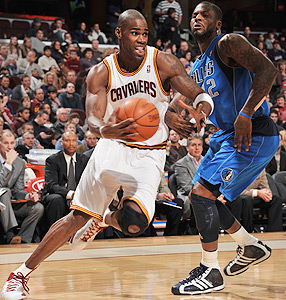 AP Photo/Jeffrey Phelps
Antawn Jamison, who is averaging 15.5 points and 5.9 rebounds, will try to help the Cavaliers end their seven-game losing streak when they take on the Raptors tonight.
Defense Could Be Salvation
By Dave McMenamin
ESPN Los Angeles

LOS ANGELES -- The Los Angeles Lakers were lagging this season, suffering from a severe case of championshipitis, a condition accompanied by symptoms including complacency and a lack of interest.
The back-to-back champs came into Tuesday's game against the Detroit Pistons having dropped four out of their past six games. The losses were by an average of 17.3 points against Milwaukee (missing its young leader Brandon Jennings) and Memphis (a team so cohesive that it "celebrated" its win against L.A. with two of its players getting in a fistfight on the team plane after the game), to name two.
To read the entire column, click here