TrueHoop TV: Looking Forward
Player Profiles: Kevin Love
By John Hollinger
ESPN.com
Projection: 23.3 pts, 17.1 reb, 2.9 ast per 40 min; 24.80 PER | Player card
• Dominant two-way rebounder who is master of positioning on block.
• Good spot-up shooter, passer. Great outlet passer. Limited low-post game.
• Poor defensive player. Physical, but doesn't move well or challenge shots.
---
The most amazing part about Love's season is that, at the outset, his coach wasn't totally sure if he was any good; Love averaged 28.4 minutes in the opening nine games until his 31-point, 31-rebound game against New York on Nov. 12 finally hammered home the obvious fact that he was the team's best player. It was the NBA's first 30-30 game in a quarter century, and a springboard for Love to win the rebounding title.
In addition to leading power forwards in both rebound rate and defensive rebound rate (he was third overall in both categories), having the top PER at his position, and rather shockingly scoring 22.4 points per 40 minutes with hardly a single play called for him, Love showcased a variety of other superlatives. He's a foul magnet who was fourth at his position in free throw attempts per field goal attempt, and made opponents pay by hitting 85.0 percent at the stripe -- including one streak of 46 straight. He shot 41.7 percent on 3s, which isn't what you expect from a league-leading rebounder, helping offset a disappointing season on long 2s (he made only 34.0 percent of his 2s beyond 10 feet).
The one sticking point is that he's still a poor defensive player. Love's Synergy numbers were pretty solid, but you'd have a hard time explaining why. He was 62nd out of 70 power forwards in both blocks and steals per minute, while his owning the lowest foul rate at his position is more a condemnation of his effort than a positive sign. Love is slow in transition D, often doesn't rotate out on switches, and struggles to guard long post players.
I would argue Love was better defensively at center; though a deficient shot-blocker, as a 5 he can use his physicality, spend more time in the paint and focus on rebounding. If the Wolves decide to end the Darko Milicic silliness and move Love to the middle it would also open another spot for all their assorted 6-9 combo forwards.
• Read more Hollinger player profiles

• Spencer Hall, Salt City Hoops, 1-2 p.m. ET
• Jeremy Wagner, Kalen Deremo, Charlie Yao, Roundball Mining Company, 2-3 p.m.
• Royce Young, Daily Thunder, 3-4 p.m.
• Zach Harper, A Wolf Among Wolves, 4-5 p.m.
• Andrew R Tonry, Portland Roundball Society, 5-6 p.m.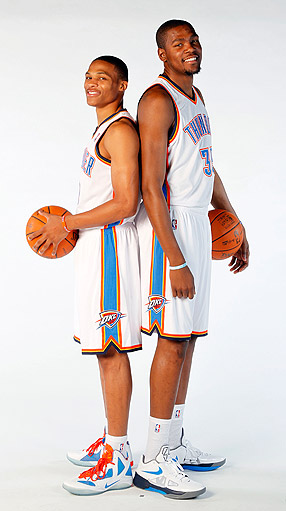 Layne Murdoch/NBAE via Getty Images
Russell Westbrook and Kevin Durant look to take the next step this year as clear favorites in the Northwest Division.
By J.A. Adande
ESPN.com
The arrival of Chris Paul means the Clippers are no longer the Clippers.
The Clippers carried a feeling of impending doom, just by saying the name in that tone of voice, no further explanation needed. The Clippers were the appendage tacked on to any optimistic thought about L.A.'s other basketball team. The Clippers were the logical argument against any top player joining the team, from Kobe Bryant in 2004 to LeBron James in 2010. As in: They are in Los Angeles, play in Staples Center, have plenty of salary-cap room and have Blake Griffin on the roster … but they're the Clippers.
The Clippers died Dec. 14, 2011, and will be a distant memory as soon as CP3 throws his first alley-oop to Griffin. Remove the italics. The Clippers just made their boldest move since relocating to Los Angeles in 1985. They brought in an All-Star in his prime.
The Clippers and Angels are making the big splashes at the expense of the Lakers and Dodgers? It doesn't even feel like L.A. anymore.
Boston's Bench Renovation
By Peter May
ESPNBoston.com
WALTHAM, Mass. -- Doc Rivers was just finished extolling the virtues of the Boston Celtics' 2011-12 bench, which differs quite a lot from his 2010-11 bench. The Celtics coach was told that Paul Pierce said this season's reserves are more experienced and professional, as opposed to last season's bench, which Pierce said was too immature and inconsistent.
"I didn't think that had to be said," Rivers cracked, referring to Pierce's comments. "I thought everyone knew. That's why we didn't win."
Hmm. So that's what it was. Wonder who Pierce was talking about? Rivers quickly said, "It was more than one."
It sure was. There was drama aplenty among the Celtics' reserves.