Player Profiles: Brandon Jennings
By John Hollinger
ESPN.com
Projection: 20.4 pts, 4.3 reb, 6.4 ast per 40 min; 17.04 PER | Player card
• Quick lefty guard with scoring mentality. Erratic outside shooter with high arc.
• Can get to basket but trouble finishing. Can push tempo. Weak right hand.
• Has trouble getting open on inbound plays. Lacks size but solid defender.
---
People who focus on Jennings' outside shooting troubles are aiming at the wrong target. His jumper isn't great, but what's really holding him back is that, when he gets in the paint, he lacks the size and explosiveness to finish consistently. Jennings shot only 51.4 percent at the basket last season, the worst percentage in the league among players with at least 150 attempts.
Jennings at least drew fouls at a decent clip, but his finishing trouble was exacerbated by a lack of court vision. He was 63rd among point guards in assist ratio, wasting much of his penetration skill. Additionally, he had some of the least valuable assists in the league (see LeBron James).
As for the jumper ... no, he's not good at that either. Jennings shot 35.6 percent on 2s beyond 10 feet and 32.3 percent on 3-pointers. Combined he took nine of those shots per game, so this was a problem. It also makes it even harder for him to finish at the rim, as defenders just lay off and wait for the drive.
The hope is that he won't have to create so many late-clock jumpers with more offensive help this season, but it wasn't an encouraging second season for Jennings. His 49.7 true shooting percentage doesn't cut it, and he was 49th in pure point rating. His best selling point is that he's 22 and could still improve, especially since nothing seems broken about his shooting form. But he has to shoot better for the Bucks to commit to him as a long-term starter.
Defensively, Jennings does a decent job in spite of his size. While he's vulnerable to post-ups by big guards, Milwaukee's team defense gives him plentiful help in those situations. Otherwise he's very solid. He gets his hands on a lot of balls, ranking in the top third of point guards in both blocks and steals per minutes, plus he makes relatively few mistakes and he moves well laterally.
• Read more Hollinger player profiles

• Jeremy Schmidt, Bucksketball, 1-2 p.m. ET
• Zach Harper, Bulls talk, 2-3 p.m.
• Dan Feldman, Pistons Powered, 3-4 p.m.
• Jared Wade, Eight Points, Nine Seconds, 4-5 p.m.
• Zach Harper, Cavs talk, 5-6 p.m.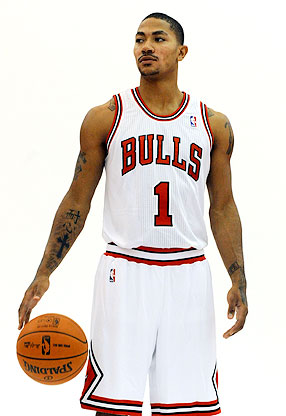 David Banks-US PRESSWIRE
Chicago Bulls guard Derrick Rose, the reigning MVP, returns to the center of many DDL chatters' recurring debate points today.
By Melissa Isaacson
ESPNChicago.com
DEERFIELD, Ill. -- Despite calling his first Chicago Bulls practice "very confusing" and admitting that donning a Chicago uniform will be "very awkward" at first, Rip Hamilton said he will do whatever his new team needs in order to win a championship, even if it means not starting.
"I'm coming to do whatever the coach and the organization want me to do," Hamilton said. "If they want me to come in and play 20 minutes, I'm going to do that. If they want me to play 30, I'll do that."
Bulls coach Tom Thibodeau said he has not yet decided whether Hamilton or Ronnie Brewer will start in the backcourt with Derrick Rose, the league's reigning MVP.
"Whatever the team needs, whatever the team needs, man, because the biggest thing I want is to win a world championship," Hamilton said. "I won it once, had an opportunity to win it again and didn't. Now it's the opportunity to feel good that you have a chance again. I'm excited."
Cavaliers Give Amnesty To Davis
By John Hollinger
ESPN.com
Thumbs up.
As expected, the Cavs will be keeping Baron Davis' example as far away from Kyrie Irving as humanly possible. But this move is hugely interesting on multiple levels.
Let's start with Cleveland: The Cavs now have $7 million in cap space for this season, presuming they don't use their trade exception from the LeBron James deal in the next 24 hours. Perhaps more notable is the more than $20 million in space this opens up a year from now, when Antawn Jamison's deal comes off the books.
The catalyst for Cleveland's decision appears to be a back injury that will reportedly keep Davis out 8-10 weeks, rendering him unusable for a big chunk of the coming season. Of course, many wonder if his back will magically heal itself should he slip through the auction process and land in New York, L.A. or Miami as a free agent.
Don't hold your breath. The amnesty auction for Davis is very interesting, because he has two years left on the deal. Win the bid and you get Davis for two years at that price; he can't be dealt until July 1 but becomes an important trade chip next summer.


• Hollinger on latest transactions