Player Profiles: Chris Paul
By John Hollinger
ESPN.com
Paul
• Phenomenal ball handler and pick-and-roll operator who never loses dribble.
• Improved outside shooter. Can score but penetrates to pass. Makes free throws.
• Defensive ball hawk. Tough but size problematic on close-outs. Knees a worry.
Paul led the league in PER for a while last season and finished sixth overall in the category, ahead of MVP Derrick Rose. There's no question he's an amazing player, and under his guidance the Hornets had the league's best crunch-time offense over the past half-decade.
That said, it appears PER slightly overrates Paul based on his assists. Emphasis on slightly. New Orleans' scorekeepers sometimes acted as if their raison d'etre is to pad Paul's assist total and tracking the score of the game is secondary; he averaged 10.7 assists per game at home last season and just 8.8 on the road, the most egregious split yet in a pretty wide disparity throughout his career. (Except, that is, for his rookie year in Oklahoma City -- when he averaged 7.9 assists at home and 7.8 on the road.)
In what is likely a related story, Paul was near the bottom of the list in a stat I created called "assist quality" (see Baron Davis and LeBron James comments). The average assist is worth two-thirds of a point; assist quality figures the marginal value of a Paul assist was more like 0.60 points because so many of them led to midrange jumpers instead of layups and 3s.
• Read more Hollinger player profiles

L.A. Hoops First Impressions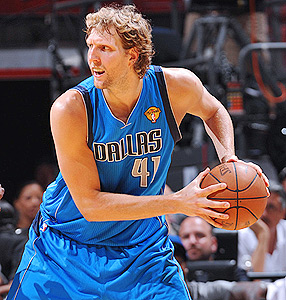 NBAE/Getty
Dirk Nowitzki and the Mavericks will go head-to-head with Kevin Durant and the Thunder in preseason action Tuesday.
Thunder, Clippers Rise To The Top
By Kevin Pelton and Bradford Doolittle
Basketball Prospectus

After the Thunder's unexpected trip to the Western Conference finals this past spring, their time appears to have come. The gap between Oklahoma City and the conference's top teams was relatively small last season. Although other teams have lost key contributors and suffered the effects of age, the rising Thunder kept their roster intact before trading center Byron Mullens to Charlotte. (His 85 minutes played in 2010-11 will be missed.)
Although Kevin Durant and Russell Westbrook rightfully draw most of the attention, it's the youthful duo of third-year players James Harden and Serge Ibaka, both 22, that could make the difference for the Thunder as they continue to grow in the key roles they took over after Oklahoma City traded Jeff Green to the Boston Celtics. The Thunder also get the benefit of a full season with a healthy, skinnier Kendrick Perkins in the middle. Look out.
• Read the full column

Western Conference, Worst To First
By John Hollinger
ESPN.com

Has the new collective bargaining agreement really changed anything?
The preseason sagas of Chris Paul and Dwight Howard might lead you to conclude "no." But take a look at the Western Conference heading into this season, and you might be more inclined to say "yes."
Teams everywhere are being forced to make hard choices. The Dallas Mavericks and Los Angeles Lakers no longer have the stomachs to just throw money at their problems, not with a punitive luxury tax facing teams in two years. So we're seeing different styles instead. The two "Superfriends" teams in L.A. possess virtually no depth, while truly deep teams in San Antonio and Denver have no A-list stars. Long term, a few small-market teams that have built carefully might be in the best shape of all.
The end result will, indeed, be competitive balance. While the West cleaves neatly into three groups -- the haves, the have-nots and the Rockets -- this season's Western Conference standings figure to be unusually compressed. I project only 23 games will separate first from worst in the Western Conference, as compared with last season's figure of 44 games.
• Read the full breakdown