Player Profiles: Deron Williams
By John Hollinger
ESPN.com
Williams
Projection: 21.0 pts, 3.9 reb, 10.5 ast per 40 min; 20.49 PER
• Elite point guard who excels in breaking down defenses with quick crossover.
• Not a leaper, but has size, strength to finish at rim. Good, not great shooter.
• Has ability to defend well, but plus-minus numbers are consistently terrible.

Williams hurt his wrist in late January and couldn't shoot straight afterward, converting 36.9 percent the rest of the way, including an abysmal 23-of-89 on 3s. Despite those woes and his going in and out of the lineup four different times, Williams put up decent numbers overall in that stretch by upping his passing and rebounding.
At this point, he has a strong claim on the title "third-best point guard in basketball" -- Rajon Rondo is his only serious competition -- and he's still getting better. Williams set a career high in PER despite being hurt the final three months, and has become more proficient at drawing fouls in particular. At 27, he's probably at or near his ceiling but given his size, and the fact that he lives more by deception than by speed, he should be able to hold at or near this level into his early 30s.
The one area of concern is his defense. Williams has a reputation as a strong defender, and certainly his size and toughness present advantages. But he hasn't been terribly engaged on that end the past two years, and the numbers back it up. Williams has had strongly negative plus-minus numbers on the defensive end each of the past four seasons. His Synergy numbers from last season were also underwhelming. This is partly because of lineup selection in Utah, so I don't think he's as bad as his numbers, but if those numbers persist in New Jersey it's going to raise some serious questions.
• Read more Hollinger player profiles

Expectations For Kobe Bryant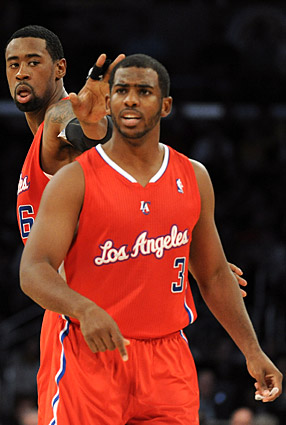 Harry How/Getty Images
How many times will Clippers center DeAndre Jordan congratulate Chris Paul for successful alley-oop tosses during Wednesday night's preseason finale against the Lakers?
By Kevin Arnovitz
ESPN.com

It was all so odd.
Not just that the Clippers trampled the Lakers in a preseason game, or that the media scrum outside the Clippers' locker room after the game dwarfed the crowd waiting to get inside the Lakers' inner sanctum.
Not even Donald T. Sterling, inside the Chick Hearn Media Room after the game, lecturing his guests about the virtues of making basketball a physical -- not a cerebral -- contest.
The strangest moment of the night was more basic than that. It was the sensation of looking out on the floor at Staples Center and seeing the two most trustworthy guards in basketball manning the backcourt for the Clippers.
That's because the defining characteristic of Clippers fandom has always been fear. Fear that basketball possessions would be squandered carelessly by players without the talent or inclination to get the job done. Fear that the organization would choose caution over risk and fumble an opportunity to change course. Fear that supernatural forces would conspire against the Clippers ... just because that's what supernatural forces do.
Eastern Conference, Worst To First
By John Hollinger
ESPN.com

Life isn't fair, and neither is the distribution of talent in the Eastern Conference, where four teams hoard the A-list stars and leave the rest fighting for scraps. While I wrote the other day that the West standings likely will be very compressed this season, the East is just the opposite.
This conference has been split into extreme haves and have-nots each of the past four seasons, and it figures to be that way again. The NBA's two best projected records are in the East this season ... and so are the five worst. It's particularly ugly at the bottom, with early-stage rebuilding situations in five cities and a sixth team, New Jersey, teetering on the cusp of prosperity but potentially facing another bottom-to-top rebuild a year from now if its aspirations don't pan out.
Only a few upwardly mobile middle-class teams dot the landscape, and one of those (Orlando) might get kicked back downstairs. At least in terms of playoff contenders, it's become a more respectable neighborhood. Making the playoffs in the East will require winning half a team's games, and the top six seeds should all be genuinely good.
• Read the full breakdown