1. Heat Red-Hot As Knicks Showdown Nears
By Brian Windhorst
ESPN.com
MIAMI -- At the moment, the Miami Heat are a study in perception.
They won their seventh consecutive game by double figures with a highlight-rich 120-108 victory Tuesday night over the Sacramento Kings. They shot 56 percent as a team, Dwyane Wade had a virtuoso performance with 30 points, 10 assists and three steals and Mario Chalmers had one of the best shooting games of his career with six 3-pointers.
But because it was against the Kings, who frankly played with excellent energy and focus for more than 40 minutes, and because the Heat have been slamming every opponent for two weeks, there were apologies offered from Miami's locker room.
"We talked about what is our motivation is right now, what are we trying to achieve?" Erik Spoelstra said, complaining his team played flat at times. "We wanted to try to improve and specifically work on our inconsistencies. Did we accomplish that completely? Not necessarily."
This was even as Kings coach Keith Smart said, "We were pretty close to a perfect game."
Rookie Isaiah Thomas had a 20-point third quarter, the Kings had 24 assists and Tyreke Evans and Marcus Thornton combined to shoot 18-of-34 and score 44 points. The Kings hit 13 3-pointers and outrebounded the Heat. And Sacramento was still down by 18 points in the fourth quarter.
Meanwhile, this supposed so-so effort behind them, the Heat quickly forgot it and turned their attention to the next game. Which happens to be against another sub-.500 opponent that's actually lost two of its past three games to other sub-.500 teams.
"It's going to be fun, it's going to be electrifying," LeBron James said. "It's going to be one of the most watched games we've had in a long time."
Perception indeed.
Of course, James means Jeremy Lin (and Carmelo Anthony) and the New York Knicks, who are due in town Thursday night. Ticket prices for that one are spiking toward regular-season records in Miami and there are rumors that two presidents -- Barack Obama and Bill Clinton, both of whom are scheduled to be in Miami for speaking engagements -- might show up.
"We haven't even brought up that name in the last 48 hours," Spoelstra said. "It spoke to our guy's maturity not to get ahead of ourselves."
To hear the coach talk about it, getting through what looked like an inspired Kings team without obsessing over he who shall not be named was the accomplishment of the night for the Heat. That's apparently the reality the NBA, and plenty of its fans, is now gripped with.


NBA Writer Brian Windhorst
• On Twitter @WindhorstESPN | On ESPN.com
• Follow ESPN's NBA coverage on Twitter | On Facebook | On Google+
2. Around The Association
3. Tuesday's Best
Irving
Kyrie Irving, Cavs: After scoring just eight points through the first three quarters, Irving showed why he's running away with the rookie of the year award by dropping 17 in the fourth to lift the Cavs over the Pistons.
4. Tuesday's Worst

San Antonio Spurs: Or, the cast of characters masquerading as the Spurs. In the midst of a league-high 11-game winning streak, San Antonio sat Tim Duncan and Tony Parker. With rookies Kawhi Leonard and Cory Joseph and D-League call-up Eric Dawson fielding the most playing time, the Spurs gave up 137 points to the Blazers.
5. Tweet Of The Night
Okay if you ask me what position Air Bud played, you can't get mad when I say, "Chewing Guard." #DDLTweets

— Zach Harper (@talkhoops) February 22, 2012
6. Quote Of The Night
"He's a really nice guy. He just said, 'Hey, I don't know why they boo you, but I think it's crap, and you're playing really well.' That was nice of him to say. He's a really nice guy. ... It's nice to see great things happen for nice people."
-- Nets forward Kris Humphries, on his postgame conversation with Jeremy Lin after the Nets' 100-82 victory over the Knicks on Monday.
8. Razz-le Dazzle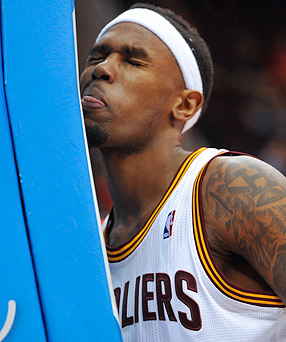 David Richard/US Presswire
Boobie Gibson and the Cavs hit a wall early against the Pistons but battled back from a 17-point deficit thanks to a combined 30 fourth-quarter points from Kyrie Irving and Alonzo Gee.