1. Heat Refuse To Be Another Victim Of Linsanity
By Brian Windhorst
ESPN.com
MIAMI -- Maybe Carmelo Anthony was going to get 35 points. Maybe Steve Novak was going to pull off Aaron Rodgers' patented celebration all night. Maybe J.R. Smith was going to make it look like he was still playing in China.
But there was one thing that wasn't happening against the Miami Heat Thursday night: They were not going to be the next notch in Jeremy Lin's belt. He may get them someday, perhaps even when these teams meet at Madison Square Garden later in the season, but it was simply not going to be now.
The Heat's game plan to cut off the New York Knicks sensation was as comprehensive as it was obvious. It also was totally successful as Lin had, by a wide margin, his worst game as a Knick and the Heat rolled to an eighth consecutive blowout win, 102-88.
Just last week the Heat were full participants in Lin-mania. In the locker room in Indianapolis, after another of the Heat's recent lopsided victories, reports of Lin's game winner in Toronto arrived on cell phones through text and Twitter.
"The magic keeps going!" one player howled.
"This kid is amazing!" another said as he hunted for a television to find a replay.
But by this Thursday, after another week of Lin this and Lin that and days of questions about Lin, Lin, Lin? They were so over it. The fad hadn't just run its course with the Heat, it has turned to defiance and perhaps even a shred of jealousy.
There is simply no other way to explain the way the Heat approached this game. The game plan Erik Spoelstra drew up -- which was to fiercely double team Lin off every pick-and-roll and pressure him full court whenever possible -- said it.
The unprecedented energy the Heat started this game with -- the starters' chests were heaving and their faces dripped sweat just five minutes into the game as a result of unusual early-game effort -- said it.
Their apparent team-wide agreement not to celebrate the performance -- seriously, being in the Heat locker room after the game, you'd have mistaken it for a preseason victory or something -- said it.
Lin finished 1-of-11 shooting with eight turnovers and just eight points. The Heat bumped him, hassled him, forced him to give the ball up, drove him to his weaker left hand and even showed him up. Heat point guards Mario Chalmers and Norris Cole had zero dunks between them coming into the game, but each relished the chance to throw one down after picking Lin's pocket with their heavy pressure defense. Cole was so determined to do it that he nearly snapped his ankles on his landing.
"I can't remember another (game) where it was hard to just take dribbles," Lin said. "It was a learning experience and obviously it was a tough one."
The Heat collectively denied credit, refusing to acknowledge that they'd obviously spent days tailoring and honing a game plan and then whipped themselves into a frenzy to start the game.
"It is not a specific plan," Spoelstra tried to sell. "What we wanted to do was treat him with the adequate respect that he deserves."
"We wanted to make guys uncomfortable," said LeBron James, who had 20 points and a season-high five steals. "Does it work all time? I'm not going to say yes because we have great players in this league. Lin is a great player."
"We just played by our regular defensive rules," Chalmers said with a straight face. "We just played Miami Heat basketball."
Bull. All of it.
At least Dwyane Wade, who had 22 points, admitted there was possibly, maybe, just a little hint of extra meaning.
"Obviously we want to go out and represent our team well," Wade said. "We know how many people were going to be watching this game for many different reasons. We wanted to come out and dominate the game."
Obvious is right; so is dominate. Round 1 goes to the Heat and it was by several touchdowns. The toasts, apparently, came on the team plane carrying the team contingent to the All-Star Game.
It's OK to admit it. Mike D'Antoni will.
"They were all geared up for him," D'Antoni said. "They took the challenge and they did a great job. It's hard to be Peter Pan everyday."


NBA Writer Brian Windhorst
• On Twitter @WindhorstESPN | On ESPN.com
• Follow ESPN's NBA coverage on Twitter | On Facebook | On Google+
2. Around The Association
3. Thursday's Best
Blair
DeJuan Blair, Spurs: The burly Blair did more than just his usual dirty work, scoring a career-high 28 points on 12-for-21 shooting and also pulling down 12 rebounds to put the Spurs back on track after punting their win streak in Portland.
4. Thursday's Worst
Lin
Jeremy Lin, Knicks: Unfortunately, "awful" doesn't fit neatly into a pun. But that's how bad it was for Lin against a swarming Heat defense. The Knicks' new prized point guard had his worst game since Linsanity began: eight points on 1-for-11 shooting, eight turnovers, six rebounds and four assists. Appal-Lin (bingo!).
5. Tweet Of The Night
Lin wants to go fishing over the weekend: "Hopefully, I'll be somewhere out on the ocean with no cell phone reception."

— Tom Haberstroh (@tomhaberstroh) February 24, 2012
6. Quote Of The Night
"They took the challenge and they did a great job. It's hard to be Peter Pan everyday."
-- Knicks coach Mike D'Antoni, on the Heat's defense on Jeremy Lin.
8. Shake, And Break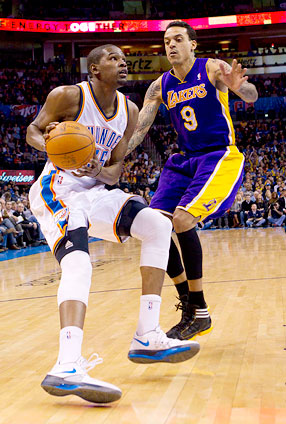 Richard Rowe/US Presswire
Kevin Durant easily shook off the Lakers' defense, scoring 33 points to lift the Thunder to a fifth straight win heading into the All-Star Break.
By Elias Sports Bureau

• In their final game of the month, the Heat beat the Knicks by 14 points. Miami finished February with a record of 11-2, with 10 of the wins coming by at least 12 points. The Heat are the first team ever to post 10 such wins in a calendar month despite playing 13 or fewer games. Four teams had 10 wins by a dozen points or more in a 14-game month: the Lakers in March 1985, the Bulls in both January 1996 and January 1997, and the Hornets in January 2008.
• Chris Bosh scored 25 points, Dwyane Wade added 22 more and LeBron James chipped in with 20 in the Heat's 102-88 home win over the Knicks. It was the first time this season that all of Miami's "Big Three" scored at least 20 points in a game. Last season they did it 21 times, with the Heat posting an 18-3 record in those games.