Hollinger's Picks: Slam Dunk Contest
By John Hollinger
ESPN.com
Budinger
Last year's event had a lot of highlights, but the biggest problem was the judging, not in the dunks themselves. (JaVale McGee's two-basket dunk, for instance, is probably the most difficult feat I've ever seen completed in this event, but McGee finished second to Blake Griffin.)
Apparently the league did too. This year, they'll shake things up by soullessly pushing George Gervin and Julius Erving to the unemployment line and instead judge the dunker based solely on a fan vote. I'm worried how that will work out (thank goodness fan favorite Jeremy Lin isn't competing, let's put it that way), but I do like change in format, which now features one round with three dunks. Too many times in the past, players had great first-round dunks that didn't count once they got to the final round; as a result, dunkers began to calculate whether to use their best stuff to get to the final or save it for later.
This year's field includes Houston's Chase Budinger, Indiana's Paul George, Utah's Jeremy Evans and Minnesota's Derrick Williams. Smaller players typically have the advantage in this competition, because their dunks just look more spectacular, but all four of these guys are about the same size.
The dark horse here is Evans, a little-used string bean forward who has the best springs of the group but may lack the coordination to complete more difficult feats. Budinger and Williams are the favorites. Budinger's volleyball experience should help him here, since a lot of the dunks require you to "set" yourself, and his in-game dunk résumé is probably the best of this group, too. I'll say Budinger wins, with Williams second, Evans third and George fourth.
The pick: Chase Budinger
See Hollinger's picks on each event at All-Star Saturday Night »
Howard Focused On Winning
TrueHoop TV At All-Star Weekend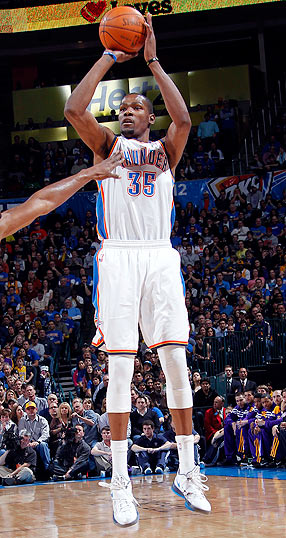 Layne Murdoch/NBAE via Getty Images
Western Conference All-Star Kevin Durant takes aim at a 3-point title Saturday night in Orlando.
Howard Plays Host In Orlando
By Michael Wallace
ESPN.com
Howard
ORLANDO, Fla. -- For anyone trying to read between the lines of Dwight Howard's body language this All-Star Weekend, here's a tip: Don't waste your time.
Howard, the league's most dominant big man and the Orlando Magic's only hope for remaining a championship contender, is at his defensive best right now. Forget, for a moment, his prowess on the basketball court. That's nothing compared to what happens when he's holding court -- like he'll do all weekend with the league's glaring spotlight focused on his town and the ultimate decision his team continues to tiptoe around as the March 15 trade deadline looms.