1. Freaky Sunday: Kobe, LeBron In Role Reversal
MIAMI -- LeBron James and Kobe Bryant have been going against their natures recently.
James is in the midst of one of the hottest scoring streaks of his career. Yet his instincts have been to fight it at times, determined to stick to his much preferred role of being a facilitator. Who knows what sort of damage he could do if he made scoring his priority every night?
Bryant is in the midst of one of the most prolific passing streaks of his career. Yet his instincts have been to fight it at times, determined to stick to his much preferred role of being a scorer. Who knows what sort of damage he could do if he made passing his priority every night?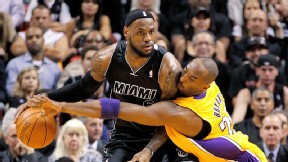 Mike Ehrmann/Getty ImagesThough never matched in an NBA Finals, LeBron James and Kobe Bryant meet again in different roles.
Over the past 10 years the James-Bryant dynamic has been fascinating but also unfulfilling. Their relationship has been polar -- they have simultaneously been the two biggest draws in the league for a decade, but seemingly a world apart. One of them has played in each of the past six Finals but never against each other, which is an unfortunate loss for fans. It has also prevented them from ever developing a true rivalry.
The best we get is twice-a-season meetings, the second this season coming Sunday when the Los Angeles Lakers visit the Miami Heat (3:30 ET ABC).
But beyond the geography and happenstance that has prevented a Finals showdown, Bryant and James haven't turned into the Magic Johnson-Larry Bird style relationship fans yearn for because they're just so very different. That's been uniquely illustrated by the past few weeks.
James, having scored at least 30 points and shot a remarkable 73 percent over the past four games, is almost shy about how fantastic he has been scoring. It's coincided with perhaps the Heat's most impressive run of play this season.
During the past nine games, of which the Lakers have won seven, Bryant has averaged more than eight assists a game. When he gets at least eight assists in a game this season, the Lakers are 8-2. When Bryant reaches 30 points, the Lakers are 7-14. He hasn't topped 30 once during their recent run of success that's happened despite injuries to Dwight Howard and Pau Gasol.
It's doubtful either can or will keep it up; it's just not them. Bryant is a scorer and James is a facilitator. This is just who they are, and it is the way they see the games.
"Do I buy that he's a facilitator now? No," James said of Bryant. "He's told everyone he's a scorer. He's said, 'That's all I do.' He gets 40-some assists over four games [the media] buys he's a facilitator. I don't buy it, though."
James said it with a smile but also without a hint of sarcasm. Meanwhile, the quickest way to offend James, at least in a basketball sense, is to brand him a scorer.
When Bryant has been on hot-shooting streaks in his career akin to what James is on now, he's torn off strings of 40-point games.
With James having the best shooting streak of his career he's actually shooting less than usual. He's taken just 59 shots in the past four games while being red hot. The previous four games, for comparison, he took 80 shots. The four before that he took 87.
"If he was a total pig and only shot the ball and only looked for his opportunities, the sky's the limit on what he'd score," Heat coach Erik Spoelstra said. "He'd put up big, big numbers. He scores so effortlessly. He's arguably the best scorer who is the facilitator in this game. He's a facilitator. He thinks the game is [about] trying to get people involved and trying to make the right play. Scoring is so often a second thought to him and he does it as well as anyone in this league."
The irony is that James, despite his aversion to being a focused scorer like Bryant, is historically a more prolific scorer. James is third all time in scoring average per game, averaging 27.6, behind only Michael Jordan and Wilt Chamberlain. Bryant is 10th at 25.5 points a game.
For a more balanced view, consider this. Since 2003, when James entered the league, Bryant has taken 525 more shots than James … and scored 86 fewer points than him.
"The thing for [James] is his size and strength," Bryant said. "He's able to get to the basket, get to the rim and at his size, still has great leaping ability and is able to finish over the top of bigs and get to the paint."
Despite the stats and praise, though, there is no way Bryant would ever admit James is a better scorer than he. And there is no way James would ever seek it or even really want to be involved in the discussion. There's a better chance of him entertaining the idea of the slam dunk contest.
Instead, they'll continue on their separate paths to the Hall of Fame, Bryant with his five rings out in the lead as James chases. But it appears those paths will only occasionally meet, just like their respective games.
Perhaps that's the destiny of it. After all, they don't seem to really even like talking about each other.
"I don't know if I want to comment on the Lakers saga again," James said. "Last time I made a comment [comparing the Lakers struggles to the Heat's in 2010] Kobe asked if I wanted a cookie. So I'm going to leave that alone. I like cookies, by the way."
Brian Windhorst covers the NBA for ESPN.com. Follow him @WindhorstESPN
Dimes past: Jan. 25-26 | 27 | 28 | 29 | 30 | 31 | Feb. 1-2 | 3 | 4 | 5 | 6 | 7 | 8-9
ESPN Senior Writer
ESPN.com NBA writer since 2010
Covered Cleveland Cavs for seven years
Author of two books
Time To Deal Shump?
Shumpert
NEW YORK -- The New York Knicks are listening to trade offers for Iman Shumpert, but a team source said a deal that would send the second-year guard to the Phoenix Suns for Jared Dudley as part of a multiplayer package is "unlikely at this point."
The Suns have shown interest in acquiring Shumpert, a league source confirmed.
The Suns' interest in Shumpert and their willingness to include Dudley in a deal was first reported by Yahoo! Sports on Saturday night.
The Knicks have been monitoring the trade market for a shooter in recent weeks, but there is a faction in the organization opposed to giving up Shumpert, who is widely viewed as one of the top young perimeter defenders in the league.
Still, one team source said not everyone in the organization is convinced of Shumpert's long-term value to the Knicks.
Shumpert, a 6-foot-5, 220-pound guard, suffered a torn ACL and meniscus in his left knee during the 2012 playoffs. He returned from a near-eight-month rehab last month.