Clips Look For More Than Dashing Peformance
The Los Angeles Clippers still seek the elite status that is devoid of hypens.
The better the team, the fewer the hyphens. People think of the Clippers as "high-flying," "fun-loving," "front-runners." The elite teams, meanwhile, can get away with a solitary adjective of one syllable. "Tough," perhaps. Or "great."
The quandary for the Clippers is that they're at their best when they're having their most fun. Lob City isn't just a nickname, it's a formula. The highlight dunks are a byproduct of Chris Paul toying with defenses, drawing defenders and then utilizing the athleticism of Blake Griffin and DeAndre Jordan. It's worth noting that they often come in the halfcourt set. This isn't how the Clippers beat teams with numbers advantages, it's how the Clippers beat teams straight up.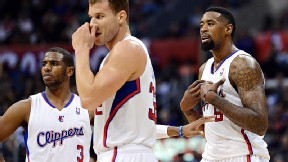 Harry How/Getty ImagesThe Clips are battling for home-court advantage.
The trouble is, it's been more than three months since the Clippers beat a team in the upper echelon of the Western Conference. Since defeating the Memphis Grizzlies on Jan. 14 the Clippers have fallen to the Golden State Warriors, Oklahoma City Thunder, the San Antonio Spurs, the Thunder again, the Denver Nuggets and the Grizzlies.
The Clippers can't pinpoint the issue. They don't even have a consensus on the terminology.
"No question it's a concern," said Clippers coach Vinny Del Negro, whose team faces the New York Knicks on Sunday (ABC, 3:30 p.m. ET).
"Concern?" Griffin said, repeating a question thrown his way. "I don't know if that's the right word. Frustration? Yeah."
The worst part is the way they've allowed good teams to do what makes them good. The Warriors drained 3-pointers, hitting 53 percent from behind the arc. The Nuggets scored in transition, with more than twice the fast-break points of the Clippers. The Grizzlies forced turnovers, causing the Clippers to give up the ball four times in 2½ minutes in a pivotal stretch of the Clippers' last game.
"I think [the change] starts with our aggressive way on defense," Griffin said. "Not to play anybody else's style but to make them adjust to us. Playing aggressive defensively and getting stops, getting out in transition. Playing a faster-paced game than we did [against Memphis]."
In their undefeated December the Clippers allowed opponents to score 100 points three times in 16 games. That benchmark has been surpassed three times in the past five games, in addition to allowing the low-scoring Detroit Pistons to score 97 points and the even lower-scoring Grizzlies to get to 96.
Paul tends to quote previous coaches he's had, which is interesting since he's been with Del Negro for two seasons now. But there is one thing he's taken from a previous edition of the Clippers, the one that had an edge provided by Reggie Evans and Kenyon Martin.
"Last year's team at times when we needed to get stops, that's what we did," Paul said. "We didn't always play perfect, but we got stops when we needed to. We've got to find that with our team right now."
Paul is getting steals at the same rate, but Jordan hasn't done as good a job of protecting the rim. Jordan averaged 2.0 blocks per last year, but is at 1.3 this year. (Even taking his decreased playing time this season, the dropoff per 36 minutes is the same: 0.7).
This team's strength is supposed to be its depth. The Clippers missed backup point guard Eric Bledsoe with a calf injury against Memphis and Matt Barnes started at small forward in place of the injured Caron Butler. Butler might play against the Knicks Sunday.
Another asset of this close-knit team is it wins games collectively. The players wearing warm-ups urge on the guys in the game. The players on the court look over to the bench for approval. That was never more evident than in the aftermath of Jordan's devastating throwdown over Brandon Knight a week ago. The reactions ranged from Barnes' running to the other end of the court (after a midair warmup, like the "Fresh Prince of Bel Air" ) to Griffin circling in front of the bench like a dog who wants to be let out of the yard. Even Paul let out an uncharacteristic yell.
"I usually never react to 'em, just because I try to stay locked into the moment and what's going on," Paul said. "But that one was … that one was unreal."
All of the jumpin' and hollerin' was authentic Clippers. They like to be loose, enjoying the show as much as the fans do. The enthusiasm builds on itself. The Spurs conduct business meetings; the Clippers host parties.
"We've got to be able to do that when we're down 15, or when it's a tough game when we're on the road somewhere," Jordan said. "We've got to be able to have that same energy [as] at home when we're beating somebody by 20, 30 points. Also when we're in a dogfight."
With 16 games remaining and everything from the third to the fifth seed in play for the Clippers, everything's a dogfight from here out. They've arrived at the 4/5th mark of the season less certain about themselves than ever. They have a notion of what they want to be; they just can't tell you how they can achieve it.
ESPN Senior Writer
ESPN.com senior writer since 2007
Around The Horn panelist
Formerly at Los Angeles Times
Better Lucky Than Good?
It's become an article of faith that the Los Angeles Lakers have gotten better, that they've "figured it out." They're 20-11 over their past 31 games and they clawed their way to three games above the .500 threshold with a close win at Indiana on Friday night. The Lakers, once looking likely to sit out the postseason, are now very likely to make it. They are on the verge of becoming the proverbial team you don't want to meet in the playoffs.
This is still largely the same team that began the year disastrously, though. These Lakers aren't much different from the Lakers who dropped six in a row to wind up with a 15-21 record. Though L.A. fans are right to bemoan their bad luck with injuries, the latest being the twisted ankle of Kobe Bryant, good fortune has been their biggest benefactor in turning around the season.
Fans do not like to hear that their team won due to "luck" or "chance," but randomness haunts all sports. Luck is a lurking spirit, constantly moving outcomes around to make us see things that don't exist.
As John Hollinger and others have shown, close games are, by and large, decided by chance. Close games are often defined as those decided by six points or fewer, and the Lakers are 8-1 in such games lately. Before that, they lost a lot of those coin flip games, even with Bryant, renowned as a great "closer," on the floor. That's pretty much what's "turned it around" for the Lakers.
Margin of victory tells a more accurate story of a team's quality than the win-loss record. Yes, great teams tend to play better in these high-leverage situations, but it's difficult to argue that the 35-32 Lakers are one of those.
When the Lakers were 15-21, their scoring margin was plus-1.0 points per game. Since January 12, a span in which L.A. has won 20 of 31, the Laker scoring margin has been a "whopping" plus-1.5.
Knicks Still Hurting
The New York Knicks are planning to take the floor without Carmelo Anthony and Tyson Chandler on Sunday, according to multiple reports.
Both Anthony and Chandler are officially listed as questionable due to knee injuries.
However, Knicks coach Mike Woodson told reporters after Saturday's practice in Los Angeles that he's planning as if neither player will be available for Sunday's game against the Los Angeles Clippers.
"Yes, we went through shootaround thinking that (Chandler and Anthony will not play),'' Woodson said. "We got these (other players) in uniform ready to play."