Clippers, Lakers Share Rough Patches, Solutions
At its essence, chemistry is a scientific discipline, the study of how stuff mingles with other matter and how that stuff reacts when new things are introduced to it. Chemistry is a hard science that's governed by certain truths. That's what it is for experts who devote their waking lives to chemistry; most of us buy into their discoveries.
There are only a couple of spheres of life in which we define chemistry as something far more abstract -- and pro sports and interpersonal relationships are two of the big ones. Debates about chemistry rage in sports. Some of those inside sports rank chemistry among the most essential ingredients for success. Others see it as nothing more than an outmoded sports cliché. Billy Beane once referred to chemistry as a three-game winning streak.
When the Los Angeles Clippers were ripping off 17 consecutive wins back in December, chemistry was inevitably one of the buzzwords when the team spoke publicly of its success. The Clippers' locker room was like a set on a four-camera workplace or family sitcom defined by its fun interplay among the actors. The stars, eccentric supporting cast and even little kids delivered laugh-track moments and applause lines.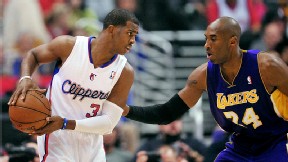 Gary A. Vasquez/USA TODAY SportsChris Paul's team has had problems surface of late while Kobe Bryant's Lakers faced them early on.
Today there's talk of internal turmoil in the Clippers' camp. Blake Griffin reportedly is growing increasingly irritated with Chris Paul 's constant critiques and is generally hypersensitive to criticism of any kind. DeAndre Jordan's frustration with his precarious role has become more than a casual frustration, something larger. Popular opinion is that these grievances are prominent reasons the Clippers are 7-8 over their past 15 games.
These dynamics exist to some degree, but they shouldn't be regarded as revelatory because they're conditions that have been constant since Paul arrived. What has changed is the context, not the substance. A faltering defense is driving the anxiety; unsteady chemistry is merely along for the ride.
Paul can be overbearing to teammates in practices and games with his incessant running commentary of how they're performing. This is true of not just the young guys, either. When the Clippers are humming along, we call this leadership and tout Paul as one of the game's unrivaled motivators and best communicators. When the team struggles, he seems like the bossy friend who won't stop kvetching on a long road trip.
NBA on ESPN

Sunday, April 7
Knicks-Thunder, 1 p.m. ET (ABC)
Lakers-Clippers, 3:30 ET (ABC)

Many of the vets feel Griffin can be a diva, one who is a little too assured of his station in the league's hierarchy and resistant to instruction given his relative youth and thin résumé. This also has been true for quite some time, not some impressions that emerged out of nowhere when the Clippers' defense went to hell after the break. Griffin is susceptible to the occasional tantrum -- although many of those are fueled by intense self-criticism. This behavior isn't unusual for young players who have tasted early individual success. When the team is playing well, Griffin is the same guy, but we celebrate this as boldness, and a commitment to improve his game. When storm clouds gather, he's rebranded as a player with emotional failings and as one who is less than committed.
All of this is evidence that performance produces chemistry, not the other way around. Discontent is a symptom of a malaise, not the cause of it.
The Los Angeles Lakers offer a window into this precept. Mike D'Antoni and Pau Gasol disagreed fundamentally about play design and where Gasol should be situated on the floor. One of the core principles of D'Antoni's offensive philosophy is that the paint must remain unclogged for cutters and penetrators, but Gasol insisted he played his best basketball in the post. On Friday night in the Lakers' win over Memphis, Gasol scored 19 points on 8-for-14 shooting. Almost every one of his catches occurred above the foul line or in motion. What was different? The shots fell, but more important, Gasol learned to cope -- that's what grown-up professionals do, and Gasol is that.
Tension between Kobe Bryant and Dwight Howard has calmed from a boil to a simmer to still water. Anyone buy that the two have developed any mutual affinity? Doubtful, but each has granted the other certain allowances with whatever personality traits were making waves.
Shaquille O'Neal and Kobe are testimonies to the fact that teammates live with each other's flaws, just as we do with family and friends. In our own lives, those shortcomings are easily tolerated when life is fun but are a total annoyance when things get bumpy. However, no matter what the current conditions, those qualities are still there.
The Lakers are certain to be the subject of some hand-wringing over the summer. Taken as a whole, they realize the season has been a profound disappointment, but they've cycled through the stages of grief, and right now they're a pretty functional team. They've learned how to live with some philosophical differences. One of the best lessons to learn as an NBA player, coach or exec: You deal with it. Differences are inconvenient, but you find workarounds. The grievances are still present, but they've been marginalized.
Paul can consciously scale back his verbal decrees, but he's still Chris Paul, and it's in his nature to yap. It's one small defect in an otherwise brilliant basketball player, a small toll to pay for the privilege of being his teammate. Griffin is a complicated young dude, simultaneously confident and thin-skinned. Budding superstars with egos can be difficult to be around, but that's something that comes in a package deal with transcendent talent.
Jordan has a legitimate gripe, but he just needs to hang on for a couple of months. Come next season, he might very well have a new coach -- or even a new team. Big men with his collection of skills usually have a lengthy, lucrative career in the NBA, so play the long game, DJ. There's plenty of time on the clock.
These individual blemishes are nothing new, and the Clippers masterfully managed them during the first half of the season. Frustration isn't the cause of their problems; a staggering defense is. The grumbling is a symptom, not the disease. The Lakers have come to understand this, and now the Clippers have a little less than two weeks to arrive there. Address the root causes on the court, and the chemistry will correct itself.

ESPN Staff Writer
NBA writer for ESPN.com since 2008
Former contributor and editor at NPR
Knicks Aim For 50
By
Jared Zwerling
| ESPNNewYork.com
The Knicks could get their 50th win of the season Sunday -- their highest mark since 1999-2000 -- but they'll have to take out the West-leading Thunder (56-20). Even tougher, the Knicks could be without Kenyon Martin (sore left knee) and Marcus Camby (left plantar fasciitis), and the Thunder's starting frontcourt features Kevin Durant, Serge Ibaka and Kendrick Perkins.
Here are three main things to watch for Sunday, starting at 1 p.m. ET on ABC:
1. Kevin Durant vs. Carmelo Anthony. The longtime friends and Olympic teammates are No. 1 and No. 2 in scoring, respectively, separated by only a fraction of a point per game (Durant at 28.4 and Anthony at 28.3). Of course, Melo has been on another planet lately, scoring 40-plus points in three consecutive games -- joining only Bernard King in that company in Knicks' history -- and he has shot better than 60 percent from the field in each one. Melo has always played big against Durant, so much so that he has an 11-1 record against him. The big stage is set for Sunday.
Hot Seat: Vinny Del Negro

Del Negro
Vinny Del Negro insisted before a recent loss in Dallas that he has "a great future no matter what." The signals are nonetheless getting louder and louder that said future won't be at Staples Center, with Del Negro working on a flimsy one-year extension and L.A. looking nothing like the team -- whether that's due to health woes, locker-room fissures or coaching issues -- that won 17 straight games in December.
Could a deep playoff run save him? Even that might not be enough entering the most critical summer in the Clippers' history, with Chris Paul becoming a free agent July 1 and Clips management having always planned to let Paul have a big say (assuming he wants one) before any coach gets another long-term deal from them.
The Clippers' many injuries this season have to be factored into any evaluation of Del Negro. Seeing so little of Chauncey Billups, in particular, has really held them back, scuttling the plan to give Paul more of the time playing off the ball he relishes and robbing L.A. of its most proven playoff performer.
But Del Negro's well-chronicled desire for the Clips to trade for Boston's Kevin Garnett in February, coupled with his bosses' well-chronicled reluctance to part with both Eric Bledsoe and DeAndre Jordan in a KG deal, has spawned the impression of competing agendas behind closed doors in Clipperland. It's also undeniably worrisome for Del Negro that, according to sources, Stan Van Gundy's availability already has the Clippers highly intrigued.