Around The Association
| | | | | |
| --- | --- | --- | --- | --- |
| New York Knicks | 71 | FINAL | 82 | Indiana Pacers |
---
MVP: Roy Hibbert. The Pacers' center eviscerated the Knicks in the low post and on the glass, pouring in a team-high 24 points and 12 rebounds. Add a slew of old-school hook shots and his usual dominant defense, and you get why he was inked to a big contract last offseason.
LVP: Honestly, you could substitute almost any Knick other than Iman Shumpert, but Tyson Chandler, last year's Defensive Player of the Year, was absolutely ground into a fine paste by the aforementioned Mr. Hibbert and appeared floor-bound, oddly sluggish and generally enervated.
That was ... ugly: A low-scoring, grind-it-out affair, where the Pacers bludgeoned the Knicks on the interior, forced double-digit turnovers and pushed them off the 3-point line, is bound to warm the cockles of Frank Vogel's heart. But with the two teams combining for 31 turnovers and 46 fouls, it wasn't particularly pretty to watch.
| | | | | |
| --- | --- | --- | --- | --- |
| Oklahoma City Thunder | 81 | FINAL | 87 | Memphis Grizzlies |
---
MVP: Marc Gasol. The Grizzlies were able to hold the Thunder to 36.4 percent shooting thanks in large part to Gasol's ability to always be positioned correctly defensively. He was the ever-present roadblock in nearly all of OKC's driving lanes.
LVP: Serge Ibaka was one of the best midrange shooters in basketball during the regular season, but his nightmare series continued. After going 6-for-17, Ibaka is now a woeful 12-for-39 from the field in the series.
Well that was ... the yips. Reggie Jackson committed two brutal fouls down the stretch. Kevin Durant, a 91 percent free throw shooter, missed two critical FTs. Scott Brooks let time tick away. Derek Fisher missed a rushed, deep 3. OKC has been here before, but it didn't look like it.
With Amar'e Returning, Pressure On Woodson
INDIANAPOLIS -- It goes without saying that Game 3 in a 1-1 series is a pivot point, history telling us that the winner ends up taking the series about 77 percent of the time.
But New York Knicks coach Mike Woodson is facing an extra layer when his team's series with the Indiana Pacers finally resumes tonight at Bankers Life Fieldhouse (ABC, ESPN Radio, 8 ET). The Knicks are at a delicate crossroads in the series and, with their style of play, it's squarely on Woodson to negotiate midseries changes to his roster.
Amar'e Stoudemire is back after missing more than two months recovering from a second knee surgery this season. Woodson has promised to play him 10-14 minutes in Game 3.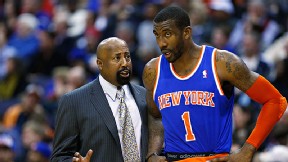 Rob Carr/Getty ImagesWill playing Amar'e help or hurt the Knicks?
"It's going to be my job to weigh things out in terms of what he's looking like when he's on the floor," Woodson said. "I'm not going to risk what we've been doing, but I am going to play him just to see where he is."
Meanwhile, Woodson has also openly questioned whether he can stick with giving J.R. Smith, who is both sick and in an extended shooting slump, his regular minutes with so much on the line. Needless to say, the middle of a tight series is not the time to be workshopping significant changes.
Woodson might not say it's a risk, but it undeniably is.
In the Knicks' strong Game 2 victory, it was the inclusion of Pablo Prigioni in some key second-half minutes that triggered a 30-2 run that led to a blowout victory. When Prigioni plays, the Knicks seem to move the ball better and operate better on offense. And when Smith can't make a shot -- and he's at 26 percent over his past four games -- Prigioni can seem like a better option at times.
Additionally, it would seem as if Stoudemire's minutes would come at the expense of Kenyon Martin, who has been a key part of the Knicks' success in the playoffs. Martin has become a primary defender on the Pacers' active big man, David West, as well as on the backup center Ian Mahinmi. Earlier this week, Woodson said the Knicks would be "totally lost" without Martin, yet he's now apparently planning to use him less.
Woodson has experimented with playing a bigger lineup than usual with both Martin and Tyson Chandler in at the same time to deal with the Pacers' strong front line. How Stoudemire fits into that is uncertain.
The Knicks are generally very reliant on Carmelo Anthony for so much of their offense, and how Anthony plays probably is the biggest X factor in any Knicks playoff team. But there's a good chance this series will come down to who is able to win the battles around the basket, and messing with the rotation to test out a player who hasn't even dipped his toe in any game, much less a playoff game, since March 7 is not appealing.
It's possible the Stoudemire experiment will end up being short lived, with Woodson feeling as if he owes his $100 million man who has rehabbed from two surgeries this season an opportunity to help the team. But there's so little wiggle room at this point that it's a difficult strategy decision. It's well known the Knicks performed better without Stoudemire this season than with him -- they were 16-13 with and 38-15 without.
No doubt Woodson and the rest of the team's coaching staff and front office weighed it before publicly promising Stoudemire a chance.
The Smith issue is another matter. The Knicks wouldn't be here without Smith's contributions, and they badly need him to break out of his slump. Smith admitted after another bad shooting night in Game 2 that he was pressing a little and said that he was trying to remain patient. Now, he might be asking his coach to do the same thing.
In general, Woodson has made the right moves when it comes to his lineups this season that have regularly been affected by injury. But he has not had a more vital time when he has to get it right.
ESPN Senior Writer
ESPN.com NBA writer since 2010
Covered Cleveland Cavs for seven years
Author of two books
Prince's Return To Prominence
Prince
The whistle blew, charging Michael Curry with his fourth foul, and Tracy McGrady haughtily strode away from the action, his body language asking what anyone watching must have been asking themselves: Who can stop me?
This was McGrady at his peak during the 2002-03 season. His 32.1 points per game were more than any other player in the league -- more, in fact, than any other player since then except two: Kobe Bryant and Allen Iverson, both in the 2005-06 season -- and the only thing he seemed to enjoy more than scoring was letting everyone around him know when he did.
His 43 points led the eighth-seeded Orlando Magic to a win in Game 1 of their first-round series against the Detroit Pistons, and his seven straight points in Game 2, for a total of 30, had cut the Pistons' lead to 12, with three more to come after he snuck the ball under and into Curry's outstretched arm to manufacture a trip to the line.
Tayshaun Prince, the Pistons' gangly 22-year-old rookie, hadn't played a minute in the game. He didn't play a minute in the game before. In the regular season, he averaged a little more than 10 minutes per game. But with the Pistons' "defensive specialist" now in foul trouble and their top-ranked defense in danger of letting another avalanche of McGrady points overwhelm them, second-year coach Rick Carlisle made the switch with 4:45 to go in the third quarter.
Which Way Will Knicks Go?
In a perfect world, we'd all be able to look at the New York Knicks' romp over the Indiana Pacers in Game 2, their riveting defensive performance, along with a breakout effort from Carmelo Anthony, and believe there's nothing to worry about in this series because it simply belongs to New York. But that would require forgetting that the only thing consistent about the Knicks is their inconsistency.
As the Knicks get set for Game 3 of the Eastern Conference semis Saturday night, fans would love to gloat about what they expect the Knicks to do. Except they can't.
Nobody knows whether Anthony will shoot 50 percent again. The Knicks are praying J.R. Smith, who is questionable for Game 3 because of illness, will reach 40 percent. They're hoping that Tyson Chandler can provide anything at all offensively, and that the returning Amar'e Stoudemire can provide anything, period. And even in the event that all these things happen, it would still be foolish to summarily dismiss the Pacers.
"That's not who we are," Pacers coach Frank Vogel said Friday, alluding to his team's dismal second-half performance in Game 2. "That's not who we're going to be. [The Knicks] got red-hot and we started playing poorly at the same time. Defensive lapses hurt us. Not keeping an eye on Melo -- and I'm not sure how we allowed that to happen against a player like him -- we just fell apart. But we're ready to put that behind us."