1. Heat's Rivalry With Bulls Has Staying Power
MIAMI -- LeBron James tried to explain there are no real rivalries in the NBA.
In college, with a rivalry like Duke-North Carolina, the meetings are consistently contentious and always about the uniforms and not about the individuals in them. In the NBA, most rivalries outside of Lakers-Celtics of the Magic-Bird era are more contrived and don't last nearly as long.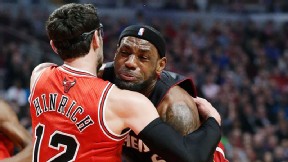 AP Photo/Nam Y. HuhEmbrace the Bulls-Heat rivalry. What will happen next when they meet Sunday (ABC, 3:30 ET)?
That's mostly true.
Rarely do rivalries in professional sports withstand significant personnel changes. Mostly, rivalries in the NBA are about one or more individuals, not so much about the respective teams or cities. But if you define a rivalry as a combative, competitive, consistent series of games between two teams over an extended period of time, the Miami Heat have a clear rival: the Chicago Bulls.
Not the Indiana Pacers. Not the Oklahoma City Thunder. Not the Boston Celtics. No other franchise over the past decade has had more signature, rivalry-like moments against Miami than Chicago, and vice versa.
Consider:
• In his first several seasons in the league, Dwyane Wade, a Chicago native, constantly struggled against his hometown franchise, in no small part because of the persistent and frustrating defense of Kirk Hinrich.
• In 2006, the Heat's first championship season, the Bulls created so much friction for Miami in a first-round series that Wade and Gary Payton had a heated on-court argument in the midst of losing two straight in Chicago.
• In 2007, after a regular-season game, Pat Riley called Hinrich a dirty player for grabbing Wade's wrist coming off screens and, in this instance, spraining Wade's wrist, to which the Bulls took offense.
• Also in 2007, after Wade returned from a dislocated left shoulder for a chance to defend the Heat's title, the Bulls swept the Heat out of the first round, making Riley's choice to keep the championship team nearly entirely intact a questionable decision.
• In the LeBron era in Miami, despite significant roster changes for both teams, the rivalry became even more heated, starting with Joakim Noah calling the Heat "Hollywood as hell," which was already an extension of his feud with LeBron as a Cleveland Cavalier, when the Bulls center took umbrage to James' celebratory dances.
• In the first season of Miami's Big Three, the Bulls beat the Heat three times in the regular season, including an 87-86 win in Miami that had coach Erik Spoelstra admitting there were players crying in his locker room and LeBron apologizing to teammates for not coming through for them in the clutch after he missed a lefty attempt over Noah in the final seconds.
• Still in 2011, Miami won a five-game series in the conference finals that included one of the most memorable finishes to a Heat playoff series ever -- a furious 18-3 run to end the game that included eight points apiece from Wade and James to overcome a 12-point deficit with 3:17 remaining.
• In the past five seasons, Derrick Rose is the only player other than LeBron to win Most Valuable Player award.
• Bulls coach Tom Thibodeau was the architect of those Celtics defenses that stifled the Heat and LeBron in Cleveland. He was an assistant in Boston before taking that defensive strategy to Chicago.
• The Bulls beat the Heat twice in the 2012-13 regular season, including ending Miami's run at a record-setting winning streak at 27 games, despite missing Rose, Noah, Marco Belinelli and Richard Hamilton. After the game, LeBron complained about the Bulls being too physical, saying the fouls on him weren't "basketball plays."
• Last season, the Bulls shocked the Heat in Game 1 of the second-round playoff series. The Heat wound up winning in five, but not without more physical play, including Nazr Mohammed getting ejected from Game 3 for shoving LeBron to the floor.
• This season, Rose and the Bulls were the league's choice to face Miami as it raised its second straight banner, with Rose playing his first regular-season game since his ACL tear in the 2012 playoffs.
You can make a similar argument for the Heat-Celtics rivalry, but it doesn't span nearly the same amount of time, and it's no longer alive.
Since Wade entered the league, the Heat and Bulls have played in four playoff series, including a conference finals, the Heat and Celtics just three, including a conference finals.
Boston's rivalry with Miami couldn't withstand the moves of Kevin Garnett, Paul Pierce and Doc Rivers. The Bulls and Heat, meanwhile, have seen so many players come and go and even intensified after a coaching change from Vinny Del Negro to Thibodeau.
Ray Allen switching from a Celtics jersey to a Heat jersey didn't help that rivalry, either. Sure, it made for an icy relationship between Allen and a couple former teammates, but could you imagine some of the principle pieces of the Bulls eventually pulling on a Heat jersey? Noah and James vibed well on the court at the All-Star Game, but that's because both are essentially basketball savants. But teammates for good? Nah.
Same goes for Rose, Hinrich and even Taj Gibson. This season, before the Bulls blew out Miami in Chicago by 20, Noah said this:
"I think the people in this city, there's something about when Miami comes to town. You wake up in the morning, you just feel it. You feel … people in this city, they don't like [the] Miami Heat. We don't like the Miami Heat. It always feels good to beat them."
Can you honestly say the same thing about Boston this season, with only Rajon Rondo keeping those memories alive? Have the Celtics ever brought the Heat to tears? To their knees, maybe, but not to tears.
This matchup is also different than Heat-Pacers, which is more a clash of strengths. The Pacers are large and intimidating; the Heat are smaller and faster and a direct challenge to the more traditional approach Indiana takes. It makes for interesting basketball, from strategic decisions to personnel choices to physicality and the occasional dust-up.
SUNDAY'S TV GAMES
• Clippers-Thunder, 1 p.m. ET (ABC, ESPN Radio)
• Bulls-Heat, 3:30 p.m. ET (ABC, ESPN Radio)
• Rockets-Suns, 9 p.m. ET (ESPN)

But Bulls-Heat seems to be purely a matter of grit, effort and dislike, because it doesn't matter who's actually playing for the Bulls. Unlike the Pacers, who wouldn't be nearly the same type of challenge for Miami if Roy Hibbert was out, the Bulls can be without their MVP (Rose), without their heart and soul (Noah) or without one of their most consistent players over the years (Luol Deng), and you still fully expect a battle.
"We don't like them. They don't like us," James said of the Bulls before this season. "We all know how it is." Heat-Bulls is different than Heat-Thunder, which is more intriguing because of the individual battles (Kevin Durant-LeBron, Russell Westbrook-Wade, Serge Ibaka-Chris Bosh). It's a clash of skills, not of heated rivals. And, frankly, they just don't play often enough.
Since Wade entered the league in 2003, the Heat and Bulls have played 57 times, including the playoffs, with the Heat holding a 33-24 edge.
And you can already envision another second-round playoff series between these two, whether it happens as a 1-4 matchup, should the Heat pass Indiana, or a 2-3 matchup, if the Bulls pass the Toronto Raptors for the 3-seed. LeBron might not want to admit it fully, but this matchup has had all the makings of a real rivalry for a long time now. Whether LeBron plays Sunday or not, chances are, this meeting will be another notable moment to add to that history.
ESPN Staff Writer
Israel Gutierrez is an NBA writer for ESPN.com.
Durant's Surpassing Talent
Durant
For the first time since LeBron James was named MVP of both the 2011-12 regular season and the NBA Finals -- earning his first championship in the process -- the question of the league's best player is legitimately up for debate.
Chalk that up in part to James' numbers being down in a season in which he's been accused of coasting and at least in equal measure to Kevin Durant's leap forward with teammate Russell Westbrook out of the lineup.
Aside from pivotal moments in the narrative, including Sunday's All-Star Game (when Durant outplayed James but struggled in the fourth quarter of a Western Conference loss) and Thursday's resounding Heat win guided by James in Oklahoma City, how will we determine when Durant has passed James? And, given that it hasn't happened yet, when might we expect Durant to close the gap? Let's take a look.
From a statistical standpoint, it's no contest. No matter what advanced box-score metric you prefer, Durant leads James and everyone else in the NBA. He's tops in PER (31.0 to James' 29.4), Win Shares (13.7 to 10.7) and my WARP metric (16.2 to 13.6)
Bulls: Bring On LeBron
CHICAGO -- The Chicago Bulls expect LeBron James to play Sunday. Actually, they're hoping for it. Seriously.
"I hope he's OK," Bulls center Joakim Noah said after the Bulls picked up their fifth straight win Friday night over the Denver Nuggets. "Of course we want LeBron to play. I hope his nose is OK."
The challenge of slowing down James is a challenge the Bulls want. Noah, who admits that he always looks forward to playing in Miami against the Heat, wants to see how his team stacks up against the best. And, make no mistake: No matter how much Noah might dislike James -- and vice versa -- the respect both men have for the other is evident every time they hit the floor.
"They're back-to-back champions," Noah said. "So you want to play against the best just to measure yourself against the best. We feel like we can compete against them. We've beaten them before. They're playing at a high level right now. They're playing really good basketball. They're locked in, but we're locked in, too. So we're confident we can go out there and get it done.
Click here to read the full blog post »
To Live And Vie In L.A.
By
Jordan Heimer
| TrueHoop Network
It's been an hour since the final buzzer sounded on another Lakers loss, a 17-point, home-court drubbing at the hands of the lowly Utah Jazz that dropped the Lakers into dead last in the Western Conference. On "Laker Lines," ESPNLA 710's postgame call-in show, host A. Martinez sounds dispirited. "Laker fans, here's what I want to know. Does it matter to you that the Lakers avoid finishing last? Does it even make a difference at this point?"
The phones light up, and A. puts a caller through: Robert, calling from Hollywood. It's clear that Robert considers Martinez cretinous simply for raising such an obviously stupid question. "I can't believe you'd even ask that, A. Of course, it matters."
"Why?"
In the mornings, Martinez co-hosts "Take Two," a current-affairs show on NPR's Pasadena, Calif., affiliate. He's a die-hard, but his loyalties aren't blind. "This team isn't making the playoffs. What's the difference?"
Robert sounds belligerent, maybe drunk. "We're the Lakers," he says. "We don't finish last."