1. Bulls Maximize Results Without D-Rose
The standard for success for the Chicago Bulls is relatively high. That's sort of the way it goes when your company stationery has six gold trophies embossed on it and No. 23 hangs in the rafters.
So let's try to avoid hyperbole but also give what's going on some context. The Bulls are in the midst of perhaps their proudest accomplishment since that fateful week in 1998 when Michael Jordan decided he was done in Chicago and Phil Jackson sped off down Interstate 80 on a motorcycle.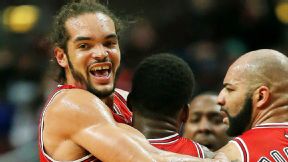 Jonathan Daniel/Getty ImagesJoakim Noah and the Bulls are once again hanging tough despite the loss of Derrick Rose.
The Bulls are lining up another playoff berth in their second straight season without their franchise player, as Derrick Rose has spent about the past 20 months basically doing rehab and modeling suits.
In an era in which the Miami Heat are building a dynasty and a division rival, the Indiana Pacers, are a title challenger, it can be easy to dismiss the Bulls as being merely an also-ran. That would be extremely disrespectful and shallow, because no team in the league has squeezed more out of its situation over the past two seasons, to this point, than the Bulls.
They're doing it without the benefit of ownership bailing them out with spending. Quite the opposite, in fact. And they're doing it against trends across the league, in which the Eastern Conference teams underachieve and the best offenses outduel the best defenses on a regular basis.
Friday night they overcome a double-figure deficit in Dallas to beat the Mavericks going away. It was just another quality victory with another smothering defensive performance in what has turned into an improbable quality season for the Bulls.
Heading into Sunday's matinee with the struggling New York Knicks (ABC, ESPN Radio, 1 p.m. ET), the Bulls are now 20-8 since Jan. 1, with the most wins in the league over that span. Almost all of it came in the wake of Luol Deng being traded away in a salary-cap move and injuries to key players like Jimmy Butler continuing to chip at their depth.
They've won six of their past seven against the Western Conference and five of their past seven on the road, and these sorts of numbers go on and on. Not just against odds -- but against logic -- they are now tied for the No. 3 seed in the Eastern Conference with the Toronto Raptors. The Raptors have a bit of an easier schedule to finish the season, but with the current No. 5 seed Washington Wizards dealing with injury problems, the Bulls are in position to get home-court advantage in the playoffs in a season they basically have played without two of their top three players since training camp.
"When you deal with all the adversity we've been through this year, it makes your group that much tougher and stronger," Bulls leader Joakim Noah said Friday night. "We're going to be that resilient group, that tough group that is going to be very, very tough to play in the playoffs."
It's easy to talk that way now, the Bulls assuming the postseason. That looked uncertain in the first week of January after the Deng trade, when it looked like the team was preparing to head into the lottery. But primarily because of the leadership of coach Tom Thibodeau and especially Noah, the players never questioned where this season was headed.
They were disheartened when Rose went down again in November. They were downright mad when Deng was salary-dumped. But they've never done anything but give everything on the floor, and it's led to win after win. The talent and the luck aren't like it was back in 2010-11, when everything went their way and they racked up 62 wins before getting beat in the conference finals, but their execution and effort is the same.
They had seven different players average double figures in scoring in February, when they went 9-4 despite playing nine of those 13 games on the road. Noah is the team leader in rebounds … and assists, a pairing you will find nowhere else from the center position. Taj Gibson is having a career season. Midseason pickup D.J. Augustin is resurrecting his career. Accused of running his players into the ground in seasons past, Thibodeau doesn't have any Bull averaging more than 36 minutes per night.
And the Bulls, who rank 30th in offense and badly need shooting, just signed the best shooter on the buyout market after snaring Jimmer Fredette. Go ahead and doubt the impact of Fredette, whose disappointing run ended in his third season in Sacramento, but he'll fit right in with the rest of Bulls, who are used to being doubted and don't seem to care one bit.
Speaking frankly, the Bulls still aren't where they want to be. Ultimately, the loss of Rose has robbed them of what they expected would be chances at winning the East in each of the past two seasons. They have exceeded expectations only after their ceiling was unexpectedly dropped because of the unfortunate knee injuries to the former MVP.
But using that fact to dismiss what they've done and are doing is a mistake. There's most likely not going to be a seventh trophy added this season, but the Bulls don't believe that and they certainly don't play like it.
"Nobody expects to lose a teammate like we did. It hit us," Gibson said last week. "But Thibs built us the right way. He said he believes in us. Look at what we did last year; look at what we're doing this year. How big a deficit we were in early. We believe we can win. Like Thibs said, 'Nobody is going to give you a chance.' It's all about what we think in the locker room. That's what we believe; it's about us. We ride for each other."
ESPN Senior Writer
ESPN.com NBA writer since 2010
Covered Cleveland Cavs for seven years
Author of two books
Agents Of Chaos
By
Curtis Harris
| TrueHoop Network
It seems counterintuitive that chaos is something NBA coaches could ever want on the court. "In all sports," Sloan panelist Bill James chimed, "all coaches overuse strategies that give them the illusion of control." Calling copious plays and taking timeouts at the slightest hint of trouble are hallmarks of this illusion. Coaches who have real control of their team have put in countless hours of practice and embrace the beauty of chaos during games.
For former NBA coach George Karl, being a masterful play-calling tactician is the tip of the iceberg for good coaching. Below the surface is an insistent faith in chaos. This doesn't mean teams are bumbling around the court. Instead, it signifies reflexive, furious play opponents can't predict.
A coach should do more than drill memorized plays into the collective brain of a roster. Great coaching goes a step further and creates a cohesive unit that operates seamlessly without thought. Karl particularly emphasized the end of third quarters and beginning of the fourth quarters as times when he wanted his team to unleash pure anarchy. By playing a helter-skelter brand of basketball, his squads could whip themselves into an unstoppable fury while demoralizing the opponent.
The knock on this chaos theory, though, is that it doesn't lead to championship-caliber basketball. In the playoffs, you have to know how to grind out a tough seven-game series. Strengthening this thought is Karl's 2012-13 Denver Nuggets. They reeled off 57 wins. At home, feeding off the supportive crowd, they were an impressive 38-3. After all that, though, they were bounced in the first round of the Western Conference playoffs.
Reflections Of Jimmer
By
James Ham
| TrueHoop Network
Fredette
The Jimmer Fredette era in Sacramento ended on Thursday afternoon when the Kings announced that they had reached an agreement to buy out the former BYU star. Just days after his 25th birthday, one of the most proficient long-range shooters in the game is a free-agent target.
There are too many reasons to address why Jimmer-mania didn't work in Sacramento. Franchise instability, rotating coaches and a guard-heavy roster are just a few. The Kings franchise is in recovery mode. From the coach to management to ownership, everything is new.
It was clear on Oct. 31, when general manager Pete D'Alessandro decided not to pick up the former first-round pick's fourth-year option on his rookie contract, that Jimmer's days in Sacramento were limited. He becomes the eighth Kings player to leave the roster during this whirlwind first season under new management.
Melo's Heights, Knicks' Depths
Anthony
Carmelo Anthony is in the middle of one of his best seasons as a pro, averaging 28.3 points and 8.5 rebounds per game.
The last player to average at least 28 and eight was Shaquille O'Neal in 2000-01.
Unlike O'Neal in that season, Anthony isn't getting much support from his teammates. The Knicks are a season-high 17 games under .500 and falling further and further out of the playoff picture with each successive loss.
One thing to keep an eye on today: Tom Thibodeau's Bulls have done a great job limiting Anthony this season.
He's averaging 26.0 PPG in two games against Chicago this season but shot just 37.8 percent from the field in those two games.