1. 'Dirk's Got A Lot Of Moves I'm Trying To Steal'
All those gaudy numbers. All those wins without Russell Westbrook. All those tweets and "SportsCenter" graphics telling us, over and over, that Kevin Durant's season has been legitimately Jordanesque.
All of that, when you add it all up, is why the ESPN Forecast panel this week proclaimed Durant to be the runaway favorite to win his first Most Valuable Player award without even bothering to wait for voting to close.
All of that is also why you heard LeBron James, through gritted teeth, essentially concede the MVP crown to his foremost rival the other day.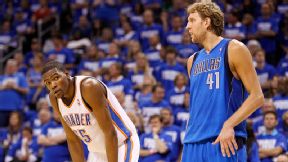 AP Photo/Eric GaySeeing similarities between Kevin Durant and Dirk Nowitzki? That's no accident.
It's the only reasonable conclusion to draw with the Durant-led Thunder sporting a record they'd be proud if Westbrook hadn't missed a single game. And with KD on the brink of becoming just the fourth player in history -- this league's first since His Airness himself 25 years ago -- to average at least 32 points, seven rebounds and five assists for an entire season.
With a few key steals quietly mixed in.
These particular swipes haven't been discussed much, because Durant doesn't often reveal much beyond what we can all see out on the floor, but he recently confessed that he's been swiping liberally all season from the Dirk Nowitzki playbook all season.
Turns out that, since November, Durant has been working with Adam Harrington as his personal trainer beyond his daily duties with the Oklahoma City Thunder. Which is the same Adam Harrington who briefly played alongside Nowitzki with the Dallas Mavericks more than a decade ago and has been studying the unorthodox coaching techniques hatched by Nowitzki's longtime mentor and shot doctor from back home, Holger Geschwindner, ever since.
"It's a lot more than just trying to copy the one-legger," Durant said, explaining that he's not merely focused on trying to mimic Nowitzki's signature shot.
"Dirk's got a lot of moves I'm trying to steal."
Practice shots with both hands, off both feet and launched from a variety of stances and spins to improve footwork. Planting the heels and shifting smoothly onto the toes for better balance. Breathing techniques as the ball is released. Keeping the fingers wide, too.
Durant has been dabbling in all those Holger-centric areas of emphasis in his hourly sessions with Harrington, which typically take place in the evenings -- home or road -- whether it's a practice day or after the Thunder fly into a new city on the night before a game.
See the full Stein Line Live blog post
ESPN Senior Writer
• Senior NBA writer for ESPN.com
• Began covering the NBA in 1993-94
• Also covered soccer, tennis and the Olympics
Once-Swooning Hawks Soar Into Playoffs
Hibbert's DPOY Credentials
Hibbert
There are four centers who merit All-Defensive and Defensive Player of the Year consideration, but my choice remains the same it has been all season: Roy Hibbert. While Hibbert is good but not great by defensive RPM (+3.6), I think that understates his contributions to one of the best defenses in modern NBA history. Indiana's scheme is built around Hibbert's ability to protect the rim. No player who has faced more than 100 shots at the rim has allowed a lower shooting percentage than Hibbert (41.5 percent, per NBA.com/Stats).
And that doesn't count the shots that Hibbert's presence deters from being taken in the first place, as the Pacers are one of the four teams that allow attempts at the rim on fewer than 30 percent of opposing shots. Hibbert's use of verticality has been imitated this season but not yet duplicated, and it's a major reason -- on top of everything else -- that Indiana ranks in the league's top 10 in keeping opponents off the foul line.
Take your pick among Andrew Bogut, Dwight Howard and Joakim Noah for the second spot. Howard (+4.9) has an elite RPM but hasn't been as effective at stopping opponents at the rim (47.8 percent). Bogut has been great by both RPM (+5.0) and opponent shooting at the rim (45.5 percent), but his limited durability knocks him to honorable mention. That leaves Noah, whose defensive RPM isn't quite as good (+3.7) but is unquestionably the most versatile defender at the center position. He excels against the pick-and-roll and also forces more steals than the other contenders. That makes Noah my second-team pick. Marc Gasol would be in the conversation again, too, if not for the time he missed due to injury.
Sophomore Rankings
Lamb
The draft class of 2012 was never considered as one that would be talked about for years, but like some of the players in this group, time has revealed a lot more to be excited about. This class has future MVP winners, league leaders in a number of statistical categories and plenty of impact players and star power. It should also feature future Olympians, as well as some guys who start for title teams.
There are still three names that are pulling much of the weight for this group, but the "middle class" is getting richer each month. Everyone is excited about the upcoming draft class this June, and while it will have no problem outshining the current crop of rookies, there is serious doubt it can top what this sophomore class is in the process of accomplishing. From top to bottom, these 20 guys can measure up to about any class seen in recent years.
15. Jeremy Lamb, Thunder
One of the hardest things for young NBA players to do is make deep shots without taking a lot of them (there are few chances to make adjustments). But Lamb has done a good job in that role this season. There's every reason to think he'll get even better at it for the foreseeable future.