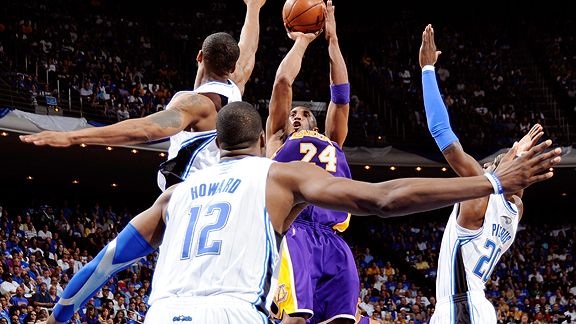 Jesse D. Garrabrant/Getty Images Kobe Bryant will certainly have the attention of the Magic defense on Sunday (2:30 p.m. ET, ABC).
2. Sunday Breakdown: Lakers Vs. Magic
By John Carroll
Scouts Inc.
On paper, the Magic and Lakers appear to be very similar. However, the Lakers dismantled the Magic in the NBA Finals, and they appear to be even stronger this season. L.A. has added Ron Artest to its roster this season and many experts consider the Lakers to be the most balanced offensive and defensive team in the NBA.
MATCHUPS
The Lakers present major problems for the Magic because of the sheer size of their front line. Up front, they have tremendous size, length and versatility when they play Andrew Bynum at center and Pau Gasol at power forward. Lamar Odom provides them with a big man who can shoot, pass, rebound and defend multiple positions. When he is playing at a high level, he is a matchup problem that the Lakers will take advantage of.
The Lakers have become much more of a post-up team this season. In their half-court offense, they attempt to get the ball inside to all of their big men. One of the biggest statistics to watch in Sunday's game will be points in the paint. The Lakers will post Bynum and Gasol, and occasionally Odom, Artest and Kobe Bryant. They pound it inside via their triangle offense and kill opponents in the paint and at the foul line.
The Dwight Howard matchup is a nightmare for all opponents because of his size and strength; Howard bangs all game long. But the Magic do not throw the ball to him directly. Rather, they love to get him the ball running the floor, rolling to the rim off movement or pick-and-rolls. The Lakers are fortunate to have players long enough and strong enough to play him 1-1. Look for the Lakers to play him straight up with hard digs of the post. The Lakers love to be aggressive with Howard and mix things up on him, and it is extremely important to keep him off balance. Also watch how physical Gasol is while playing post defense. In last year's Finals, Gasol played very physical with Howard in the post, and it was a big factor in the Lakers' success.
Bryant is one of the toughest matchups in the league because of his talent, scoring ability, passing skills and overall feel for the game. The Magic will put Mickael Pietrus or Matt Barnes on him, knowing they can only try to limit his effectiveness. The Magic like to play him one-on-one for the first three quarters, and they may double him in the fourth quarter if they need to. The biggest question for the Magic is how much attention to give to Kobe because of how smart he is and how many weapons the Lakers have. If the Magic are not careful, he can slice apart their defense by finding the open man and getting 10-12 assists.
FINALS REMATCH?
The Lakers are a better team this season than they were in 2008-09. They have the best all-around player in the NBA in Kobe, they have tremendous size, and they have veteran experience. It is hard to believe that if these two teams played in a seven-game series again this season, the Lakers would not defeat the Magic.
The Magic have a long way to go to even get back to the Finals. Even though they are known as an offensive team, they have led the NBA in key defensive statistics the past two years. They will need that defensive mindset to get back to the Finals and even have a chance to compete against the Lakers.
One of the biggest changes on the Magic roster is Vince Carter. Hedo Turkoglu, whom the Magic lost this offseason, was much more of a pick-and-roll player who loved to have the ball in his hands. Carter is a pure scorer who can break his man down one-on-one off isolations and post-ups. Although Carter's numbers are improving as the playoffs near, his season field goal percentage (41.5) is just shy of his career low. But the truth for the Magic is that they may only be able to go as far in the playoffs as Carter takes them. He needs to score, get to the rim, get to the free-throw line, and be extremely aggressive for them to be a success.
KEYS TO THE GAME
As you are watching the game Sunday, pay close attention to these four keys throughout the game. They will probably go a long way to deciding who wins.
1. Points in the paint: If the Lakers are able to pound the ball inside and dominate the paint, it will be a long day for the Magic.
2. Rebounds: The Magic must keep Bynum, Gasol, Odom and Artest off the glass. The rebound stats from the first game, a 98-92 Lakers win in L.A., were very close (Orlando 45, Lakers 44), therefore the game was close.
3. Free-throw game: Even when opponents are able to limit the Lakers' effectiveness offensively, they find ways to get to the foul line. The Magic must defend at a high level, yet keep the Lakers off the foul line.
4. Bench scoring: Lakers outscored the Magic bench 42-15 in their first game, getting 22 points from Shannon Brown in the process. The Magic must limit Odom, Brown and Jordan Farmar.
Scouts Inc.'s John Carroll spent nine years as an NBA coach.
3. Nuggets Need Depth In Frontcourt
By Jeremy Wagner
TrueHoop Network

Although the Nuggets are searching for big-man depth, the bought-out player field never quite materialized. As much fun as it was to daydream about Zydrunas Ilgauskas coming to Denver to hit shots and be really tall, there was never any real chance of that happening. He has played his entire career in Cleveland. They kept him around early in his career when it appeared he would never be able to run from one end of the floor to the other. There was never any chance he would end up anywhere else.
I had hopes of Drew Gooden becoming available. But after conflicting reports as to whether the Clippers were going to buy him out, we found out the Clippers wanted him to stay. It makes sense for the other team in L.A. to try to win as many games as possible to appear as a better destination for free agents. Had Gooden not been shipped from the Wizards to the Clippers, he likely would have been bought out. Alas, it was not meant to be.
So who is left? Umm … how about Mark Blount and Mikki Moore? Any takers?
Considering the way the Nuggets are spending money -- or should I say, not spending money -- the only way they will bring in another player is if that player is significantly better than one or both of the Nuggets' spare bigs, Malik Allen and Johan Petro. It is clear that Karl does not trust either one. They get significant playing time only when someone in front of them is injured or during blowouts.
I cannot see Blount enticing the Nuggets at all, and I cannot imagine a player who has been played 15 minutes over the past 13 months coming on board and earning any more trust than Allen has.
Moore, at age 34, is no spring chicken. But he has played in only 557 games, and as long as he is healthy, he could provide an upgrade over Allen. If Moore does come to Denver it will certainly not be to play 20 minutes a night, but as a fourth big who can run the floor; bring energy off the bench; and, most important, give Renaldo Balkman a run for his money in the bad-hair competition. He's probably worth the gamble.
4. Wiz, Arenas Headed Toward Reconciliation
By Henry Abbott
TrueHoop

Arenas
It's a new day, a new mood, a new setting. The Wizards are likely to have new owners soon, and a new rebuilding project is already under way on the court, as the Wizards are collecting cap space and draft picks.
Next fall, Gilbert Arenas would be returning as a player who paid more than $7 million in lost income and served whatever sentence the judge doles out March 26, essentially for a practical joke.
It's not hard to believe he'll be in a position to make a strong case that he has lived and learned. In time, the team might be more accepting, and so might Arenas. Will the Wizards and Arenas patch things up? Ernie Grunfeld said last month that "if he wants to play, he's going to play here."
Even if there are 29 teams Arenas would prefer to play for, he'd still be smart to show up with his body, and his smile, in tip-top form next fall. If he can prove to people that he's a good guy who still plays good basketball, maybe the Wizards will be able to trade him at some point in the next year or two -- maybe to one of those teams that have cleared cap space for LeBron James but don't get him.
No matter where he wants to play, Arenas' best move is to try to restore his standing with the Wizards, which will take months or even years.
When challenges arise in patching up those relationships -- with management, with teammates, with fans -- there will always be 80 million reasons for Arenas to keep trying.
5.

Would Pierce Leave Boston?
By Peter May
Special to ESPNBoston.com

Pierce
The sum at hand is sufficiently staggering -- more than $21 million -- to pretty much ensure that Paul Pierce will look at the temptation of unfettered free agency this summer and say, "Nah. What's the point?"
The Celtics' captain has an early termination option for the 2010-11 season. To join LeBron James, Dwyane Wade, Chris Bosh and the other glittering free agents this summer, all he has to do is notify the Celtics before July 1 that he wishes to opt out of the final year of his deal. He would forfeit the $21.5 million owed him for next season. He then would be an unrestricted free agent, able to sign with whomever he pleased.
Asked whether he has given any thought to what he might do this summer, Pierce said: "Well, at least I know I won't be on the [U.S. world championship-bound] team." He laughed, then continued, "I really haven't given it that much thought. I've always said I wanted to finish my career as a Celtic. And a long as we have the players here to compete [for a title], I want to be here. But really, I haven't given it that much thought. I suppose I will when it's time."
This issue hasn't kept Danny Ainge or ownership from losing any sleep. Asked if he had any idea what Pierce might be thinking, Ainge said, simply, "No." Ownership views Pierce as a Celtic For Life and will do what it can to ensure that happens.
But opting out and being a Celtic for life might not be mutually exclusive. In fact, Pierce and his agent might look at the NBA landscape over the next couple of years and try to get Pierce a new deal for a number of years. True, he'd be giving up a boatload of cash in the short run. But he might be able to recoup it while (a) still playing until he's 36 or 37 (he turns 33 in October) and (a) still playing for the Celtics. Ownership might jump at that as well, for it would lower the payroll in 2010-11, though not enough to make the Celtics players in free agency.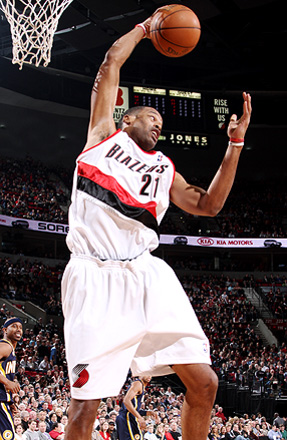 (Getty Images)
Marcus Camby has helped Portland crash the boards, but the 13-year vet has yet to break double digits in points since switching jerseys.
7.

Kobe Finds Sidekick In Cabbie
By Arash Markazi
ESPNLosAngeles.com

Bryant
If you haven't heard of Cabbie, that's OK. He's not on U.S. television. He's a cable TV personality in Canada who has somehow driven around L.A. with Kobe Bryant in a limo, flown with him to practice on his personal helicopter and changed the way an entire country views one of the most enigmatic personalities in sports.
Cabbie, whose real name is Cabral Richards, first met Bryant in December 2005 when the Lakers were in Toronto to play the Raptors. "I was doing a piece on bandwagon fans so I went up to him with a pad of paper and asked how he felt about bandwagon fans and asked him to draw a bandwagon for me," Cabbie said. "He said, 'I can't draw; I suck.' At the end of the interview I said, 'I'm going to be in L.A. in a couple months; would you mind if I stayed at the guest house in Casa de Bryant?' and he said OK."
The simple request ended up being the springboard to a four-year running joke in which Cabbie asks Bryant when he'll be able to sleep over at his house. It also has given Canadian viewers a window into a humorous side of Bryant that many American fans haven't seen. When Cabbie, after a Lakers-Raptors game, asked Bryant for his address, Kobe said, "Sure, it's 8 Out Of Your Mind Avenue." When he saw him a couple of months later and asked for his phone number, Bryant said, "Sure, it's 1-800-never-ever-ever-call-me-ever."
By Philip Rossman-Reich
TrueHoop Network

Howard
I do not think it needs mentioning that Dwight Howard is very good. Slowly but surely, everyone else is going to realize Howard should be part of the MVP conversation and that he is not just a one-dimensional offensive beast who plays perhaps the best defense in the league.
After two games in which Howard struggled on both ends, Superman came to life to anchor Orlando over a struggling Golden State team Wednesday.
Howard's stat line: a team-high 28 points, 12 rebounds, 11-for-17 shooting, six of 11 from the line, two blocks, two steals and zero fouls. That's right: no fouls.
Yes, Golden State, even with Andris Biedrins, is not a very tall team. But Howard had another flat-out dominant game -- the kind that was missing, and that Orlando survived, in the previous two outings against Miami and Philadelphia on Sunday and Monday.
In those games, Howard seemed frustrated with foul calls or whatever and never could get into the flow of the game. A telltale sign of that was his low rebounding numbers. He had five rebounds Sunday and three rebounds Monday, his two lowest rebounding totals of the season and his first effort with fewer than 10 rebounds since a Jan. 9 meeting with Atlanta.
But Howard was very much involved in all aspects of the Golden State game. His scoring contribution is obvious. His rebounding was back up as he tries to start a new double-double streak. More impressive was his steal that sparked a fast break -- he handed off to Matt Barnes for an easy lay-in.