1. LeBron vs. Messi: Compare and contrast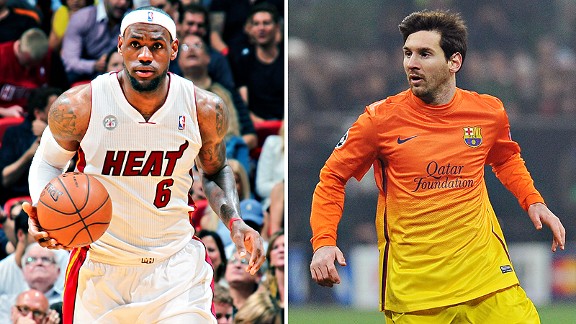 Getty ImagesBoth LeBron James and Lionel Messi have risen to the top of their respective sports.
LeBron James has told us over and over, since that championship breakthrough last June, that he's not and never will be Michael Jordan and doesn't relish the comparison. At all.
OK, OK.
Let's try a new comparison, then.
How 'bout, just for sport, LeBron James versus Lionel Messi?
Since King James is still facing a bit of a ring deficit when his achievements to date are set against the legendary Jordan's, let's dig into something a little more current: Which of these two modern-day titans, LeBron or Lionel, is the reigning king of team sports?
It's a question I've wanted to pose and explore, purely for some harmless fun, for some time. So with LeBron's Miami Heat in full flow, and Messi fresh off Tuesday's two-goal shredding of Italian giants AC Milan, why not now?
At a time of the season, where at least in the NBA you can get away with trying some things, if the circumstances are right, it was decided (committee-of-one style) to draw up a list of categories applicable to both sports, survey experts from both of those worlds and see if we can get anywhere near a consensus on a question that strikes me as plenty relevant, not simply because these are my two favorite sports but because LeBron and Lionel -- unlike LeBron and Mike -- are in active competition with each other.
Or did you miss ESPN's Cross-Sport Power Rankings at the end of 2012?
The question, incidentally, was just thrown at James by The Associated Press earlier this week after Messi's virtuoso destruction of AC Milan in a must-win match in the knockout round of the Champions League. Asked by The AP's Tim Reynolds if Messi, even after his record-breaking 91 goals in all competitions in 2012, is merely soccer's LeBron, James replied: "Is he? I'll let you decide."
Yes. Let's decide.
Let's break these two down and give it a go. Just for kicks.
Impact
LeBron has an inherent advantage here as an absurdly talented star of a five-on-five sport playing on a smaller playing surface, meaning his hands are on the Spalding even more than Messi's magical little feet get on the ball. As one of the most versatile players to ever grace his game, furthermore, James plays four positions comfortably in the NBA and all five with ease in international competition, giving him boundless influence on any given game's proceedings.
Yet it's a huge compliment to Messi, heartbeat of a Barca team that's won the Champions League three times and Spain's La Liga five times, that the basketball player isn't running away here. Maybe the biggest compliment in the view of a well-known soccer addict who also happens to have two Most Valuable Player trophies at home for his work in the land of giants: Lakers guard Steve Nash.
"I'm not going to choose between them, because it's silly in a lot of ways to even think you can even choose between two guys playing different sports, but the fact that Messi -- playing 11 v 11 -- can put his stamp on the game the way Michael Jordan or LeBron can do it on a basketball court is mind-boggling," Nash said.
Legacy
LeBron and Little Leo actually have some good stories to swap here, since both are so frequently reminded of what their résumés lack.
James needed nine seasons to win his first NBA championship, which is only two seasons longer than Jordan needed but is also constantly thrown in his face. Messi, even after becoming world football's first-ever winner of four successive Ballon D'Or awards and all those team trophies he's won with Barcelona, is routinely reminded that Argentina has won no major honors -- beyond gold at the 2008 Olympics in a sport which is merely an under-23 tournament at the Summer Games -- when Messi is wearing his country's iconic blue and white stripes.
So ...
The real argument here is who shoulders the greater legacy burden. Is it James, at 28, who still has time to stack rings up high but lives in a world where reputation is overwhelmingly determined by crunch-time heroics and the number of NBA championships you deliver? Or is it Messi, at a mere 25, who presumably has a little longer than LeBron to chase a World Cup trophy with Argentina but who lives in the shadow of another Argentine of similar build and genius that, according to soccer legend, single-handedly won the 1986 World Cup for his people with a supporting cast that can't compare to the team of Albicelestes sprinkled around Messi today.
So let's turn again to Nash, who I'm quite sure owns more Diego Maradona T-shirts than anyone associated with the NBA, for some perspective here, bearing in mind the leaguewide assumption that James, now that he has his first ring, is inevitably going to work his way into Kobe Bryant's (five rings) or even Michael's (six) zip code.
"I saw a tweet from (English legend) Gary Lineker the other day saying he played against and watched Maradona a lot," Nash said. "And he says Messi is now better than Maradona and much more consistent. I know (Messi's record with) Argentina puts that into question, but in the modern game I think it's become much harder to dominate because of professionalism and athleticism being at such a premium."
Style
Here's another area of unexpected area of commonality.
Unexpected because we're talking about a 6-foot-8, 260-pound, one-of-a-kind monolith and a 5-foot-nothing wizard who, much like Maradona before him, uses his low center of gravity, silky touch, unfair agility and underrated lower-body strength to routinely deceive and run away from defenders.
They're both freakishly durable, too, despite the stark difference in how they're assembled.
Even more common ground surfaces when we start talking tactics. In Miami, as you surely know by now, position is a bad word, with James possessing the physical tools and basketball IQ to do just about any job on an NBA floor at the heart of Erik Spoelstra's so-called "positionless" system. Messi, meanwhile, doesn't have anywhere near the defensive ability or responsibilities that James shoulders, which would never even be possible on a mammoth soccer pitch, but he's also frequently given a free role to go wherever he sees fit in attack as a world-class finisher and playmaker as opposed to being shoved into a positional box. There are natural goal-scoring strikers and Stockton-esque midfield setup men all over the world soccer map, but no one has ever combined those two talents like Messi. Not even Maradona.
Which is why a certain Mr. Bryant, self-avowed Barcelona fanatic, chimed in to say that Messi actually has more in common with The Great One than basketball's Chosen One.
"Messi," Kobe told ESPN.com this week, "is more (Wayne) Gretzky."
Streaks
Hilariously even this might be a coinflip. Even with LeBron at the heart of a 20-game Miami winning streak entering Friday night's trip to Milwaukee, Messi continues to change the way people think in the historically stats-averse soccer universe by scoring so often that you're forced to track these things American-style nowadays.
And we do: ESPN Stats & Information aces Paul Carr, Albert Larcada and Alok Pattani send out frequent in-house reminders that, just to share an example, Messi is up to a ridiculous 17 straight matches in La Liga with at least one goal.
Rest assured that is as hard (or maybe even harder) to do than shooting better than 64 percent from the floor for an entire month, as LeBron just did in February.
Responsibility
Lifelong football fan Dirk Nowitzki of the Dallas Mavericks issued a warning when he heard about this story: "Both of them have great teammates, so don't just totally take them out of it."
Warning heeded.
But that also leads to an obvious question: Which of these two goliaths, bearing in mind their supporting casts as well as their respective sports, has the biggest set of responsibilities on a game-by-game basis? You could make the case that it's James, who indisputably ranks as one of the top two or three two-way players we've ever seen in high-tops. And you could likewise argue on behalf of Messi, given that goals in soccer are so much more precious and harder to come by, and with No. 10 at the heart of so many for Barca.
"Gotta say that I think LeBron's job is probably a little harder," Nowitzki said. "Messi can hide sometimes and only needs one genius touch to look good. LeBron can never hide. Eyes are always on him. But he's just such a better athlete than anyone we've ever seen. He just makes the game look easy."
Likability
LeBron hasn't been subjected to villain talk in ages. Or at least months. Joining His Airness in the exclusive club of players to win an NBA championship, both the regular-season and NBA Finals MVP trophies and an Olympic gold medal in the same calendar year took care of that, shifting the scarlet V onto the shoulders of Public Enemy No. 12: Dwight Howard.
However ...
Dwight might have unwillingly supplanted No. 6 as basketball's most vilified superstar, but LeBron most certainly isn't quite beloved like Mike just yet. You suspect it'll take a few more championships before the fallout from The Decision is swept aside to the point that LeBron is universally and routinely embraced as opposed to merely admired for his uber-efficient dominance. (Outside of Cleveland, of course.)
Messi, by contrast, is rather Roger Federer-like when it comes to public acclaim. He emits the same sort of graceful statesman vibe as Fed. The next bad thing someone says about him, Real Madrid supporters excepted, will pretty much be the first.
It's Messi's more flamboyant foil, Real's Cristiano Ronaldo, who ranks as the far more polarizing figure.
Rivalry
Bringing Ronaldo into the discussion is what gives LeBron perhaps his biggest source of separation. Because the gap between Messi and Ronaldo, depending on whom you survey, would appear to be shrinking.
Or put another way: As the bigger and more superior athlete doing plenty of top-level winning himself, Ronaldo is a lot closer to Messi's stratosphere -- even sneaking into that same stratosphere on occasion when Real Madrid beats Barcelona, say, twice in the span of five days as we recently witnessed -- than Kevin Durant or any of LeBron's other rivals are to James.
It's more than conceivable that Durant can assemble a season, if the backstory proves as good as his basketball, that will earn KD an MVP trophy over LeBron someday, depending on how their teams fare in the regular season on top of what they achieve as individuals. Yet the gulf between LeBron and Durant -- and anyone else you want to nominate -- is only widening in terms of Best Player in the Game status. It takes more than that to win the annual MVP race, but LeBron will start every season for the foreseeable future having sewn up Best in the World status in his sport before a ball is dribbled.
Messi, even with the more expansive body of work when it comes to delivering in the clutch, can't say the same.
Not when Ronaldo is more like LeBron in terms of having the sort of blueprint body, athleticism and array of skills for young footballers to aspire to.
Conclusion
As I can scan through all the selected categories, I'm surprising myself somewhat but unavoidably giving the edge to LeBron. Hard as it is to believe, so soon after Messi just shattered his sport's all-time record with those 91 goals in 2012, LeBron's ability to lord over everyone else in the NBA sways it for me.
As we speak.
Yet as Nash suggested from the start, there aren't exactly clear-cut answers when the kings in question are playing two different sports. That's what motivated me in first place to seek out active experts from both orbits, from Planet Roundball and Planet Footy, to try to help make the call.
For Luol Deng, All-Star swingman from the Chicago Bulls and a lifelong Arsenal supporter who knows precisely how it feels to chase James around a 94-by-50 hunk of wood, it's actually... Messi.
Deng introduces a fresh and thought-provoking variable by bringing up Messi's ceiling, which is indeed higher than LeBron's because his whole legacy changes in a dramatic way if Argentina wins just one World Cup in his time.
"As good as LeBron is," Deng says, "I have to go with Messi. Because what he's doing, he's about to, he's on pace to (become) the best ever. ... Whoever Barcelona's playing, you're just interested to watch because Messi's playing."
Can LeBron Raymone James go down as the greatest to ever play NBA basketball? Can we just assume he's going to wind up with a Jordan-esque fistful of championships?
See? Interesting variable.
Said Simone Sandri, NBA correspondent for Italy's famed La Gazzetta dello Sport and a former professional soccer player in his country's Serie B and Serie C divisions with, among others, his hometown club Novara: "If I have to cast my vote, I have to say LeBron. Leo is obviously having another fantastic season, but LeBron, in my opinion, is having a bigger impact. Barca is such a machine that I really believe, for the sake of argument, that they could afford a Messi injury and still reach some of their goals at the end of the season.
"It's hard to imagine the same thing for the LeBron-less Heat. I would have to say that, right now, LeBron is bigger threat to his opponents. Not to put Messi down, but shutting Messi down does not mean shutting Barca down. That's a team that can hurt you in many ways. Shutting down LeBron doesn't guarantee you a win over the Heat, either, but it's a bigger step in that direction."
We've given the final word, trying to stay focused on the now, to U.S. national team midfielder Sacha Kljestan, who found himself in the Champions League along with Messi with his Belgian club Anderlecht this season ... when Kljestan wasn't following his beloved Clippers by any means necessary as Europe's biggest fan of L.A.'s other team: "Right now, Messi is the king of team sports. For a few reasons. He's young and has won more. He's been the world player of the year for the last four years; LeBron only has three MVPs. Messi has won the Champions League three times; LeBron only has one NBA championship.
"Of course Messi has been playing for Barcelona the whole time, with 10 other world-class players, whereas LeBron has only recently joined his 'Barcelona.' But right now, Messi is king. You know how much I love basketball, but Messi is on another level."
Dimes past: Sloan/MIT, Day 1 | Day 2 | 3 | 4 | 5 | 6 | 7 | 8-9 | 10 | 11 | 12 | 13 | 14
ESPN Senior Writer
• Senior NBA writer for ESPN.com
• Began covering the NBA in 1993-94
• Also covered soccer, tennis and the Olympics
2. Western Conference

We all know that the playoffs and how Oklahoma City fares will be far more of a referendum on the James Harden trade than the regular season will be.
But one factor that merits more consideration than it's been getting in this discussion, as I'm sure we'll all be looking at with greater frequency once the playoffs arrive and folks start to remember that the Thunder are worthy of our attention, is the prodigious progress made by Serge Ibaka this season.
How much progress?
One trusted GM keeps telling me that Ibaka would and should be a max contract guy this summer if he weren't soon heading into a four-year extension with OKC valued at just under $50 million starting next season.
Finding a way to re-sign Ibaka at that price last summer has to soften the blow for the Thunder, no matter what happens in the postseason, after they felt forced to trade Harden to Houston against their will because of the more punitive nature of the NBA's luxury tax scale starting next season. That's especially so if you buy the admiring GM's theory that Ibaka is now "better than Tyson Chandler" because of the offensive versatility he has married to his rangy work as a defensive anchor. Chandler remains the superior defender, but Ibaka will add polish on D with time while continuing to expand an offensive game that routinely includes corner 3s now.
---
Some numbers of note in the West this week:
18.8: Russell Westbrook averages 18.8 shots per game for the Thunder compared to Kevin Durant's nightly 17.9 attempts. If that holds up for the rest of the season, according to the Elias Sports Bureau, OKC will become just the second team in history to field an NBA scoring champion with a teammate who shoots the ball more than the champ. Neil Johnston of the Philadelphia Warriors won the scoring crown in 1954-55, but teammate Paul Arizin attempted two more shots per game than Johnston that season.
2: Durant is thus on course to join Charles Barkley (1987-88) on the short list of players to average at least 28 points while attempting 18 or fewer shots per game. KD was at 28.3 points on those 17.9 shots per game entering the weekend; Barkley became the first player in league history to average at least 28 points while attempting 18.0 or fewer shots per game in a single season in 1987-88.
30: Rewinding to San Antonio's 30-point home loss to Portland last weekend, it was only the second for the Spurs at home by at least 30 points in the Gregg Popovich era. The first was inflicted by Toronto in 1997 ... four months before Tim Duncan was drafted.
147: Entering Saturday's play, Denver's JaVale McGee had amassed 147 dunks for the season, second only to the Clippers' Blake Griffin (166).
27: At 27 years and 311 days old, Chris Paul is the fourth-youngest player in NBA history to rack up at least 10,000 points and 5,000 assists. His favorite player as a kid, Isiah Thomas, was 26 years and 222 days old when he got there. Magic Johnson (27 years, 175 days) and Stephon Marbury (27 years, 296 days) are second and third; Oscar Robertson (27 years, 343 days) is fifth.
---
Word is that Dallas made a determined push this spring to try extricate speedy point guard Bobby Brown of Cal State Fullerton fame from his Italian team Montepaschi Siena, but the price was too high to get the 28-year-old back on these shores during the season. Brown has been one of the best players in Europe in 2012-13 and, after stints with the Kings, Wolves, Clippers and Hornets, is expected to return to the NBA next season with several teams interested. ... The Mavericks' D-League affiliate, meanwhile, has waived veteran swingman Rashad McCants, making the 28-year-old former North Carolina star a free agent. But former Mavs guard Delonte West is still on the Texas' Legends roster and finally scheduled to be in uniform for them this week after committing to join the Legends in late January, with the New York Knicks known to be among the teams monitoring West's progress for a possible 10-day callup. West hasn't played since his release by Dallas in late October.
3. One-On-One ... To Five
Bell
Five questions with former Utah Jazz swingman Raja Bell, who became a free agent this month -- but too late to be eligible to play in the playoffs for another team -- after a season-long agreement with the team kept Bell on Utah's inactive list through the Feb. 21 trade deadline following a breakdown in his relationship with coach Tyrone Corbin:
Q: Why, in your own words, didn't a buyout with the Jazz happen before the March 1 deadline so you could find a new team before the playoffs?
A: I just didn't have a guaranteed opportunity to play somewhere else. I didn't have a firm commitment from another team and those were the conditions that Utah put on the table. They told me that if I came to them with an opportunity to play somewhere else, they would buy me out. There were a lot of teams saying they wanted to do something ... but I didn't have a bird in the hand at any time. Or I would have taken it.
Q: How hard was it then to hear your name linked constantly with the Lakers and how much Mike D'Antoni apparently wanted to bring you in and then not end up with them?
A: Unfortunately it became almost comical at the end. I heard Jalen [Rose] and Magic [Johnson] saying (on ESPN's "NBA Countdown" show) that they thought I'd be with the Lakers within a day or two, which was frustrating because, knowing what was going on (with L.A.'s luxury-tax concerns), I knew it probably wasn't going to happen.
Especially early on, when they weren't playing well, I thought I could have really helped them. I've watched them play a lot and defensively, with Dwight Howard and his presence and Metta [World Peace] and Earl Clark -- some of the rangy defenders they have -- I could imagine myself out there with those guys. I just think it was a really good fit. I thought I could have helped them, but I knew they were really tax-burdened.
Q: You sound like a guy who wants to play right now.
A: I definitely want to play again. I can say in good faith that I'm probably in better shape (at age 36) than I've been at any time over the last three or four years because I don't have the [nightly] pounding that you get over the course of the season. I've also been fortunate that Jerome James, Jerome Moiso and a couple other bigs have been around [Bell's offseason home in Miami] with me and Carlos Arroyo, so I've been able to find some really good pickup games. I'm in as good a shape as I could possibly be in. I really feel like I could hit the court running somewhere.
Q: How open are you to joining a team right away even if you know you couldn't play in the playoffs?
A: The playoffs are obviously a different animal and what you live for, but I definitely would. At the end of the day, you want to be somewhere and you're not. So it feels like part of me is missing.
Q: And if nothing materializes before the end of this season?
A: I like to think that I'm a realist, but I have to see what kind of opportunities are out there for me. It's not totally in my control. But I'll be looking for an opportunity [this summer] to prove that I can still do it and that whatever happened in Utah was just an anomaly.
At this point in my career, I've got a lot of experience, playing for a lot of different teams and playing with all kinds of different players and personalities, so I think I have something to offer that goes beyond just the minutes on the floor. If you asked any of the young fellas that played with me in my elder statesman role, I think they'd say I was pretty good to them.
4. Film Session

Marc Stein joins TrueHoop TV patriarch Henry Abbott for a deep discussion about ESPN.com's weekly NBA Power Rankings and how they differ from the daily automated version hatched by former ESPN.com stalwart John Hollinger, now vice president of basketball operations for the Memphis Grizzlies.
5. Eastern Conference
One trusted insider and faithful Weekend Dime reader, upon seeing the mention in this box last week about how some teams out there expect Monta Ellis to consider opting into the final year on his contract at $11 million next season, took strong issue with that notion and urged me to follow up with a projection that Ellis remains far more likely to opt for free agency come July.
The whispers in Milwaukee have been in circulation for some time that Ellis would opt out of his contract to become an unrestricted free agent at season's end, largely because of the number of teams projected to have salary-cap space this summer and the resultant ability to more than recoup that $11 million in a longer-term deal.
And all that was before Ellis picked up his play recently to the point that Brandon Jennings, who ranks as the closest thing to a face of the franchise in Brewtown, has watched from the bench more than once while Ellis runs the team in crunch time during the Bucks' late-season drive to try and move up to at least seventh in the East so they don't have to see the Heat in Round 1.
For all the talk about how much trouble the Bucks seem to give Miami, they're not getting carried away. The Bucks' length has enabled them to protect the rim and punish the Heat on the offensive glass in past meetings, with further boosts coming from the speed in transition possessed by Ellis and Jennings and Luc Mbah a Moute's underrated D on LeBron, but let's be real: Milwaukee would rather play anyone else in the playoffs. Like everyone else in the East.
---
Some numbers of note in the East this week:
12: Miami is the 12th team, since the NBA became a 30-team league in 2004-05, to beat all 29 other franchises in the same season. The Heat and the 2004-05 Phoenix Suns, however, are the only two of those 12 to beat The Other 29 within the season's first 61 games.
4: Another entry for the Don't Forget Dwyane Files: Dwyane Wade is on the league's four-man short list of players -- along with Kevin Durant, Tony Parker and, of course, LeBron James -- to be averaging at least 20 points while shooting 50 percent from the field or better. He's also the first guard since Michael Jordan to score at least 20 points while shooting at least 50 percent from the floor in 11 straight games.
34: Friday night's visit to Milwaukee is Game 2 of Miami's 34th road trip in franchise history spanning at least five games. Of the previous 33 trips, only twice did the Heat manage to go unbeaten, with a 5-0 jaunt in 1993-94 and a 6-0 trip in 1996-97. Since those two, they've failed to sweep 21 straight trips spanning five games or longer, including two this season.
26: Those 25 free throws Dwight Howard sank Monday in his return to Orlando fell one short of the single-game record established by a former Chicago Bull named Michael Jordan, who enjoyed a 26-for-27 evening at the stripe in our senior year of high school in 1987. Howard, though, needed a record-tying 39 attempts for his 25 makes, matching Dwight's own single-game mark from January 2012. Wilt Chamberlain is second all time in that category with his 34 free-throw attempts on Feb. 22, 1962.
10: Howard went back to Central Florida as the Magic's all-time leader in 10 significant statistical categories. Points, minutes, starts, free throws, free-throw attempts, rebounds, blocks, turnovers, fouls and win shares to be specific. Howard is second in Magic history in games played, field goals and field-goal attempts, trailing Nick Anderson in all three categories.
---
It's true that the pick Brooklyn surrendered in last season's Gerald Wallace trade became Damian Lillard, but it's a misnomer to flatly conclude that the Nets would have wound up with the overwhelming Rookie of the Year favorite instead of Portland had they simply kept the pick. It's believed that the Nets, if they hadn't dealt their lottery pick for Wallace, likely would have drafted Cavs big man Tyler Zeller at No. 6, since point guard -- with Deron Williams presumed to be re-signing -- wasn't a position of prime need. ... The sentiments are bound to blow over with time, because he's such a team-first guy, but the rumbles are out there that Derrick Rose was fuming about ESPN Chicago's report last week that his return from knee surgery was being held up only by Rose himself. And rightly so. The Bulls themselves should be the ones trumpeting louder than anyone that there is zero incentive for D-Rose to rush back on a still-recovering left knee for a handful of regular-season games and then the cauldron of the playoffs instead of letting him work his way back through the offseason and training camp for next season. But they aren't saying it anywhere close to loud enough to take pressure off the face of their franchise.
6. Pitch Man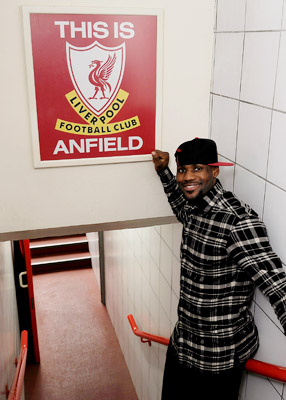 Andrew Powell/Liverpool FC/Getty ImagesOne category in a LeBron-versus-Leo debate that Mr. Messi can't check: King James has held a minority ownership in storied English club Liverpool since 2011. (See box No. 1)
7. Chatter Box
Fitzsimmons & Durrett: Marc Stein
Marc Stein joins Fitzsimmons & Durrett to discuss the impact Kobe Bryant's injury has on the Mavericks' playoff hopes, how long he expects Bryant to be out and the Western Conference playoff race as a whole.
8. Marc's Quote

Popovich
"I don't want to win 20 games in a row [again]. Now that might sound … 'Well, who wouldn't want to do that?' [But] it's too much of a grind. I was hoping for a loss [in last season's playoffs]. I thought about doing things to make sure we get a loss here and there, but you can't do that to your team."
Spurs coach Gregg Popovich, in an ESPN Radio visit with Dr. Jack Ramsay, Marc Kestecher and me during All-Star Weekend, reflecting on the burden of San Antonio's 20 consecutive wins before it suffered four straight losses to Oklahoma City at the worst possible time to lose the Western Conference finals in six games.
Pop, though, was careful to explain that a 20-game win streak for the Spurs -- in comparison to the 20 consecutive victories that Miami lugged Friday night into Milwaukee -- created such a weight because of when it was happening, with half of those W's coming during the playoffs.
Reason being: "When you win that many games in a row," Pop contends, "… you're very likely going to lose [up] to three games when that thing is done. It's just such a letdown. And in the playoffs you can't afford that. Not against a team that is as young and talented as Oklahoma City."
No huge worries, then, for the Heat. Fascinating as I found it to hear Popovich admit to the sort of fretting that was only whispered about in an unnamed-insiders-sort-of-way when San Antonio's streak was actually happening -- that he actually wouldn't have minded a loss against the Jazz or Clippers in the first round just to take the edge off for his guys and mitigate the steepness of the letdown -- Miami isn't facing the same sort of harm by trying to keep this amazing run going.
So what if the Heat lose three or four in a row when this streak ends? Those will be regular-season games whenever they are. Unless the Heat get sucked into overextending themselves to try to get closer to the Lakers' magical 33-in-a-row run during the 1971-72 season -- which I highly doubt Erik Spoelstra or Pat Riley will allow to happen -- why not try to at least nudge past the 22-in-a-row Rockets into second place on the all-time list?
LeBron James has had to hear for years about all the things his résumé is missing. Twenty-three straight wins (or more) would be a nice little entry to spruce it up. Unless he confesses to his coach or boss that his rather mortal March numbers are the product of fatigue, or unless Spoelstra or Riley see it that way themselves, let LeBron and Co. keep chasing them.
And, yes, it says here that the Heat will beat the Bucks and then the Raptors on Sunday afternoon in Toronto to give themselves a shot at passing Shane Battier and his streaky pals from Clutch City in 2007-08.
P.S. -- LeBron's only averaging 21.6 points, on .468 shooting from the field and .310 shooting from deep, to go with 7.8 rebounds and 6.3 assists per game in eight outings this month. And that's after averaging 29.7 points, on .641 shooting from the floor and .432 shooting from deep, to go with 7.5 rebounds and 7.8 assists per game in February. On second thought …
9. Streak Central
Everything you could possibly want to know about the Miami Heat's 20-game win streak -- in list form -- heading into Friday night's visit to Milwaukee ... with the usual assists from ESPN Stats & Information and the Elias Sports Bureau:
LONGEST WIN STREAKS, NBA REGULAR SEASON
1971-72 Lakers
33*
2007-08 Rockets
22
2012-13 Heat
21
1970-71 Bucks
20*
2008-09 Celtics
19
1999-2000 Lakers
19*
1995-96 Bulls
18*
1981-82 Celtics
18
1969-70 Knicks
18*
*Won NBA championship that season
LONGEST WIN STREAKS, NBA REGULAR SEASON, BY DEFENDING CHAMPION
2012-13
Heat
21
2008-09
Celtics
19
1981-82
Celtics
18
1959-60
Celtics
17*
*Won NBA championship that season
LONGEST WIN STREAKS, NBA REGULAR SEASON, BY NOTABLE PLAYERS IN HISTORY
| | | |
| --- | --- | --- |
| Wilt Chamberlain | 33 | 1971-72 |
| LeBron James | 21 | 2012-13 |
| Michael Jordan | 18 | 1995-96 |
| Magic Johnson | 16 | 1990-91 |
| Larry Bird | 14 | 1985-86 |
LONGEST WIN STREAKS, NBA REGULAR SEASON, BY REIGNING MVP
| | | |
| --- | --- | --- |
| 2012-13 | LeBron James | 21 |
| 1995-96 | David Robinson | 17 |
| 2006-07 | Steve Nash | 17 |
| 1990-91 | Magic Johnson | 16 |
| 2006-07 | Steve Nash | 16 |
HIGHEST PPG, NBA REGULAR SEASON, DURING WIN STREAK OF 20 OR MORE
| | | | |
| --- | --- | --- | --- |
| SEASON | NAME | PPG | WINS |
| 1970-71 | Kareem Abdul-Jabbar | 29.8 | 20 |
| 1971-72 | Gail Goodrich | 26.8 | 33 |
| 2012-13 | LeBron James | 26.7 | 21 |
| 1971-72 | Jerry West | 25.8 | 33 |
MIAMI'S NEXT 14 GAMES
| | |
| --- | --- |
| 1. | Sunday at Toronto |
| 2. | Monday at Boston |
| 3. | March 20 at Cleveland |
| 4. | March 22 vs. Detroit |
| 5. | March 24 vs. Charlotte |
| 6. | March 25 at Orlando |
| 7. | March 27 at Chicago |
| 8. | March 29 at New Orleans |
| 9. | March 31 at San Antonio |
| 10. | April 2 vs. New York |
| 11. | April 5 at Charlotte |
| 12. | April 6 vs. Philadelphia |
| 13. | April 9 vs. Milwaukee |
| 14. | April 10 at Washington |
SCHEDULE BREAKDOWN
5 at home, 9 on the road
12 vs. East, 2 vs. West
5 vs. teams over .500, 9 vs. teams below .500
4 back-to-backs
10. Corner 3
Three quick slams and dunks from the deepest recesses of Weekend Dimedom:
1. Jamal Crawford's wonderfully creative open-court oop to Blake Griffin. Kobe Bryant over all those Nets. Harrison Barnes' original tomahawk over Nikola Pekovic that people have apparently somehow forgotten because it happened so early in the season. And an absolutely spectacular combination (on this scorecard) that shamefully isn't even in the top 10 of NBA.com's Dunk Ladder right now: My man Pablo Prigioni pitching it low to J.R. Smith ... and J.R. reverse-dunking it anyway even though the ball was thrown as more of a pass to a cutter down the middle of the lane. Those are all dunks that I personally enjoyed more than DeAndre Jordan's lob smash on the head of poor Brandon Knight. I fully understand that I'm in the minority here. And I realize, as tweeted Sunday, that the best dunk is always the last great one we saw. But I guess this grumpy old scribe is as prone to be hooked by the pass as the finish on these things. (Although I sure do love Shawn Kemp's "Lister Blister" in the '92 playoffs.)
2. No one is better than the Knicks at trying to throw us off with their high-brow medical vocab. Example: Who said Carmelo Anthony had his knee drained this week? The procedure, in Knicks-speak, was merely Melo having a "soft-tissue fluid collection of his posterior right knee aspirated." The reality, though, is that Amar'e Stoudemire's future is clearly cloudy and scary no matter how times we hear the nebulous technical term "debridement" to describe what's happening to his left knee. There's legit fear in circulation that Stoudemire, who had embraced his new reality as a limited-by-injury scorer off the bench quite admirably in recent weeks, isn't going to be able to keep coming back from these serious setbacks. Hope I'm wrong, because I've always enjoyed covering Stoudemire in good times and bad, but I'm officially worried for him.
3. The trade deadline passed in Utah with Al Jefferson and Paul Millsap staying put, but I've still got a swap for the Jazz to consider: Ty Corbin for Jerry Sloan. If the Jazz are going to keep running Sloan's offense as they still do -- and if Sloan wants to return to bench life as we keep hearing -- what's the downside? Can Utah attract a more accomplished free agent, player or coach, than the NBA's most famous John Deere devotee? I'm guessing Sloan, on principle, wouldn't nudge his former assistant aside to come back to the franchise even though it's been shorn of D-Will. And Sloan's presence wouldn't change the fact that none of Utah's foursome of quality 4-men can stretch the floor ... or come with a sure-thing point guard to make the offense hum like it did for nearly two decades. But I can't help thinking, even if I'm guilty of some romantic reaching here, that the Jazz would not be the first team everyone nominates to fall out of the West's top eight if Sloan was back in his old seat. Corbin's modest sideline presence and iffy rep as a game manager just don't inspire confidence.