1. Why Returning Would Be The Real Departure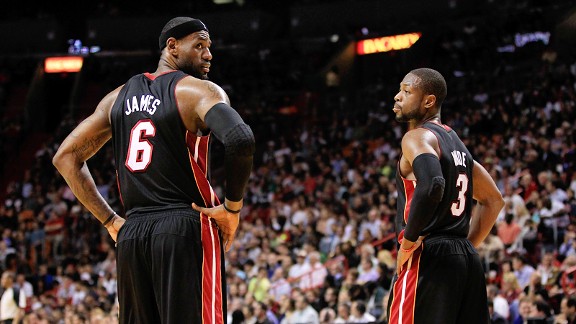 Christopher Trotman/Getty ImagesLeBron James and Dwyane Wade have each other's backs. Hard to see them parting ways.
The Cleveland Plain Dealer is already running a poll on
its web site
, some 15 months away from 2014 free agency, inviting their readers to weigh in on the notion that
LeBron James
is going to take his talents straight back to Northeast Ohio as soon as he's able.
Good news for the roughly 48 percent of respondents who, to date, are either urging the Cavs to pass on reuniting with that traitorous King or saying they need to "see how the next year goes" before making up their minds: Odds are you're not going to have to worry about it in real life.
Because getting LeBron out of South Beach is going to be harder, way harder, than it ever was for the Heat to get him to leave home.
I know, I know: I was one of those know-it-alls, roughly 15 months away from July 2010, who said LeBron wouldn't leave Cleveland. One of those folks convinced that LeBron, as a native Ohioan, badly wanted to be the athlete responsible for lifting the suffocating Cleveland curse and finally bring a championship to the longest-suffering city in American sport. But that was then.
This is an older, wiser, matured LeBron. Different guy. He won't be staring pensively at two ringless hands like last time, with fingers crossed he's choosing right, because he's got some of that must-have jewelry now, along with the unassailable knowledge that the road to the mountaintop in today's NBA has to run through him. Wherever he plays.
Of perhaps even greater significance: James also has a bond so thick with Dwyane Wade that it's getting tougher and tougher to picture LeBron saying goodbye to him anytime soon.
I just can't see it happening. LeBron-A-Thon II won't fully crank up until the free agencies of Dwight Howard and Chris Paul play out this July, which only then shoves James' future to the forefront like it was seemingly every day of the 2009-10 season -- and realistically for months before that -- but I see little need to wait. Even with the mighty Lakers likewise said to be saving up all of their own salary-cap space for a run at King James, I'm prepared to proclaim today that the Cavs are the only team out there that has a realistic shot at stealing James back from Wade and Pat Riley.
And I don't give Dan Gilbert much hope of avenging his defeat in the last LeBron-A-Thon ... unless he intends to move the Cavs to Akron.
This really isn't about the infamous Comic Sans bile Gilbert unforgettably spewed on LeBron's way out the door. For all the presumed trophies James could keeping winning by teaming up with 20-year-old Kyrie Irving, plus all the old wounds he could heal (and image points he could score) by returning to the team and town he jilted in July 2010, it's a skepticism that stems from the roots LeBron has quickly planted in Miami. Roots of a deep, different sort than he ever had when he was playing less than an hour away from his beloved St. Vincent-St. Mary High School.
The tag team with Wade, under Riley's Godfatherly watch, helped James start to rewrite his legacy. With those two as championship mentors and LeBron figuring out the rest of it on his own, No. 6 finally stared down his shortcomings and burst through the finishing tape in Year 9, with plenty of evidence to suggest that he could well have two more rings by the time he returns to the open market.
It's a bond with Wade, from the Heat's Finals meltdown in 2011 against Dallas to the ridiculous 24-game win streak they proudly carted into the weekend, that has thickened to the point these two are widely regarded as the closest two teammates on the NBA map. Which makes it harder and harder to picture LeBron, just a year and change from today, telling D-Wade and Riles: Thanks for getting me started, but now I need sidekicks with more shelf life to finish the job.
"I never think about it," Wade said last month at All-Star Weekend, when I had the chance, alongside ESPN Radio sage Dr. Jack Ramsay and host Marc Kestecher, to ask him how worried he is that he and James could be down to their last couple playoff runs together.
"Obviously no matter what happens in our professional careers, LeBron James is my best friend," Wade continued. "We (were) very close when he was in Cleveland and we're even closer in Miami. No matter what the future holds for either one of us, we'll be very close. I always want the best for him and I know he wants the best for me. And right now we enjoy being teammates.
"When it's time to deal with that, as professionals, we will deal with that. But right now, it's not time."
Anything can happen in 15 months, I suppose, but I'm sticking with these sentiments until/unless the LeBron-led Heat reacquaint themselves with playoff failure. The unavoidable reality of the NBA's increasingly strict luxury-tax rules do mean that the Heat will be forced to look strongly at breaking up the Heatles by trading away Chris Bosh to put a more tax-friendly supporting cast around the two basketball soul mates, as ESPN.com's Brian Windhorst expertly laid out earlier this week), but they'll cope if that's how it goes. If Riley has to deal Bosh between now and the next trade deadline in February 2014 to reconfigure the roster and give LeBron even more reason to stay, he'll suck it up and trade him.
None of the above pessimism, mind you, means that Cleveland should stop trying. That Plain Dealer poll, prompted by LeBron's last Cleveland visit of the season Wednesday night, could be 100 percent against the idea and still you go all out for the best player on Earth. Rival executives know what the Cavs are trying to do with all those future first-round picks and all that cap space they've amassed: Trade for (or sign) a Kevin Love-ish complement to Irving to really make The Next Decision tough.
Those efforts, though, are bound to be futile. If Miami can't afford the tax implications of paying three top-line stars, it's obviously going to be harder for a team like Cleveland to stomach them. And even if the Cavs get the roster math and balance just right, they'll not only need Kyrie to free himself from the grip of injury torment (see Box 5) but then convince LeBron to leave the place in which he's finally found peace.
The contract after this next contract? Maybe then. Maybe that's what LeBron James was talking about last season when he hinted at going home again someday.
In 2014? Not likely. Not based on what's swirling inside this crystal ball anyway.
With the acknowledgment that this is just one man's forecast, it says here that LeBron and Heat Lifer D-Wade are far more likely to take a shared vow to take on the challenge of trying to keep winning with a new crew around them than to abruptly part ways.
"We love to play together," Wade told Dr. Jack at our roundtable discussion in Houston. "We always have. From All-Star Games to Olympic games to (Olympic) practice, we always loved to play with each other.
"I think in the first year it was frustrating to both of us because we (weren't) on the same page and we always have been. Every time we played together (before Miami) it was like second nature. And that first year was a little rough for us. But once we figured it out, as you see now, we play off each other very well."
We see it, yes, and we will continue to see it. It says here.
Dimes past: March 4 | 5 | 6 | 7 | 8-9 | 10 | 11 | 12 | 13 | 14 | 15-16 | 17 | 18 | 19 | 20 | 21
ESPN Senior Writer
• Senior NBA writer for ESPN.com
• Began covering the NBA in 1993-94
• Also covered soccer, tennis and the Olympics
2. Western Conference

The thinly veiled shots have been zipping in and out of Memphis, with Rudy Gay repeatedly referring to the "rookie owners" who dealt him away and former teammate Tony Allen subsequently announcing that the Griz have turned into the "team that we were two years ago" that upset top-seeded San Antonio in the first round of the 2011 playoffs ... without the then-injured Gay.
What does it all mean?
The belief here from the start was that the Grizzlies' ceiling for this season didn't appreciably change in the wake of Gay's exit, because no one was picking them to win the West even with Gay ... and certainly no one was describing Memphis as some sort of Superteam before the swap. But the increasing willingness of the teammates he left behind to talk about how well they're doing now without him, namely Allen and Zach Randolph, only fortifies the idea that there was some locker-room unease when everyone was healthy.
Or as one insider described it this week: "The guys really like Z-Bo and [have] rallied around the guy who's still there."
Said Randolph in an interview with USA Today's Sam Amick: "I think we're a better team, man. You're [getting] the whole team playing one way and guys sticking to what they do and playing together, playing for each other and playing defense and playing inside-out basketball. It's a lot better -- a better mindset -- playing like that.
"When [the trade] first happened, everybody was down about it, especially because Rudy was like a brother to us. It was difficult at first. You wouldn't think it would be this way now, but it is."
---
Some numbers of note in the West this week:
2: This is the first time in NBA history, thanks to Denver joining Miami, that we have two teams sporting active winning streaks spanning at least 14 games.
14: Besides winning its past 14 games overall, Denver has won 14 in a row against Western Conference opposition, last losing to a West foe back on Jan. 16 at Oklahoma City.
51: The Nuggets have outscored the opposition in the paint in 51 consecutive games. They've been outscored in the paint only twice all season.
137: With 137 3-pointers this season, Dallas' Vince Carter, at 36, is second among players in 3s made as a sub behind the Thunder's Kevin Martin (140).
1: For all the love he gets for his work as a defensive anchor and play-the-right-way teammate in Memphis, Marc Gasol didn't have a single go-ahead bucket in the final 30 seconds of the fourth quarter or overtime in his career until his tip-in Wednesday night with less than a second remaining in a narrow win over visiting OKC.
3. One-On-One ... To Five
Durant
Five questions with Thunder star Kevin Durant:
Q: How much does getting the No. 1 seed in the West matter?
A: Of course we want to get home-court advantage [throughout the postseason], but I think we just want to be playing our best basketball going into the playoffs.
Q: No change [in OKC's approach] even after Tony Parker got hurt?
A: People put a lot of emphasis on seeds, but every team in the playoffs is good no matter what. So we just want to be playing our best basketball at the right time.
Q: What's your response to people like me who say that how you guys survived the [James Harden] trade can't really be judged until we see how the Thunder do in the playoffs?
A: It's not easy to win games in the NBA. You can't just take what we're doing for granted. But that's any team. Of course you've gotta prove yourself in the playoffs.
Q: Do we take the Thunder for granted? [Editor's note: Interview was conducted before OKC's losses to Denver and Memphis this week.]
A: We don't really care what you guys say, but at the same time I think you've got to give us a little bit of credit. You win 50 games and there's still 15 games left in the season and people just don't care about that ... winning 50 games is not easy in this league. We just gotta take it a day at a time and not worry about the outside, because most of the time y'all don't know what's [happening] on the inside. It is what it is.
Q: How hard will it be if you have to play the Lakers in the first round?
A: They're a tough team, playing well, but it doesn't matter who we play.
4. More From Streak Central
Twenty-four fun factoids generated by Miami's 24 wins in a row heading into Friday night's home date with Detroit ... with the usual assistance from ESPN Stats & Info and the Elias Sports Bureau:
1. The Heat were 29-14 when the streak began after a Feb. 1 loss at Indiana and they led the Knicks by a half-game in the East. That lead is now 11½ games over No. 2 Indy.
2. Miami has averaged 105.1 points in the 24 victories with an average victory margin of plus-10.9 points.
3. The 33-in-a-row Los Angeles Lakers, who were 6-3 when they uncorked their record-setting win streak early in the 1971-72 season, averaged 123.3 points during those 33 straight W's and won by an average margin of 16 points.
4. The Heat's streak has spanned 46 days to date. The Lakers' unbeaten run in '71-72 lasted 65 days.
5. Miami's rally from 27 points down Wednesday night in Cleveland was the biggest single-game comeback in the careers of Dwyane Wade, Chris Bosh, Ray Allen and, of course, LeBron James. (The largest regular-season comeback in NBA history, for the record, was a 36-point resurrection by Utah against Denver in November 1996.)
6. Surely by now you've heard this gem from Elias, but just in case you haven't: Over the past 15 seasons, teams trailing by 27 points or more in the second half had a record of 5-2,013 heading into Wednesday night's play.
7. A record of 5-2,013 computes to a winning percentage of (gulp) .002. The Heat, specifically, were 0-55 in that 15-season span when facing second-half deficits of 27 or more.
8. How rare is it to overcome such a deficit on the road? Prior to Wednesday night, 1,319 road teams had trailed by at least 27 points in the second half of a game since the start of the 2000-01 season. Only three of those teams came back to win the game: Phoenix over Boston on Dec. 5, 2003 (29 down in the third quarter); Sacramento over Chicago on Dec. 21, 2009 (35 down in the third quarter); Milwaukee over Chicago on Nov. 26, 2012 (27 down in the third quarter).
9. After falling behind by 27, Miami needed only 8 minutes and 37 seconds of game time to tie it up, scoring on 15 consecutive possessions at one stage.
10. During the win streak, six of Miami's wins have been decided by five points or fewer, with five of those opponents headed for the lottery: Charlotte, Cleveland (twice), Orlando and Philadelphia.
11. Thanks to his 25 points, 12 boards and 10 assists against the Cavs, LeBron is up to four triple-doubles for the season -- just one behind league leader Rajon Rondo -- and 36 for his regular-season career.
12. The Cavs were missing their top three scorers, true, thanks to the injury absences of Kyrie Irving, Anderson Varejao and Dion Waiters ... but they're now just 3-3 this season in games they led by at least 20 points. The rest of the NBA is 332-11 in such games.
13. Miami has won 12 straight road games. The Heat hadn't won more than two in a row on the road this season before the streak.
14. Before the big win over Cleveland, AccuScore computer simulations were highly pessimistic about Miami's chances of matching the Lakers' 33-game win streak, projecting that the Heat got there only 7 percent of the time.
15. The Heat have faced deficits of 27 (Cleveland), 17 (Boston), 16 (New York), 14 (Portland) and 11 (Atlanta) points during the streak. All but the Portland game were road games.
16. Explain this one: Miami is 9-0 this season when the opposition has a player with 31 or more points.
17. When the week began, with Miami still at 22 consecutive victories, online oddsmaker Bovada.lv established an over/under of 29 wins for the Heat's streak. The Heat were also listed as a 10-to-1 shot to win their final 16 games of the regular season.
18. With 37 points and 12 assists in Monday's victory over the Celtics, LeBron upped his career scoring average against Boston to 30.5 points in 33 career regular-season games. The only other player in NBA history to average better than 30 points per game against the Celts in the regular season, according to the Elias Sports Bureau, is Michael Jordan at 30.7 points per game.
19. Monday's game-winning bucket in Boston was LeBron's sixth go-ahead or game-tying shot in the final 24 seconds of a game (regulation and overtime) in his Heat career.
20. The Celtics led by 13 points with eight minutes remaining against the Heat. Since Paul Pierce joined the Celts in 1998-99, they had been 316-2 in games in which they led by at least 13 points with eight minutes or less to play.
21. The Heat have 14 double-digit wins during the streak to go with their six decided by five points or fewer. Twenty-four of the Lakers' record 33 wins in a row were by double digits.
22. One wrinkle during the Lakers' ride to 33 in a row that the Heat wouldn't be able to match if they tried: Lakers legend Elgin Baylor announced his retirement nine games into the season with L.A. mired in that 6-3 start. After Jim McMillan replaced Baylor in the Lakers' starting lineup, they immediately launched the longest win streak in the history of North American team sports.
23. The Lakers, in case you're wondering, went 30-10 in the regular season after the 33-game win streak and finished with a record of 69-13, good for No. 2 all-time behind Chicago's 72-10 mark in 1995-96. L.A. went on to win the championship, dropping only three games in series victories over Chicago, Milwaukee and New York, after losing in its previous eight trips to the NBA Finals. But Baylor's early retirement meant he left the game without the championship ring that eluded him so many times against mighty Boston.
24. Bad omen? The three other teams this season that, like Miami in Cleveland, came back from a deficit of 26 points or greater -- Atlanta, Milwaukee and Phoenix -- combined to go 0-3 in their next game and lost those three games by a combined 29 points. The Heat, mind you, are playing host to a Pistons team Friday that has the fewest wins in the league (two) since the All-Star break.
5. Eastern Conference

The season-ending knee injury suffered by previously projected No. 1 overall pick Nerlens Noel derailed Kentucky's season so far off track that the mighty Wildcats stunningly couldn't find their way into the 68-team field for the NCAA tournament.
They're the first school since Louisville back in 1986-87, according to Elias, to be ranked in the top three of the Associated Press' preseason poll and not make it to the Big Dance.
Yet every expert on the matter we've consulted nonetheless insists that Kentucky's nightmarish season actually makes it even less likely that we'll see John Calipari back in the NBA anytime soon.
Amid the ongoing presumptions in coaching circles that Nets owner Mikhail Prokhorov will want to pursue a marquee name for his bench this summer, given that the Nets won't have the financial flexibility to make a free-agent splash, Calipari's name is bound to resurface as a top target. Especially since Phil Jackson, who was clearly Prokhorov's dream target when Avery Johnson was ousted in late December, has shown little interest to date in entertaining the Brooklyn job.
But the strong word in coaching circles is that Calipari -- while cognizant of the fact that Prokhorov is the one owner out there who could comfortably put the sort of "Monopoly money" on the table, as one insider describes it, to trump the big bucks he makes in Lexington -- will be itching to come back with a vengeance next season after Kentucky slumped from a national championship in April 2012 all the way to a first-round loss in the NIT to Robert Morris.
It's thus a stretch, bearing those circumstances in mind, to imagine Calipari leaving the college game on that note, given that he's compensated handsomely already. And it gets even harder to imagine when you hear that five of the top 11 players in the ESPN 100 are bound for Kentucky next season after the Wildcats secured the commitment this week of Dallas-based forward Julius Randle.
It should also be noted, in fairness, that Nets interim coach P.J. Carlesimo continues to help his chances of retaining the job beyond this season by doing things like clinching a playoff spot before the Knicks did. Brooklyn is off to a 2-0 start on a killer eight-game road trip and sits just three wins shy of clinching the first winning road record for the season in the Nets' NBA history.
---
Some numbers of note in the East this week:
3: With his 38 points and 11 boards Wednesday night at Dallas, Brook Lopez became just the third Net to hit those totals in a road game since the team joined the NBA starting with the 1976-77 season. Vince Carter did it twice in 2005 and Cliff Robinson was the first in 1981 at Detroit.
24.98: Lopez was fourth in the NBA in PER (player efficiency rating) as of Friday morning with a reading of 24.98, trailing only LeBron James (30.96), Kevin Durant (28.02) and Chris Paul (26.22). Lopez also leads all centers in scoring at 19.0 points per game.
6: Reggie Evans' 22 rebounds in that Brooklyn road win over the Mavs marked his league-leading sixth game this season with at least 20 rebounds this season.
2: The Celtics, for the second successive season, have surrendered the first game-winning shot by a rookie in the final 10 seconds of the fourth quarter or overtime. New Orleans' Anthony Davis did it to the Celtics on Wednesday night by tipping in an Eric Gordon miss with less than a second remaining in regulation in the Hornets' 87-86 victory; Cleveland's Kyrie Irving beat the Celts with a game winner last season with less than three seconds left in Boston and the Cavs trailing by a point on Jan. 29, 2012.
4: Jason Kidd will give the NBA its fourth active 40-year-old when he celebrates his birthday Saturday, joining Knicks teammate Kurt Thomas, Grant Hill of the Clippers and Miami's Juwan Howard. Kidd also recently became only the third player in league history to amass at least 100 steals when aged at least 40 at the end of the season. Michael Jordan (123 steals in 2002-03) and John Stockton (152 steals in 2001-02 and 137 in 2002-03) are the other two.
---
Cleveland sports fans will survive the Cavaliers' 27-point collapse Wednesday night against Miami. They've been through much, much worse when you rewind to the Browns being on the wrong end of The Drive piloted by Denver's John Elway in 1986 ... or the Indians' failure to convert a 3-1 lead over Boston in the 2007 American League Championship Series ... or the free-agent defection to Miami by LeBron James himself in July 2010.
The much harder hit for the Cavs and the basketball public in town is what keeps happening to Kyrie Irving.
Irving's electric performance anytime he set foot on the hardwood at All-Star Weekend in Houston seemed to signal his worldwide bolt to prominence, but the 20-year-old is ailing again, sidelined by shoulder woes that threaten to shelve the kid for the rest of the season.
Which means Irving, since going pro after a toe injury at Duke limited him to 11 games in his only collegiate season, has been hit with injuries to both shoulders, knee trouble, one concussion, fractures in both his wrist and a finger ... as well a broken jaw for good measure in two annoyingly incomplete NBA seasons.
I'm as bummed as anyone to see him labeled injury prone, because he's wowed me every time I've had the privilege to see him live, but it's getting harder and harder to fight it when Irving had missed 34 of a possible 134 games as a pro entering the weekend.
6. Stepping It Up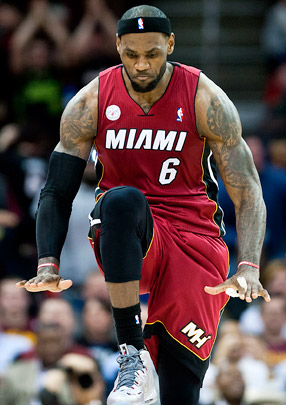 Jason Miller/Getty ImagesLeBron James and the streaking Heat certainly have some pep in their step. (See Box 4.)
7. Chatter Box
Marc Stein joined Beto Duran and Dave McMenamin on ESPN Radio in Los Angeles (710 AM) to talk about the Miami Heat's win streak as well as potential playoff matchups for the Lakers ... assuming they get there.
• Listen to the audio here

8. Marc's Quote
"I really appreciate your concern for my health, man. I really do. Thank you."
Williams
Nets guard Deron Williams, responding Wednesday night -- after shredding his hometown Dallas Mavericks for 26 of his 31 points in the second half of a 17-point win on the road -- when yours truly asked him how much healthier he feels now compared to where he was healthwise before the All-Star break.
(You can listen to the brief exchange here.)
As a variety of writers informed me afterward, this has become D-Will's stock answer to inquiries about the state of his ankles. He clearly doesn't want to repeatedly address the recent platelet-rich plasma therapy and cortisone shots that have him moving so much better since the break. Or the 10 to 15 pounds he has shed, according to one source's estimate, in a concerted effort to slim down that was kick-started by a three-day juice cleanse.
None of that backstory, though, is why D-Will has claimed Quote of the Week status here. Nor is it the well-chronicled attempt by the Mavericks to sign Williams in free agency last summer, as updated here by ESPN Dallas' Tim MacMahon, and how his great game only whipped up more drama to heap onto the ongoing acrimony on both sides.
It's this backstory: D-Will giving the same answer over and over, with such aplomb, got me all nostalgic about my very first season of beat-writing in the NBA. That's when Ron Harper, within days of me starting to travel with the Clippers for the Los Angeles Daily News in February 1994, famously announced that he was "just doing my jail time" in reference to his last two months in Clipperland before hitting free agency.
The Clips suspended Harper for a game, prompting Harp to thereafter counter literally EVERY SINGLE QUESTION he got for the rest of the season with the same one-word answer: "Whatever." He was never again quoted as saying anything besides "whatever" until the summer of 1994, when he joined the Chicago Bulls in free agency and, after a slow start trying to replace the retired Michael Jordan, wound up taking part in all three championship runs of His Airness' second three-peat as a handy role player ... as well as eventually reclaiming his status as one of the most quotable players of his generation.
Just couldn't resist retelling that tale after catching wind of D-Will's Harperesque determination to swat away every new health question with the same line. That is all.
9. LeBron vs. The Field
Q: LeBron or the field: Best player ever at the end of his career.
James
Marc Stein: The field. I'm that annoying guy in the back of the room who keeps raising his hand to say that Michael Jordan doesn't automatically hold the rights to this crown over the greatest winner ever (Bill Russell) and the two NBA saviors (Magic and Larry) who, unlike Mike, had to constantly butt heads with an equal in his prime. So the bar is higher than folks ever acknowledge ... and LeBron's gotta get past Timmy and Kobe first.
To read the rest of the 5-on-5, click here
10. Corner 3
Three quick slams and dunks from the deepest recesses of Weekend Dimedom:
1. I know there's a lot on this page about Miami's streak. Too much, perhaps. Yet one thing we haven't sufficiently covered is the Heat's good fortune. Living in the Eastern Conference was always going to be a huge advantage for LeBron James and Co. compared to what their rivals in Oklahoma City and San Antonio are dealing with every day, but all the significant injuries this season (Derrick Rose, Andrew Bynum, Danny Granger, Rajon Rondo ... and most recently Carmelo Anthony, Tyson Chandler and Amare Stoudemire again in New York) have made it even harder to dream up a scenario where someone in the East stops Miami from getting back to the NBA Finals. Give LeBron this much: I've heard him acknowledge on more than one occasion lately that streaks like this -- and championships -- don't happen without some luck along the way.
2. Maybe the most fascinating story of the week was the revelation from Deadspin that retired scoring machine Adrian Dantley is working as a part-time school crossing guard in his hometown of Silver Spring, MD. The word in league coaching circles continues to be that he's doing this because he wants to stay busy -- and because of the insurance benefits that come with the job -- after being overlooked for coaching gigs since leaving Denver's bench after the 2010-11 season. It's not, folks keep saying, because he needs the money. But I find the staying-busy notion distressing in its own right if it's true. Maybe that's because I'm still stubborn enough to think, knowing all the things I still want to do and see in life, that there's no way I could possibly be bored in retirement if, God willing, I'm fortunate enough to make it there. Which is why I tend to believe that this is pretty much all about the insurance benefits that come with the job and the corresponding lack of insurance retired NBA players have to cope with. Even Hall of Famers like Dantley.
3. Twitter celebrated its seventh birthday Thursday. And while I presume that a fair percentage of Weekend Dime readers have Twitter accounts and thus might have seen me throw out these survey topics already, I'll close by simply repeating the three questions that I tweeted out there to commemorate the milestone: A) Why did it take me nearly three years to sign up? B) How did we ever survive without Twitter and how instantly informed and connected it keeps us nowadays? C) Has any league or sport out there caught up to the National Basketball Association in terms of being synonymous with Twitter? (Gotta have external help answering that last one especially because I'm too biased.)