Steve Babineau/Contributor /NBAE/Getty Images
Celtics forward Paul Pierce exploded in the second half, earning the approval of the Boston crowd.

Victor Baldizon/Contributor/NBAE/Getty
Dwyane Wade and the Heat held off a strong challenge by Vince Carter's Nets, 99-94.

Andrew D. Bernstein/Contributor/NBAE/Getty
While Amare Stoudemire and Marc Gasol battled, Leandro Barbosa (27 points) led the Suns.

Looking at the standings today, we've got six teams with five wins or more. Let's briefly break down how these fast-starting clubs have moved past the velvet ropes of the elite Club 5W. In no particular order...
• Los Angeles Lakers (5-0)
The best all-around team early in the season -- dominant defensively and offensively even while Kobe Bryant is playing "just" a team brand of basketball. However, the NBA schedule always tests you. They will keep winning, but they're not going 82-0. There will be some tough losses that should allow coach Phil Jackson to work his magic.
• Phoenix Suns (6-2)
Amare Stoudemire will be an MVP candidate, and this team has as many offensive weapons as any team in the league. New coach Terry Porter is stressing balance on both ends of the floor.
Steve Nash will still have chances to push pace when he gets opportunities to run. Most importantly, for the Suns to be an elite team, they need to get Leandro Barbosa and Boris Diaw to play at a high level. We saw Barbosa give them exactly that effort in Monday's 107-102 victory over Memphis, in which he had 16 points in the fourth quarter.
However, over an 82-game schedule, when you have a team that includes several players above the age of 30, the schedule tests your legs. A lot of times shots that fall earlier in the season don't drop at the end. Also: Will the Suns be able rely on defense to win some games?
I think they will be a playoff team, a No. 6-8 seed -- they should win well over 50, but 60 is pushing it.
• Atlanta Hawks (5-0)
This team is growing up, and the young players are contributing. Josh Smith is one of great defenders in the game, and Al Horford is showing himself to be a consistent young big man who can score, rebound and play defense. Joe Johnson is an all-around talent -- one of only a handful of guys in the game who can start at the 1, 2 or 3 and still be just as effective. Off the bench, Ronald "Flip" Murray has made positive contributions.
The pitfall in the short term is going to be Smith's health. While he recovers from an ankle sprain, the Hawks will miss him.
I think we still need to wait and see on this team. Last season's 37-win team showed it can compete in the playoffs -- now the challenge is having the energy and competitive drive to secure a better playoff seed.
• Cleveland Cavaliers (5-2)
LeBron James is off the charts with 41 points twice already this season against the Bulls. He gave the Bulls a chance to look in the mirror and see a different No. 23 dominate. Mo Williams is finding his stride.
But I still want to see how the Cavs' small backcourt holds up -- and having Delonte West and Mo in the backcourt makes for a small tandem. That's something teams might try to take advantage of. Still, I saw Cleveland as a top-three team in the East, and I still feel that way.
• Boston Celtics (7-1)
Paul Pierce is my MVP so far, boosted by his huge fourth-quarter performance against the Raptors on Monday night. His maturation and confidence in being the champion is very evident by the way he's performing. This is a complete team and a joy to watch. You can't minimize Kevin Garnett's excitement and enthusiasm, and Ray Allen still has the sweetest stroke in the game. Kendrick Perkins is a physical presence who is helping control the paint.
Doc Rivers is officially in the NBA's coaching elite. His team understands they won the championship by playing defense, a quality that puts them head and shoulders above the rest as the best team in the East.
• Utah Jazz (5-1)
This team just began a five-game East trip with a loss in New York. Playing without an injured Deron Williams on the road is about to catch up with them. Mehmet Okur is gone, too, tending a family matter in Turkey. This is going to be uphill battle.
It's early, but this trip might be crucial. The Jazz play very well at home -- the toughest home court in the league -- but getting W's on road is vital. If they get some consistent intensity on the road, that will help them finish as a top-four seed -- which will be imperative for them to advance.
It was great to see coach Jerry Sloan get his 1,000th win with the Jazz -- his consistency and character make him one of those stories that transcend sports.
Jalen Rose is an NBA analyst for ESPN and a regular Daily Dime contributor
Dimes Past: Oct. 29 | 30 | 31 | Nov. 1-2 | 3 | 4 | 5 | 6 | 7 | 8-9 | 10
Pierce Wins This Confidence Game
By Patrick Parker | ESPN.com
BOSTON -- Confidence. It's something that never completely deserts a great player, no matter how bad a game he is having.
And for Celtics coach Doc Rivers, confidence was still radiating from Paul Pierce even after every missed layup, clang off the back of the rim and poor pass during Monday's 94-87 comeback win against the Raptors.
Things were just not going The Truth's way, and for that matter the Celtics' way either, as the Raptors had the defending champs frustrated and out-of-sync for most of the game -- at one point the Raptors built a 15-point lead.
But even with all that going against him, including a 3-for-13 night through the first 36 minutes, confidence never left Pierce's side.
"The average player could not have withstood that in the first half," said Rivers. "The average player misses shots and shuts off. The great players miss a shot and he starts thinking the odds are on his side. That's what makes him great."
Well, after that type of -- or lack of -- performance through the first three quarters, the odds were definitely in Pierce's favor. And Rivers saw that.
So, even with Pierce playing 33:23 through three quarters, Rivers gambled and kept him on the floor in the fourth to see if the odds would work out.
And let's just say ... they worked out.
Pierce turned in his best Clark Kent to Superman impersonation Monday night, turning into a beast on the offensive end that the Raptors could not stop, no matter what kind of defense they threw at him.
"You look at the shots Paul Pierce made," Raptors coach Sam Mitchell said. "He drove the basket a couple times, but he was making a lot of 18-, 19-foot shots with guys contesting it."
With hands in his face, and even on one drive with center Chris Bosh's arms extended, Pierce found a rhythm. He finished the final quarter 7-for-9 from the field, scoring 22 of his 36 points, which propelled the Celtics to the win.
"I just took advantage of the opportunities," Pierce said. "I like to play within the flow of the offense; we ran our stuff, and I got caught in situations where I had opportunities to score."
With "M-V-P" chants echoing though the arena when Pierce was at the free-throw line in the final seconds, it was clear that whatever slump he was in, Pierce, his coach and even Kevin Garnett knew it wasn't going to last long.
"I love it when Superman goes into the booth and transforms," Garnett said. "I love it. I have the best seat in the house."
Patrick Parker is an editor for ESPN.com.

O.J. Mayo
scored 33 points in Memphis' Monday-night loss at Phoenix after scoring 31 points in a loss at Denver on Sunday night. Only four other rookies in NBA history scored 30-or-more points on consecutive dates on Nov. 10 or earlier in the season: Wilt Chamberlain (in 1959), Sidney Wicks (1971), Bernard King (1977) and Darrell Griffith (1980).
-- Elias Sports Bureau
By Andrew Ayres
ESPN.com

MONDAY'S BEST
Paul Pierce, Celtics
: Goes for 36 points and nine rebounds in lifting the Celtics to a comeback win over the Raptors. After 45 minutes on the floor, Pierce should catch his breath while he can. Three games in five days are looming for the C's.
---

MONDAY'S WORST
Rashard Lewis, Magic forward
: Missed all five of his 3-point attempts (last 10 overall) in Orlando's 107-99 home loss to the Blazers. On off nights like this, this is usually the part where detractors note that he's making $16,447,871 this season. Rotten ol' detractors.
---
QUOTE OF THE NIGHT

"That's pretty good for a 5-7 guy."
-- Pacers forward Danny Granger, joking about T.J. Ford's 24-point, 10-assist night in a 107-99 win over the Thunder (Ford is listed at 6-0)
By Patrick Parker
ESPN.com
BOSTON -- The funk Jermaine O'Neal was in the past few games revealed its ugly head again, this time against the Celtics, and this time for only one half.
After looking like he could score at ease against the C's frontline in the first half -- 19 points on 7-for-12 from the field -- O'Neal fell apart in the second half, ending the game with only four more points.
The big factor that shut down the big fella: Glen "Big Baby" Davis, who came in the third quarter and frustrated the Raptors' newest big man.
"I think [Davis' defense] gave us definitely a defensive push," Kevin Garnett said. "You know we were dragging the first two quarters, and he came in and slowed JO down."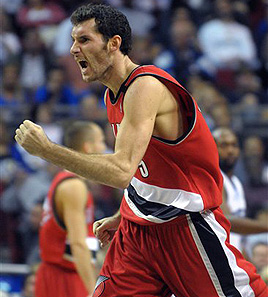 AP Photo/Phelan M. Ebenhack
Blazers guard Rudy Fernandez celebrates after making one of his four 3-pointers during Portland's 106-99 win in Orlando.
Chatting with John Hollinger:
Rea: Everybody is talking about the free agent market in 2010, but seriously, how many of those guys do you think will even make it to unrestricted free agency?? Even if they do, how many do you think will end up bolting to a new city?
John Hollinger: This is exactly why I think the Pistons are more likely to use their $$ in 2009 -- what if they sit on their hands for two years waiting to use the cap space and then get Kraused? Unless LBJ's people called and said "pssst ... get under the cap," there's just no reason for Detroit to wait on that sliver of a chance.
Jerry (Texas): Hollinger, was that a reference to Jerry Krause a while back when no free agent wanted to go to Chicago, post Jordan era?
John Hollinger: Either that or a reference to the maid on the early 80s TV series "Benson," played so elegantly by the long-forgotten Inga Swenson. You decide.
Sean (Detroit): How good do you think the Pistons will be when AI gets acclimated to the team?
John Hollinger: I'm worried that answer is "not as good as they used to be." Iverson's best skill is his shot-creating ability -- but the Pistons didn't really need that.
To read the full chat transcript, click here