Doug Benc/Getty Images

In the wake of the Detroit Pistons' season-opening win over Miami Heat, 91-80, on Thursday night, let's answer a few questions posed by an ESPN.com editor.
Not too long ago, these were the lone two superpowers in the East. After this one, how do they look?
First off, these are completely different teams without
Dwyane Wade
in the Heat lineup and
Rip Hamilton
out for Detroit on personal leave.
Still, I don't think that either one of these teams is in the Top 3 in the East. You've got Chicago, New Jersey and Boston likely ahead of them. Right now you'd say it's a changing of the guard over who's the best in the East.
Shaquille O'Neal (nine points, seven boards in 29 minutes) is struggling. That Abe Lincoln beard is going to turn white if this keeps up.
Shaq still gets the double team, but he's not 25 anymore, when he could score through even triple teams. Offensively he struggles when they just pack it in on him. Against the Pistons, the Heat lacked offensive punch. They need Wade.
What would it take for the Heat to play .500 ball until Wade recovers sufficiently from his knee and shoulder woes, his return perhaps weeks away?
Hit some outside shots.
Ricky Davis
,
Jason Williams
and
Dorell Wright
have to hit them to open it up for O'Neal inside.
Come April, where do you see the Heat?
I think Miami will be back in the playoffs. Davis will help -- he gave them something (23 points) and he's only been there a week. Once we see how he can play with Wade, that will be an important factor. Give Pat Riley a chance to coach this team when Wade's back. For now, Miami's goal is to get the new guys intergrated, get Shaq involved, and try and survive until Wade returns.
Any more moves the Heat can make now?
No. They have to let Wade come back and see what they have. Everybody becomes a different player with him in the lineup.
How do the Pistons look?
Nothing exceptional from Detroit in this one except
Tayshaun Prince
(career-high 34 points, 12 rebounds). Detroit will be much better as the season goes on. They're sort of in the mode where they're good enough to make the playoffs, but not win the regular season in the East. They are looking to get their young players some experience.
Arron Afflalo
can play better, and
Rodney Stuckey
can help them a lot when he comes back. I don't think Thursday's a good judge of what either team is going to be a few months from now.
Former NBA All-Star and Nuggets GM Kiki Vandeweghe is a regular contributor to ESPN
Dimes Past:
October 31
|
November 1
Notes compiled by Peter Newmann

MATCHUP


Notes on Friday night's Lakers-Suns game (10:30 ET, ESPN, ESPN360): • Over the last three seasons, the Lakers are 2-10 against the Suns in the regular season. • The Suns have knocked the Lakers out of the postseason in consecutive seasons, both times in the first round. • The Lakers had 40 losses last season, which is a new mark for coach Phil Jackson. It was the most losses he has ever had in a season as a head coach. His previous fewest was 37 last season. • The Suns were 29-1 last season when outrebounding their opponent.
By Chris Broussard | ESPN The Magazine
The Lakers should not trade Kobe Bryant this season. Period.
They need to put an end to this circus ASAP, and they should do so by coming out publicly and saying Kobe will remain with the Lakers, that they're no longer listening to offers. The offers they've been getting are a joke. The latest talk, as reported on Wednesday, by my colleague Ric Bucher, had them receiving Ben Wallace and Ron Artest in a three-way crash with Chicago and Sacramento. And that makes the Lakers better how? David Stern should take the franchise away from Jerry Buss if he makes that deal. In fact, he should fine him for even considering it.
• Full Broussard blog

Notes compiled by Peter Newmann
Notes on Friday night's Celtics-Wizards game (8 ET, ESPN, ESPN360):
Individually, the new Celtics "'Big 3" torched the Wizards last season.
Kevin Garnett
: 26.0 ppg, 15.0 rpg w/MIN
Ray Allen
:29.0 ppg, 7.0 rpg, 7.0 apg w/SEA
Paul Pierce
: 23.0 ppg, 12.0 rpg, 5.0 apg w/BOS • Garnett has an active streak of nine straight 20 point-10 rebound seasons. No other active player in the NBA has even current consecutive seasons averaging 20 points and 10 rebounds. • Garnett needs 959 points for 20,000 career points.

Thursday's Best

Tracy McGrady, Rockets
Drops 47 points on the Jazz team that sent his Rockets packing. Rockets win, 106-95. Now the challenge is to stay healthy enough to deliver those hammer blows in the playoffs.
Thursday's Worst

Shaquille O'Neal, Heat
No points in the first half of the 91-80 loss to Detroit? Not the big guy's fault. He saw more doubles than a Marlins outfielder. Launches only six shots, scores nine points. More of this, and Officer Shaq will be ready for a "bad cop" role.
Quote of the Night

"We feel like it's Game 8 for us. We wanted to get this win and start our new season."
-- Rockets center Yao Ming, referring to the seven-game series the Jazz rallied to win last season.
• See how Thursday's best fared
-- Andrew Ayres
Overheard In Conversation
A sampling of comments from ESPN's Conversation pages ... Sold Out Seattle Arena Chants "Save Our Sonics." PLEASE ESPN, THAT NEEDS TO BE A HEADLINE! Fluke71 Houston fans should be happy, it was a great performance by their team... The Jazz's young talent is obviously going to need some time to develop, but their core is great. JazzCeltics I'm a Bulls fan, and it makes no sense for the Lakers to do this trade. And trust me, I want Kobe. Why wouldn't LeBron want to come to L.A.? It'll be like when Shaq went to L.A. mlewinthal Boston's biggest weakness is their bench. They lack depth. pentium4foreve I change my mind, Dallas is the best team, hands down. This, after watching them beat on King James and show the new added power of low-post scores and the Jet coming off the bench to score 15-20 points a night. Defense looks even better -- no depth chart is deeper! lilwaco04
Chad Ford's NBA Dish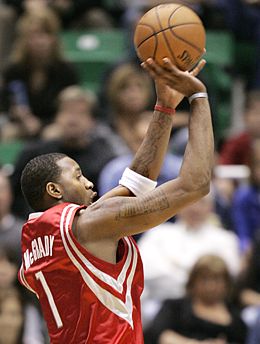 AP Photo/Douglas C. Pizac
Tracy McGrady's 47 points helped the Rockets beat the Jazz, 106-95.