(AP Photo/Julie Jacobson)
Better To Ball Than Brawl

NEW YORK -- The cynic in us wants to say the Knicks peaked Tuesday night. Whether that's true or not, there was an atmosphere inside Madison Square Garden that felt more like May than November. Of course, the Knicks haven't played a meaningful game in May for eight years running now, so that undoubtedly was a large part of the reason why the crowd was on its feet for much of the final two minutes of New York's 119-112 victory over Denver. "It's our fans being anxious to see how we're going to do. We're all anxious, too. We worked hard this summer, and we want to see how good we can be under coach [Isiah] Thomas," said
Jamal Crawford
, whose 25 points topped four Knicks with at least 20.
Eddy Curry
contributed 24 points and eight rebounds,
Zach Randolph
had 22 points and 17 rebounds and
Stephon Marbury
added 21 points and nine assists. The Knicks rallied from an early 15-point deficit, then fell behind by 10 again at the end of the third quarter before rallying in the fourth behind nine points from Marbury and nine points, five rebounds and a block from Curry, who found himself in the unfamiliar position of being praised for his tenacity on the defensive end. "Very rarely do you talk about Eddy's defense and rebounding, but that's the maturation he's come to," Thomas said. The Knicks sold out their second home game of the season for the first time since 2001-02, and on Friday night against Orlando they'll look to improve to two games over .500 for the first time since Jan. 1, 2005. This matchup was quite calm, actually, in comparison to the last time these teams met at the Garden almost a year ago -- a game that featured the
Carmelo Anthony
sucker punch fight late in the fourth quarter, leading to a 15-game suspension for Anthony. This time, Anthony's intensity was directed toward a fan behind the visiting bench who kept yelling to Anthony that he couldn't defend Crawford. An argument can be made that the back-and-forth with the fan distracted Anthony, who shot just 1-for-4 with two turnovers in the final stanza when the Knicks outscored the Nuggets 37-20. There was some blood spilled, too, when
Allen Iverson
knocked heads with Marbury, opening a gash on Iverson's lip and loosening a tooth. Denver coach George Karl stayed away from fanning the flames of his rivalry with Thomas, whom he called a "jerk" and a "jackass" last season following the Knicks-Nuggets mini-brawl. Karl even let on before the game that there was a time back when Thomas was still a player that the two of them were actually on friendly terms. Those days are long over, but Karl maintained that his animosity toward Thomas was not fueled in any way by whatever role Thomas played in the departure of Karl's friend Larry Brown from New York two years ago. "I think everyone around here is treating last year as last year," Thomas said. And this year, instead of walking out of the Garden ashamed at themselves for the damage their mini-brawl did to their reputation and that of the NBA as a whole, the Knicks could finally stand a little proud. Again, it's only the third game of November. But there was an emotion surrounding the Knicks, both on the court and in the stands, that hasn't been so palpable in New York in quite some time. It sure felt different, especially compared to what happened a year ago the last time the Nuggets came into the building. Can the Knicks duplicate it anytime soon? Well, we wouldn't throw out that "peaked" line like we did at the beginning if we felt this was going to become a long-term trend. For now, however, Tuesday night brought some much-needed good karma to a place that hasn't felt any in a long, long time.
Dimes Past:
October 31
|
November 1
|
2
|
3-4
|
5
|
6
Look For Bryant To Stay Put

By Tim Legler | ESPN
I don't think Kobe Bryant's going anywhere, whether sooner or later.
But is it possible this Lakers team could surprise the world and become good enough for Kobe to change his mind about wanting a trade? No. They're just not good enough. Their role players are not consistent enough. They still have a lot of inexperienced guys up front in
Andrew Bynum
and
Ronny Turiaf
, still don't have consistent outside shooters. They just don't have enough talent, which showed in Tuesday's 118-104 loss to New Orleans that dropped them to 2-2. Kobe had 28, but once again, not enough help. When Kobe looked at the West last year, he had to ask himself, "How many teams are we going to have to leapfrog before I'm back in the finals?" I think that's where part of all this came from, him wondering "Is that it, I've won three rings, I'm never going to be on a team that gets back to the finals?" Bottom line is, Kobe believed his only chance to get back to the finals was to go somewhere else. Most of the proposed moves to Chicago seem like they would decimate the Bulls' roster. You can see why Kobe wouldn't want
Luol Deng
taken off the table. A lot of this trade talk comes about because Kobe has a lot of pride. He won three championships with this team. For someone to ever suggest he could be traded, as Lakers ownership had, offended him and hurt his feelings. It's going to take time for this all to calm down. When things settle, Kobe will remain the kind of guy who believes in himself. Come the playoffs, which I think the Lakers will make, the one sure thing we know is that the competitor in him will believe his team will have a shot. And his team will be the Lakers.

The Associated Press
Suns center Amare Stoudemire seemed confident he'll play Wednesday in Atlanta. "No doubt. I feel better about playing [Wednesday] night," Stoudemire said. "I just don't want to jump out there too soon."
• It took 82 minutes over four games but Nets forward
Jason Collins
scored his first basket on a putback with 2:45 left in the third quarter of the win over the Hawks. • Bulls rookie forward
Joakim Noah
made his regular-season debut off the bench in the first quarter after missing the first three games with a sprained ankle. He finished with two points and four rebounds. • The Bobcats have never beaten Phoenix, Dallas, the Los Angeles Clippers and Memphis.

By Tim Legler | ESPN
The undefeated New Orleans Hornets are a legit, playoff team. They have all the pieces. They've got a point guard, Chris Paul (right), who keeps them under control. Check out his 19 points, 21 assists and two turnovers in the win over the Lakers on Tuesday.
David West
and
Tyson Chandler
up front are two guys who can rebound with anybody.
Peja Stojakovic
(36 points against the Lakers) is playing well. And a guy like
Rasual Butler
coming off the bench can give you a little bit of everything. These guys play hard. We looked at them two years ago as a team on the rise. They were hurt by injuries last year, but you still just knew all this team needed was to get healthy to have some success.

Tuesday's Best

Desmond Mason, Bucks
Welcome back to Milwaukee. Mason jarred the Raps with a 10-for-10 night from the field, like a 300 game in bowling. His team shot 60.3 percent from the field in a 112-85 win.

Tuesday's Worst

Chris Bosh, Raptors
With his knee giving him trouble, Bosh was limited to 13 painful minutes, missing his three shots and finishing with one point.
Quote of the Night

"Every year, Yao is getting better. The Rockets showed their confidence in him, when they go through him at the end of the game like they did tonight. He made some big shots and was tough to stop."
-- Tim Duncan, on the Rockets' big man who had 28 points and 13 rebounds in Houston's 89-81 win over the Spurs.
• See how all Tuesday's players fared
-- Andrew Ayres
Soren (LA):
How many Western Conference teams would be the favorite to go to the finals if they were coming out of the East?
John Hollinger:
Somewhere between three and six depending on who you talk to and what teams you're thinking of highly this year. I'd go with four -- the three Texas teams and Phoenix -- but you can make a case for Utah and Denver as well.
Brian (SF, CA):
John, with Sasha Pavlovic back isn't it time the Cavs demoted Larry Hughes from the starting lineup? He looks even worse in the first few games than the past couple years, which is saying something.
John Hollinger:
I am so flabbergasted by what's happened to Hughes. Even in the worst-case scenario I didn't imagine he could be this bad. Somehow his penetration ability is just gone, and he's become an erratic mid-range jump shooter .... that said, he's still probably better than Sasha.
• Read the full John Hollinger chat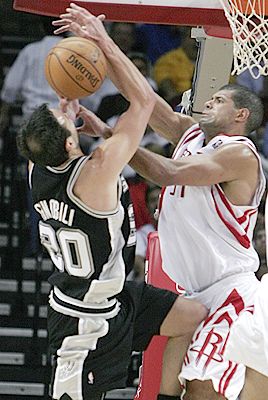 AP Photo/Pat Sullivan
Putting the brakes on Manu Ginobili is one way Shane Battier and the Rockets took a 89-81 win over the defending champs.
J.A. Adande tells Chad Ford about Kobe Bryant's prospects for staying or going.
View of veteran Kobe watcher