AP Photo/Eric Gay
Shaq: "I'm Still The Baddest In the World"

SAN ANTONIO -- Shaquille O'Neal knows what people are saying. He hears what folks aren't necessarily whispering. He could hear it on this night in his own locker room, because he sneaked up behind a certain ESPN.com reporter who was asking a longtime Shaq observer named Penny Hardaway for a scouting report. "You talkin' about me?" Shaq asked. You suspect Shaq knew the answer before he joined the conversation. It's the unavoidable subject around the Miami Heat these days, with Dwyane Wade still in street clothes. The job of carrying this team is all O'Neal's until Wade gets back, although he doesn't really want that responsibility at nearly 36, and this team is 0-4 after Shaq was powerless to prevent Wednesday night's 88-78 loss to the San Antonio Spurs. It might have been O'Neal's best game of the young season, but that's largely because he managed to avoid foul trouble.
Best
, in numerical terms, translates to 17 points and a meager three rebounds in just under 31 minutes, even with Tim Duncan stunningly taking the whole fourth quarter off. The Heat were thus left wondering (a) how much longer they can stand life without Wade, and (b) whether they'll be able to win a game before the Dolphins win one. The rest of us, meanwhile, are bound to keep pondering something much deeper. As in: How much does Shaq have left? Or as it's posed in its most insensitive form: Is Shaq done? "That's just the press [asking]," Heat coach Pat Riley counters. "The guy's had an incredible career, but everybody's picking at him and picking him apart instead of embracing what he has left and what he's done. "He can [still] play at a high level. It's not going to be that way every night, but he'd look a lot better if he had his full complement around him. ... If Dwyane was around, he'd look a lot better than someone that we have to go through a lot to try to get more out of him than maybe we can." You know what? I'm inclined to agree with Riles on pretty much all of it. I realize that might not be the typical response in this cyberspace, but Shaq's boss makes a worthy plea . . . even though Shaq has certainly opened himself to a lot of the criticism because of his career-long struggles with conditioning and his blatantly open disinterest in the regular season. Miami
is
asking Shaq to do more than he's physically capable of, with last season's knee problems lingering and with Wade still out indefinitely as he recovers from his own surgeries. So at least Shaq deserves -- after leading four teams to championships just like Duncan -- some games alongside Wade before he's dismissed for eternity. Shaq, though, appears resigned to the idea he won't be getting much of a grace period. Not after years of pacing himself in the winter months. Not when running the offense through O'Neal is generating sporadic ball and player movement and little else for the Heat beyond Shaq's own shot attempts and trips to the free-throw line. Not when his return to the city where he became a high school sensation produces marginal passion at best. Shaq versus Duncan? A showdown it wasn't. Instead of the tangible tension in the building that would normally accompany Shaq's return to San Antonio, this was a virtual non-event. Spurs fans shocked me with how quickly they forgot and forgave Shaq's crunching hit on a driving Manu Ginobili late in the first half. Duncan (12 points, eight rebounds) was likewise content to save his energy, Shaq-style, for another night, letting Ginobili (25 points) and Tony Parker (23) carry the offense while Spurs coach Gregg Popovich, as usual, had someone else -- in this case the lively Francisco Elson (12 points, 14 rebounds) -- serving as the primary O'Neal defender. The Heat predictably faded in the second half, since the only guy they have like Ginobili or Parker to rescue stalled possessions late in the shot clock "happened to be sitting on the bench," as Riley was forced to concede. O'Neal did still draw quite a few double-teams from the league's most feared defense and also managed to get off the floor and finish one lob from Jason Williams early in the second half. Yet that was just O'Neal's second dunk of the season, amazingly. "This is the way I look at it," Hardaway said. "He didn't play in a lot of preseason games. He got injured twice with little injuries to his leg [in October]. And he really didn't practice that much. So I don't see him in any kind of rhythm right now. People on the outside can look at it and say, 'Maybe he getting slower, maybe he's getting older.' But when you're on the inside, you know what's really going on. "I think [the criticism] hurts him, because he's a guy that's won championships and has been at the top of this game for a long time," Hardaway continued. "But I know he's going to do something about it." It was about that time that O'Neal interrupted the conversation. "I'm still the baddest [expletive] in the world," Shaq said. "Yeah, I'm getting older, but Kareem got older. Hakeem got older. "I don't need earthlings' respect. When it's all said and done, my name will be there and it will be mentioned ... unless you earthlings try to erase it."
Marc Stein is the senior NBA writer for ESPN.com. To e-mail him, click here.
Dimes Past:
October 31
|
November 1
|
2
|
3-4
|
5
|
6
|
7

By John Hollinger
|
ESPN.com
ATLANTA -- The Suns are running and gunning as much as ever this season, but what they're not doing as much is scoring. Phoenix, which has led the league in offensive efficiency three straight seasons, is only in the middle of the pack in that category after shooting just 40.7 percent in a 105-96 loss to Atlanta on Wednesday. Yes, Amare Stoudemire was out with a sore knee and Boris Diaw has an ankle problem. Yet it seems something more is amiss than just the injuries. Three Phoenix perimeter players -- Grant Hill, Raja Bell and Leandro Barbosa -- are struggling mightily, making one of the league's most potent offensive teams eminently more guardable. The Suns (3-2) scored only 14 points in the 10 minutes Nash sat out. And in the second quarter, the Suns became the first team since the Hawks on Feb. 20 in Chicago to go an entire quarter without a two-point basket. "Usually shot-making overcomes a lot of ills for us," Steve Nash added. "We missed a lot of shots we normally make." Is it too early to panic? Absolutely. The Suns started 1-5 last year and ended up with another 60-win season. But is it too early to worry? Absolutely not. The Suns' championship hopes depend on having the league's No. 1 offense. "Pretty good" isn't an option -- they have to shoot the lights out to make up for their middling defense. Maybe it's just a cold snap, or maybe it's something more. But if Phoenix can't find its shooting touch, the regular season could be a much rougher ride than expected.
Spurs: Dynasty Or Just Nasty?

By Marc Stein
|
ESPN.com
SAN ANTONIO -- Put Pat Riley in the camp that says the San Antonio Spurs don't have to win back-to-back championships -- as Riley did with the Los Angeles Lakers in 1987 and 1988 -- to be regarded as a team for the ages. "I don't think so," Riley said Wednesday before Miami's 88-78 loss in San Antonio. "That's media folly. Just lays a little more pressure on them, that's all it is. 'You're not going to be any good unless you go back-to-back.' That's our war cry [in the league nowadays]. "They have the opportunity to do that. But why they haven't done it is because of the depth out here in the West. You just talk about the three teams here: Houston, Dallas and San Antonio. They could be the three best teams in the league. To be able to get through that is going to be harrowing. "In the [past] nine years, winning four titles and close to 60 games a year, they have a dynastic quality. [And] there's probably some more world championships ahead of them."

Wednesday's Best

Sam Cassell, Clippers guard:
Sam U Am The Man. The 37-year-old Cassell nearly shot his age, scoring 35 and adding eight assists as the Clippers moved to a shocking 4-0 by winning in Indy.
Honorable mention:
Cavs forward LeBron James posted an epic 32-15-13 triple-double and hit a game-tying 3-pointer late in a two-point loss at Utah.
---

Wednesday's Worst

Jason Richardson, Bobcats guard:
When your go-to guy has more turnovers (5) than field goals (2), bad stuff happens ... like a 31-point loss to Philly.
Dishonorable mention:
Hornets forward Peja Stojakovic followed his 36-point explosion on Tuesday with a 2-for-13 stinker, canceling out teammate David West's 34 points and 18 rebounds in the first loss of the season for New Orleans, at Portland.
---
Quote of the Night

"I don't know if anybody in the league is playing better than he is right now."
--
Spurs coach Gregg Popovich
, on Manu Ginobili, who led San Antonio over Miami with 25 points, seven boards and seven assists.
• See how all 184 players fared
-- Royce Webb
Kevin Durant has begun his Rookie of the Year season with an almost unprecedented barrage of shot attempts. His 42-for-103 field goal shooting puts him behind only the Human Highlight Film as a rookie chucker in the last 31 seasons.
Most FG Attempts In 1st Five Career Games
Since ABA-NBA Merger (1976)
Season
Player
FGA
1982-83
Dominique Wilkins, ATL
106
2007-08
Kevin Durant, SEA
103
1993-94
Jamal Mashburn, DAL
98
1982-83
Clark Kellogg, IND
98
1985-86
Patrick Ewing, NY
96
Wilt Chamberlain holds the all-time record with 169 FGAs in his first five games; Durant is 9th all-time on the list.
• Michael Jackson, ESPN Research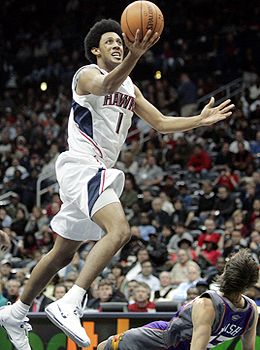 AP Photo/John Amis
Atlanta's merciless treatment of the West's best continued Wednesday as the Hawks rolled the Suns after Friday's win over the Mavs.
Some highlights from Wednesday's chat with Scouts Inc. analyst David Thorpe: Chad (Beaufort): You really think Kevin Durant is worthy of all the attention? Isn't his defense hindering him, and don't you think he should choose his shots better? David Thorpe: Of course he has lots to improve upon, but the man is just a killer. Goodie (Tampa): Thorpe, you are on fire today. Aren't the Heat going to be significantly better once Wade gets back? He is one of the top five players in the NBA. David Thorpe: Much better, yes. But how many wins will that earn them? 40, tops?