(Photo by Gary Dineen/NBAE/Getty Images)
Bulls' Win Can't Overshadow Bigger Concerns

Finally, some good news for the
Chicago Bulls
in Thursday night's game with the
Detroit Pistons
. Bulls forward
Tyrus Thomas
, the second-year player already giving them great energy and shot-blocking, showed how badly he wanted to hold his ground against Rasheed Wallace with the Bulls the leading 95-93 and 13 seconds left. Wallace already had 36 points and was aiming for two more in the post. And it missed. It's
always
good D when they miss. The Bulls hung on for a 97-93 win, their first win in five tries. It was Detroit's first loss in four games. Thomas had 19 points and 14 rebounds as a starter. That was big. I'm also excited about what I saw in Chicago's bench play.
Joe Smith
(13 points) gave big-time contribution, same for
Chris Duhon
. That's the thing that got them over a top.
Rose: Chicago Trade Winds
In my opinion, we shouldn't know that Gordon and Luol Deng both turned down $50 million-plus contracts. If the team leaked that information, there's a reason for that. The team wants to show that the players didn't want to be here. The organizations can justify making a trade for Kobe, by saying "we tried to sign these guys but they wouldn't accept."
If a trade happens, it seems more justifiable to the average fan. So when people says "why did we trade Ben, he's a clutch shooter?" they can say they tried to sign him. Chicago, meanwhile, has its leading players hearing they might be dealt. Deng and Gordon have long heard they are part of the Baby Bulls, the team that's on the cusp of being the next team coming out of East. Now, that's up in the air. When you walk down the aisle on draft night, you actually feel that this team loves me, this team won't trade me. But then you realize the top players in game --
Kevin Garnett
, Shaq,
Allen Iverson
-- get traded. You see the business of basketball is bigger than game. That can hit people hard.
-- Jalen Rose
But what I still see as one Chicago problem, is that they don't have a defined leader. It's great to have a young team where a coach like Scott Skiles is that leader. But that doesn't matter in the last two minutes of the game when you need a guy on the court who shows the way. Another thing that I see as one of their issues -- this game ended with Thomas and Smith in the game. That's fine, too, but when you've got a guy with championship experience in
Ben Wallace
on your bench, something's not right. Of course, it's understandable in that he's not a great free throw shooter, not a great offensive threat. He's still your big centerpiece free agent. I wonder how Wallace and
Ben Gordon
handle becoming situational players in a game. You don't want Duhon having to come in for you at the end. Many times, there's an explanation for some moves on the court the average NBA fan doesn't see. When you're inside, you know decisions are made for other reasons. For example, maybe the Bulls want to see how the team handles itself without Wallace. Why? Because his contract could be one dealt in a package deal for
Kobe Bryant
. As it stands now, it would be hard for Chicago to get past Detroit, a team that has the best starting five in the NBA. It's a team that's smart enough to invert their offense against the Bulls, posting up against Gordon and
Kirk Hinrich
with their guards, and often moving Rasheed outside. It basically comes down to this: Detroit is a post-up team that can't shoot jumpers, and Chicago is a jump-shooting team that can't post up. Perhaps Thomas and
Joakim Noah
will eventually develop into post threats Chicago needs. But as it stands now, and in the playoffs, when the game slows down, that kind of style favors Detroit.
ESPN analyst Jalen Rose posted a career-high 22.1 ppg for the Bulls in 2002-03. For more about Jalen, visit his website: JalenRose.com
.
Dimes Past:
October 31
|
November 1
|
2
|
3-4
|
5
|
6
|
7
|
8
Wizards Explore Strange, New World Of Losing

By Chris Sheridan
|
ESPN.com
EAST RUTHERFORD, N.J. -- On the bright side,
Gilbert Arenas
won the Best Celebrity Blogger award Thursday at the 2007 Weblog awards. On the not-so-bright side, his game-winning 3-point attempt was deflected by Vince Carter just before the final buzzer, the ball coming up about six feet short of the hoop to complete the Wizards' collapse after leading by 20 points in an 87-85 loss to the
New Jersey Nets
. We'd go ahead and call it the dark side, but that would be at odds with the way the loss was taken in Arenas' little corner of the locker room. Not only was Arenas light years away from being devastated, he wouldn't even acknowledge being discouraged. "Like coach said, if this was late in the season and we lose four, it looks bad. But last year we were 4-9 at the beginning of the season, and December and January is when we kicked into gear," Arenas said. "When you look at most of the dominant teams, they're not the ones showing progress in this league. Aside from Boston, Miami is 0-4, Chicago is 0-and-something, and all the teams that are supposed to be dominant haven't done anything yet. It's the teams no one was thinking about, the New Yorks, Charlottes and Atlantas, they're the ones winning games now, and that makes it easier for us." A similar lack of panic was expressed by coach Eddie Jordan, who said Arenas stuck with the plan of going for the win at the buzzer if an opportunity for a quick score did not present itself. Arenas dribbled down almost all of the 24-second clock, was forced to his right by
Antoine Wright
and got off a twisting 24 footer from the right wing that Carter got a piece of. It was the fifth 3-point miss of the night for Arenas, who began the evening 1-for-17 on 3s in his first three games. Arenas said he took only 10 practice attempts from 3-point range before the game, preferring instead to not put any extra strain on his surgically repaired left knee that had "a shot glass" worth of liquid drained from it three days ago. Arenas said he expected to continue having the knee drained every three weeks for the next two months, saying the knee feels its worst whenever the team plays in colder NBA arenas -- one of which, according to Agent Zero-and-Four, is the Wizards' very own Verizon Center. More of Arenas' thoughts on the Wizards' cold start and the NBA's cold stadiums will undoubtedly be expressed on Arenas' award-winning blog, which edged out Star Trek actor Wil Wheaton's blog in online voting (which some at the Meadowlands whispered was aided by some last-minute ballot-box stuffing). "When you start beating the Star Trek people, you know you're somebody," Arenas said. But when you're blowing 20-point leads and being nobody, you're in danger of being a somebody in peril. And while Arenas and the Wizards aren't quite there yet, they are getting close.
No Sign Of Varejao Signing

By Chris Broussard
|
ESPN The Magazine
Anderson Varejao's hope is that the Cavs will start so poorly that they'll buckle and give him the loot he wants [$9 million per year]. But I've got news for him: They ain't caving. No how, no way, no chance. Even if it means struggling early through this tough part of their schedule. With financial prudence, the Cavs could be in position to significantly upgrade LeBron's supporting cast as soon as next season. Only four Cavs -- LeBron, Larry Hughes, Zydrunas Ilgauskas and Sasha Pavlovic -- currently are on the payroll past the 2008-2009 season. That will give several Cavs trade value next season because expiring contracts are great assets on the trade market. Of course, it also means they could have major cap room two summers from now. They're not about to screw that up by overpaying Varejao, no matter how much they like him.
• Full Chris Broussard blog

Thursday's Best

Baron Davis, Warriors guard:
Good job of picking up where he left off against the Mavs, rolling out 37 points in a 120-115 loss. But Golden State still left searching for first win.
---

Thursday's Worst

DeShawn Stevenson, Wizards guard:
Knee's probably buggin' him. Misses all four shots in 13 minutes of action, committing three fouls for good measure as the Wiz stay winless.
---
Quote of the Night

"Regardless of my game, it ended in an 'L.' I'm old school so it didn't matter what I did, the team lost the game."
--
Pistons forward Rasheed Wallace
, after scoring 36 points in a four-point loss to Chicago
• See how all 56 players fared
-- Andrew Ayres
Good Detroit, Bad Detroit

By David Thorpe
Scouts Inc.
CHICAGO -- Here's what I liked (and disliked) about the
Detroit Pistons
after watching their game with Chicago ...
LIKED:
They have so many offensive weapons, no less than six guys who can post, and they all look for those opportunites. Thursday, they went after
Ben Gordon
right away, getting two quick fouls on him. This team really impressed me as more cohesive. Seemed more focused, recognizing to a man that they could be special. Love their bench. I think
Rodney Stuckey
's going to be a rotation player when healthy.
Amir Johnson
's going to help -- only real athlete right now on the front line is
Jason Maxiell
. Next time Maxiell could play more on
Tyrus Thomas
. When I look at this roster, it's as deep as you'll find in the league.
DISLIKED:
For them to be very good, they just have to roll out of bed and show up. For them to be special,
Rasheed Wallace
is the the X-factor, which is something I couldn't trust. It would be great if he stays on his best behavior. The Pistons could beat the Spurs, Suns, Mavs if he's right. And I'm not saying it won't happen. Maybe other players and the organization have convinced him to change his ways. When he missed two shots late, he didn't blame anyone, or look at the referees. That's a good sign. He's better when he doesn't project his feelings of frustration on the people around him -- just tell it to the headband.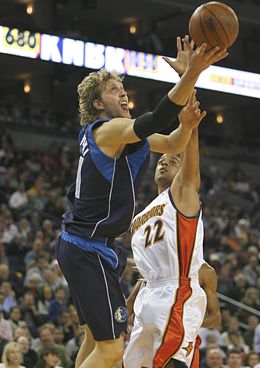 AP Photo/Tony Avelar
Dirk Nowitzki (22 points, 11 rebounds) shook off the demons of last year's playoff crash in Oakland. Four Mavs scored over 20 points in the 120-115 win.
Marc Stein and Chad Ford discuss the decline of Shaquille O'Neal. How will he look when Dwyane Wade returns?