Jeff Gross/Getty Images
Getting A Read On The Rockets

Miami coach Pat Riley has apparently seen enough. The
Houston Rockets
have already convinced him, not even two weeks into the season. "You just think about the three teams here," Riley said this week of the vaunted Texas Triangle. "It could be the three best teams in the league." It doesn't seem to matter that the Rockets, at this early stage of the Rick Adelman era, frequently need offensive direction barked out from the bench, whereas
Chris Webber
and
Mike Bibby
and
Vlade Divac
could run Sacramento's read-and-react attack out of the high post without a word spoken. It doesn't seem to matter that referees -- at least according to Adelman -- allow more physicality at the elbow now than they do down low, which Adelman believes is a change since the Kings' heyday that complicates Houston's transition to this new system. It doesn't even seem to matter that the Rockets, while clearly playing with the sort of offensive freedom that scouts along press row struggle to believe after Jeff Van Gundy's restrictive four-season reign, have lost some of their Van Gundy-inspired edge defensively, whether or not they're prepared to admit it. Houston had only played five games going into what is known in the Rockets' locker room as The China Bowl:
Yao Ming
's showdown with Milwaukee rookie
Yi Jianlian
on Friday night. Yet they're routinely getting lumped into the same class as San Antonio, Dallas and Phoenix, even though the next playoff series
Tracy McGrady
or Yao Ming wins will be the first. For a rapid-fire pulse take on this team of the moment, we checked in with McGrady. Here's T-Mac on …
Concerns that Yao doesn't get enough touches some nights:
"The offense is fine. Obviously I'm getting the ball a lot, but we're making the effort to get Yao involved. I just think he has to be a little more aggressive. Although teams are going to double-team a lot, he still has to be aggressive. In his mind, he thinks [that] when a team double-teams [him], he should pass the ball. That's what I'm trying to tell him, 'You don't always have to pass, stay aggressive.' But he's always going to be involved. We're going to make sure he stays involved."
Whether the first five games of the season can really prove anything:
"We're a good basketball team. There's no doubt about that. I think in crunch-time situations, when that defense tightens up and smart basketball teams go to different things and make in-game changes, that's where problems might come because we're still learning. But we're good. We have that type of talent."
His early season scoring spree, including that 47-point night in Utah last week:
"I'm right at the top of my game. I feel pretty good. I feel light on my feet. The offense, I'm already accustomed to it. I know how to get easy shots."
The pressure he and Yao feel because of their playoff failings and their desire to break through together:
"We're still growing, man. We're still getting better. And this is the first time we are surrounded with a bunch of talented shooters. We've got the things that we need. Now we've just got to go out and show people."
The whispers that he might be traded to the Lakers for Kobe Bryant and the recent statement from general manager Daryl Morey to publicly insist that the Rockets weren't pursuing Kobe:
"I wasn't worried for one minute. I think what [Morey] did was definitely a good thing for him to go ahead and put out that fire before it got too big. But I didn't even call him or ask him or nothing like that. If anything, I think they would have called me and let me know [in advance if the teams were talking]. But when a situation like that occurs during the season, I know who started it. The Lakers are trying to start [mentioning] all these teams that they can make trades with because they have to get value back for Kobe. And I'm a valuable person to be traded for. But I was not worried at all."
Marc Stein is the senior NBA writer for ESPN.com. To e-mail him, click here.
Dimes Past:
November 3-4
|
5
|
6
|
7
|
8
|
9
Heat coach Pat Riley on Wednesday lamented the growing eagerness of outsiders to bash an aging Shaquille O''Neal rather than "embracing what he has left and what he's done," but the backlash really shouldn't be that surprising. Although lots of Hall of Fame centers have begun to fade at the same stage -- right around their 15th season -- there's a big difference between O'Neal and the likes of
Hakeem Olajuwon
,
Patrick Ewing
and
David Robinson
from the generation just before Shaq. None of those guys had a rep for coasting through the regular season or letting their bodies go, as O'Neal does. So even though Shaq has as many championship rings -- four -- as the three of them combined, criticism is inevitable, especially in November when he's easing into the season. Riley, meanwhile, might be famously maniacal on conditioning matters -- one of the main reasons
Antoine Walker
was exiled to Minnesota, remember -- but he insists that O'Neal meets his standards. "He's in as a good a shape as a man 35 years old at his size can be," Riley said, "with all the wear and tear he's had over the years."
---
On the flip side …
Don't expect Shaq's coach to make any Kareem Abdul-Jabbar comparisons, as O'Neal did the other day when he said: "Yeah, I'm getting older, but Kareem got older. Hakeem got older." Said Riley: "[Kareem] was, to me, one of the greatest athletes ever because he was so durable. He never really had many injuries. And? "He had a different game, too."
---
The ongoing holdout of Anderson Varejao probably affects Cavaliers general manager Danny Ferry more than anyone, since it's up to Ferry to keep a quality crew around LeBron James for the next three seasons to ensure that James wants to stay with his hometown Cavs when he's a free agent in the summer of 2010.
Ferry can't really complain, though. Surely you haven't forgotten that he staged one of the NBA's most notorious holdouts in 1989 after being drafted No. 2 overall by the
Los Angeles Clippers
, going to play in Italy and staying there until he forced the Clips to deal him to Cleveland. I asked Ferry back in July what it's like to deal with a holdout from the other side of the negotiating table. He said he naturally couldn't begrudge anyone willing to take that step, politely insisting that "I think each situation is different." Yet that's when it was Milwaukee's
Yi Jianlian
threatening to stay away until he convinced the Bucks to trade him. This obviously has a much bigger impact on Ferry, with Varejao apparently still believing that the Cavs will eventually meet his $9 million-a-season demand if they continue to struggle early … and with Cleveland patiently refusing to budge because of past payroll mistakes that should restrict their ability to dramatically upgrade the roster until next summer at the earliest. This is one of the more bizarre holdouts in NBA history because Varejao, as a restricted free agent, can't become an unrestricted free agent unless the Cavs sign him to a one-year deal, which they absolutely won't do. Whether Varejao goes to Europe or sits out the entire season, Cleveland will continue to have the right to match any NBA contract offer he gets. It's still difficult to forecast who blinks first, but Ferry can only hope this somehow works out for him and the Cavs like it did for the team that drafted him in 1989. While Ferry's holdout produced the desired effect when the Clips caved in, L.A. wound up scoring one of the best trades in franchise history by acquiring Ron Harper and two first-round picks for Ferry and Reggie Williams.
As he says above (see Box 1), Tracy McGrady believes there's no chance he gets dealt to the Lakers in a trade for Kobe Bryant. I'd probably go with
virtually
no chance, just to be safe, since it's unwise to rule out anything in the NBA. That's especially safe in this case if you believe the story in circulation that Rockets owner Les Alexander -- upon hearing Lakers counterpart Jerry Buss say in early October that he was open to fielding Kobe offers -- was initially prepared to part with anyone but Yao Ming to make a run at Bryant. The Rockets, for the record, have since strongly denied such interest, with general manager Daryl Morey issuing a statement before Houston visited L.A. on Opening Night to announce that the team doesn't address trade speculation "as a general rule" but wanted to make it clear that "we have had no discussions with the Lakers regarding Kobe Bryant."
---

Steve Nash
has been accused of intentionally tripping Charlotte's
Raymond Felton
on Monday night,
as pointed out here
by my ESPN.com colleague Henry Abbott. Yet it's also important to note that the accusation doesn't come from Felton. I checked with the Bobcats and the league office Friday. The Bobcats say Felton didn't think the contact was intentional and the league did not deem a formal review of the play necessary beyond the standard review all plays get. Of course, since this is the YouTube age, you can judge for yourself by clicking the link above. After watching the video myself, I'd say Nash kicked out with his left leg to balance himself as much as anything because his right ankle was about to give. At worst, I'd say he temporarily forgot which sport he was playing after his usual summer of soccer in New York City and used his legs more than he should have, resulting in an unfortunate foul. Either way, I'm quite certain it wasn't intentional because Nash A) doesn't go around kicking people even when he's playing soccer and B) he and Felton are friends. They're not only represented by the same agent -- Bill Duffy -- but Felton participated in two Nash charity events over the summer.
---
Early frontrunners in this season's Most Original Fan derby?
The two guys at Staples Center on Opening Night in baseline seats near the visitors' bench. One was wearing a Kobe Bryant jersey with TRADE ME in place of the word BRYANT over No. 24 … and the other was wearing Shaquille O'Neal's old No. 34 jersey with PAY ME on the back.

Five questions with Kings coach Reggie Theus:
Q:
When did you know you wanted to be an NBA coach?
A:
I tried to coach in the NBA when I first [retired]. I worked as a developmental guy for a couple years in the summer with Denver. I got a chance to work [training] camp with Larry Brown when he was with the Sixers. But it's a very strange animal to get to the NBA, so then I started looking at the college ranks. I was not even thinking about the NBA when the Kings called me, but the powers that be gained a lot of respect for the route that I took to get here.
Q:
How worried are you that you're going to be lumped in with all the college coaches who haven't cut it in this league?
A:
I'm very different because of my playing career. Now if we don't win, obviously people are going to say things. But no one is going to look at me right now as a college coach. Everyone knows we have some injuries right now, but my guys are playing hard and the locker room is in order. Ultimately you've got to win games, but when it's all said and done, I'm very different. There's a connection that I have that other guys don't have.
Q:
You think NBA players would really respond to you differently without that connection?
A:
Absolutely. No doubt about it.
Q:
The midnight curfew on the road that you've implemented has caused quite a stir. What went into your decision?
A:
We've got to find a way to win games on the road. And I thought, doing my due diligence and my homework on the team, I found that guys were really irresponsible in what they were doing the night before games. I had a curfew when I was a player and we policed ourselves, but putting a curfew on [these] players … what no one's talked about is when we go to a big city, we're going to stay overnight. So that when they have friends and family and people they want to see, they know they can see them after the game. The game becomes the most important thing.
Q:
We don't normally see curfews and cell-phone bans in the NBA, so how have your players responded to it?
A:
I haven't had one guy say anything to me about it. I've had some comments [from other coaches], but most of the time it's been very positive. And I know fans love it. I didn't do it for [any external reason], but people have commended me for trying to make our guys accountable. I'm asking for a curfew because that's the way it should be. If it's about the game, then the curfew shouldn't matter, because you should be in your room -- or at least the hotel -- by midnight anyway. It just seemed natural to me. It has nothing to do with treating them like kids. If you're a responsible adult, you shouldn't be out past midnight on the night before you have to do a job.
Marc Stein joins Chad Ford on the NBA Dish podcast to discuss the state of Shaquille O'Neal and the Miami Heat while waiting for Dwyane Wade's return.
In one of his frequent visits to the NBA on ESPN Radio pre-game show, Marc Stein joins host Marc Kestecher to assess how the Bulls, Pistons and Celtics have started their seasons in the East. •
Listen to the interview

Craig (Norwich, CT):
So much for the Wizards beating the Celtics, huh? What was Gilbert Arenas thinking?
Stein:
There is nothing more hypocritical than a media guy telling an athlete that he talks too much and really needs to tone it down. But I can't help it. Arenas is kind enough to write the story for us when he goes on his NBA.com blog and guarantees an Opening Night victory in Boston, but he does this kind of stuff so much that he inevitably gives the impression that he's much more concerned with being a showman than getting his team to the next level. I know he's got some legit knee issues right now. And I realize -- again -- that complaining about a guy who fills up the notebook like no one else in this league is borderline laughable on my part, since I'll be the first guy at his locker next time I have a chance to catch a Wiz game. But his views won't be must-reading forever without the winning. Gil says he wants to be "an entertainer" because basketball is all about entertainment. That's his right. Guess I'm just greedy and want to see him do it all.
• Read Stein's full chat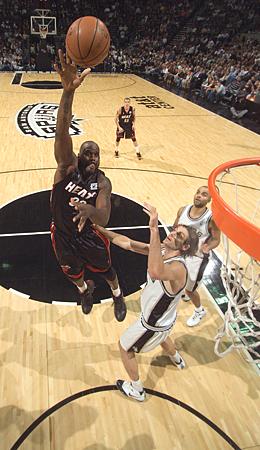 D. Clarke Evans/NBAE via Getty Images
Shaq isn't the first big-name center to see some slippage after 15 or so seasons in the league. His problem? The Big Everything has always been a magnet for criticism, too.

"Uh … tough question."
Houston's Yao Ming
, offering up a good illustration of the reluctance fellow players have to even engage in the growing debate about how much Shaquille O'Neal has left. Yao was happy earlier this week to discuss the 30 pounds he's packed on his frame since coming to the NBA in 2002 and the improvements in his game over the past five seasons, but the response was brief when Yao was asked specifically if we can make it official and say he's surpassed Shaq in terms of low-post production.
Here's one last update, as promised, in advance of the first-ever Cal State Fullerton alumni game Sunday. At least three of the 10 players that we've sent to the NBA will be on the hallowed Titan Gym floor: 1995 Western Conference All-Star Cedric Ceballos, Sacramento Kings alumnus Henry Turner and Indiana Pacers ex Richard Morton. The Spurs' Bruce Bowen told me this week that he'd have been there, too, if he didn't have a game in San Antonio that night against Milwaukee. I'm guessing the same holds for Pape Sow, whose comeback from the serious neck injury that derailed his final season in Toronto finds him tearing up the Italian League these days for Solsonica Rieti near Rome. Sow is averaging 16.1 points and 11.4 rebounds. As for me? I'm not playing, no, but I am participating in some TBA way. All the details will be shared in my next chat Tuesday. PS -- Since I know you're wondering about the other five Titans who matriculated to the NBA, they are: Greg Bunch (briefly a New York Knick after carrying Cal State Who? to the brink of the Final Four in 1978), Mike Niles (Phoenix), current NBA referee Leon Wood (who played for seven teams after beating out John Stockton to make the 1984 US Olympic Team and then starting alongside Michael Jordan) and two more stalwarts from the 1980s who tragically passed away in the last year: Ozell Jones (San Antonio and the L.A. Clippers) and Kevin Henderson (Golden State and Cleveland).