(Photo by Nathaniel S. Butler/NBAE/Getty Images)
Beat The Heat? Not This Time...

NEW YORK -- A mere 212 days since the last time Pat Riley stood outside a locker room with a smile on his face, he was finally able to summon some well-placed mirth. Think about that: Two-hundred and twelve days -- enough time for Jules Verne to circumnavigate the globe more than two and a half times, a time so long ago that crude oil was selling for $63 a barrel, a time when the baseball season wasn't even two weeks old. Yes, it was way back on April 13 when that previous W was achieved, and the span since had included 18 consecutive losses -- two to end the 2006-07 regular season, four straight L's in the playoffs, seven preseason losses, then an 0-5 start to this season. "It's time to try to go out and try to climb back into the season," Riley said after the
Miami Heat
outexecuted the Knicks over the final two minutes (thanks especially to two boneheaded plays by
Stephon Marbury
) to come away with a 75-72 victory Sunday. Whatever toll the losing streak had been taking on the team is gone for now, but there's a question whether that collective dismay might return if
Dwyane Wade
's injury recovery remains too far into the distant future. Wade mentioned the name of
Amare Stoudemire
in his pregame meeting with reporters, saying he does not want to be bouncing in and out of the lineup on a day-to-day basis when he finally makes his return from knee and shoulder injuries. When that return might come remains the biggest guessing game around the Heat (there was a better one before Sunday, but now it's no longer prudent to ask the over/under date for when Riley will unexpectedly leave the team to have a nagging malady surgically repaired). Miami's victory began a stretch of five games in seven nights from which they'll be fortunate to emerge with more than two wins. That may sound overly pessimistic, but with the Heat unable to sustain any kind of consistent offensive production and having huge difficulties in getting to the foul line (Shaquille O'Neal didn't go there once Sunday), it'll be a matter of trying to stem the bleeding until Wade is able to return and open things up for everyone else. "We had let three or four games slip away, but we hung in there on this one. It was a much-needed win for us," O'Neal said. "We were sort of beating ourselves those first few games, and we needed to cut down on our mistakes. We're a very unselfish team, a close-knit group in the locker room." But some of that close-knit fabric has disappeared through the departures of
Eddie Jones
,
Jason Kapono
,
James Posey
,
Antoine Walker
,
Michael Doleac
and
Gary Payton
from the team that won the NBA title just 17 short months ago. The thinking around the NBA is that we're seeing the start of the slow but steady post-championship deterioration of the Heat -- the price they'll pay for bringing O'Neal in from the Lakers and giving him a contract extension on the downside of his career that they knew would be killing their salary cap by the time the end of this decade arrives. Some would argue we could see that stumbling misstep by misstep throughout last season and into the first round of the postseason, when they were swept by Chicago, and that the winless start to this season was merely more of the methodical meltdown this franchise figures to suffer through for the foreseeable future. But that line of thinking is still based more in speculation than in reality, and the fact remains that Miami with a healthy Wade is still a fair match for any team in the Eastern Conference. That's why it seemed so odd to have Riley sharing space with Eddie Jordan on the Not Yet Off The Schneid List -- although each removed himself Sunday. That list now contains the names of only three coaches: P.J. Carlesimo, Randy Wittman and Don Nelson. One of those three could end up headlining our the soon-to-arrive Coaching Hot Seat listing, but for now we're going to stick with Jordan -- despite his team's victory in Atlanta on Sunday -- as the morning-line favorite to be unemployed before each of his 29 colleagues. There was never much of a chance that Riley would head that list, but if the Heat's losing had continued unabated, who knows where things would have turned? Riley is coming up on the end of his career (his vow to serve out his three-year coaching contract notwithstanding), and he wants to go out as much of a winner as he was throughout his first 23 seasons as a coach. Right now, he's a long way from being where he was 17 months ago, but at least he's not as bad off as he was over the previous 211 days -- none of which ended like this one did.
Chris Sheridan covers the NBA for ESPN Insider. To e-mail Chris, click here.
Dimes Past:
October 31
|
November 1
|
2
|
3-4
|
5
|
6
|
7
|
8
|
9
|
10-11
... Wizards Put On Offensive Display Of Old

By John Hollinger
|
ESPN.com
ATLANTA -- The Wizards' 0-5 start was a surprise, but even more surprising was the source: The offense. Through five games, Washington ranked 29th in the NBA in Offensive Efficiency, putting up a meager 89.0 points per 100 possessions -- a far cry from their fifth-ranked juggernaut of a year ago. Sunday, they looked more like the old Wizards, topping the century mark for only the second time this season and earning their first win in a 101-90 win over the Hawks. In part, the offensive woes may have been a consequence of addressing last year's weaknesses. Coach Eddie Jordan noted before the game that the team had tended to spend extra practice time on defense rather than offense in the early part of the season, and that perhaps his precision attack had suffered as a result. That's one part of the equation, but another big one is that
Gilbert Arenas
is still operating at far less than peak efficiency after offseason knee surgery. Jordan said Arenas' straight-line quickness isn't a problem, but that his lateral movement and stopping on a dime were still coming along. That was visible during the game, as Arenas rarely burst around his man off the dribble in the manner we'd become accustomed to seeing a season earlier. The result has been a struggle in the early going, forcing Arenas to make adjustments. "I'm just taking it slow, trying to get Antawn [Jamison] and Caron [Butler] the majority of the shots until I can get my knee 100 percent right and at full speed," said Arenas, who had 18 points on 5-of-15 shooting while indeed allowing Butler (23 points, eight assists) and Jamison (23 points, 15 boards) to take the spotlight. Jordan also said he felt his team began pressing and forcing shots once the losses started mounting, especially in the second half of Friday's loss to Denver. "Trying to do too much, don't trust your team, don't trust your teammates," he noted, and Washington's numbers reflected that. Unbelievably, the Wizards didn't have more than 19 assists in any of their first five contests, while committing 18.4 turnovers per game. Sunday they had 25 dimes, and the extra dose of ball movement helped keep them on the right of the scoreboard. It also helped get the secondary players involved, as
DeShawn Stevenson
snapped a shooting slump that dates to late last season (11 points on 4-of-6 shooting) while
Brendan Haywood
was involved early and often (13 points, 12 boards) and dropped in several close-in shots over the smaller
Al Horford
. Of course, even a blind squirrel finds a nut once in a while. So the bigger question for the Wizards is whether Sunday's win is the start of something bigger, or just a random blip in a lost season. "Eventually we were gonna have to win one," joked Agent Zero. "It depends what you do after that. If this starts and we get eight in a row then it's a good win. If it doesn't lead to anything … then it was just one win."
Want A Piece Of Deteriorating Shaq? No, Thanks

By Eric Karabell
|
ESPN Fantasy Games
Shaq was worth owning when you could count on double-doubles, though I didn't want to deal with essentially cutting a category. I tried to compete in free-throw percentage in Shaq's second season, loading up with Reggie Miller and Mark Price, and still I finished last. But now, he's not giving you a double-double. I went searching for Shaq's rank on our Player Rater, and he's behind future Hall of Famers Joel Przybilla, Robert Swift and Fabricio Oberto at the center position. And they're not good. Shaq scores a bit, grabs the boards that fall in his lap and still blocks a shot or two, but I'm doubting he can get that 35-year-old body into 80 games this season, or shoot anywhere near his career .580 field-goal percentage.
He's a 12-and-6 guy, and frankly there are loads of those, and the other ones can get an occasional steal and hit a free throw. Shaq used to be the king at center, and now we're wondering if he can hold off Dan Gadzuric as the No. 25 center? Oooh, I think it will be close.
• Full Eric Karabell blog
Sunday's Best

Yao Ming, Rockets center:
Drops in 34 points and hauls in eight boards in Houston's 85-82 win in Charlotte. The Rockets, also aided by Tracy McGrady's clutch shooting down the stretch, are now 6-1.
---

Sunday's Worst

The Knicks:
Giving up a five-point lead with 2 1/2 minutes left to the previously winless Heat is pretty bad. Those 18 turnovers didn't help. Hope the Knicks enjoy starting a four-game road trip with Phoenix on Tuesday.
---
Quote of the Night

"We made some bad decisions, we tried some things we shouldn't be trying."
--
Seattle coach P.J. Carlesimo
, after falling to 0-7 with a 107-103 loss to Detroit.
• See how all 140 players fared
-- Andrew Ayres
Washington got its first win despite Gilbert Arenas' missing four 3-point attempts, dropping his season total to 5-for-36, good for 13.9 percent.
• Watch highlights of every NBA game

Willie (Portland, OR):
J.A., why on earth would David Stern threaten the city of Seattle, if they lose their team, they won't get another one. Isn't that exactly what happened in Charlotte?
J.A. Adande
: Yes it is. And Charlotte didn't have 1/50th the history with the league that Seattle did. If Stern is so concerned with conquering Asia, how could he allow two teams to leave the "Asian Gateway" cities in the Pacific northwest?
Celo, San Francisco:
J.A. - I think the Sonics moving to Oklahoma City is a terrible move that will result in the team moving again a few years down the line. There will be an initial honeymoon period, but Oklahoma City just isn't big enough to sustain a team long term. Why is Stern backing this move so strongly?
J.A. Adande
: I hate it too. You'd think Stern would learn from the issues the Grizzlies had in Memphis, where moving and opening a brand-new building was not the ultimate cure. I think the reason Stern is on the OKC trail is because the city really bailed him out when the Hornets got Katrina'd.
Laird (NYC):
J.A., to you believe that Kobe is the best pure scorer in the NBA? If so, who is No. 2? I think it might be T-Mac, only because if he's the only player in the NBA I could see dropping 70 whenever he wanted to.
J.A. Adande:
Yes, Kobe 1 and T-Mac 2. Tracy makes it look so easy...that's what's really impressive about him.
• Read the full J.A. Adande chat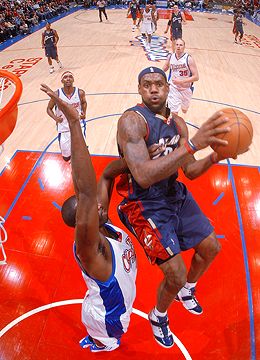 Photo by Andrew D. Bernstein/NBAE via Getty
LeBron James (22 points) helped drive the Cavs to a 103-95 win over the Clippers. Cleveland is now 4-3.
Here's some NBA programming slated for broadcast this week on ESPN and ESPN360: Tuesday night: NBA Fastbreak (12:30-1 a.m. ET) Wednesday night: Lakers-Rockets (9 ET), NBA Fastbreak (1:30-2 a.m. ET) Friday night: NBA Shootaround (7:3-8 p.m. ET), Rockets-Spurs (8 ET), Pistons-Lakers (10:30 p.m. ET)