(Photo by Jesse D. Garrabrant/NBAE/Getty Images)
Two Brilliant Points About The Present, Future

We saw the game's two great young point guards in action on Monday night. Both
Chris Paul
of New Orleans and
Deron Williams
of Utah have led their teams to good starts. The two third-year point guards naturally invite comparison, with Williams having been picked one spot ahead of Paul in the 2005 NBA draft. Both teams they run are off to 6-2 starts. Both are playing great basketball. Williams entered Monday's game averaging 21 points and 10.4 assists per game, then posted six points and seven assists in a 117-93 blowout win over Sacramento. Paul's team needed some heroics, and he hit the winning layup in an 84-82 win in New Jersey. He finished with 27 points, having entered the game averaging 18.1 points and 11.1 assists per game. Paul's got the early statistical edge in steals (2.9 to 1.0) and rebounds (4.4 to 3.1). Williams has the advantage in 3-point field goal percentage (48 to 36). First, let's look at Paul. He has put up great numbers, but the thing I like about him the best is he's a great decision maker. Since he first had the ball in his hands at the NBA level, he was the leader of that team. This is important. More than any other position, point guard is the most difficult to play in the NBA. As a rookie, those guys are timid around veterans and won't say "No, I've got the ball, and I know what I'm doing." His leadership and poise are beyond his years. He missed time last year, and some say smaller point guards are prone to injuries. But I don't think durability is going to be a big deal for him. When you're at that level of talent, and he's long been playing at that size, he'll avoid many hits when finishing on bigger guys in the paint. He's going to have his share of nicks and dings, but I think he's learned how to avoid the big contact. One thing I noticed is that some teams try to post him up at 6-feet, 175 pounds -- it reminds me how teams would post up Muggsy Bogues, which only served to get them out of their game plan. When Paul's in traffic, if he gets his hands on the ball, it's often his. We saw this when he stole the ball late in Monday's game to set up
Morris Peterson
's four-point play. He has tremendous strength in his wrists and forearms. As good as he's playing, one would think he could become an All-Star soon. But just like the power forward position is overloaded with talent in the West, so too is the point guard position. As long as
Steve Nash
is there, along with
Tony Parker
and
Baron Davis
, and of course
Allen Iverson
is listed as a point guard -- well, it's going to be tough. He might not play in an All-Star Game for three or four years. If the Hornets keep playing this well, and they get off to a 30-18 start or so, he's got a great chance to get in. Otherwise, he's probably not going to get in until the other guys fade. Williams, however, will be an All-Star this season. What he did in the playoffs last season put him on the map as probably a top four point guard in the league. The guy was a better NBA player at the start of his career than I thought. I didn't know he had this quickness, and he likes to get one step on you, creating space by using his upper body. I didn't realize he had that knack. I underestimated him. And he's certainly worked hard to get where he is. When I talk to people in Utah, they say they can't get him out of the gym -- a great example of a guy who improved through hard work. I think his catch-and-shoot looks are more consistent and he's a phenomenal finisher. One thing he needs to be more consistent with is what he creates off the pick-and-roll. He's got to get more consistent in the midrange game. On the pick-and-roll, the defender is going underneath the pick and daring him to hit that shot. Of course, that's nitpicking by me. I've played for Jazz coach Jerry Sloan; he's tough on you. He's got great knowledge, and once he gets on you, that's a difficult place to get out from under. You've got to be thick skinned. Williams seems to have that. Let's turn the clock ahead five years. The top point guards like Nash and
Jason Kidd
are going to have to slow down by then. That's when we could see the time where these are the top two point guards, along with Parker, out there. Your best playing years are usually from age 27 to 32. That's when you have the best balance of experience and physical talent. And your team's front office has had time to surround you with the right players. If I had to take one, I'd pick Williams, because I think he's got a little bit more in each area. I like a point guard with more size (6-3, 208 pounds) who's more physical, who can take contact at the rim. Still, you're not going to go wrong with either guy.
ESPN analyst Tim Legler is a former NBA 3-point champion
Dimes Past:
October 31
|
November 1
|
2
|
3-4
|
5
|
6
|
7
|
8
|
9
|
10-11
|
12
Boozer Cruise In Sacramento

By David Thorpe
|
Scouts Inc.
SALT LAKE CITY -- If we needed any more evidence that
Carlos Boozer
is a beast, we got it in Utah's rout of Sacramento on Monday. He went for 32 points (13-for-18 shooting) against the short-handed Kings. He really has become difficult to guard for anyone. If you work to take away his position, he will work for a good shot. He can score over you. He started Monday with midrange jumpers. There's nowhere you can force him to go, because he's in an offensive system that calls for patience. Even if you focus on trying to defend whatever he wants to do, he'll do it.
Ronnie Brewer
was my preseason pick for Most Improved Player. He's a great complement to what they're doing, which is looking to pulverize you inside. Brewer's a multitalented player, and knocking down a 3 and a long 2 was a good sign in this win. On the downside, I think Utah is a backup point guard from competing for the NBA title. I'm not suggesting
Jason Hart
can't do the job, I just don't know if he can. His play Monday was encouraging. Can
Andrei Kirilenko
continue to play this way -- freely, fun with no dark clouds hanging over him?
Mehmet Okur
took the night off. I wonder if he's going to bring the intensity every night. Overall, a brutally efficient team. Just like last year.

By Eric Karabell
|
ESPN Fantasy Games
(On rookies to watch)

Jamario Moon, SF, Raptors:
Who? Yeah, this one came as a surprise to many fantasy owners, as well as myself, who had to start looking him up when I saw him enter Friday's game against Philadelphia. Then he scored nine points and grabbed eight boards, and he became even more interesting. The next night in Chicago Moon replaced
Jason Kapono
in the starting lineup and scored 12 points, and in one of my deep leagues a feeding frenzy began. By the way, Moon came from the Albany Patroons of the CBA where he put up attractive numbers in points and boards and averaged more than two blocks and steals per night. Now how many people can do this? Is Moon the next
Gerald Wallace
? He's owned in 0.4 percent of ESPN leagues, so precious few people have dared to find out. I think he's worth a look, just in case.
• Full Eric Karabell blog

Monday's Best

Allen Iverson, Nuggets guard:
Goes for 37 points on 14-for-20 shooting, dropping eight dimes along the way to spark Denver's 122-100 win over Cleveland.
---

Monday's Worst

Zydrunas Ilgauskas, Cavs center:
He's had some great games, averaging 17.6 ppg, but in the loss to Denver, he's the Big Zzzzzzz. Goes to sleep with two points and six rebounds in 20 minutes of of action, missing 5-of-6 shots.
---
Quote of the Night

"I don't know how we won the game. These are the type of games last year we probably would have lost. It tells a lot about the resiliency we have on this team. Chris Paul wasn't having one of his best nights in terms of taking care of the ball but man, did he come up with a big steal after turning it over."
--
Hornets coach Byron Scott
, after his team rallied for a 84-82 win in New Jersey.
• See how all 63 players fared
-- Andrew Ayres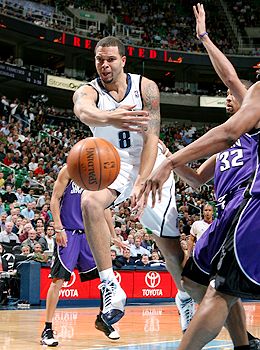 Photo byMelissa Majchrzak/NBAE via Getty
Deron Williams can do the dishes for Utah, cleaning up the floor with seven assists in the blowout of Sacramento.

The Utah Jazz are one of the best teams in the NBA when playing at home... but not against Sacramento. Monday's Utah win put them at 3-11 vs. the Kings in Utah since the 2000-01 season.
Jazz Worst Home Record vs Opponent
Since 2000-01
Team
W-L
Win pct
Kings
3-11
.214
Spurs
4-10
.286
Bobcats
1-2
.333
Pacers
3-4
.429
Heat
3-4
.429
Knicks
3-4
.429
Mavericks
6-7
.462
Here's some NBA programming slated for broadcast this week on ESPN and ESPN360: Tuesday night: NBA Fastbreak (12:30-1 a.m. ET) Wednesday night: Lakers-Rockets (9 ET), NBA Fastbreak (1:30-2 a.m. ET) Friday night: NBA Shootaround (7:3-8 p.m. ET), Rockets-Spurs (8 ET), Pistons-Lakers (10:30 p.m. ET)