(Photo by Ron Hoskins/NBAE via Getty Images)
Ainge Getting Another Big 3 Through That Door

It's good Danny Ainge is a
devout man
. Otherwise the
Boston Celtics
' architect might be feeling all the angry joy that comes when vengeance is thine. If Ainge were prone to such feelings, Boston's sixth straight win, a 101-86 walkover in Indiana on Tuesday, was a statement game disguised as an ordinary Tuesday night in November. In fact, as statement games go, it was the Big 3:
Statement 1: See, Jim, I knew what I was doing.
Just four seasons ago, the Celtics were coached by Jim O'Brien, now the Pacers coach, who had led them to their greatest successes since their 1980s heyday. O'Brien had salvaged the Rick Pitino squad, taking the C's to the 2002 East finals. But when Ainge took over in 2003, he looked to the future and started reshaping the roster. When Ainge traded veterans
Eric Williams
and
Tony Battie
to Cleveland for
Ricky Davis
(plus two players and a pick), O'Brien up and quit. Score one for Coach Obie. When we polled fans that day on his bold move, 79 percent said they trusted O'Brien's judgment more than Ainge's. An overwhelming 98 percent said that O'Brien deserved another coaching job, and 76 percent described his resignation as "honorable" rather than "crazy" or "disloyal." During the following three seasons, Ainge's reputation became further tarnished until rock bottom arrived in 2006-07, when the C's won 24 games and were widely accused of tossing games. Many thought Ainge's days were numbered. Meanwhile, the Celtics had continued to stockpile young talent, hoping for either an infusion of Miracle-Gro or, even better, a miracle trade or two. Enter Ray-Ray, courtesy of the Seattle Durants. Enter The Big Ticket, courtesy of old pal Kevin McHale. As Ainge admitted Tuesday
in Chad Ford's podcast

, he didn't know whether players like
Ray Allen
and
Kevin Garnett
would ever come walking through that door. But give him credit: He's got guts. Ainge traded away 10 of his assets, including
Al Jefferson
and three first-round draft picks, to get Allen and Garnett. So maybe Ainge and O'Brien can both pat themselves on the back. Maybe they were both right. Because finally the Celtics are exactly the kind of team O'Brien wanted.
Statement 2: Hey, Larry, my team is better than yours.
Just four seasons ago, the same year O'Brien resigned in Boston and Ainge found himself wearing the dunce cap, the
Indiana Pacers
had the NBA's best record. Ainge's old teammate Larry Bird had just rejoined the team as an executive after guiding the Pacers to the NBA Finals as coach, and his first season was charmed. The Pacers' fall from grace, starting with the infamous Palace Brawl, has been well-documented, but receiving less scrutiny has been the disastrous series of front-office decisions by Larry Legend and Donnie Walsh. It's impolite to suggest that an on-court genius like Bird might be less well-suited to the executive suite, but basketball IQ doesn't transfer easily to the boardroom. Meanwhile, as Bird's Pacers continue their descent into the hell of NBA mediocrity, Ainge finds himself on a rocket ride fueled by the kind of star power the Pacers used to boast. And now it's Ainge with the halo, the genius label, the wins, the media at his feet. And don't think he forgets for a second who is running the Pacers into the ground.
Statement 3: I've got my own Big Three.
Ainge doesn't like to hear about the original Big Three of Bird, McHale and Robert Parish. In fact, he says in Tuesday's podcast that trio was
not
the Big Three, if such a creature even existed. Remember, Ainge and backcourt mate Dennis Johnson were All-Stars who sacrificed their stats for the greater good. And in doing so, they had to watch Bird, McHale and Parish grab the spotlight, the accolades and the cool nickname. So as the Celtics roll to a record of 6-0, what could be more satisfying than seeing his new Big Three already making strides toward supplanting Bird, McHale and Parish in the hearts and minds of Celtics fans? You don't need Ainge's brain doctor to tell you how good that must feel. Sure, Garnett, Pierce, Allen and Co. are focused on winning the East and ultimately the NBA title. But there is more at stake. There's history, both professional and personal. The 1985-86 Celtics, still revered by many Boston fans as their choice for the greatest team of all time, won 67 games. So don't be surprised if Danny Ainge drinks an extra big glass of milk if and when his Celtics get victory No. 68.
Royce Webb is an NBA editor for ESPN.com
Dimes Past:
October 31
|
November 1
|
2
|
3-4
|
5
|
6
|
7
|
8
|
9
|
10-11
|
12
|
13
Why Dealing Marbury Not Preposterous

By Chris Sheridan
|
ESPN.com
Maybe the
Stephon Marbury
-Isiah Thomas feud blows over after a few hours, or maybe after a few days. But maybe it doesn't. The common belief is that Marbury's contract, which pays him $19.2 million this season and a guaranteed $21.1 million next season, makes him untradeable. But there is another way to look at it, and from a certain perspective the thing that makes Marbury so unattractive is the very same factor that makes him attractive -- his contract. Here's why: If you are the owner or the general manager of a team looking to rebuild, one of the best assets you can have is a contract worth $21.1 million coming off your salary cap in the summer of 2009 when there will be a bumper crop of free agents that could include many of the players from the 2004 draft class who did not agree to contract extensions prior to the Oct. 31 deadline, including
Andre Iguodala
,
Emeka Okafor
,
Luol Deng
and
Ben Gordon
. And we would be remiss if we didn't mention the fact that
Kobe Bryant
also has the right to opt out of his contract in the summer of 2009 and become an unrestricted free agent -- as do
Jermaine O'Neal
,
Richard Hamilton
and
Al Harrington
. So, in theory, it would come down to a question of whether a team could suffer through two years of paying Stephon Marbury (or buying him out) in order to have financial freedom 20 months down the road. And don't forget, teams that have cap space in the summer of 2009 can find ways to maintain that space for the summer of 2010, when
LeBron James
and
Dwyane Wade
both become unrestricted.
• Full Chris Sheridan story

By Henry Abbott
|
ESPN TrueHoop
(A selection from the first of a series on NBA referee Bennett Salvatore)
After the game and showering off, the crew used to huddle around a laptop to review the game, but now has what Salvatore sees as a major improvement. "It's a giant step!" he declares. "The league has provided us with projectors that plug into the computer, so now we don't have to look at the tiny screen anymore. It makes life a lot easier. It's bigger and easier to see clearly, and you don't have to crowd three guys around the laptop anymore."
• Full Henry Abbott story

Tuesday's Best

Bruce Bowen, Spurs forward:
Outscored Kobe, 23-18, sinking all six of his 3-point attempts in a 107-92 win over the Lakers. Matt Bonner was close behind, dropping in 15 points in 19 minutes.
---

Tuesday's Worst

Shane Battier, Rockets forward:
Of course, Battier brings those immeasurables to the table. But when you miss the measure of all four shots in a 104-99 loss at your old Grizzlies home, that's not good.
---
Quote of the Night

"Me? Play. I guarantee you I should suit up. I'd play better than some of them right now. I guarantee it. I swear to God. With an old hip and 62 years old and I can't see, I'll play better than some of my guys tonight. Come on, they were pretty bad."
--
Heat coach Pat Riley
, after his team fell to 1-6 with a 91-76 loss to the Bobcats.
• See how all 174 players fared
-- Andrew Ayres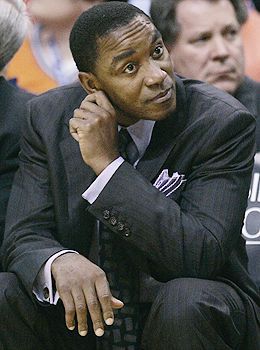 AP Photo/Ross D. Franklin
Knicks coach Isiah Thomas is quite possibly giving the secret "trade Starbury" signal during Tuesday's loss to the Suns.

Danny Ainge tells Chad Ford about how he's rebuilt the Celtics with Kevin Garnett and Ray Allen. "We feel this group of guys can be together for the next four or five years," Ainge said.
Daring Of The Green

By Marc Stein
ESPN.com
Ballots for the 2008 All-Star Game in New Orleans -- printed and electronic -- will be out Wednesday. And
Yi Jianlian
's name, I'm told, won't be on them. But I don't want to hear any
snub
stuff here. Although I'm sure his omission will be described that way by some, Yi doesn't really merit a spot on the ballot, even as the league's No. 2 scorer among rookies. Only the most high-profile of rookies -- like Seattle's
Kevin Durant
-- are typically included on the ballot at the first attempt. Exceeding expectations, as Yi has, doesn't automatically make him an exceptional case. The committee that filled out the ballot, furthermore, didn't just decide to exclude Yi because of all those millions of potential voters he has waiting back home in China. The committee's choices are made before the season, when even the Bucks wouldn't have been able to project that Yi would definitely be starting and averaging a solid 11.8 points per game. Yi will be generating ballot debates with all his Chinese support for years and years, probably as early as next season. But it only seems just, looking at Yi's production so far, that voting for nationality over skill won't be an issue we have to confront in his maiden season. The All-Star Game is indeed the fans' game . . . and the fans in Shanghai and Beijing appear to matter as much to the league office as domestic fans. I simply prefer to believe that plenty of Yi's countrymen -- so many of them NBA diehards and as much as they love him -- can see the injustice in their man starting over
Kevin Garnett
or
LeBron James
in the East frontcourt, even after two very promising weeks.