(Photo by Glenn James/NBAE via Getty Images)
San Antonio Would Like Dallas To Go Away Now

DALLAS -- They've been dissed all over the NBA Nation. Dissed and dismissed as a team that has blown its best shot to win a championship. The
Dallas Mavericks
? The dissing has reached the point where the only reverence they seemingly generate any more, strangely, comes from a small group of prominent Texans who reside some 250 miles to the south. The
San Antonio Spurs
would certainly prefer not to be the ones defending Dallas, but they couldn't help it Thursday night. They couldn't really deny that a 105-92 defeat to their longstanding rivals only reinforced the Mavs' status as the biggest matchup problem San Antonio has. After watching
Devin Harris
shadow
Tony Parker
like no one else does and seeing
Josh Howard
(and others) punish the Spurs with his quickness -- before we even get to the trouble
Dirk Nowitzki
typically gave the visitors -- you dropped your suspicions that this is just PC talk. You tend to believe it when
Tim Duncan
says that San Antonio's high regard for Dallas hasn't been diminished one iota in the wake of the Mavs' historic first-round ouster by Golden State in the 2007 playoffs. "No," Duncan said as the crowd around his locker began to disperse, asked if he's noticed the growing consensus that the Mavs have dipped in stature. "We were happy to see them go in the first round." Happy because Dallas, in San Antonio's estimation, is a team built to beat the Spurs. It's true that the platitudes tend to overflow when these teams get together because of the close bond between Gregg Popovich and his old point guard Avery Johnson, but don't mistake all of their back-and-forth praise for clichéd respect. The Spurs really do regard Johnson's Mavs as their toughest out in the West. I know, I know: There's something very confusing about touting the Mavs so strongly when they can be so fresh and quick against the team that has won three titles in the past five seasons and so creaky and unathletic against Golden State. Yet we saw it again in the space of a week. Dallas were shaky victors at best last Thursday in winning their first rematch with the Warriors -- even with Golden State missing suspended Mavs killer
Stephen Jackson
-- and then looked about as sharp as you can in November with the Spurs in town for another TNT game. How sharp? Try eight steals in the first half alone with their faster hands, triggering runs of 17-1 and 11-0 that ultimately enabled Dallas to take a 19-point lead into halftime. Then in the fourth quarter, after Nowitzki was finally starting to look more like his MVP self for one of the first times this season, San Antonio overplayed him, refusing to let Nowitzki (16 points, eight rebounds, five assists and four blocks) beat them but thereby opening up the fourth quarter for a clinching 14-point flurry from Harris. You'll never see a ton of urgency from the savvy Spurs before Thanksgiving, true, but Dallas' edge in this one wasn't mere intensity or desire. Nor was it Pop's famed reluctance to show his best defensive schemes to a team he expects to see in the playoffs, as illustrated on this night by Duncan guarding Nowitzki far more than he normally does. The Spurs' problems start with Nowitzki's ability to shoot over smaller defenders or out-quick San Antonio's bigger ones. The Mavs likewise have DeSagana Diop and a healed-from-surgery
Erick Dampier
to throw at Duncan and whoever is playing alongside Duncan up front, since San Antonio still prefers to keep two traditionally sized big men on the floor together. They also have a new high-octane bench tandem (
Jason Terry
and
Jerry Stackhouse
) to counter
Manu Ginobili
and, perhaps most crucially, the rare ability to put someone on Parker from the same speed class. Of course, even with all those attributes, it's worth remembering that the Mavs needed OT in their Game 7 breakthrough to finally win a series against the Spurs, who are so consistently good that they win as often as Dallas does in the head-to-head matchup that poses the biggest threat. But there's one more element of comfort for the Mavs here: "We definitely respect San Antonio," Stackhouse says, "but [not] as much as y'all do." Right. Although their mental state will be routinely questioned until they win a championship of their own, confidence against the Spurs is the least of the Mavs' problems after Dallas famously won that Game 7 in San Antonio just 16 months ago. The Mavs' problem, as described by Charles Barkley in Wednesday's Dallas Morning News, is that "they match up well with the Spurs but not with other teams." Golden State and, of greater concern, Phoenix come to mind. "At both ends of the court, they're the most complete team in the league right now," Popovich insisted. "I just think it's hard to win a championship. [The Mavs have] learned that lesson as fully as anybody's ever learned it. "They could have done it for the last two years. It just didn't work out. But just because it didn't happen doesn't mean that they're not the team that people thought they were."
Marc Stein is the senior NBA writer for ESPN.com. To e-mail him, click here.
Dimes Past:
November 1
|
2
|
3-4
|
5
|
6
|
7
|
8
|
9
|
10-11
|
12
|
13
|
14
|
15

By Ian Whittell
|
Special to ESPN.com
PHOENIX --
Grant Hill
demonstrated to
Phoenix Suns
coach Mike D'Antoni during Tuesday's victory over the
New York Knicks
that he was going to fit in perfectly with his new surroundings. Thursday night, at the US Airways Center, the veteran forward showed the rest of us that his marriage with the run-and-fun Suns looks destined to be a fruitful one as Phoenix added to the Chicago Bulls' early season woes, 112-102. "The biggest worry was Grant," said D'Antoni, looking back on his team's major summer roster move. "Would he fit in? Is he OK? The last game he was really good and now I know." What D'Antoni now knows also consists of the 24 points, 5 rebounds and 3 assists in 39 minutes that the 35-year-old Hill amassed against Chicago -- numbers that compare favorably with the 12.9 points, 5.3 boards and 2.4 assists he had averaged over his first eight games for the Suns. "He was unbelievable tonight, again," D'Antoni said. "I've got to take some minutes off his legs, he's playing too many minutes right now, but I say that and he doesn't agree." And why should he? Given Hill's wretched, star-crossed record with injuries throughout his career, D'Antoni may have to physically restrain his new starter if he wants to reduce his playing time. "I feel whatever the coach wants," said Hill, smiling. "He's the boss. But there's a part of me that feels I have sat so much [in recent years] that I want to play. I also want to be smart and this is a long season and we have big plans. "I just want to be on the court and whatever the powers-that-be say, I'm all for. But saying that is one thing and doing it is another!" Hill's durable performance was all the more impressive given that his off day Wednesday was spent making an appearance with wife on "Oprah," the couple discussing Tamia's battle against multiple sclerosis. "I felt tired toward the end but, thankfully, we got the win and, thankfully, there are no more trips to Oprah," Hill said. "It was a long week. "I'm starting to get my legs, starting to turn the corner, just find a rhythm, find where I can be offensively, where my spots are. My teammates are learning what I do. It's been a process but I think we feel good now." So, too, do the Suns. The result improved Phoenix's record to 7-2 while dropping the Bulls to 1-6 as they began their annual "circus road trip" -- and, boy, can we expect that phrase to be overused in the coming two weeks. Losing the first of its six straight on the road means Chicago is now 5-48 in these games since the end of the Jordan era in 1998. Loss No. 6 this season at least brought some consolation in a battling display which actually had the Bulls ahead in the fourth quarter and
Amare Stoudemire
in foul trouble before Suns point guard
Steve Nash
came off the bench to spark a decisive 9-0 run. More importantly, there was also the best performance of the season from forward
Luol Deng
, whose season-high 23 points was accompanied by nine rebounds and two blocks. "They could be the best team we've played so far," said Nash, over-generously. Meanwhile, with a rare L.A. doubleheader looming at the Clippers on Saturday and Lakers on Sunday -- including the circus to end all circuses when the Bulls come face to face with
Kobe Bryant
-- Bulls coach Scott Skiles had no time for moral victories. "There were stretches for long time periods when we played a little bit higher quality basketball," Skiles said. "But we're not in this to do that. We're in it to win the game."
Ian Whittell covers the NBA for the London Times

Thursday's Best

Josh Howard, Mavs forward:
Howard's hoops, good for 23 points in all, helped keep the Spurs at arm's length in a 105-92 win. Score one for Dallas pride.
---

Thursday's Worst

Michael Finley, Spurs forward:
Missed all six of his field goal attempts in 25 minutes of scoreless action against the Mavs. Good thing Brent Barry didn't miss any of his four shots.
---
Quote of the Night

"We definitely respect San Antonio, but I don't think as much as [others] do. Still, they've got the hardware and we don't."
--
Mavs reserve Jerry Stackhouse
after beating the champs.
• See how all 45 players fared
-- Andrew Ayres
Leandro Barbosa (25 points) and Grant Hill (24) delivered for the Suns in their win over the Bulls. Phoenix is now 7-2.

Chris (Broadview Heights, OH):
Is Danny Ferry already hibernating for the winter?
LeBron James
needs help and I know they are limited by contracts but how much longer can James stand 2 for 12 shooting nights from
Larry Hughes
and
Sasha Pavlovic
's disgraceful play?
Chad Ford:
LeBron is doing everything right now and keeping the Cavs competitive ... but he's getting no help. Problem is Danny Ferry doesn't have a lot of options. Unlike the Celtics that were collecting assets ... Ferry blew all of his cap on Hughes,
Damon Jones
and
Donyell Marshall
and
Drew Gooden
. No one wants those guys ... so it's difficult to acquire a player of any significance. I think his one decent option is to try a sign-and-trade for Varejao that gives them multiple players back to help.
• Read the full Chad Ford chat
Adam's Association Anomalies

By Adam S. Reisinger
ESPN Research
Jason Kidd
is the master of the triple-double. He has 88 in his career, easily the most among active players. But imagine what could be. On Nov. 12 against the Hornets, Kidd finished with 14 points, 10 assists and 9 rebounds. It was the 34th time in his career Kidd fell exactly one rebound shy of a triple-double. He's also got 11 games falling one assist shy of a triple-double and three games in which he had double-digit assists and boards, but exactly nine points. Kidd has never had a 9-9-9 game, but
Brad Miller
of the Kings did that just last season. • On Nov. 10,
DeSagana Diop
had nine offensive rebounds for the Mavericks, and finished with the impressive total of zero points. He's the first player to grab that many offensive boards in a game without putting a single one back for a basket since Dennis Rodman, in his Demolition Man days with the Spurs.
Ford's Podcast: Prospecting

Chad Ford and David Thorpe dish about O.J. Mayo, Michael Beasley and Derrick Rose. Plus, who could win this year's Rookie of the Year award?
The '08 Draft Class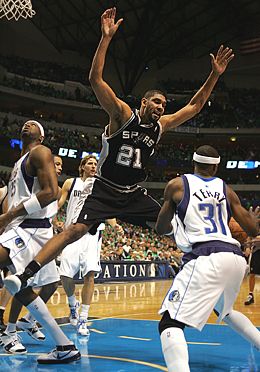 Glenn James/NBAE via Getty Images
Tim Duncan's looming presence wasn't enough to deter a Dallas victory.