(Photo by Jesse D. Garrabrant/NBAE via Getty Images)
Fans Chant "Fire Isiah" As Knicks Drubbed At Home

NEW YORK -- We'd go ahead and call it the Mother of All Knicks Debacles, except for one thing.
Nearly a decade of bearing personal witness to the downfall of the New York Knickerbockers has taught us to never label anything "the worst it has ever or could ever be," because recent history has shown us time after head-shaking time that things actually will get worse at Madison Square Garden, that this week's or this month's or this season's new low will not remain a new low for long.
Still, it really was a new low at MSG Tuesday night as the fans chanted "Fire Isiah" more than a half-dozen times during a lifeless 26-point loss to the Golden State Warriors that extended New York's losing streak to seven games.
Taking it all in with a pronounced frown on his face was owner Jim Dolan, who marched straight into Isiah Thomas' office after the game and either did not have the guts, the will or the good sense to do the right thing and fire his head coach and president.
There was such a palpable level of tension in the hallway beneath the stands, you half-expected Isiah to walk out of his office with a pink slip in his hand -- especially after watching Dolan slump and slouch through one of the most humiliating nights his team has ever had in its own building. But Thomas instead walked down the hallway with his head still held high, made his way through the back corridor to the interview room and placed the blame for this latest loss squarely on his own shoulders.
"You never want to see this kind of display of basketball. That's on me -- on my desk," he said, sounding ever more like a man who might actually want to be fired.
Thomas shot a sharp look at a Knicks PR official when he cut off the interview, then stopped as he got up and made sure everyone heard him one last time: "That was not the players' fault. This one is on me tonight."
The Knicks take their traveling freak show on the road to Detroit on Wednesday, and it'll be the 30th game since Dolan made the first of his two monumental missteps of 2008 (failing to settle the Anucha Browne Sanders case was the other) and gave Thomas a long-term extension.
The Knicks record in the 29 games thus far? How 'bout 6-23.
"We're not headed in the right direction right now, that's for sure," David Lee said afterward in a home locker room where the collective mood of the players was best described as one of self-disgust.
Might this lead to something bad happening?
"Something bad already happened -- 20,000 people just said 'Fire the Coach,'" Jamal Crawford replied.
The crowd began booing the Knicks even before the opening tip, and Stephon Marbury heard it in the opening moments of the game every single time he touched the ball. The first "Fire Isiah" chant rang out half-heartedly from the seats upstairs late in the second quarter with the Knicks trailing by 11 and well on their way to accumulating 29 turnovers, a shocking display of carelessness that more than negated their 52-36 rebounding edge.
The chant resurfaced throughout the second half, reaching its pinnacle late in the fourth quarter despite the building being half-empty by then.
Staying till the end and taking it all in from a courtside seat was Charles Oakley, who was slighted by the classless Knicks by not having his face shown on the center scoreboard during a timeout, as is the custom for visiting dignitaries and celebrities. (It reeked of the Knicks wanting to avoid having Oakley receive a standing ovation, which quickly could have morphed into an anti-Isiah or anti-Dolan chant).
Oakley, however, was not the biggest VIP guest of the night.
That honor was reserved for either commissioner David Stern, who watched the game from a skybox high atop the arena, or his main guest, United Nations secretary general Ban Ki-Moon, who attended with numerous other foreign dignitaries. Gotta hand it to the Knicks. When they come up with an epic stink job, they do it in front of some of the most important people in the world. (The U.N. is now expected to pass a unanimous resolution Wednesday ridiculing the Knicks).
"This was about as difficult of a loss as I've had in coaching since I've been here," said Thomas, who said the fans were "right" to boo the team and call for his firing. "What they saw tonight, if I paid money to see this game, I'd be upset, too."
It is hard to fathom how much longer Dolan, who has not spoken publicly regarding the Knicks since giving Thomas the extension back in March, can remain in a state of denial about the shape of his team under Thomas' leadership.
It'll be a huge blow to Dolan's ego to admit the Thomas extension was a mistake, but the only wise move he can make at this point is to listen to the fans, bring in the dynamite and begin the purge by firing Isiah. But since that is the only wise move Dolan can make to assuage his customers, we warn you that he might not do it. The man's track record in nearly a decade of exerting control over the family toy has included a sustained string of bad decisions, from the Patrick Ewing trade to the Marv Albert firing to the Anucha-related humiliation he put the franchise through on the eve of training camp.
Still, the body language on display throughout the night from both Dolan and MSG executive Steve Mills clearly indicated they were experiencing an almost unprecedented level of humiliation for which someone is eventually going to pay.
That someone seems bound to be Thomas, unless Dolan does what Dolan always does -- make the wrong decision. And if that's the case, we're going to be hearing a few more of those "Fire Isiah" chants -- not to mention undoubtedly recalculating our definition of a new low -- as this already humiliating Knicks season trudges forward.
Chris Sheridan covers the NBA for ESPN Insider. To e-mail Chris, click here.
Dimes Past:
November 3-4
|
5
|
6
|
7
|
8
|
9
|
10-11
|
12
|
13
|
14
|
15
|
16
|
17-18
|
19
|
20
Something For Joey? Not From These Spurs

By John Hollinger
|
ESPN.com
ATLANTA-- Tim Duncan's first encounter with referee Joey Crawford since the infamous game at the end of last season passed without incident on Tuesday. Not that there was much chance for drama with the Spurs conducting a clinical 95-83 dissection of the Hawks in which the Spurs' lead never got below double digits in the second half.
That was especially true since Duncan (13 points) was often a bystander while Tony Parker (31 points, nine assists) and Manu Ginobili (7-of-11, 19 points) took turns schooling Atlanta's perimeter defenders.
In that game back on April 15 Crawford sent off Duncan for laughing while on the bench, and ultimately found himself suspended for the rest of the season for his power play. But the only giggles on the San Antonio sideline Tuesday night came when they contemplated the Hawks' shot selection. The lone chance for an encounter between the two took place in the first half when Crawford whistled Duncan for an offensive foul with his off arm while going up for a shot over Josh Smith. It was a good call and drew no protest from Duncan or coach Gregg Popovich.
Afterward, neither Duncan nor Popovich wanted anything to do with the topic. "Not at all," said Popovich when asked if he had any reaction when he saw who the zebras would be. "Officiating crew doesn't enter into the game plan."
Otherwise, the game was notable for the dominance of San Antonio's perimeter players, and for the oddity of Atlanta reserve Mario West leaving to a standing ovation … after fouling out in nine minutes with his team trailing by double figures.
"Mario West, is that his name?" said Popovich of the hyper Atlanta rookie, who made the team as an undrafted free agent. "He changed the game a little bit."
Cook Will Give Orlando Another Shot

By John Hollinger
|
ESPN.com
So why'd Orlando do the Trevor Ariza for Brian Cook (right) and Maurice Evans deal? Two reasons, both of which make sense.
First of all, they're dead serious about surrounding Dwight Howard with shooters. Ariza can't shoot, so he didn't really have a role on this team. Cook, on the other hand, can shoot like nobody's business -- he's a career 39.2 percent 3-point shooter. It's the only reason he's in the league, in fact. And since he can also play the frontcourt, an area where the Magic find themselves a body short after losing Tony Battie for the season.
But a second reason may loom larger. To me, the Magic make this trade only if they legitimately think they can win the East this year. And the fact they did tells me they truly think they can win it. Not in a "Maybe if things work out and the best players on the other teams get hurt and we get real lucky in close games" kind of a way, but in a "We're the best team" kind of way. And after starting 10-2 and beating Boston, they might be right.
• See the full John Hollinger blog

Tuesday's Best

Michael Redd, Bucks forward:
His 34-7-6 line was nearly identical to LeBron's 34-7-7. But Redd's team won 111-107, snapping a seven-game losing streak to the Cavs that dates back almost two years.
---

Tuesday's Worst

Nate Robinson, Knicks guard:
Misses all six shots, commits three turnovers in 18 minutes of MSG misery. Let's forget this night happened. Remember when he swatted Yao? Good times.
---
Quote of the Night

"I'm getting me a blog. Y'all stay tuned. Coming to a town near y'all, I'm getting my blog. It's going to be: 'When keeping it real goes wrong.'"
--
Wizards forward Andray Blatche,
after scoring 26 points (12-of-14 shooting) in a 116-101 win over the Sixers. Award-winning blogging teammate Gilbert Arenas did not play.
• See how all 167 players fared
-- Andrew Ayres
Kobe Bryant had 32 points, leading the Lakers (7-3) to a 134-114 win over Indiana. Eight Lakers scored in double figures for the first time since Nov. 26, 2003.
• Watch highlights of every NBA game

By Chad Ford
ESPN.com
Boston doesn't have the only Big Three in basketball. The 2008 draft has its own trio of stars.
Last season
Greg Oden
and
Kevin Durant
dominated the "Who's No. 1?" debate the entire season. This season, expect three players to hog most of the attention:
O.J. Mayo
,
Michael Beasley
and
Derrick Rose
.
Beasley, in my opinion, is the top prospect in the draft, primarily because of size. In the draft, size matters -- in the past 20 years, Allen Iverson is the only No. 1 overall pick in the draft under 6-foot-7.
Beasley has an NBA body with unbelievable athleticism and skills for a guy his size. Entering Kansas State, his question marks were attitude and work ethic. But he has received rave reviews from his coaches, and the results to match: His averages of 30 points and 20 rebounds aren't misprints.
Mayo had the most hype coming out of high school, and the most baggage. He left a bad taste with some scouts toward the end of his senior season when he seemed more interested in showboating than improving as a player.
So far the word out of USC is very positive. Mayo has been working hard, avoided keeping an entourage and has shown his potential in the first three games of the season. While he's averaging five turnovers per game, the rest of the numbers are impressive: 25.7 points, 6.0 rebounds, 4.3 assists per game, with 49 percent shooting from the field and 90 percent from the free-throw line.
Rose doesn't have the flash of Mayo or Beasley, but he's going to rival Chris Paul as the best college point guard prospect since Jason Kidd. He combines great size and an amazing feel for the game, plus he is a physical defender. He has winner written all over him -- he can take over offensively when his team needs him to, and he's quickly become the leader on a veteran Memphis squad.
I think Rose is the safest bet of the three, but his ceiling is lower than that of Mayo or Beasley.
• See the full Chad Ford story
Ford's Podcast: Draft Watch

Chad Ford discusses some of the names to watch for the 2008 NBA draft. Who will be the No. 1 pick?
The '08 Draft Class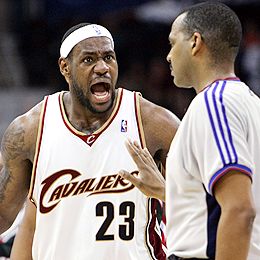 AP Photo/Mark Duncan
LeBron James disagrees with a foul call by referee Bernie Adams in the fourth quarter of the Cavaliers' 111-107 loss to the Bucks.