(Photo by Andrew D. Bernstein/NBAE via Getty Images)
Magic Looking Sharp On The Road

LOS ANGELES -- Maybe it's true that you do dress the part, the clothes make the man. Look inside the lockers of the Orlando Magic as they make their journey through the Western Conference and you'll find plenty of pinstripes. No, they didn't break out the old uniforms from the 1990s. They come to the arena clad in suits, investment banker-style, well beyond the minimums of the NBA dress code.
"We're not one of those teams that flirts with the line," Keyon Dooling said. "We take pride in looking good. We challenge each other."
Pride in how they look, pride in what they do. On Sunday night they won the kind of game good teams win: on the road, on a night they didn't play that well. Dwight Howard wasn't superstarly, with below-average (for him) 17 points and eight rebounds. The Magic were outrebounded by nine. They had followed a 39-point second quarter with only 14 points in the third.
A loss was beckoning to them like a comfortable bed after a long day of work. They've been away from home for a week. They trailed the Lakers by two at Staples Center with 4½ minutes left in the fourth quarter. Kobe Bryant had just hit a jump shot, a 21-foot fallaway, one that seemed to signal, "OK, here it comes."
Except what came next were nine straight points by the Magic and a 104-97 victory for the visiting squad. It's Orlando's 10th "W" in 12 road games, a 15-4 record overall.
It's not the fact that the Magic are winning that should make you believe in them. It's the way they're winning, how they've turned Magic coach Stan Van Gundy's greatest worry about them into their greatest asset.
"What we've got is something we were very concerned about to start the year: It's a team with some mental toughness and some resiliency," Van Gundy said.
Van Gundy's at a loss to explain where it comes from. This is not a time-tested squad. Outside of Hedo Turkoglu and Carlos Arroyo, no one in the regular rotation has more than 19 games of playoff experience -- less than one postseason for a championship veteran. And Arroyo didn't even play Sunday night.
"I guess it comes from everybody wanting to win so bad," Howard ventured.
"We get it from different places," Dooling said. "Everybody on this team is a leader in their own right."
No one more than Howard, their last stand defensively, first option offensively. He can affect games even on his slow nights, as you watch players pass the ball out of the paint, or double-clutch, fumble or miss layups just because he's around. Howard's also Orlando's top model.
"With his new signing [a five-year, $85 million extension this summer], his gear is like, impeccable," Dooling said.
Will the Magic be accessorizing with championship rings? Not so fast. It's telling that their four losses have come to Detroit, San Antonio and Phoenix twice. But they did beat Boston, and have knocked off everyone else that came their way. Put it this way: We know a lot more about them than we know about the Lakers.
We're still trying to figure out what's up with Kobe. After showing he could score at will with a 19-point first quarter, he seemed reluctant to take control afterward. He finished with 28.
"I thought he had some real good post-up position out there, situations, just didn't turn around and shoot the ball in the post, which is one of his better things," Lakers coach Phil Jackson said.
"Just wasn't in a good rhythm," Bryant said.
Late in the game, the Magic sprung a half-court trap with Howard jumping out to double-team, and the Lakers couldn't make Orlando pay after Howard vacated the middle. The Lakers wound up taking seven 3-pointers in the fourth, missing six of them, including an 0-for-3 for Lamar Odom.
At least Odom reappeared in the box score, with 19 points and 17 rebounds. Andrew Bynum blocked seven shots.
But the Lakers haven't been able to do enough things well on a consistent basis. They've lost four of their past six. And now they have back-to-back road games.
Jackson's instructions on the dry-erase board in the locker room read: Denver. Minnesota. Overcoats.
The Lakers might want to pack some gray suits as well. They might not bring the same results as Orlando, but teams would be wise to emulate the Magic in as many ways as possible. Their way is working.
J.A. Adande joined ESPN.com as an NBA columnist in August 2007 after 10 years with the Los Angeles Times. Click here to e-mail J.A.
Dimes Past: November 24-25 | 26 | 27 | 28 | 29 | 30 | Dec. 1-2

By Eric Karabell
|
ESPN.com Fantasy Games
Hey, this team scores the second-most points in the NBA, so it's not surprising that we get tons of fantasy goodness from them. Steve Nash is a fantasy monster, and I'm still angry that I took Gilbert Arenas over him in that 30-team monstrosity I'm in with the No. 4 pick. You say, how could I have known Arenas would miss three months, and you'd be right. But I can still seethe over it.
Nash is the No. 2 player in fantasy right now, behind only behemoth LeBron James, and Shawn Marion is just outside the top 10. Amare Stoudemire missed some games, or he'd be right there, too, and a fourth player, Leandro Barbosa cracks the top 40 as well. That's four players, and the fifth starter is at No. 60! Grant Hill is scoring 14.8 points a night, and he shoots well.
He's on our most added list, and Boris Diaw is ownable for his all-around game. Nothing against the Celtics, but the Suns are better in fantasy.

By J.A. Adande
|
ESPN.com
Ben (Portland): Are we, meaning NBA fans, in for a decade of amazing battles between Greg Oden and Dwight Howard? I only wish the NBA would change its scheduling rules to have Portland and Orlando play each other four times a year so we can watch them more.
J.A. Adande: Oden has to establish himself in the NBA before we can say he's a worthy combatant with D. Howard. I remember the first time Allen Iverson and Felipe Lopez faced each other in the Garden and it was supposed to be a start of a rivalry. That turned out to be as big a rivalry as Coke vs. RC Cola.
Eric, NJ: J.A., does Steve Kerr ride this current Suns roster into the playoffs or do you see him making a move before the trade deadline? Also, how do the Suns address the future of their PG position when it's only a matter of time before Steve Nash begins to decline?
J.A. Adande: The problem is, what player realistically makes them better? They tried to get in on KG, but that didn't work. No one else out there really makes sense. And I wouldn't give away assets to protect against Nash's decline. When he goes, this whole ship will be sinkin' with him, so might as well just put the right pieces around him now.

Sunday's Best

Grant Hill, Suns forward:
Makes 13 of 17 shots, good for 28 points, in a 115-104 win over the Knicks. Of note, Hill broke in with the Pistons in 1994, the year Knicks coach Isiah Thomas retired. It's possible Hill's new beginning could be coming at an end point for Isiah, again.
---

Sunday's Worst

Cavs guard Devin Brown:
Well, somebody has to start in place of LeBron James, who is nursing a sprained finger. Brown's 21 scoreless minutes included four missed shots in a brutal 80-70 loss to Boston.
---
Quote of the Night

"We are in a funk. Everything goes wrong when you're where we are."
--
Heat guard Dwyane Wade,
after his team lost 115-89, falling to 4-12.
• See how all 173 players fared
-- Andrew Ayres
Tim Duncan bruised his right knee and sprained his right ankle in the first half and did not return to the 100-79 win over the Blazers. The team said all of Duncan's ligaments appeared stable but that he would undergo an MRI exam on Monday.
• Watch highlights of every NBA game
Caltech: Worst And Brightest

San Antonio Spurs' Coach Gregg Popovich is in the [film on Caltech hoops], talking about the night his miserable Pomona-Pitzer team once lost to Caltech, and then later rebounded to win the SCIAC conference.
"That struggle from that 2-22," Popovich remembers, "to getting a conference championship really, really means a lot. So in my office that SCIAC ball is on my bookshelf. No other ball."
By Chris Broussard
|
ESPN The Magazine

Right now it's a two-man MVP race to me:
LeBron James, of course, (who I've been telling y'all is the best nonbig in the league. Believe me yet?) vs. Dwight Howard.
I must confess that I don't quite envision Howard as an MVP yet. It's not his age. At 21, he's a year younger than LeBron.
Maybe it's the fact that he's still so dang raw. He's getting better in the skills department, but I seem to imagine MVPs having more polish.
But hey, you can't argue with results. He's a straight-up beast: 23.5 PPG; second in the league in rebounding (14.4); second in FG percentage (.612); fourth in blocks (2.6); and most importantly, the youthful Magic are 14-3.
All that said, I'd have to give LeBron a slight edge so far. He's putting together perhaps the most offensively powerful season we've seen since MJ went for 32.5 points, eight boards and eight dimes nightly back in 1989. On 53.8 percent shooting! And Mike, clearly the MOP, didn't even win MVP that year, Magic did.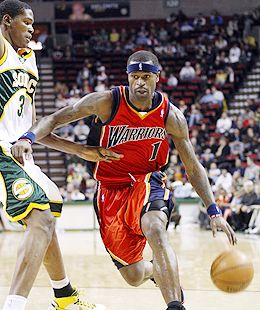 AP Photo/Elise Amendola
Stephen Jackson (20 points) shows rookie Kevin Durant how it's done. The Warriors took their ninth win in their last 10 games 109-96.