(Photo by Jonathan Daniel/Getty Images)
Projecting How The West Will Finish

As we approach the one-quarter mark of the 2007-08 season, we have a rough picture of who's most likely to be left standing come the playoffs.
Here's how I see the Western Conference's seeds shaping up come April 16 …
1. San Antonio Spurs (15-3) -- They are still the best team in the league. Manu Ginobili (19.4 ppg in 28.7 mpg), now 30 and in his sixth year with the Spurs, looks as fresh as he did his rookie year.
When he plays this well, no team in the NBA can beat the Spurs in a seven-game series. Not to mention the fact that Tony Parker is playing the best basketball of his career. And, by the way, they still have a guy named Tim Duncan, whose recent knee injury shouldn't affect the Spurs' prospects.
2. Utah Jazz (13-5) -- Deron Williams and Carlos Boozer are the best point guard/power forward combination in the league. Check out their production in Monday's 110-101 win over the Heat -- Boozer had 24 points and 15 rebounds, Williams has 24 points and 15 assists.
The Jazz play hard every night, they have upgraded their depth, and the experience they gained from last season's playoff run could get them to the Western Conference Finals.
3. Phoenix Suns (13-4) -- This team is built for 60 wins in the regular season. The biggest question facing the Suns is whether the addition of Grant Hill can offset the loss of Kurt Thomas and the interior defense that he provided.
I have picked this team to the NBA title for the last two seasons and they have burned me. I still think they have enough talent to win it all, but now they have to prove to me that they can beat San Antonio in the playoffs.
4. Dallas Mavericks (12-6) -- The Mavericks have lost their edge from a season ago. Their dismantling at the hands of the Golden State Warriors has opened the door for other teams in the West to feel like they can play with the Mavericks if they get physical with Dirk Nowitzki.
They will still be a factor, obviously, but they have taken a step back.
5. Houston Rockets (9-9) -- The Rockets are still one of the better defensive teams in the West. New coach Rick Adelman has opened up the offense and this will allow Yao Ming (22.1 ppg, 10.1 rpg) to have his best year offensively.
The problem for the Rockets is that the difference between the top two players and their next best player (Shane Battier or Bonzi Wells), is the biggest drop-off among the contenders in the West.
6. Denver Nuggets (11-7) -- The Nuggets certainly have enough talent to beat any team in the league on a given night. Ultimately, however, their lack of discipline (shot selection) and lack of commitment defensively by Allen Iverson and Carmelo Anthony will hurt this team in the playoffs.
7. New Orleans Hornets (12-6) -- If the Hornets stay healthy, they will be an interesting team to watch all season. They have a nice mixture of youth and veteran leadership, but they lack a true prime-time "go to" scorer to carry them against the elite teams in the West in order to make a deep playoff run.
8. Los Angeles Lakers (9-8) -- Kobe Bryant is good enough to keep the Lakers' heads above water, but they do not have enough talent to be considered a contender.
If L.A. finds itself under .500 in mid-January expect Kobe's frustration to surface again and force the Lakers to change the face of their franchise.
As the West standings shape up now, the Rockets wouldn't make the playoffs, but the surging Warriors, who fell to 9-8 with a 123-117 overtime loss to Orlando, would.
ESPN analyst Tim Legler is a regular contributor to the Daily Dime.
Dimes Past: November 24-25 | 26 | 27 | 28 | 29 | 30 | Dec. 1-2 | 3
Please, A Little Mercy For Marbury

By Chris Broussard
|
ESPN The Magazine
In what can only be described as a tragic month for the point guard, Stephon Marbury deserves to be cut some slack by the Knicks faithful.
Those who've booed him vigorously this season should give him a standing ovation the next time he's introduced with the starting lineup AND they shouldn't boo him again for the rest of the season.
After experiencing chest pains while sitting in the Garden stands during Sunday's game against Phoenix, Stephon's dad, Don Marbury, was taken to a local hospital, where he later died. Stephon received the news as soon as the game ended.
While that by itself should be enough to call off the boo dogs for the rest of the season, that was just the latest tragedy to befall Marbury over the past few weeks. On Nov. 13, Robert (Mr. Lou) Williams, one of Marbury's childhood mentors, died. Six days later, his aunt, Helen Thomas, the grandmother of Minnesota point guard Sebastian Telfair, passed away.
While dealing with all that, Marbury's been booed by Knicks fans during pregame introductions. And early in games, he's been booed when touching the ball.
Enough.
There's no doubt Marbury deserved harsh treatment for bailing on his teammates when Isiah Thomas benched him before last month's game at Phoenix. Thomas should've suspended Marbury for the entire four-game trip.
But there's also no doubt that Marbury has suffered a disproportionate amount of the criticism for this Knicks nightmare.
The Worst Team For Fantasy Players Now

By Eric Karabell
|
ESPN.com Fantasy Games
1. Chicago Bulls: This bunch hasn't been bad just for fantasy, but obviously in real life as well. The Bulls had a big weekend, beating the Hawks and Bobcats to escape the Eastern Conference basement. Things should improve, but what about in fantasy? Nobody on this team is ranked in the top 75. Ben Gordon is the only one in the top 145!
Only Gordon and Luol Deng score, but they aren't great fantasy options. Gordon doesn't rebound, and he's shooting 39 percent from the floor. Deng will be better for fantasy, in time, but he doesn't hit 3s or free throws. Kirk Hinrich keeps starting, but his stats look like the Eastern version of Luke Ridnour. Ben Wallace looks like Reggie Evans with a block and a half per game. It's ugly. Look for it to improve, however. I doubt the Bulls will be this bad for much longer. Maybe they already turned the proverbial corner.

Monday's Best

Travis Outlaw, Blazers forward:
Hits the winning 6-foot runner at the buzzer, lifting the Blazers to a 106-105 win in Memphis. Finished with 21 overall, including a 30-footer at the end of the third quarter.
---

Monday's Worst

Raymond Felton, Bobcats guard:
It's a shame about Ray. With 21 minutes on the court, misses all eight shots as the Bobcats lose their sixth straight, falling to the Raps, 98-79. He came into Toronto averaging 16.7 ppg and 7.3 assists.
---
Quote of the Night

"We're digging ourselves into the Grand Canyon right now and it's too much to come back."
--
Bobcats forward Gerald Wallace,
whose team has not led after the first quarter during its six-game losing streak.
• See how all 112 players fared
-- Andrew Ayres

David (Baltimore, MD): What's wrong with the Mavs? Why are they playing so poorly of late? Like you said, they haven't played a complete game since they beat the Spurs.
Marc Stein: Part of it, I'd say, is that everyone seems confused. They know they have to keep something in the tank for the postseason, but that completely contradicts Avery Johnson's personality. Their offensive execution isn't as sharp or precise as it usually is, even in the regular season, and the defense has been abysmal.
And while I like the concept of reducing Dirk Nowitzki's minutes in the regular season with an eye on the big picture, it's also hard for him to adjust to playing less than 40. Yet another problem: Dirk's getting swarmed more than ever, after teams saw what Golden State did to him, and teammates have to capitalize more on those openings.

Ask Chris Broussard of ESPN the Magazine a question to answer during Tuesday's NBA Coast to Coast, which runs from 9 p.m. to 11 p.m. ET on ESPN2. Later, tune into NBA Fastbreak from 1:30-2 a.m. ET.
Here's more NBA programming slated for broadcast this week on ESPN, ESPN360 and ESPN Radio:
Wednesday night: Lakers-Nuggets, 9 p.m., ESPN; NBA Fastbreak, 1:30 a.m., ESPN
Thursday night: Nuggets-Mavericks, 7:35 p.m., ESPN Radio and ESPN Radio.com
Friday night: Bulls-Pistons, 7 p.m. ESPN; Jazz-Spurs 9:30 p.m., ESPN; NBA Fastbreak, 1:30 a.m., ESPN
All times Eastern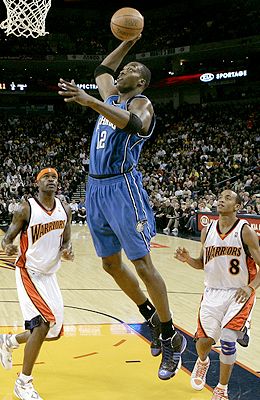 AP Photo/Jeff Chiu
Magic center Dwight Howard had this line in a 123-117 overtime win against the Warriors: 18 points, 23 rebounds, 9 turnovers, 7 blocks and one odd technical foul for hitting the basket support with his hand.