(Photo by Noah Graham/NBAE via Getty Images)
Dealing Kidd No Easy Proposition
Jason Kidd just wants his team to play better. And missing a game with a migraine? That's something you can't play with.
Now let's move ahead.
The bigger question looming is what the future holds for the New Jersey Nets' superstar point guard. I don't see him being traded anywhere at this point. I don't think Nets president Rod Thorn is ready to break up this team.
But if Thorn does, he's going to want to get a young rising star back, along with some salary cap relief, expiring contracts, possibly draft choices. Even with all that possibly coming back, the truth is, Thorn's in all likelihood not going to improve the Nets by trading Kidd. That's one of the reasons why making a deal involving a highly-paid superstar is difficult.
Finding an acceptable place for a superstar is the other challenge. The destination team has to be left with enough to compete -- you don't send a star to an average team in one of these deals. Kidd would have to be the difference maker for his new team.
When I was the general manager of the Denver Nuggets, one of my last moves had been trying to make a deal for Allen Iverson. Later, the Nuggets eventually got AI when Philadelphia found itself in a situation where he wasn't playing and the whole world knew they had to trade him.
That wasn't a great situation for the 76ers -- it becomes very difficult to deal when you announce that a player must be traded. So it's not in the Nets' interest to see this situation develop in a similar way.
What you try to do if you're a GM is hope to have multiple bidders, and try to get somebody to overpay. It's a dangerous game, because you could end up with nothing.
With some of these Kidd trade scenarios, the Nets would definitely get something. Of the places I've heard publicly discussed, I think Dallas is the only viable option. They have some very good young players, but I don't think they'd trade Josh Howard. They do have Devin Harris and the expiring contracts to make it work, if they were so inclined.
The other places prominently mentioned are Cleveland and the Los Angeles Lakers. The Cavs don't seem to have the players to get it done. The Lakers do have the assets, but they've been reluctant in the past to trade center Andrew Bynum. What Bynum's done this year has made them less likely to deal him.
Both of those places would be good for Kidd, imagining a Jason-LeBron pairing or Jason-Kobe pairing.
Kidd already has something to work with in East Rutherford. Kidd, Vince Carter and Richard Jefferson are stars in their own right. Carter could be more aggressive; he could assert himself more. Nenad Krstic isn't helping -- his knee is keeping him out of action. Jamaal Magloire has not done what they expected of him.
Where Kidd gets frustrated is when other players aren't competing hard enough. When the Nets have gotten down by 8 or 10 points, they haven't fought back. That has to be hard on a competitor.
Jason Kidd loves playing basketball -- generally guys at that level, superstars like to play or they wouldn't be where they are in the game.
ESPN analyst Kiki Vandeweghe is a regular contributor to the Daily Dime.
Dimes Past:
November 24-25
|
26
|
27
|
28
|
29
|
30
|
Dec. 1-2
|
3
|
4
|
5
|
6
The Push Is Key To Dealing

By Chris Sheridan
|
ESPN.com
Perhaps his migraine episode was as big of a headache as Jason Kidd has shown he can become (just ask the folks in Phoenix) when his discontent or his temper boils over. As touched on before, there are 23 million or more reasons why his headaches might reoccur, and as Kidd said, somewhat ominously, his headache hadn't gone away as of Thursday afternoon.
If those headaches keep coming, or he keeps them coming, the best solution for the Nets might be to move that headache elsewhere. They were ready to do it a year ago and would have if the Lakers had been willing to give up Andrew Bynum, so everyone correctly assumes that they'd be willing to do it this season, too -- if pushed.
"The only thing I did was have a sick day, and I think everybody here has done that," Kidd said.
Clearly, he's pushing -- albeit in a passive aggressive way, something he's a master at.
How hard he continues to push -- and when he'll push again -- will determine whether he remains a Net past the trade deadline and through next summer.
The prediction here is that he won't, in part because this is a headache for both sides, not just Kidd.
What's going to make it go away? Maybe an extended winning streak, maybe a trade, maybe an extension. The trading deadline is still more than two months away, so there's plenty of time to figure out which cure is going to work best. The next clue will come when Kidd gives a progress report on whether that headache is still throbbing.
Reviews Of The New Playoff Tool

By John Hollinger | ESPN.com
Jason (Washington, DC): Great playoff tool, John. Can you put a percentage on an Eastern Conference team winning the whole thing?
John Hollinger:
Predictor says about 80 percent. I wouldn't go anywhere near that high, but between Boston, Orlando and Detroit I think we can look forward to the possibility of a competitive finals again.
Aaron (phx):
John, with all due respect, if three Eastern teams are ranked in the top 3 with the cake schedule they've played, something ain't right with that formula! I don't think any of the top 3 Eastern teams have beaten any of the top 3 Western teams.
John Hollinger:
58 of the 82 games on the schedule are exactly the same no matter which side you're on, so the impact of being in the stronger conference is rarely more than a game or so. That's especially true this year, since the weakness of the bottom of the West almost completely offsets its strength at the top.

Thursday's Best

Allen Iverson, Nuggets guard:
Just make yourself at home in this spot, AI. You went for 35 points, 12 assists and six steals in a 122-109 win in Dallas. This, after dropping 51 on the Lakers the night before.
---

Thursday's Worst

Jason Terry, Mavs guard:
Five points in 36 minutes? That didn't help the cause against the Nuggets. Jet must need refueling after a back-to-back that began with a tough loss to the Spurs.
---
Quote of the Night

"It was a layup drill out there. At no point in the game I thought we could really stop them."
--
Dirk Nowitzki,
after watching his Mavs yield 122 to the Nuggets in a loss.
• See how all 57 players fared
-- Andrew Ayres

By John Hollinger
ESPN.com

ATLANTA -- Who's taking the floor for the Hawks in the third quarter these days? Atlanta was embarrassed 27-8 on its home court by the lowly T'wolves in that stanza Thursday, two days after Detroit came out and smoked them 30-13 after the break. That's 57-21 total if you're counting in two games at Philips Arena, not exactly the home court advantage Atlanta hoped for.
As a result, Atlanta nearly lost at home to the league's worst team, getting saved only by a buzzer-beating heave from Joe Johnson for a 90-89 win. The Hawks survived because of who they were playing, but this was not a feel-good win by any stretch. They were destroyed on the boards, giving up 20 second chances, and scored 37 second-half points against the league's worst defensive team.
Despite the game-winner, the "What's up with Joe Johnson?" questions are growing louder, too. He shot 8-for-20 with four turnovers, and was 0-for-4 in that miserable third quarter despite playing all 12 minutes. If you're wondering, "added defensive attention" seems a poor answer -- teams have been blanketing him ever since he came here, and in fact this is the best offensive team he's played on in Atlanta. Saturday is another home game against Memphis -- we'll see if the Hawks, and Johnson, can answer their third-quarter woes.

By Adam Reisinger
ESPN Research
The Warriors have been rejuvenated since co-captain Stephen Jackson returned to the lineup. Golden State plays host to the Miami Heat Friday at 10:30 ET.
Also, this will be
Shaquille O'Neal
's 1,000th career game, making him the 3rd active player to reach this milestone.
Dikembe Mutombo
has played 1,156 games and
Robert Horry
has been in 1,064.
With and Without Stephen Jackson

Category
Without
With
W-L
1-6
9-2
PPG
109.3
110.0
Opp PPG
116.3
101.2
Opp FG pct
49.6
43.8

By Adam Reisinger
ESPN Research
Dwight Howard is currently averaging 23.3 PPG, 15.1 RPG and exactly 3.0 BPG (60 blocks in 20 games). Now, blocks were only added as an official stat in '73-74, but there have only been 2 players to average 20-15-3 over the course of an entire NBA season, and no one has done it since the merger.
Elvin Hayes averaged 21.4, 18.1 and 3.0 in '73-74, but his blocks per game average was actually 2.96 (240 blocks in 81 games), so it's not officially recognized as 3.0 by Elias.
20.0 PPG, 15.0 APG, 3.0 BPG, Single Season

Player
PPG
RPG
BPG
'75-76 K. Abdul-Jabbar
27.7
16.9
4.1
'73-74 Bob McAdoo
30.6
18.1
3.3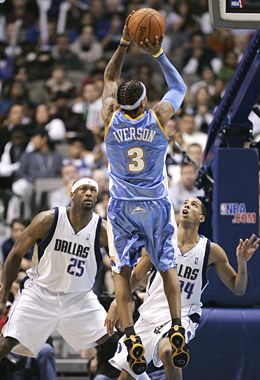 AP Photo/Tony Gutierrez
Mavericks center Erick Dampier (25) and Devin Harris (34) watch as Denver Nuggets guard Allen Iverson (3) takes a shot. The Nuggets won 122-109.