Noah Graham/NBAE via Getty Images

The season began with trade speculation swirling around Kobe Bryant, Jermaine O'Neal, Shawn Marion and Andrei Kirilenko.
The list now stretches to include a fifth major name, with Jason Kidd's future making us wonder.
Our first five questions (and answers) about what's next for No. 5:
1. What is Kidd's status with the Nets after the events of this week?
He's still their franchise, folks. Damaging as the allegations were that he boycotted Wednesday's game against the Knicks with a faux headache in an attempt to start forcing his way out of town, Kidd is too beloved and respected by teammates and management for opinions to change that quickly. Not after one unsubstantiated allegation that Kidd -- in the face of his peerless rep for playing hurt -- staged this one-game strike to register his displeasure with the organization.
Kidd, furthermore, has deep ties to the area after six-plus years in town, leading the Nets to their only sustained NBA success. One source close to the situation insists that Nets owner Bruce Ratner maintains a deep aversion to the idea of parting with Kidd and had serious reservations last February when New Jersey appeared poised to send Kidd to the Lakers if L.A. had been willing to surrender Andrew Bynum in the deal.
The source said Friday that the most likely outcome remains that Kidd gets the one-year extension to his contract that he's been seeking with a view toward finishing his career as a Net. That might be as much because of the complications New Jersey faces in getting back a suitable package back for Kidd, but it's important to note that the sides have not suspended extension talks.
2. What is really Kidd's first choice? Staying or going?
Just like Kobe after a summer playing alongside the invigorating talent on a revamped Team USA, Kidd is obsessed with being surrounded by similarly hungry folks in his day job to finally win that elusive championship. Even more so than Bryant, Kidd is contemplating the prospects for his remaining years at 34, with only two seasons left on his current contract and with the Nets off to a sub-.500 start through 19 games for the -- no misprint -- fifth consecutive season. However …
I remain convinced that Kidd would prefer to stay if the Nets can find a way to get back to legit contention, especially with the team's high-profile move to Brooklyn looming in 2009. The conference has improved considerably since New Jersey made the landscape-changing acquisition of Kidd for Stephon Marbury in the summer of 2001, but one big move is still all the Nets would need to restore hope of getting back to the Finals. Catching up to the East's early pacesetters this season -- Boston, Orlando and Detroit -- is hardly out of the Nets' reach with the right deal.
3. But can the Nets make a trade that can appease Kidd?
It's a valid concern, because finding the right deal won't be easy. Reality does intervene even though it is undeniably easier to make grand leaps in the East.
The reality here is that New Jersey, with its limited assets, will struggle to concoct a trade that gives Kidd renewed hope about the Nets' long-term prospects. The offers made for Kidd figure to bring back more than the Nets would get by making everyone on the roster but Kidd available.
You'll recall that New Jersey tried hard at the June draft to acquire O'Neal from the Pacers for a package headlined by Jefferson and Nenad Krstic. Indiana's reservations then about taking back Richard Jefferson -- who happens to have responded to being shopped with the best ball of his life -- will have been replaced by even stronger concerns about Krstic's health given the Serbian's ongoing struggles to come back from knee surgery.
4. Where is Kidd going if the Nets do make him available at February's trade deadline?
Asked specifically about Cleveland and his well-known admiration for LeBron James, according to our man on the scene Chris Sheridan, Kidd told reporters Thursday that the Cavs are "not one of my destinations." That suggests two things: (1) Kidd indeed imagines himself playing elsewhere on some level if he's got such a list; and (2) Kidd must understand that LeBron's Cavs have almost nothing of trade value to offer to enter the sweepstakes, with the newly re-signed Anderson Varejao ineligible to be dealt until the offseason and with zero chance that the Nets would consider taking on Larry Hughes in the exchange.
The Lakers, meanwhile, would still have Lamar Odom as a third option alongside the tantalizing tandem of Kobe and Kidd had they been willing to part with Bynum last February. But they weren't and would be a lot less willing to even mention Bynum now, with the Jersey-reared young big man starting to live up to his potential with averages of 10.4 points, 9.6 rebounds and 1.8 blocks in just 26 minutes per game. So L.A. would likely need the involvement of at least one more team to have another shot at Kidd. You can likewise still debate how far up the West ladder L.A. would rise even if it somehow hatched a deal that delivered a core of Kobe, Kidd, Odom and Bynum. The Lakers, configured thusly, might still only be the West's fourth-best team, behind San Antonio, Phoenix and Utah.
The leading Kidd suitor at this juncture, then, would have to be Dallas. Kidd has quietly maintained a long-standing interest in returning to the team that drafted him and the Mavericks, according to one team source, strongly believed after Steve Nash's controversial departure in the summer of 2004 that they were close to getting him back. It didn't happen then and the Mavs resisted calls to make another run at Kidd after their first-round flameout to Golden State, claiming that they'd have been overreacting to change too much from a 67-win team.
No one's saying that now, though. Not with team morale, according to club sources, suddenly approaching new lows in the wake of this 3-6 skid, reinforcing my belief from the start that this group needed a bigger shakeup after two such disheartening playoff endings back-to-back. With the Mavs' lack of a proven winner/killer/closer in Kidd's class never more evident, Charles Barkley aptly concluded on TNT's postgame show Thursday: "Dallas is in trouble, man. They gonna have to do something.'"
5. Do the Mavs actually have enough to entice New Jersey?
Yes. The sticking point in a straight two-team swap would be Josh Howard -- Howard would be the first player New Jersey asks for and the guy Dallas is apt to deem untouchable a la Bynum -- but Dallas has two other key pieces to get the conversation cranked up: Devin Harris, as the promising young point guard to replace Kidd, and the ability to create a lucrative expiring contract to provide salary-cap relief and make the trade math work by giving a three-year deal (with only the first year guaranteed) to the unofficially retired Keith Van Horn.
Harris is a Mark Cuban favorite and a proven nuisance to San Antonio as Dallas' answer to Tony Parker. But Harris is not an Avery Johnson favorite and, after a promising start to the season, is again struggling to run the team to the demanding coach's specifications. So …
Would New Jersey take Harris, Jason Terry, Van Horn's cap-friendly deal and future draft considerations for Kidd? Would Dallas part with Harris and Howard for Kidd? Probably not in either case. Yet even in three- or four-team scenarios, it's difficult to imagine New Jersey getting back a better young heir to Kidd than Harris, who could probably use a fresh start as much as any Mav.
Marc Stein is the senior NBA writer for ESPN.com. To e-mail him, click here.

Some fast facts and thoughts on the
Anderson Varejao
contract with Cleveland that ended one of the longest negotiating stalemates in recent memory:
• Varejao can't be traded until after Cleveland's season is over. League rules dictate that free agents can't be traded until the later of these two dates: Dec. 15 and three months from the signing date. Three months from last Monday takes Varejao beyond the NBA's Feb. 21 trade deadline.
• Varejao can't be traded for one full year from the date of signing (Dec. 3) without his consent, because Cleveland matched an offer sheet to a restricted free agent.
• Varejao can't be traded to the Bobcats for one year since they're the team that signed him to the offer sheet.
• Varejao will receive the full midlevel amount for this season: $5,356,000. It is not prorated to reflect the quarter-season he missed.
• Varejao's arrival takes Cleveland's up-to-the-minute bill for luxury tax to nearly $9 million, as shown in Box 8, with final calculations made by the league based on where teams stand June 30. But that's more to do with the salaries carried by Larry Hughes ($12 million), Donyell Marshall ($5.6 million) and Damon Jones ($4.2 million) than the big Brazilian.
• Varejao's salary does not exceed Drew Gooden's $6,453,416, which was a big priority for Cleveland. But by securing a player option that gives him the right to return to the free-agent market in the summer of 2009 -- a provision that the Cavs were hoping to avoid -- Varejao will be joining Gooden as a free agent that summer.
• Varejao could have signed a five-year offer sheet from the Bobcats, according to NBA front-office sources, but preferred the three-year offer with the player option after two seasons to have a mix of security (two guaranteed seasons in the $11 million range) and flexibility to become an unrestricted free agent as soon as possible when he couldn't secure the original five-year contract he was seeking in excess of $40 million.
---
Why is Jason Kidd seeking only a one-year contract extension from the Nets?
Any contract extension, according to league rules, can only increase a player's current contract to a total of five seasons in length. Kidd has only one season left on his contract after this one, meaning that he's eligible for a three-year extension.
But an obscure NBA law known as the Over-36 Rule limits the amount of money that Kidd, 34, would receive if his extension adds more than one year to his current deal. The net effect of this complicated rule means that Kidd wouldn't receive any more money in a two- or three-year extension than he'd receive in a one-year extension, rendering a longer extension pointless.
The variables change if the Nets wait until July 1, when they'd be able to sign Kidd to a two-year extension.
---
The question was posed on Tuesday's "NBA Coast to Coast" show on ESPN2: How did Hawks general manager Billy Knight outlast freshly fired Sixers GM Billy King? (Or why didn't Knight go, too, in a package deal?)
Theory borrowed from one plugged-in observer: Firing Knight would be an admission from Hawks ownership that former partner Steve Belkin has been right in his longstanding protests of Knight's moves, most notably that Knight surrendered too much in his sign-and-trade for Joe Johnson in the summer of 2005. With the court battle between the owners still not settled, Atlanta's holdover owners naturally don't want to make that admission.
Jason (Utah):
After Utah's dismantling of the Lakers without Boozer and Okur, can we finally say that
Deron Williams
is the Jazz MVP, not Boozer? Look at Utah's record last year without Boozer and without Williams and it is clear who is more valuable.
Stein: Unbelievable. Absolutely unbelievable. You guys somehow find a way to survive the departures of Stockton and Malone with a relatively short period of suffering by assembling a modern-day version of Stockton-to-Malone that has the potential to keep your team in the elite for another 10-15 years … and you want to pit D-Will and Boozer against each other? For real?
Guess I shouldn't be surprised. Everyone said the same about Stockton being the real MVP in Utah, not Karl. Boozer will just have to play through it and I'm sure he will. He's heard a lot worse over the years.
• Read Stein's full chat

Interesting question to ponder in the West as we approach the end of the season's first quarter:
Are we already down to nine teams playing for eight playoff spots?
There appears to be a clear split that hasn't been seen in this typically deep conference for some time. You can make the case that six teams -- even at this early stage -- are ripe to be ruled out of playoff contention in the West: Sacramento, Portland, Los Angeles Clippers, Memphis, Seattle and Minnesota.
None of those teams, though, came into the season billed as playoff material by anyone except the most optimistic of fans. Not with the injuries in Sacramento (Mike Bibby), Portland (Greg Oden) and L.A. (Elton Brand)
The flip side, however, is that nine West teams went into the weekend with records over .500. If that holds up -- Houston was ninth in the conference as of Friday morning at 10-9 -- one team that was definitely billed as playoff material is going to the lottery.
---

The race is still on.
There were still two teams with unblemished records at home as of Friday morning after San Antonio managed to hold off Dallas on Wednesday night without Tim Duncan.
The Spurs, with Duncan still out, took an 11-0 mark into Friday's home date with Utah. Boston was 9-0 before hosting Toronto.
They'll have to do this for a couple more months, though, before either team can even think of challenging the record: Boston's 40-1 mark at home in the 1985-86 season.
---
There are few sins greater, at Stein Line HQ, than aligning yourself with the overrated, disrespectful and unlovable Floyd Mayweather.
Mavericks owner Mark Cuban knew that and signed up anyway, agreeing to carry in one of Mayweather's title belts Saturday night in Las Vegas when my old friend Ricky Hatton slices up The Pretty Boy in eight rounds in the fight of the year.
Cuban and fellow "Dancing With The Stars" competitors Helio Castroneves and Wayne Newton will also be carrying in belts. I've already warned Cuban that the chilly receptions he occasionally gets in San Antonio and Golden State won't compare to the venom that will be rained down on Team Mayweather by Hatton's traveling army of fans.
"I love Floyd," Cuban said. "All we did [on the show] is talk about basketball."
In one of his regular visits with the NBA on ESPN Radio pregame show, Marc Stein joins host Marc Kestecher to discuss all of the week's big stories:
Jason Kidd's status with the Nets, Anderson Varejao's return to Cleveland and Philly's firing of general manager Billy King.
• Listen to the interview

Marc Stein wrote about
changes to the Mavericks' offense
that he'd like to see Avery Johnson make, then discussed them in a visit with Galloway & Company on ESPN Radio (103.3 FM) in Dallas.
Galloway & Co.

Five questions with Wizards forward
Antawn Jamison:
Q: How are you guys hanging in so far without Gilbert Arenas?
A: Three months is a long time, so it's going to be tough. But we know we've got enough to be competitive and we've got enough to win games. We're a confident bunch. Plus we have Caron and he's healthy and that's another weapon that we didn't have [when Arenas got hurt last season].
Q: What's it like to be an elder statesman these days?
A: You know what? I've been in a lot of situations before. I've been the young fella, I've been the guy who's trying to learn how to be a leader, I've been the guy coming off the bench as a sixth man. And now all of a sudden I'm the old head. It's been 10 years and it's gone by fast. But I'm really enjoying this.
Q: This would probably be your best-ever season individually if you maintain your current averages [21.6 ppg and 10.6 rpg]. How do you rate it?
A: I do think I'm playing my best basketball right now. It's maturity. I think I've definitely matured a lot. No matter what situation is put in front of me, I think I understand what I have to do. You know if you have a bad quarter, it's not the end of the world or anything like that. Right now I'm having the most fun I've probably had in my 10-year career. And that's saying a lot.
Q: Why do you think that is?
A: I'm at the age [31] where I'm not trying to prove to anybody what I can do and I'm not trying to fit into a [new] situation. There's a lot of pressure not only on myself but on a lot of guys on this team to go deeper [in the playoffs] than what we did the last couple years. But I love the organization. I love the guys on this team. I feel comfortable with the fans [and] the city.
It's unfortunate with Gil being injured that we can't see what type of team we can really become, but this is a great situation for me.
Q: But you're a free agent this summer. How much does an uncertain future weigh on you?
A: I hear things from my parents or my friends all the time, but I know if you think about it all the time it can affect your game. This organization has believed in me from day one. The least I can do is stay focused enough to really compete and go out there mentally prepared, night in and night out, and not worry about what's going to happen this summer. I'm not going to say, "This scenario is going to happen" or "I'm not coming back."
Before the season, there were a lot of questions about what [the Wizards were] going to do and what I was going to do. I was like, "If we don't go further in the playoffs, they might not want to bring me back." But I definitely know they want me to stay and I want to stay.
The following 11 teams are over the league's $67.865 million luxury-tax threshold and would have to pay the amount listed if the season ended today:
| | |
| --- | --- |
| New York | $19,790,373 |
| Denver | $16,044,119 |
| Dallas | $9,128,035 |
| Cleveland | $8,736,960 |
| Miami | $7,577,204 |
| Boston | $6,837,201 |
| Portland | $3,263,221 |
| Phoenix | $2,978,875 |
| Houston | $1,534,473 |
| L.A. Lakers | $1,298,352 |
| New Jersey | $292,969 |
---
The following six teams are less than $1 million away from the luxury-tax threshold … and thus basically one signing away from forfeiting the lucrative annual rebate from the league afforded to each team that stays under the threshhold:
| | |
| --- | --- |
| San Antonio | $27,591 |
| Washington | $107,249 |
| Toronto | $468,580 |
| Detroit | $702,924 |
| Indiana | $858,367 |
| Philadelphia | $943,292 |

"Somebody out there must feel sorry for me."
Wolves forward Antoine Walker, when informed of an Internet campaign trying to drum up votes (at allstarshimmy.com) to get him to New Orleans in February as a West starting guard.
It's an obvious stretch to label Toine as a guard, since he's never really played it at a robust 6-9, but Walker's name appears where it does on the West ballot only because Minnesota was down to two representatives when Ricky Davis and Mark Blount were dealt to Miami for Walker on the eve of the season.
That's one less rep than the league-mandated minimum for every team, so Walker -- with his penchant for hoisting 3s and arguably the biggest name on the under-construction roster of his new team -- was the choice to take Davis' spot.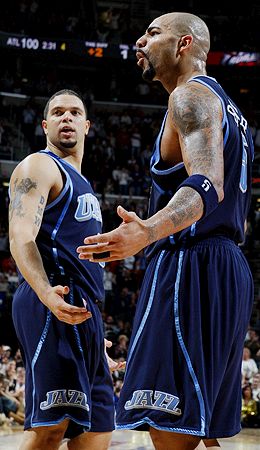 Gregory Shamus/Getty Images
Deron Williams and Carlos Boozer look almost as surprised as we are that a Jazz fan wants to debate who's the team MVP. (See Box 3.)