(Photo by Mark J. Terrill/Associated Press)
When Facing Nellie, Jackson Refuses To Think Small

LOS ANGELES -- Any time Don Nelson is involved, the subject always comes around to matchups.
But when it comes to the Lakers and the Golden State Warriors, the most important matchup centers on Nelson himself and his ongoing drubbing at the hands of Phil Jackson.
It's a statistical trend that's almost becoming a law of nature, a dominance reinforced by the Lakers' 123-113 victory at Staples Center.
When Nelson was in Dallas, Jackson's Lakers were 15-5 against Nelson's Mavericks. Since Jackson returned to the Lakers in 2005 after a year away from the team, he has launched a winning streak against the Warriors that has reached nine consecutive games, including the past five over Nellie-coached clubs.
The record dating to last season probably is the most relevant because the two teams are so closely aligned. Both teams were 42-40 last season.
They each were 11-8 heading into Sunday's first meeting of the season, an interesting test for two teams that figure to be among those fighting for the bottom four playoff spots in the Western Conference. The Lakers and Warriors have their pluses and minuses, but when it comes to facing each other head-on, Jackson gives the Lakers an advantage. That's because he doesn't fall for Nelson's mind games.
"Over the years having coached against Nelson, there's always the mismatch that he always tries to throw," Jackson said.
"There's always the idea that he wants to go smaller and smaller to get you to match up with his smaller players, and I've tried to resist that over the years as I've coached against him. A lot of coaches get caught in that, and there's a web that you get caught in. Eventually, you're playing out there with five little guys and your offense suffers because of it."
He could have taken a swipe at another coaching rival by adding that Pat Riley fell for it Friday night. Riles sat Shaquille O'Neal and Alonzo Mourning in the fourth quarter at Golden State even though both had helped the Heat build an 18-point lead. Miami went small, playing right into Golden State's hands, and the Warriors dropped 38 points in the fourth quarter to steal a victory.
Jackson always has looked down on Nelson's gimmicky lineups. After his Chicago Bulls beat Nelson's Warriors in a 1994 game, Jackson was asked his opinion of Nellie's matchups. Jackson said: "What about when he had [5-foot-7] 'Mister' Jennings on [6-7] Scottie Pippen? I liked that matchup."
So Jackson once again stayed firm in his resolve Sunday. He sent his message to Nelson from the outset: Have some of Andrew Bynum. Bynum had 20 points and 11 rebounds and blocked five shots.
"Andrew set up the whole game because of his presence in the low post," Lakers guard Derek Fisher said. The Lakers made 53 percent of their shots, including 44 percent of their 3-pointers. Bynum collected lobs and alley-oops for easy baskets. He protected the hoop from driving Warriors.
So when the Warriors went with a lineup that had 6-9 Al Harrington as their tallest player, Jackson stuck with Bynum or Ronny Turiaf.
"Even [if] it's just to spite the other coach, he's not going to take the guy out just for matchup situation," Fisher said. "The advantage is the bigger guy. As well as Andrew's playing, why take him out of the game? Make them adjust to him."
Yes, Jackson was the one forcing Nelson to make the adjustments and get out of character, including a start of rarely used Patrick O'Bryant at the beginning of the third quarter. O'Bryant had both his shot attempts blocked. Bynum got a dunk-and-one at the other end, and O'Bryant got the hook after only 74 seconds -- enough time for the Lakers to expand a one-point halftime lead to nine.
"It was a mistake, wasn't it?" Nelson said. "We thought we'd give him a chance and try to go with a little length against them, and you saw what I saw."
We also saw Kobe Bryant, after struggling early, eventually get the better of Baron Davis in their head-to-head matchup (28 points and eight assists to Davis' 20 and seven).
Stephen Jackson, after going to Las Vegas with Harrington for the Floyd Mayweather-Ricky Hatton fight Saturday night, shot 8-for-21. They were back in L.A. by 2 a.m., a regular night by NBA standards. But as soon as I saw them at the MGM, it seemed apparent that those at the sports book picking the Lakers would be making a good call.
There won't be a Vegas side trip before Friday's rematch in Oakland. But it still will be Jackson and Nelson on the sideline. You know where the smart money goes.
J.A. Adande joined ESPN.com as an NBA columnist in August 2007 after 10 years with the Los Angeles Times. Click here to e-mail J.A.
Dimes Past:
November 24-25
|
26
|
27
|
28
|
29
|
30
|
Dec. 1-2
|
3
|
4
|
5
|
6
|
7
|
8-9
Looking At Road Ahead For Sizzling Celtics

By Andrew Ayres | ESPN.com
With Boston off to a 17-2 start, how does the road ahead look for the rest of the calendar year? According to the guesswork below, the Celtics could reasonably expect to go 7-3 before 2008 dawns.
That shapes up as a 24-5 start to the season. It's early still, and Boston hasn't faced major adversity, but the success so far this season shows that this team is on a record pace.
Projecting Boston Results Through Dec. 31

Date
Opp.
Prediction/Comment
Wed, Dec 12
Sacramento
Win: Kings come in at 0-8 on the road. Make it 0-9.
Fri, Dec 14
Milwaukee
Win: Redd menacing, but C's push it to 19-2. Woo-hoo.
Sun, Dec 16
@ Toronto
Loss: D'oh! 1 p.m. start. Bosh back. And the exchange rate stinks.
Wed, Dec 19
Detroit
Win: Conference finals preview? Sheed should make this an OT affair.
Fri, Dec 21
Chicago
Win: LSU Tigers in the house as Big Baby aims to outdo Tyrus Thomas.
Sun, Dec 23
Orlando
Win: Last time, Magic won by two. This time, C's by same count.
Wed, Dec 26
@ Sacto
Win: A toss-up? 'Tis the day after Xmas, and everyone's ready for action.
Thu, Dec 27
@ Seattle
Win: Ray Allen returns, delivers possible Seattle farewell.
Sat, Dec 29
@ Utah
Loss: Booz in the post too much for road-weary crew.
Sun, Dec 30
@ Lakers
Loss: Due for a Kobe eruption. Perkins contained this time.
Like Sands Through The Hourglass ...

By J.A. Adande | ESPN.com
Matt (New York, NY): JA, What else can go wrong for this Knicks this year? My mom was watching "Days Of Our Lives" the other day and I told her how could she watch this junk, she shot back with how do you watch the Knicks. Have to admit she shut me up real quick ouch!
J.A. Adande: Mom gets the line of the year.
Josh (Boston, Mass.): LeBron James is the only player who can "coast" and still almost dominate the competition. And then he can turn it on once the playoffs come (see 06-07 postseason). This season though, it doesn't seem as though he is coasting. At 30-8-8, he is the early season MVP favorite. J.A, can he keep this up the rest of the season or will he go back to his "coasting" ways?
J.A. Adande: I thought LeBron was a classic example of coasting last year. But after that Game 5 in Detroit, no one was talking about his regular season anymore, right? He knew what he was doing. It will be interesting to see -- after playing into June last season, summer with team USA, trip to China, having to play all-out just to get regular-season W's for the Cavs -- how much will he have left? This little break for his finger injury might be a blessing in disguise.
Matt (New York, NY): JA, who is the most famous person in your cell phone?
J.A. Adande: Magic.

Sunday's Best

Brandon Roy, Blazers guard:
Goes for 26-9-8 in 117-113 overtime win over the Bucks. Missed only two of his 13 shots; Michael Redd missed 18 shots.
---

Sunday's Worst

Damien Wilkins, Sonics forward:
Misses 9 of 10 shots in 91-88 loss to the Hornets. Five turnovers didn't help much, either. Gotta expect more from the guy who dropped 41 on the Hawks last month.
---
Quote of the Night

"Dwyane thinks I'm extinct, but that's OK."
--
Heat coach Pat Riley,
after collecting his 1,200th regular-season NBA victory as a coach in a 100-94 win over the Clippers. Whippersnapper Dwyane Wade had 35 points.
• See how all 141 players fared
-- Andrew Ayres

Chad Ford dishes with Jazz executive Kevin O'Connor. What is the staying power of Jerry Sloan in this day and age of coaching changes?
Utah's update
Fantasy: Good Season, Mate

Andrew Bogut, C, Bucks: With guys such as LeBron James and Dwight Howard sandwiching him, Bogut has become the forgotten No. 1 overall draft pick from the past few years. But he has far from reached his potential, and his blocks have been through the roof this season.
After averaging 0.8 and 0.5 blocks per game in his rookie and sophomore seasons, respectively, he's swatting a stunning 2.3 shots per game this year. I don't expect him to maintain that rate, but he should be close to 1.5 at season's end. Plus, his per-minute point and rebound stats are up this season, and he's a near lock to shoot 50 percent from the floor.
• See Josh Whitling's ups and downs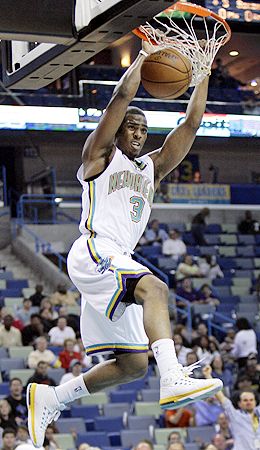 AP Photo/Alex Brandon
Chris Paul throws down two of his 29 points as the Hornets -- without Peja Stojakovic and Morris Peterson -- edged the Sonics 91-88.