(Photo by Andrew D. Bernstein/NBAE via Getty Images)
Miami Looks Reborn In The Desert

PHOENIX -- The desert home of the running Phoenix Suns, on the 10th day of a six-game road trip, is the last setting you'd have imagined for the Miami Heat's resurrection.
It certainly wasn't supposed to happen here. Not how they did it, either.
The Suns, after all, are universally regarded as the toughest team to adjust to on the back end of a back-to-back set because no one else plays this way and no one else has Steve Nash. Presumed to be worse yet is playing them on the back end of a back-to-back set that comes at the end of an extended tour of the Western Conference.
Wade Watch
Dwyane Wade is on fire over his last three games, averaging just under 33 ppg and eight assists, all while sinking 55 percent of his shots from the floor.
Wade's Last Three Games

| | | | | | | |
| --- | --- | --- | --- | --- | --- | --- |
| Game | Min | FG-FGA | FT-FTA | R | A | Pts |
| @GSW | 45 | 11-23 | 11-12 | 2 | 10 | 33 |
| @ LAC | 41 | 13-23 | 7-9 | 5 | 10 | 33 |
| @PHX | 42 | 13-21 | 5-5 | 3 | 6 | 31 |
"That's definitely true,"
Dwyane Wade
said of those theories.
So naturally this wound up being the precise time and place for Wade and the beleaguered Heat to invalidate all of the above and remind folks leaguewide that no matter how creaky these guys looked during their first 20 games, actually burying them is one of the hardest things to do in the NBA. The Suns were the latest to find that out, surrendering 40 points in Monday night's opening quarter to the inexplicably rejuvenated visitors and ultimately failing to prevent Miami from scoring a stirring 117-113 victory.
"We know it's [about] time for us," Wade said after starting and finishing things with 7-for-7 shooting in a 16-point first quarter and a crucial 10-point flurry in the final 3:44 to finish with 31 and seal it.
"It's a breakthrough time. We've been playing well, besides [a 26-point loss in] the Denver game, on this whole road trip. We had every game [under control] until the last five minutes. But Coach said that this could be a breakthrough game for us."
That certainly sounds like a reasonable thing for Pat Riley to say as part of his pre-game preparations. Whether he truly believed it is another matter, since Riley admitted that he also warned his team beforehand that the high-scoring game it wound up playing -- and controlling -- is usually fatal against Phoenix.
"We tried to have a math test this morning," Riley joked, referring to his cautions about the Suns and their 16-1 record coming in when scoring 100 points.
Yet that stat proved to be just one more circumstance that made Miami's performance so memorable.
Riley made the improbable decision to use only seven players against the run-and-gunners -- Shaquille O'Neal and Alonzo Mourning were two of them, yes -- and was rewarded with a 46-29 edge on the boards, 58.8-percent shooting, considerable ball-sharing and a string of big individual performances.
Chris Quinn logged 34 credible (and turnover-free) minutes as the starting point guard, never looking too out of place against Steve Nash … while Nash and Leandro Barbosa combined to shoot an uncharacteristic 8-for-30 from the floor.
Dorell Wright had twice as many rebounds (12) as Shawn Marion and added 16 points, with Udonis Haslem collecting 21 points and 12 boards.
Shaq, meanwhile, hushed the talk of his demise for at one least night with activity and versatility, totaling 18 points, 11 boards and five assists -- sinking all four of his free throws, too -- in 29 minutes. Shaq also voiced nary a hint of protest when he was pulled with 3:04 to play, with Riley feeling more secure with Mourning's defense (and the removal of a free-throw liability) to help the Heat hang onto their lead.
An hour before tipoff, O'Neal seemed fed up with questions about his dwindling shot and point totals. Before cutting off the conversation quickly, Shaq said: "Write what you see … because apparently I don't know what the [blank] I'm talking about."
His mood had picked up considerably after a victory that nudged Miami's record to 6-15 and secured its first two-game win streak since home wins last April over Washington and Indiana.
"I've been known to make other guys better," Shaq said afterward, sounding pleased with his involvement level. As for watching crunch time from the bench, O'Neal added: "I'm fine with it. I never question what a coach does. If he wants to make that decision, as long as we win, it's fine."
It's the Suns, suddenly, who find themselves answering questions, after a 21-point salvo in the final four minutes failed to offset countless defensive breakdowns in the first half and a general lack of zip. Heading into a difficult four-game stretch against Utah, New Orleans, San Antonio and Dallas, Phoenix (16-6) has absorbed another home defeat to a team it usually torments with speed; Yao Ming's Houston Rockets unexpectedly won here before Miami.
And now it's the Heat, believe it or not, who can't stop scoring. In just his 14th game back from knee and shoulder surgeries, Wade looked especially smooth, patient and confident running the team in the fourth quarter when Riley lifted Quinn and elected to have Ricky Davis pressure Nash on the ball, as if he never doubted that Miami would hold on for the win in its fifth successive game with at least 100 points.
The standings say they're still last in the East, but the Heat apparently dug up enough of their old swagger in the desert that they're already promising more.
"Not yet," Riley said when someone remarked that he must have installed some old plays from the Showtime Lakers to jumpstart an offense that cracked 100 points only twice in its first 16 games.
"I'm going to bring that back next week."
Marc Stein is the senior NBA writer for ESPN.com. To e-mail him, click here.
Dimes Past:
November 28
|
29
|
30
|
Dec. 1-2
|
3
|
4
|
5
|
6
|
7
|
8-9
|
10
Snoozing And Losing: LeBron's Return Welcomed

By Andrew Ayres | ESPN.com
LeBron James, out of action with a sprained left index finger, could return to action when the Cavaliers host the Pacers on Tuesday. The five full games he missed were an unmitigated nightmare, all losses for the defending East champs.
And it appears James is well beyond the point where he could sit like some clipboard-toting apprentice QB, with little left to soak in about the NBA game.
"It's not good for me," the AP quotes him. "It's not like I'm learning anything from watching. I don't learn nothing from watching. It's tiring. I could really fall asleep on the bench if I wanted to."
Low Five: How Cavs Did In Games Without LeBron

Good News
Bad News
NBA rank of LBJ's 30.7 ppg avg: 1st, still
Highest total in his absence: 24, by Daniel Gibson
Still "only" 5 1/2 games behind Detroit
Average margin of defeat in five games: 12.4
Eric Snow gets chance, 17.3 mpg average
Makes 1 of 9 FGs
Held Nets center Jason Collins to 7 points
That's his season high. Held scoreless 14 times this fall
Larry Hughes returns, scores 22 Saturday
Has missed 70 games in Cavs career
Anderson Varejao's return imminent
Only his hair is in midseason form
Wise LeBron offers recovery tips for finger
Business LeBron can't operate tiny cellphone

By Chris Broussard | ESPN The Magazine
I've been hearing for nearly five years that Travis Outlaw can be something special. If you're scratching your head right now and saying, "Who?!" it's completely understandable.
Since being drafted directly out of Starkville (Miss.) High School in 2003, Outlaw has been a mostly ho-hum, occasionally spectacular reserve for the Portland Trail Blazers.
Ridiculously athletic at 6-foot-9, Travis Outlaw has been a frustrating small forward, teasing us with the occasional high-flying slam but failing to consistently deliver year-in, year-out.
But that appears to be changing.
Over the past six games, Outlaw has been outstanding. Consistently outstanding.
• See the Chris Broussard blog

Monday's Best

Josh Smith, Hawks guard:
Almost 5x5 territory for Josh. Puts up 25 points with 16 rebounds, five assists, four steals and four blocks. That's a solid backbone for a win in Orlando, 98-87.
---

Monday's Worst

Jameer Nelson, Magic guard:
Six points, four assists and three turnovers do not a great game make for Orlando's point man. That's two straight losses for the Magic.
---
Quote of the Night

"We need the fans to be supportive with us, even when we're down."
--
Knicks forward Zach Randolph,
commenting on the routine booing of the home team these days at Madison Square Garden.
• See how all 91 players fared
-- Andrew Ayres
In the road win over Phoenix, Shaquille O'Neal (18 points, 11 rebounds) showed he had something in the tank at the end of a long road trip.
• Watch highlights of every NBA game

The ESPN Conversation rolls on after Madison Square Garden and New York Knicks coach Isiah Thomas reached an $11.5 million settlement of the sexual harassment case brought by a former team executive.
A sample:
Am I the only one that wonders how he can still have a job after being found guilty of sexual harassment. Plus he gets to be bad at his job. Where do I sign up to be an NBA coach?
-- rutler
"As I have said before, I am completely innocent," Thomas said. "This decision doesn't change that. However, this is the best course for Madison Square Garden, and I fully support it." Thomas is in perpetual denial...he probably thinks the Knicks have a chance to win the championship. Someone needs to bring him into reality and soon.
-- SpesGregis

When Joe Johnson went all 48 in the Atlanta Hawks' win over the Orlando Magic that pushed the ATL to .500, it wasn't that out of the ordinary.
He went 52 minutes in an overtime game against the Sonics earlier this year, the
third-highest minute total
this season. He leads the NBA in
minutes per game this year.
He averaged a career-high 41.4 mpg last season.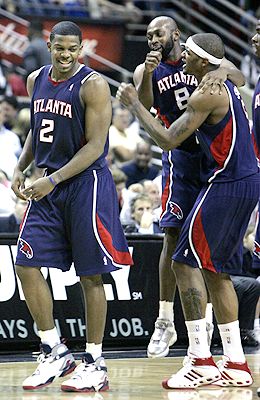 AP Photo/John Raoux
Hawks guard Joe Johnson (2) laughs with teammates Anthony Johnson (8) and Josh Smith after taking control in the final minutes. Atlanta topped Orlando, 98-87.