(Photo by Mark J. Terrill/Associated Press)
"We Back Now": LeBron Leads The Dance Party

CLEVELAND -- With the game well in hand, LeBron James spent a timeout late in the fourth quarter Tuesday bouncing as "Soulja Boy" blasted over Quicken Loans Arena's sound system.
It's been awhile since there's been a reason for the Cavs to dance.
They blew out the Indiana Pacers 118-105, ending a six-game losing streak. But this was more than a victory, it was a get-well game.
The Cavs famously did virtually nothing to upgrade their roster in the offseason. After missing James for five games, Anderson Varejao for 21 and Larry Hughes for 12, getting them all back together made it feel like the team had just pulled a blockbuster trade.
Just to make the point, the Cavs ceremoniously brought them all in together.
For the first time in his NBA career -- and the first time in his life, save for the 2004 Olympics -- James did not start. He said he asked coach Mike Brown to bring him off the bench.
That's what Brown did, along with Hughes and Varejao midway through the first quarter. The 20,000 fans on hand came to their feet. It was the first time they'd seen James play in two weeks, Hughes in a month, and Varejao since the NBA Finals.
"I thought it would raise the intensity of the fans, having me, Larry and Andy come in at the same time and it worked," James said. "I thought by coming in with Andy it might stop some of the boos Andy might get. Andy is one of my favorite players, I was just protecting my teammate."
That's a charming story and it did work. Varejao, who drew the ire of Cavs fans when he told ESPN.com that he no longer wanted to be in Cleveland over two weeks ago, didn't hear jeers.
But it's not 100 percent true. Brown didn't discuss his substitution pattern with James; he was the one who made the move. Not that Brown wanted to get in the way of James' poetic statements.
Nonetheless, it certainly worked on the court. As soon as the trio hit the floor the Cavs tore off a 22-5 run. When they entered as a group again in the third quarter, the Cavs immediately went on a 15-0 run to build their lead to 25 points.
James had 17 points in just 23 minutes. If his sprained left index finger was bothering him under a protective glove, he didn't let it show, especially on a two-handed alley-oop dunk in the second half.
Varejao had a typical night, buzzing everywhere to grab nine rebounds and score six points in 24 minutes.
Hughes, who is back to playing shooting guard after being forced to fill in at point guard from last March until now, hit 13-of-17 shots to score 36 points. It was the most points he's scored in a game in more than two years and he did it in just 26 minutes, the first NBA player to score 36 points in 26 minutes since Tracy McGrady did it as a member of the Orlando Magic in 2004.
"I thought they had two LeBron Jameses out there," Pacers coach Jim O'Brien said.
All of it overshadowed Pacers guard Jamaal Tinsley's first game since he was involved in a shooting outside an Indianapolis hotel early Sunday morning. Tinsley had 10 points and very little to say after the game.
"We've got another game tomorrow," Tinsley said.
This night was really about the Cavs getting close to whole. Starting point guard Daniel Gibson missed the game after getting a wisdom tooth pulled and Donyell Marshall is out at least another month with a wrist injury, but the Cavs still had the most talent they've had on the floor all season. The results and the good feeling gave them reason to think it could be a turning point.
"You go through a stretch when you're losing games and people were looking at us like we're not a good team," James said. "We knew once we got our guys back that it would be a totally different story. We back now."
Brian Windhorst, a regular ESPN.com contributor, covers the NBA and the Cavs for the Akron Beacon Journal
Dimes Past: December 1-2 | 3 | 4 | 5 | 6 | 7 | 8-9 | 10 | 11
Ford's Injury Comes During Great Outing

By John Hollinger | ESPN.com
ATLANTA -- What was unusual about Raptors point guard T.J. Ford's injury on Tuesday was that it was one of the most under control plays you'll ever see Ford make, slowing down to trick a defender instead of relying on his superior jets to blow by.
"He got the steal, and usually he goes in like a wild man," said Raptors teammate Chris Bosh. "But this time he [was] more controlled. Al [Horford] kind of mistimed it and hit him in his head. I don't think he meant to do it on purpose, he was just making a basketball play."
The bitter irony is that Ford has rarely played better. The diminutive point guard tormented Atlanta with his blazing speed and vastly improved midrange jumper, scoring 26 points on 11-of-15 shooting and adding eight assists against just two turnovers. With 1:32 left on the clock and Ford racing toward the basket for another deuce, he seemed primed to add to his tally.
"He was playing by far his best game of the season," said Bosh. "We just hate to see him go down like that."
• See the full John Hollinger story
Kidd In Dallas? Not Impossible
By Marc Stein | ESPN.com
Dobby (Dallas): Kevin Garnett. Kobe Bryant. Now it's Jason Kidd. You guys always write that Dallas is "at the top of their list," but when will my Mavs actually get one of these guys?
Marc Stein: The Mavs were always outsiders in the KG chase. They were never close to beating Boston's offer and their involvement was more along the lines of making a bid because that's what teams in their position do when a great player becomes available. I don't remember anyone here saying that KG had his eyes on Dallas.
Kobe, by contrast, has been saying privately that Dallas is one of the two or three teams he wanted to go if he left the Lakers. Once that got out, how were the Mavs not going to be linked with him?
Kidd is a different case altogether. The Mavs have maintained various levels of interest in bringing him back to Big D since Nash left in the summer of 2004. And they're not going to publicly announce their interest now, but the sense I get is that they would love to find a way to get him to Dallas. I believe that Kidd, furthermore, is intrigued by the idea of finishing up his career where it started. Maybe he's not pushing for a trade, but he's also not against a trade to the right team if the Nets don't have a plan to return to the East's elite in the near future. You heard Kidd mention his "list of destinations" last week when he shot down the idea of winding up in Cleveland. Having a list like that suggests he's not convinced that he'll be retiring a Net.
Things are pretty quiet at this point because the Nets insist they won't be entertaining Kidd proposals from Dallas or anyone else. If (when?) that changes, should the Nets' season continue to unravel, I assure you that Dallas will be at the front of the line making a hard push.
• See the full Marc Stein chat

Tuesday's Best

Larry Hughes, Cavs guard:
Who needs LBJ? OK, the Cavs do. But in his second game back from a leg injury, Hughes went off for 36 points in 26 minutes, sinking 13-of-17 shots.
---

Tuesday's Worst

Josh Smith, Hawks guard:
After a huge night Monday in which he threatened a rare 5x5 performance, he almost did it again ... in a bad way. Seven turnovers and six fouls did not help the cause in a 12-point home loss to the Raps.
---
Quote of the Night

"I'm not a dirty player."
--
Hawks rookie Al Horford,
explaining that he did not try to injure T.J. Ford.
• See how all 164 players fared
-- Andrew Ayres

Chad Ford talks to Cavaliers general manager Danny Ferry about the future of LeBron James in Cleveland. Plus, are the Cavs fully healthy yet?
King's Back

By Lisa Brooks
ESPN Research
Nets guard Jason Kidd tallied his 93rd career triple-double but his team lost, 91-82, at the hands of the visiting Los Angeles Clippers.
It is the 26th time that Kidd has had a triple-double in a loss.
Most Career Triple-Doubles in a Loss

Player
No.
Oscar Robertson
50
Magic Johnson
30
Jason Kidd
26
Fat Lever
16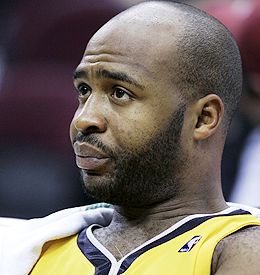 AP Photo/Tony Dejak
In his first game since surviving an assault-rifle attack, Pacers guard Jamaal Tinsley sits on the bench after posting 10 points and nine assists in a loss to the Cavs.