Getty Images
Nash On The Next Generation

It started with
Deron Williams
on Wednesday night. It continues Saturday night on the road against
Chris Paul
. Then on Monday night, on the road again,
Tony Parker
awaits.
Forget the chipped tooth for a moment. That's some holiday treatment Steve Nash is getting from the schedule makers.

As if he weren't sufficiently aware of how good the NBA's next generation of elite point guards already is, Nash will have seen them all up close -- back-to-back-to-back -- by the time he gets to Dallas for Wednesday's maiden reunion of the season with his old pal Dirk Nowitzki.
Not that Nash has any protests planned. He even consented to providing a thumbnail scouting report on each member of the much younger trio poised to supplant Nash and Jason Kidd as the game's pre-eminent points. (The two-time MVP didn't believe it, either, until we told him that Parker, after six seasons and three championships, is still only 25 -- not too much older than Williams' 23 and Paul's 22.)
Here's Nash on:
Williams' strengths:
"He's a great player already. Very, very dangerous offensively. He can score from anywhere on the court at a high percentage, but he's also a true point guard with good vision. And he's a competitor."
D-Will's "Jason Kidd with a jump shot" label:
"I know everyone likes to compare him to Jason because they're of similar size and build, but Jason is almost in a class by himself as a pass-first point guard. I think everyone is just different. We might all have some similarities in our games, but that's a somewhat simplistic way to look at it. There's more to it than that."
Trying to guard the bigger Williams:
"I usually do guard him even though he's obviously bigger and stronger. But let's face it: Deron's a difficult matchup for every team in the league. I do all right against him, but a lot of defending point guards in this league is how the bigs handle the pick-and-roll. It's not so much guys going one-on-one. [The bigs] can make all the difference."
---
Paul's strengths:
"He's not as accomplished a shooter as Deron, but he's a terrific penetrator and passer and he's able to get to the line from the backcourt. We both penetrate and probe the defense in pretty similar fashion, but I don't get to the line as much as Chris does. And that kind of offsets Deron's shooting advantage. [Paul] also seems to have a knack for getting steals. He gives his team a lot of confidence."
The never-ending debate about who will have the better career, Williams or Paul:
"I'd love to say that it's all the media's fault, but I understand it. Everyone tries to compare players because it's fun. It's the natural thing to do to try to think of something that's similar. Let's say we're talking on the phone and you say something about X and I'll interrupt you and say, 'Oh, you mean sort of like Y?' It's just what we do in life because we all want to relate to each other. That's kind of how I see it."
Which one has the lead at this point:
"There's nothing in it [between them], really. I don't know how you could pick one. Both are great point guards already."
---
Parker's strengths:
"He's the best finisher out of all the point guards. Tremendous quickness, as everyone knows. It seems like he can get to the basket in traffic any time he wants and he's effective going right or left, which obviously makes it tougher for the defense. And now he's improved his jump shot. He's definitely improved it."
The impact of the growing Suns-Spurs rivalry on their individual matchup:
"You'll probably be disappointed to hear this, but there really is no impact. We don't guard each other very often."
Why he regularly checks Williams and Paul but not Parker:
"I imagine that both teams think it's more effective to put a bigger, longer guy on both of us. And there's something to be said for not chasing around the other guy all night when each of us is doing a lot of orchestrating."
Marc Stein is the senior NBA writer for ESPN.com. To e-mail him, click here.
There
is
something that could spoil the whole back-to-back-to-back nature of Steve Nash's Tour de Generation Next: Tony Parker's ankle.
Parker was held out of Thursday's defeat versus the Los Angeles Lakers with an ankle problem that Spurs coach Gregg Popovich says he should have acknowledged sooner. That almost certainly will prompt Pop to hold Parker out of Saturday's game against Denver and possibly Monday's first Suns-Spurs reunion of the season, as well.
Yet you can pretty much bank on Nash's participation. He unexpectedly disclosed this week that a variety of back, neck and shoulder spasms have been messing with his shot lately, but Nash was a near-perfect marksman Wednesday in a narrow home victory over Deron Williams' Jazz -- in spite of the chipped front tooth he suffered thanks to an errant Carlos Boozer elbow -- and is ready to press on against Paul on Saturday after a trip to the dentist.
Nash's closest friend on the Suns responded with a hearty scoff when someone suggested the 33-year-old might find this Williams-Paul-Parker stretch taxing.
"The conventional wisdom would say he's only got a few years left in the tank," Raja Bell said. "But Steve comes back in better shape every year. I'd never put a number on how many years he's got left."
The Leastern Conference lives, I'm afraid.
We have more evidence that one of the biggest disappointments of the early season is the East's failure, as a collective, to live up to all that preseason bluster about how much stronger the conference is after adding Kevin Garnett, Ray Allen, Rashard Lewis, Jason Richardson and Zach Randolph.
Boston and Orlando certainly have seen the benefit, but the East is off to such an underwhelming start that only five teams, as of Friday morning, were scoring more points than they're giving up.
There are nine such teams in the West.
The East did sport a respectable 62-67 record in head-to-head matchups against West teams entering the weekend, but that doesn't really work as a counter. Reason being: Although the West has nine quality teams -- reminiscent of last season when it had five 50-win teams compared with two in the East -- it also houses more injury-ravaged teams and/or weaklings than usual (Blazers, Kings, Clippers, Grizzlies, Sonics and Timberwolves).
That should help the East lessen the beating it has absorbed from the West this century. Entering this season, starting in 2000-01, Leastern teams were more than 500 games under .500 against the West at 1,258-1,772. That's a winning percentage of .415, with the West winning five of seven championships in that span.
East's record vs. West in head-to-head games
W
L
PCT
2007-08
62
67
.481*
2006-07
193
257
.429
2005-06
198
252
.440
2004-05
194
256
.431
2003-04
154
266
.367
2002-03
170
250
.405
2001-02
188
232
.448
2000-01
161
259
.383
*Through Thursday's games
---
Every little bit helps, right?
The Cavaliers certainly didn't mind seeing Chicago claim Demetris Nichols off waivers, as that reduced Cleveland's luxury-tax bill by nearly $100,000 … all the way down to $8.6 million.
OK. Maybe not every little bit.
---
The run of quality point guards confronting Steve Nash and the Suns actually can be stretched in Box 1. After the back-to-back-to-back encounters with the upper crust -- Deron Williams, Chris Paul and Tony Parker -- Nash will be hounded by the fleet
Devin Harris
in his return to Dallas on Wednesday, then sees Toronto in the Suns' next home game, Dec. 22.
It's not yet known whether T.J. Ford will be playing in a week after his harrowing fall in Atlanta, but Jose Calderon continues to be one of the NBA's best bargains at a salary just under $2.5 million.
Calderon is 10th in the league in assists at 7.6 per game … and a runaway No. 1 in assist-to-turnover ratio at 6-1. The closest full-time point guard to Calderon in that category is Detroit's Chauncey Billups at 3.86-1.

Steve (Torrance, Calif.): Are the Suns in trouble? I have been watching them all season and they really don't seem to be clicking. Amare seems to just coast through most games and, other than Nash and Bell, they seem to have no fire.
Marc Stein: It's a difficult thing to gauge because San Antonio is the only elite team out there that seems to have mastered getting through the grind of the season without succumbing to that grind and finding a way to consistently peak at the end of the regular season. The Suns and the Mavs have a lot in common because they're trying to figure out how the Spurs do it. Phoenix and Dallas have a LONG time to wait before they can really prove anything, and they're both clearly struggling to bring it in December.
The big difference between the Suns and the Mavs is that this Phoenix team came away from its series with the Spurs last spring believing it's right there with the champs. Don't know that even a couple of bad home losses to the Rockets and Heat -- teams Phoenix usually runs out of the gym -- shakes that confidence long term. But in Dallas? Self-belief and positive thoughts are endangered commodities in their locker room after the last two playoff endings and this season's VERY sluggish start.
Dave (Brooklyn, N.Y.): You asked us in the rankings why we don't chant "Fi-re Do-lan." C'mon, Marc: Been there, done that. Check back on the 2003 NBA draft. It was also done in a game against the Wizards in 2006. There was also a Web site set up (selltheknicks.com) and a march before the 2006 draft to get Dolan out. Nothing works.
Marc Stein: Thanks for the refresher course, Dave. But the "Fi-re I-si-ah" chants are an every-game occurrence and nothing's happening there, either. Maybe it's time to switch the focus back to Dolan.
• Read Stein's full chat

It's not just us media pests stirring it up or fiery fans going back and forth with the many tools provided in cyberspace. The scouts who fly all over the country to watch three or four games a week are getting sucked into it, too.
Deron Williams?
Or Chris Paul?
"It's the great debate," said one Western Conference scout. "It seems to come up a lot, more than most [player] comparisons. Especially if you're at a game when you're seeing one or the other. [Scouts] will come up to each other and ask, 'Who do you like better?'"
As for this scout's preference …
"I'd have to say Williams. He's so hard to guard because of his size, and he can really, really finish. But it's not only his size. I like Deron's demeanor better. I like how he interacts with his teammates. Chris Paul is putting up some amazing numbers and it's obvious that [Hornets coach] Byron Scott puts a tremendous amount of trust in him, but there have been a few times where I've seen [Paul] really tear into some guys -- even veterans. I'm not too sure how that will go over in the long run. Will players want to jump behind Paul and let him lead them?"
Yet he estimates that -- although most teams in this league "all favor size" -- there would be "pretty close to a 50-50 split" between Williams and Paul if we surveyed the entire scouting community, largely because Paul is getting to the middle of the floor so readily and doing so much damage.
---
It took me seven weeks -- 10 if you count exhibition games -- to hear a clear reference to disgraced referee Tim Donaghy from an angry voice in the crowd.
But it finally happened Monday night in Phoenix, where one persistent fan kept voicing his displeasure with veteran ref Dan Crawford by calling him "Danny Donaghy" throughout the Suns' home loss to Miami.
I'm sure it has happened more often than that -- and you still figure that the ref story inevitably will resurface when the games start to take on greater significance and more rides on every call -- but the most pleasant surprise of the season must be how little damage or fallout has been caused to date by the betting scandal that commissioner David Stern called "the worst situation I have ever experienced."
---
The NHL's Winter Classic -- Pittsburgh playing outdoors in Buffalo against my Sabres -- is fast approaching on New Year's Day, with a crowd of some 80,000 expected at Ralph Wilson Stadium for the first regular-season NHL game in the United States exposed to the elements.
How long, then, until the NBA counters with its own outdoor game?
Mavericks owner Mark Cuban says he's been trying for more than three years to get at least one outdoor game on the NBA schedule, if only in the preseason. "I'm still trying," Cuban said.
But there has yet to be any indication that an outdoor game of hoops is under consideration at the league level.
Kobe Bryant uses the word "happy" for the first time in a long time; Tony Parker joins Tim Duncan in street clothes; and T.J. Ford absorbs another scary injury setback. Marc Stein and studio host Marc Kestecher review the week's news on the NBA on ESPN Radio.
• Listen to the interview

Will the ongoing struggles of the Nets and Mavericks lead to a trade that sends Jason Kidd back to the team that drafted him? ESPN The Magazine's Ric Bucher and ESPN.com's Marc Stein discuss the latest Kidd developments on NBA Coast To Coast.

Five questions with Penny Hardaway … two days before he was released by Miami:
Q: How would you grade your play so far?
A: Offensively, I would say terrible because I'm not shooting a high percentage from 2-point range (.341). I'm shooting OK from 3 (.421), but I came in really trying to defer. I didn't want to step on anybody's toes, knowing this is Dwyane's team and Shaq's team, and I think I painted myself into a passive role, not really being aggressive when I should have been. But defensively and getting assists and everything else, I give myself a 10 out of 10 because I've done great in those other areas.
Q: Did you underestimate the rust factor?
A: The rust is still there offensively, but not defensively. I think I've struggled with getting to the basket and finishing plays. But being out on the perimeter is really not my game. My game is down on the post, not [at] the 3-point line. It's also been three years [out of the game because of injuries], really, my last two years with the Knicks and all of last year. I thought I could help this team more because that's what they brought me here for, but it just hasn't come back as fast as I wanted to.
Q: What about the physical side? How much better do you feel physically than when we last saw you?
A: About a million percent better. Honestly, it's like night and day. I had something lodged in the back of my [left] leg. Couldn't run, couldn't jump, couldn't move laterally, couldn't guard anyone. I was just out there trying to get by the best I could. But now being able to overcome it, feeling healthy and being out there able to run [freely], it's just a blessing, man. I worked out one year straight without missing a day because I was so hungry to get back. If I feel like this, hopefully I can play another year at least. I know that I could.
Q: So you won't be satisfied just getting this far in your comeback?
A: I feel like if the Miami Heat say they want to go in another direction, I'll try to go to another team. I feel like I'm healthy enough and I'm ready to play. … [But the opportunity with Miami] means the world to me because this is the game that I love, that I definitely missed. It's not about money with me. It's just all for the love of the game. I've been through so much pain and suffering when it comes to this game, when it comes to the physical part, I just wanted to come back and try to go out on my terms.
Q: What has reuniting with Shaq meant to you, knowing that none of us on the outside ever thought it would happen again?
A: I do care about that because we started together a long time ago and we obviously have a bond. We went to the Finals together. Orlando is known for Penny and Shaq, not one without the other. He definitely went on to win championships and I didn't and started having injuries, but I'm definitely glad that I had an opportunity to play with him again. I never had a problem with Shaq at all. I can be honest about that. And I don't think he ever really had a problem with me. I think when he went to L.A., everyone just assumed. It was never like his and Kobe's relationship at all. Not once when we were in Orlando.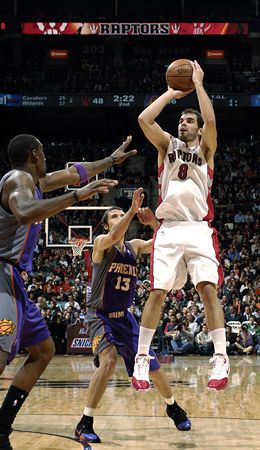 Ron Turenne/Getty Images
Steve Nash (center) is still the most popular point guard in Canada, but Toronto's Jose Calderon has no shortage of admirers as the league's leader in assist-to-turnover ratio.

"I'm going to say about 89.6 percent."
Heat center Shaquille O'Neal, asked how close Dwyane Wade -- one month into his comeback from knee and shoulder surgeries -- is to playing at his peak level.
But that was Shaq's assessment after Wade's run of three successive 30-point games … and before Wade managed only 17 points (compared with eight turnovers) in a nationally televised loss to the Wizards on Thursday night.
After what Miami believed to be a breakthrough night in Phoenix earlier this week, O'Neal also said: "This game don't mean s--- if we go home and lose to Washington."