(Photo by Eric Gay/Associated Press)
In This Rivalry, Hill Elevates Suns' Hoop IQ

SAN ANTONIO -- The Phoenix Suns still have a Tim Duncan problem. They still have banner envy and those deeply sour memories from the 2007 playoffs, too.
The Suns, furthermore, have to be honest about everything that happened when last season's two best teams hooked up for the first time this season. They inflicted the San Antonio Spurs' first home defeat, true, but the hosts weren't whole.
The objective conclusion Monday night? It's too early to say we've seen any sort of shift in the NBA's saltiest rivalry. The Suns didn't try to dispute that conclusion, either, not even after unexpectedly producing the better crunch-time defense in a 100-95 triumph.
However …
You have to give Phoenix this right away: If Grant Hill hadn't already erased most of the skepticism about how he'd fit in with the run-and-gunners, this performance had to.
Hill can't guard Duncan, no. Nor will Hill be checking Tony Parker when these teams meet next, assuming Parker is healthy enough to play. On this night, though, you noticed all the little things that Hill does add to the Suns more than you pined for Parker's (or fellow absentee Francisco Elson's) presence.
"I think it makes their basketball IQ go up," Spurs coach Gregg Popovich said of the Hill acquisition, "and it helps 'em defensively also."
You'll recall that there were considerable doubts when Hill was signed in the summer that his legs and limited shooting range could work for Phoenix offensively That's the same Hill who, at 35, made an impact all over the floor here, delivering an efficient 22 points, seven boards and three blocks in just under 32 minutes … highlighted by a sneaky, timely weak-side swat on Duncan inside that helped swing the late momentum to the Suns.
Yet Hill was already convinced that he made the right free-agent choice by picking the Suns over the Spurs. He was convinced long before the Suns managed to limit Duncan to 12 points in the second half, two points in the final 7:21 and 36 overall, when it looked initially like TD might rumble for 50 on that sore knee and ankle.
"For me, the last seven years have been nothing but skepticism when you mentioned my name," Hill said, referring to the myriad foot problems that have haunted him since his summer-of-2000 move from Detroit to Orlando. "So I understand it."
"But with my game? I think I can fit in anywhere."
That naturally includes San Antonio, which was a tempting option after Duncan and Hill so nearly teamed up with the Magic at the start of this millennium. They're longtime friends who share an agent (Lon Babby) and even took their recruiting trip to Orlando together.
Hill, however, ultimately opted for the team that has never won it all … and met with Popovich briefly Monday so both could say "no hard feelings." He concluded that helping the Suns end their four-decade title drought -- and helping them narrow the IQ and maturity gap with San Antonio -- would be more rewarding than joining the Spurs' bid to repeat as champs for the first time.
"It was kind of like when I first got to Duke," Hill said. "They had gotten close, but hadn't won. This team is close."
As for believing he could make the sort of difference seen Monday, Hill added: "I got an ego, yeah."
Hill extends the analogy to compare Suns vs. Spurs to yesteryear's Blue Devils vs. Tar Heels, at a time when only Carolina could call itself a proven champion. The Suns need every bit of self-belief and poise they can muster to invalidate that comparison, which is one reason they're so grateful to have Hill now. (Another, of course, is the fact that he's averaging nearly 16 points on 50-percent shooting for a mere $3.8 million this season and next.)
Making his debut in this rivalry -- "I'm the rookie," he insisted -- Hill surprised Duncan with his block when the game was tied at 88-88, calmly sank a clutch go-ahead jumper with 39.8 seconds left and earned himself a trip to the line for two big free throws after pulling in the rebound on Bruce Bowen's errant 3-pointer from the corner. Throw in an unlikely late steal from Boris Diaw when an out-of-sorts Manu Ginobili (18 points on 6-for-19 shooting) seemed certain to dribble by -- "My one steal per season," Hill quoted Diaw as saying -- and just enough second-half resistance in the post from Diaw, Brian Skinner and Amare Stoudemire against Duncan and suddenly San Antonio is 13-1 at the AT&T Center.
"We were doing the ol' rope-a-dope … trying to get him tired," Suns coach Mike D'Antoni joked of Duncan scoring 24 virtually unopposed points in the first half. "I don't want to take away too much because he's just coming off an injury, but I thought we did a better job."
In the second half? The Suns did do a bit better nudging Duncan farther off the block, while Stoudemire made his presence felt at the finish with a big dunk and bigger offensive rebound and free throws after Duncan dominated for so long.
Yet there would be no crowing from the victorious visitors. Especially not from D'Antoni, who left little doubt why at the morning shootaround, hours before tip-off. "See those things they got up there?" D'Antoni said, pointing to San Antonio's four championship banners.
And afterward?
"It's only December," D'Antoni cautioned. "If we meet up with them later on [in the playoffs], it'll be two different teams again."
But Hill is clearly part of the story now … health permitting.
"That's 25 games in a row," Hill said. "I haven't done that since I was in Detroit. I don't even know if I did that in Detroit."
Marc Stein is the senior NBA writer for ESPN.com. To e-mail him, click here.
Dimes Past: December 1-2 | 3 | 4 | 5 | 6 | 7 | 8-9 | 10 | 11 | 12 | 13 | 14 | 15-16 | 17
With Deep Threat Lacking, Jazz Sunk Again

By John Hollinger
|
ESPN.com
ATLANTA -- For most of the Utah Jazz 's recent slump, hiccups in their normally precise offense have been the problem, but tonight it was the defense that let them down. Despite Carlos Boozer's 39 points, the Jazz fell for the seventh time in eight games, losing to the Hawks, 116-111.
"Anthony Johnson probably played the best game of his career tonight," said Boozer, and while that's not exactly true -- the man did score 40 on Jason Kidd in a playoff game two years ago -- allowing 17 points and 14 assists to the Hawks' well-traveled point guard probably wasn't the plan going in. Neither was giving up 56.7 percent shooting, or conceding a whopping 50 free-throw attempts to the Hawks, or barely having more defensive rebounds (16) than Atlanta had offensive boards (14).
"Not quite," said a laughing Johnson as to whether tonight was indeed his best ever. "It was one of those nights. With us being shorthanded, it was an opportunity for me to step up." Johnson played 45 minutes because the Hawks' other four point guards were in street clothes, and his stat line included two big 3s in Atlanta's crucial fourth-quarter run. He did a solid defensive job on Deron Williams (3-for-12, 14 points, 10 assists). "I'm a big guy, so I let him do all that [crossing over] and then contest late," Johnson said.
With all that, a familiar bugaboo of fourth-quarter offensive execution bit the Jazz in the fourth. For three quarters they were able to match the Hawks shot for shot by playing Utah Jazz basketball -- which is just like real basketball except the teams stop every 14 seconds to shoot free throws.
But without Mehmet Okur's shooting to stretch defenses, the Jazz once again struggled against a sagging zone defense, and produced only 18 points in the first 11:27 minutes of the final stanza.
"We took a lot of quick shots down the stretch," said Williams.
Fittingly, it was a missed 3 that ended it (for all practical purposes). After a late effort by the Hawks to snatch defeat from the jaws of victory, C.J. Miles missed a wide open 3-pointer from the corner that could have tied the game with four seconds left. Normally that's Okur taking the shot, and normally he makes it. Instead, Utah takes its "really bad funk" -- Boozer's words, not mine -- to Charlotte as its Southeastern tour continues.

Monday's Best

Mike Dunleavy, Pacers guard:
Rolls out a career-high 36 points and seven boards in a 119-92 win in New York. And those Indiana Pacers are 13-12.
---

Monday's Worst

Marko Jaric, Wolves guard:
Teammates credited his Brazilian model girlfriend for some of Jaric's fairly recent successes. Now, Jaric is back to earth, missing all three shots and committing five turnovers in a 91-87 loss to the Heat.
---
Quote of the Night

"With our style of play, we're going to give up a lot of point. But at the same time, we can knuckle down when it's time."
--
Warriors guard Baron Davis,
whose team yielded 117 points to Memphis, and scored 125.
• See how all 150 players fared
-- Andrew Ayres
Dirk Nowitzki scored 11 of his 31 points in the fourth quarter, including a long-lost 3-pointer and a pair of free throws in the closing seconds to help send Dallas past Dwight Howard and the Magic 111-108.
• Watch highlights of every NBA game
By Marc Stein
|
ESPN.com
SAN ANTONIO -- There were a few surreal scenes Monday night when the Spurs and Suns met Monday night for the first time since their unforgettable first-round series last spring.
One strange scene: Tim Duncan leaving an uncontested jump hook short at the end of the third quarter and missing the uncontested tip-in. He made so many tough shots on a 36-point, 17-rebound night -- easily his best game of the young season -- that you couldn't explain those misses if you tried.
Phoenix winning a Spurs kind of game, furthermore, is always on the unusual side.
One more?
How about Robert Horry and Steve Nash colliding again at the AT&T Center?
It happened early in Monday's third quarter, except that this Horry hit A) wasn't nearly as hard as the Game 4 body check that prompted Amare Stoudemire and Boris Diaw to leave the bench and earn suspensions for a pivotal Game 5 and B) wasn't anywhere near the scorer's table.
And?
"He was nice enough to pick me up this time," Nash said with a smile.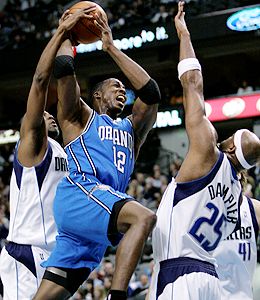 AP Photo/Tony Gutierrez
Dwight Howard scored 16 points in the first quarter. Then Dallas and Erick Dampier turned up the defensive pressure. Howard finished with 22 points in the loss.

By ESPN Research
On Tuesday night, Kobe Bryant steps into the United Center, which was once thought to be the leading candidate to become his new home court.
Bulls fans, not ready to give up on their dreams of Chicago trading for the closest thing to Michael Jordan we've ever seen, regularly taunted their own struggling players with chants of "Ko-be, Ko-be, Ko-be" at the United Center. He's played nine games in Chicago, three of which were 30-point games.
Kobe And The Bulls

PPG
25.1
FG pct
45.5
RPG
4.7
APG
5.1

By Andrew Ayres
ESPN.com
That's eight straight wins for the sizzling Blazers, who moved over .500 mark with another impressive home win Monday.
Brandon Roy (24 points) continues to sizzle, helping his team to an 88-76 win over New Orleans.
And the schedule isn't putting any unwinnable games on their plate over the next five, all played at the Rose Garden.
The Blazers (13-12) play Toronto, Denver, Seattle, Minnesota and Philadelphia to close out 2007. Even if they trip just once, a record of, say, 17-13 would make Portland the surprise of the first 30 games.
By then, Portland will probably be higher on John Hollinger's playoff predictor, which currently puts Portland's chances at 24.6 percent.