Jesse D. Garrabrant/Contributor/Getty Images
Beast Of The East: Streaking Celtics Face Pistons' Test
WALTHAM, Mass. -- Ray Allen paused and began thinking, thinking, thinking, scanning his brain for the proper answer to the question of what was the biggest regular-season NBA game he had ever played.
Nearly 10 seconds went by before Allen came to the determination that it had happened more than a half-decade ago, back on the final night of the 2001-02 season -- " It was against Detroit, too " -- when Allen's Milwaukee Bucks needed a victory over the Detroit Pistons to clinch a playoff berth.
"I think we lost by 30," Allen recalled.
Actually, it was by 34 points, but let's go ahead and give Allen and his memory a break. That game, after all, was eons ago in NBA terms, a defining moment since forgotten by all -- except, of course, Allen and the most die-hard of Bucks fans.
A new night to remember is finally upon Allen, whose new team, the Boston Celtics, takes a gaudy 20-2 record into Wednesday's epic tilt against the Pistons, a matchup that can fairly be called a litmus test, a measuring-stick game, a night for the Celtics to show whether they truly are worthy of the accolades that are starting to be thrown their way.
Tipoff for the Game of the Season is 7 p.m. ET on ESPN, with the NBA's newest, hottest commodity going up against a franchise that has proved itself over the past six years to be the class of the Eastern Conference.
"Detroit has been in everything imaginable: Game 7 of the Finals, Game 7 of the conference finals, huge games both on the road and at home," Boston coach Doc Rivers said. "Every imaginable situation, they've been in. We've been in nothing."
Actually, nothing is taking it a little far, but we get your point, Doc.
But we're 22 games in, past the quarter-pole for the 2007-08 season, and although Rivers feels the Celtics have played well 10 times, less-than-well 12 times, the body of evidence is indisputable. Yes, it's early, but the Celtics have undergone an unprecedented one-year transformation and have turned themselves, through two major trades and other key moves, into a juggernaut that has put together the strongest start we've seen in the NBA in a dozen years. Nobody is quite ready to put them in the same class as the last team to open 20-2, the 1995-96 Chicago Bulls, but no one seven short weeks ago could have predicted we would be talking about those two teams in the same sentence the way we just did.
So, is this a truly great team? Or is this a very good team off to a great start?
We're about to start finding out.
"I love these games," Detroit's Chauncey Billups said. "I really don't like playing against .500 teams or under-.500 teams, because what do you have to win? Even if you beat them, people say you should have won by more. This is a game against the best team in the NBA, and it's been a long time since we've played another team in the East that was being called the best team in the NBA."
With the exception of the San Antonio Spurs, it's kind of hard to argue with the Celtics being called the best team in the NBA -- strange as that sounds. There is the 12-0 home record, the wins coming by an average of 20.4 points. Only once, in a 92-91 victory over Miami on Nov. 16, have the Celtics played a close game at home. Then there is Boston's league-leading point differential of 14.2, a number nearly six points higher than its closest pursuer, which happens to be Detroit, at 8.5. The Celtics have won eight home games by at least 20 points, and six of their eight road victories also have been by double-digit margins.
The Celtics' detractors haven't had a ton to say, although they've pointed to a relatively easy schedule in which the C's have had only one road trip longer than one game and have not yet played the Pistons, Bulls, Spurs, Dallas Mavericks or Phoenix Suns.
Their upcoming seven-game stretch to close December includes home games against the Pistons, Bulls and Orlando Magic before the Celtics close the month with a four-game road swing to Sacramento, Seattle, Utah and Los Angeles.
A truer measurement, truth be told, will come when January gets here.
But that doesn't make Wednesday any less of a statement game.
"Teams like Miami, Detroit and Cleveland that have been to the Finals, they look at us and say 'They haven't done anything,'" Allen said. "When they play us, we're almost the team that's being picked to do something they've already done. And our record, that's a target."
The Pistons, who swept the four-game season series with Boston a year ago, see themselves as having an advantage over the Celtics at point guard and center. Billups is the more seasoned and accomplished playmaker, but Rajon Rondo is shooting an astounding 53 percent from the field while proving himself a capable floor leader. At center, Antonio McDyess is in the midst of a stretch in which he has scored in double figures in 10 of his past 14 games, and his experience helps give him the edge over his Celtics counterpart, Kendrick Perkins, who would be tied with the Golden State Warriors' Andris Biedrins for the league lead in field goal percentage (63 percent) if he had enough attempts to qualify.
The 20-2 record, however, makes this game more about the Celtics than the Pistons. Boston and its Big Three of Allen, Paul Pierce and Kevin Garnett are on the cusp of being the NBA's "It Team."
But if we're going to start looking at the Celtics differently, if we're going to start seriously contemplating whether this is truly a great team or merely a team off to a great start, we're going to need to measure them.
That's where Wednesday night and the Pistons come in, and for the first time in a long time, we have something approaching a must-see Eastern Conference game.
By the end of the night, we could have either a 21-2 buzz machine or a 20-3 paper tiger.
Chris Sheridan covers the NBA for ESPN Insider. To e-mail Chris, click here.
Dimes Past: December 1-2 | 3 | 4 | 5 | 6 | 7 | 8-9 | 10 | 11 | 12 | 13 | 14 | 15-16 | 17 | 18
Chatting With Paul Shirley

Ricardo (Portland, Ore.): Have you been following the NBA, and is there anyone that has you excited?
Paul Shirley: Honest answer: I am enjoying the Celtics' current run because of my deep-seated Celtics fandom and because I greatly respect Kevin Garnett after the 3 weeks I spent in training camp with the TWolves last year. He really does deserve success.
Josh (Brooklyn, N.Y.): You like the Celtics? Do you ever watch Brian Scalabrine and think there is absolutely nothing this guy brings to the table that I don't, plus I have shoulders?
Paul Shirley: Not once, and I can't believe you'd say such a thing.
Alex (Spain): Hi Paul, what do you think of Ricky Rubio?
Paul Shirley: He's deceptively good. I hadn't seen him play till this year. I was amazed. He looks like a skateboarder, plays like Steve Nash. And he's 17.

Tuesday's Best

John Salmons, Kings guard:
Made 13 of 18 shots, good for a career-high 31 points, in Sacramento's 106-101 win in New Jersey. His seventh assist fed
Francisco Garcia
's dagger shot.
---

Tuesday's Worst

Ben Wallace, Bulls center:
Two points? Nobody expects him to score. But when Big Ben is out-rebounded 6-5 by Lakers guard
Jordan Farmar
, that doesn't help Chicago from being out-rebounded 52-41 in a 103-91 loss.
---
Quote of the Night

" A couple of my friends played against the Bulls when that took place. They called me after they played them and said they heard something that was just the craziest thing they had ever seen. I was shocked by it."
--
Kobe Bryant,
talking about the "Ko-be" chants heard earlier this year in Chicago, which have since diminished.
• See how all 59 players fared
-- Andrew Ayres
Paul's A Conversation Starter

The ESPN Conversation continues with John Hollinger's story making a compelling case for Chris Paul as an MVP candidate and as a superior point man to Utah's Deron Williams. A sample:
"It's not like Deron Williams is better at some things and Chris Paul is better at others … it's more like Paul is better at everything. He's averaging more points, more rebounds and more assists in nearly identical minutes. Despite making more plays, he averages nearly a turnover fewer per game."
John, this is the reason your player efficiency rating and statistical arguments are about as useful as a digital paperweight. There's a reason Williams was taken above Paul -- he's a better player on a better team, with much more potential for a long, healthy career, period, end of argument.
You tell me Paul would flourish in an environment like Phoenix or San Antonio. You can't say that. When you surround a moderately good player like Paul with relative no-names and has-beens, naturally he'll be the one who performs better; like the old cliche, in the land of the blind, the man with one eye is king.
I'm sorry, but even if CP3 stays healthy his entire career (which is not likely), durable Deron will prove his statistical superiority on a better team over a longer period of time.
-- cshfym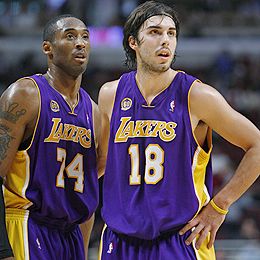 Jerry Lai/AP Photo
A lack of quality teammates almost chased Kobe Bryant to Chicago. Sasha Vujacic's 19 points helped the Lakers chase away the Bulls.

By ESPN Research
For the past seven seasons, Steve Nash has led the highest-scoring offense in the league -- three years with the Mavericks and four with the Suns (including this season, with the Suns leading the NBA in points per game). His Suns face the Mavs on Wednesday.
Steve Nash, Past 7 Seasons

Category
'01-04 w/ DAL
'04-08 w/ PHX
Win pct
.687
.721
PPG
16.7
17.7
APG
7.9
11.3
FG pct
47.3
51.7

By Andrew Ayres
ESPN.com
Lost in yet another disheartening loss by the Nets, Sean Williams, Jersey's impressive 6-foot-10 big man, recorded eight blocks as the Nets fell 106-101 to the Kings. He also had 11 points and six rebounds in 34 minutes of action.
His eight swats tied a team record set in 1981 by Mike Gminski.
That performance puts him at No. 5 in David Thorpe's comprehensive rookie rankings.