AP Photo/Elise Amendola
Pistons Show Celtics How Much There Is To Know

BOSTON -- Kevin Garnett wasn't afraid to come out afterward and state exactly what this game was: a measuring stick.
And one measure of how good the new and improved Boston Celtics are was gleaned by listening to Chauncey Billups afterward.
"That is an elite team," Billups said.
Elite, maybe, but not elite enough to measure up to the franchise that has been the class of the Eastern Conference for the better part of the decade.
Elite, maybe, but not smart enough to avoid a boneheaded play at the end.
Elite, maybe, but not wise enough to get the ball into the hands of Ray Allen or Garnett, the two guys who had been putting their heart and soul into every second of this playoff-like game, instead of giving it to Paul Pierce on their final possession, entrusting the biggest shot of the game to a player who had been looking tentative all night.
There are at least a dozen different reasons why the Detroit Pistons were able to eke out an 87-85 victory over Boston on Wednesday night in what was easily one of the most competitive, riveting and intense games we've ever seen played in mid-December, but all those reasons begin to boil down to the same common denominators: experience, savvy and depth.
When did the Pistons begin to seize control of the game? Not until the early part of the fourth quarter when Celtics coach Doc Rivers gave Rajon Rondo a rest and handed over the ballhandling chores to Eddie House, who could barely get the ball over the halfcourt line against the suffocating defense of Lindsey Hunter, still regarded as perhaps the top on-the-ball defender in the league. A 9-2 run put the Pistons ahead 70-67 before Rondo returned, and Detroit never trailed again.
When did the Pistons deliver the knockout punch? Well, the play-by-play and the replays will tell you it came when Billups faked Tony Allen off his feet and drew a foul with 0.1 seconds left that sent him to the line for the tiebreaking and game-deciding free throws. But a big assist came moments earlier when the Pistons were exiting their timeout and Tayshaun Prince noticed that Tony Allen had checked back in as a defender.
"Tay told Chauncey to give Tony Allen a pump fake because Tony was just coming in off the bench cold," Pistons coach Flip Saunders said.
Billups confirmed the story, saying Prince gave the same message to Richard Hamilton knowing that one of the two was going to end up with the ball in his hands for the final shot.
"Anybody could have went for that [fake]," Garnett said afterward, cautioning everyone not to single out Tony Allen for blame. "This was a good game for us to learn from and dissect. We wanted to measure where we were, and like Paul said, I'd rather deal with [a loss] now than later. No one said this was going to be easy, and we just have to go through this type of process and learn from it."
The loss was only the third of the season (and the first at home) for the Celtics, who will continue to measure themselves over the rest of this month as they play Chicago and then Orlando before embarking on a four-games-in-five-nights West Coast trip to close out December. They'll have a 29-game body of evidence to sort through by the time January rolls around, and we'll all have a better measure of whether this Celtics team is truly as elite as Billups was calling them, or whether they're merely a very good team with some very real flaws that'll need to be addressed before the playoffs come around.
"No one's going to remember this game next week," Saunders said. "The statement right now is you have two teams that are pretty evenly matched."
We'll go ahead and partially agree with Saunders' opinion that no one is going to remember this game a week from now, but we'll qualify that agreement by limiting it to the Pistons. They will find it easy to put this one in their rearview mirror, but the same cannot be automatically said for the Celtics.
This game will stick with them because this game humbled them, and truth be told, they were a team in need of some humility after breaking out of the gate with a 20-2 record that was among the greatest starts in NBA history.
Pierce was kicking himself afterward for not letting a little more time come of the clock before he attempted his 15-foot fadeaway from the corner that everyone in the arena could tell was going to be two feet short from the moment it left his hand. Tony Allen was beating himself up for falling for Billups' pump fake, and Rivers was no doubt second-guessing his own late-game substitutions when he turned first to House and then to Tony Allen instead of going with his starter Rondo, who had played one of the better games of his career (14 points on 7-for-10 shooting with seven assists and three steals).
The Celtics will get another chance Jan. 6 to measure themselves against the Pistons, only next time it'll be on Detroit's home court. And since it is still very, very early in a long, long season, the Celtics' hurt from this loss will have faded by then. But what the Celtics will hang on to is their memories of how electric the building felt, how intense the game was played and how close they already are to being equals with the Pistons.
"I think losing games levels you out. As much as you don't like it, it always humbles you and makes you put in that hard work," Ray Allen said.
The Celtics are very good, but this loss might be exactly the thing they needed to get a better understanding of where they stand. Because even though they stand alone atop the overall NBA standings, no one can rightfully say -- especially after this loss -- that the Celtics are the class of the league. They may be by the time mid-June rolls around, but they aren't yet. And in order for them to make it to mid-June, they're eventually going to have to get past a Pistons team that they couldn't quite measure up to in mid-December.
Chris Sheridan covers the NBA for ESPN Insider. To e-mail Chris, click here.
Dimes Past:
December 4
|
5
|
6
|
7
|
8-9
|
10
|
11
|
12
|
13
|
14
|
15-16
|
17
|
18
Against The Suns, Mavs Look Their Best

By Marc Stein | ESPN.com
DALLAS -- There was a lot to take in on the most dramatic night of the season so far. You had the epic Pistons-Celtics finish in Boston, Alonzo Mourning's injury heartbreak in Atlanta and scoreboard surprises all over the place: San Antonio losing at Memphis on a Rudy Gay buzzer-beater, Cleveland getting throttled at New York and Utah extending its puzzling freefall with a fall-from-ahead loss at Charlotte.
Dallas and Phoenix, meanwhile, met late Wednesday night after almost all of the above and duly delivered what they always seem to give us. "Instant Classic," said Suns swingman Raja Bell.
This one didn't go to double-overtime like the teams' last meeting here in March, but Bell wasn't exaggerating. The Mavs only escaped with a 108-105 victory, after squandering double-digit leads in the first quarter as well as the fourth, when Steve Nash ducked inside Josh Howard to free himself for a potential game-tying 3 at the buzzer . . . and then failed to even graze the rim with it.
Yet that was merely the wild closing sequence from a matchup that, as always, had tons to see. A quickie review:
• Ignore the tight score. This was the best Dallas has played all season.
This was the first glimpse of the team that won 67 games last season.
The Mavs (18-9) couldn't build on the 17-point lead they had after the opening period and couldn't put Phoenix away after going up 14 in the fourth, but that's only because the Suns (18-8) were playing with such high energy and efficiency after their dreadful start. You could see the season's first noticeable flickers of swagger from the Mavs, tough as it was for the hosts to get any lasting separation from Phoenix. The crowd must have noticed, too, because the American Airlines Center was louder than it's been all season, including a mid-November home win over the Spurs.
• Dirk Nowitzki and Steve Nash are getting older. This was confirmed Tuesday night, on the eve of the game, when Nash and wife Alejandra brought their twin girls, Lola and Bella, to Nowitzki's house for a "family" reunion with Nowitzki's parents, sister Silke, brother-in-law Rollie and infant nephew Lenny, all of whom had flown in from Germany.
Yet that's where the Hallmark stuff stopped.
In a more physical game than usual, described by Suns coach Mike D'Antoni as "wild and woolly," these old pals reminded you why they've combined to win the NBA's last three MVP trophies. Nowitzki scored Dallas' final eight points to finish with 31, including a dagger 3 and a tougher jump hook in the (crowded) lane to hush his growing legion of critics. Nash only countered with 21 points and 18 assists before the airball, shrugging off a Devin Harris shot to the chin down the stretch that required eight post-game stitches.
• Harris came right back at Nash with 21 points, six assists and three steals in just under 32 minutes. His confidence has been noticeably sapped since Mavs coach Avery Johnson took back play-calling responsibilities earlier this month, but this was probably Harris' best performance of the season as well. His swipe from behind on a Nash drive in crunch time was as big a play as Dallas mustered late.
• I sure hope the highlight shows got both of Grant Hill's turn-back-the-clock dunks, including one sick drive and throwdown over DeSagana Diop. Hill's father, Calvin, was sitting not far behind me next to an unlikely couple: Suns general manager Steve Kerr and a current Cowboy named Terrell Owens. I wish I could aptly describe the look of sneering approval on TO's face when Hill flushed on Diop. (Hill also threw a sneaky lob to Shawn Marion on the last play of the first half that enabled Marion to beat the buzzer with an acrobatic layup.)
• Perhaps the most standout stuff happened at the center spot. Dallas' Erick Dampier rarely sees court time against the Suns because the Suns usually run him off the floor. But Dampier had eight points, 10 boards and five blocks in nearly 30 minutes, with all four of his baskets coming in that blowout first quarter in which he legitimately tortured Amare Stoudemire.
"You never know if we can use Damp in a game like this because they're so quick and explosive," Nowitzki said. "But he made it work tonight."
Amare, though, responded just like he did in San Antonio on Monday night, imposing himself in the second half. He was a non-factor in the first half against the Spurs, too, but wound up hurting Dallas with the sort of unparalleled agility combined with determined activity at both ends that would solve a lot of the Suns' defensive issues if they got that package consistently. Stoudemire had 14 points and two blocks in the fourth quarter alone and finished with 25 points, eight boards and four swats, then attributed the defeat to his non-presence in the first.
"I put it on my shoulders," Stoudemire said.

Wednesday's Best

Mike Miller, Grizzlies forward:
Goes for 31, including five 3-pointers, to lead the Southwest cellar-dwelllars to a Rudy Gay delivered 88-85 win over the Spurs.
---

Wednesday's Worst

Boston's bench:
Other than a late clutch 3 from Eddie House, not a lot of production from the second team. Nary a bucket from Big Baby or James Posey? That's not getting it done.
---
Quote of the Night

"If I had to crawl off the court I would have. Nobody was going to push me off on a stretcher off the court. That wasn't going to happen."
--
Alonzo Mourning,
after tearing the patellar tendon in his right knee in Miami's game against Atlanta in what possibly was his last NBA game.
• See how all 245 players fared
-- Andrew Ayres

By David Thorpe
ESPN.com
It wasn't just the 27 points scored by Grizzlies guard Juan Carlos Navarro that impressed me in Memphis' 123-119 win at Orlando, but also how he scored those 27. He hit three straight 3s in the last seven minutes of the game -- one gave them the lead, one stretched the margin and one iced the game. All three were cold-blooded, meaning he never hesitated, and everyone in the building knew they were going in.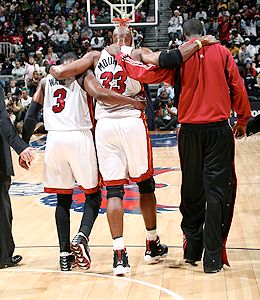 Scott Cunningham/NBAE via Getty Images
After refusing a stretcher ride for what could be his final game ever, Alonzo Mourning walks off the court after tearing the patellar tendon in his right knee in Miami's loss to Atlanta.
Ainge-Dumars, Rivals Again

By David Rose
ESPN
Two guards who were on opposite sides of the Celtics-Pistons rivalry in the 1980s now are heads of each team's basketball operations. Danny Ainge (Celtics) and Joe Dumars (Pistons) have put together what many consider to be the top 2 teams in the Eastern Conference.

As players, they each won two titles with their respective teams (Ainge with Celtics, Dumars with Pistons). Wednesday marked the first time since April 19, 1988 that the Pistons and Celtics met with the top two records in the Eastern Conference (Celtics won 121-110, Ainge had 15 points, Dumars had 10 points).
Here is how both have fared during their NBA careers, both on the court and in the front office.
On The Court

As Players
Ainge
Dumars
Seasons with team
8 ('81-89)
14 ('85-99)
PPG
11.3
16.1
APG
4.4
4.5
All-Star Appearances
1
6
NBA Titles with team
2
2
In The Front Office

As Execs
Ainge
Dumars
Seasons with team
5 ('03-Pres)
8 ('00-Pres)
W-L
158-193
375-224
Win pct
.450
.626
Head coaches
3
4
Playoff W-L
3-8
63-46
NBA titles
0
1
2007-08 W-L
20-3
18-7

Mike (AL): How long would a game of H-O-R-S-E last between NBA players? I say 12 shots each.
David Thorpe: Maybe if Ben Wallace was playing Shaq. Ray Allen vs. Kevin Martin or Michael Redd? All day.
Patrick (Portland, OR): Still rather have Rudy Gay than Brandon Roy? Two straight POW's, nine game-winning streak (over mostly playoff teams), averaging almost 25 pt, 6 reb and 7 ast during the streak ... and CLUTCH in the fourth quarter!
David Thorpe: The draft has never been about who is better today, but about who will be better tomorrow. I love Roy, but I like Gay's upside more. Check the ages on both too.