Nathaniel S. Butler/NBAE via Getty Images
Cover Me: LeBron Outdoes Kobe In Head-To-Head Defense

CLEVELAND -- In the NBA in December, this is about as good as the theater gets.
A tight game in the final moments, crowd on its feet, two of the best players in the world guarding each other and looking to be the hero. LeBron James and Kobe Bryant didn't quite have the Hollywood ending -- the game ended with a thud and not a splash -- but they did provide some drama.
During a timeout with just over three minutes left to play the same discussion was held in both huddles. James wanted to cover Bryant and told teammate Sasha Pavlovic to go guard someone else, in pretty much those exact terms. Bryant gave his directive to coach Phil Jackson, who wasn't totally sold, but went with his star's wishes.
"Why not?" Bryant said later. "I look forward to those matchups, that's what I do as a defensive player."
"If you want to win ballgames, you have to be able to defend the best player," James said. "I think we both took on the challenge."
They had all last summer. When Team USA practiced, James looked for a chance to guard Bryant at any chance and described the sessions as "very intense."
They may be summer teammates and both wear the swoosh, but they are far from close. James, after all, came down on Shaquille O'Neal's side in the Laker Wars.
James went right at Bryant, nailing a 17-footer to tie the game. Then, moments later, he got free from Bryant off a screen and turned the corner and drew a foul. His two free throws with 1:44 left gave the Cavs the lead.
So when Bryant got his hands on the ball with about seven seconds to play and his team still down those two points, he wanted to end it. He spun, rocked and hoisted a 3-pointer over James' fingertips. He may have preferred to drive past James, but a sore groin may have changed his mind. The rotation and the aim were true, but Bryant's touch was just a little off as it banged the back of the rim.
"I knew he was going for the win. I turned around and it looked like it was going to go in," James said.
When the Cavs got a favorable whistle when Daniel Gibson and Derek Fisher collided, James and his club were able to wrestle away a 94-90 victory. It was a big one for the Cavs, who had lost nine of 11 games including an embarrassing blowout at Madison Square Garden Wednesday night. It was a cooler for the Lakers, who had won seven of eight.
LeBron's now taken the last four meetings with Kobe, though they've taken turns outplaying each other individually. This one went James' way in about every category. He put up 33 points, extending his lead over Bryant in the race for the scoring title slightly, with 10 rebounds and five assists.
Bryant wasn't his usual self with the groin issue, which has been bothering him for a week. He made just 8-of-22 shots for 21 points, though he did come up with a huge offensive rebound with 10 seconds left that earned the Lakers one extra possession.
"I was pretty frustrated," Bryant said. "I can't explode like I want to I've got to rely on my jump shot a lot more."
Bryant was just 1-of-6 shooting in the fourth, when the Cavs held the Lakers to 5-of-22 overall and just 12 points. It was the sort of defensive effort, combined with James' heroics, that was the trademark of so many Cavs' victories in their remarkable run to the Finals last season. And the sort of stuff that has been missing for much of this year.
But both James and Bryant know it's just one round in their ongoing battle, one sure to be rekindled next month at Staples Center and again in private Team USA practices next summer in China.
"We just made more plays at the end of the game to win," James said. "It's a long season."
Brian Windhorst covers the Cavs and the NBA for the Akron Beacon Journal.
Dimes Past:
December 4
|
5
|
6
|
7
|
8-9
|
10
|
11
|
12
|
13
|
14
|
15-16
|
17
|
18
|
19
|
20
Wallace Wavering In Chicago

By John Hollinger | ESPN.com
When I watched Tuesday's Bulls-Lakers game and saw how nobody even bothered to guard Ben Wallace, I quietly wondered to myself whether they'd be better off taking him out of the starting lineup and playing small. I got my question answered last night and it didn't look so bad, as Scott Skiles finally started Luol Deng and Andres Nocioni together -- those have been their two best players all year -- and the Bulls walked out of Washington with a road win.
A sampling from the robust ESPN Conversation off a story comparing Kobe and LeBron ...
The last 3 years, Kobe couldn't even win a single playoff series. And over those 3 years, LeBron has posted better numbers. And that's a fact. The only records Kobe has are due to shooting a lot. He doesn't shoot particularly well (right around league average). LeBron shoots a better percentage. LeBron gets more rebounds. LeBron gets more assists.
Give me one thing that Kobe does better than LeBron...
-- ErieVern
Kobe is probably better than LeBron at this point, by virtue of experience, better defense and clutch play. That said, LeBron is closing the gap at a rate that is alarming, considering he's only 22. Second, everyone needs to stop comparing these guys to Jordan. Jordan is Jordan. While Kobe is closer than anyone we've yet seen, he's still not close. LeBron has light years to go before even being in the discussion.
-- toekneeshin23

Thursday's Best

Malik Allen, Nets forward:
While others put up gaudier numbers, Allen's season-high 18 points and seven boards were huge in Jersey's 107-103 win. His lone season as a full-time starter came with the Heat in '02-03.
---

Thursday's Worst

Shaquille O'Neal, Heat center:
His 12-point, seven-rebound effort in the 107-103 OT loss to the Nets is about par for the course these days. However, fouling out is too. He was DQ'd for an unprecedented fourth straight game.
---
Quote of the Night

"Kobe Bryant is definitely the most explosive player we have in this league. There's no one like him."
--
LeBron James,
paying homage to the Lakers' star.
• See how all 57 players fared
-- Andrew Ayres
Carmelo Anthony scored 37 points and had a career-high 16 rebounds, and Allen Iverson had 36 points, but it was Anthony's Carter's clutch shot that delivered a 112-111 double OT win for Denver over Houston.
• Watch highlights of every NBA game
Kobe Nears A Scoring Mark

By ESPN Research
Kobe Bryant currently has 19,961 career points. This weekend, he will likely become the youngest player in NBA history to score 20,000 career points.
There are currently 30 players in the NBA's 20,000-point club. Sixteen of those players scored 20,000 points with one franchise. The Lakers' next two games are on the road: Friday in Philly and Sunday in NY.
Youngest to 20,000 Points

Player
Years-Days
Wilt Chamberlain
29-134
Michael Jordan
29-326
Oscar Robertson
30-97
Kareem Abdul-Jabbar
30-342
Rising Wade, Falling Heat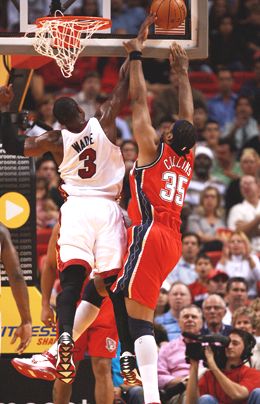 Doug Benc/Getty Images
Dwyane Wade elevated his game to block Jason Collins' shot. Wade's 41 points weren't enough as the Heat fell to an East-worst 7-19.
Ford's Podcast: Sixers Sense

Chad Ford talks to new Sixers general manager Ed Stefanski. How did he land this dream job? What kind of rebuilding plan does he have for Philadelphia?
New direction in Philly