Steve Grayson/WireImage.com

The one-year anniversary of
Allen Iverson
's first game as a Nugget is Saturday. Which naturally made us nostalgic.
It also made me think of poor Philadelphians and the NBA maxim that says blockbuster trades never work out well for the team that surrenders the superstar … like when Philly only managed to get Jeff Hornacek, Tim Perry and Andrew Lang for Charles Barkley in 1992.
Throw in Wednesday's theater of Kevin Garnett's first big game as a Celtic and the not-going-away curiosity about the futures of Kobe Bryant and Jason Kidd and this seems like an ideal time to take stock(ings) of the league's last five superstar trades. Only trades involving megastars present and past are considered as we rank them 1 to 5 in terms of how the deals worked out for the team giving up the franchise player.
For folks out there who are desperate for B-I-G deals, there's good news: All five of these whoppers were consummated in the past 3½ years. Who says no one ever pulls the trigger?
Yet for the teams starting anew, there's mostly sad news: One trade was way ahead of the other four in terms of approaching equal value … and even that one didn't work out right for the club selling off its cornerstone.
Our breakdown follows, in two parts:

1. The Shaq Trade
Lakers got: Caron Butler, Lamar Odom, Brian Grant, a 2006 first-round pick (used to select Jordan Farmar at No. 26) and a 2007 second-round pick (which was later traded to Dallas)
Date: July 14, 2004
Shaquille O'Neal's age when dealt to Miami: 32
The assessment: The Lakers are habitually hammered for what they were willing to take back for Shaq. The two main justifications for the hammering: 1. L.A. hasn't won a playoff series since Shaq left; and 2. Shaq proceeded to help Miami win the first championship in franchise history.
History, however, suggests that the Lakers might have actually fared better trading their superstar than any team previously … and definitely any team since.
The Lakers' real crime is what they did after trading O'Neal. They maintain that O'Neal's big contract demands -- more than any encouragement from Kobe Bryant -- led to the abrupt separation following a fourth trip to the Finals in a five-year span. Fine. But then L.A. shipped out Butler and Chucky Atkins to Washington for Kwame Brown after just one season post-Shaq, which happens to be the only season in the past nine in which Phil Jackson didn't coach the Lakers.
Oops.
I have to put my hand up and admit that I, too, thought it was a worthy gamble at the time, since Brown was a 7-foot No. 1 overall draft pick who was still only 23. You could understand, even after they had just drafted Andrew Bynum one month earlier, why the Lakers thought they had to gamble on more size, still unsure at that stage how they'd cope long-term without O'Neal.
But just imagine now if the Lakers had kept Butler in a three-man core with Bryant and Odom, joined by the blossoming Bynum and the role-player support of Luke Walton, Derek Fisher, Farmar, etc. In this era when rugged, mobile, versatile athletes like Butler who can shoot with range and shift between small forward and power forward are more valuable than ever, L.A. would really have something. Specifically? The Lakers would have a fast-developing Bynum and an All-Star, since Butler is the only player acquired in this trade (as well as the next four deals) who has reached that level.
Butler's game has evolved so nicely that there are surely some Heat fans out there asking their own what-ifs, fearing that their freefalling team of oldies hasn't stopped nosediving. Since it's not my money, I remain 100 percent sold that the steep price Miami has paid -- and will continue to pay with Shaq due to earn $40 million over the next two seasons and no easy fixes to reload around Dwyane Wade -- was well worth it for that first championship so many other teams and great players are still chasing. But Butler is that good now. He at least makes you think about it.
Marc Stein is the senior NBA writer for ESPN.com. To e-mail him, click here.
Dimes Past: December 15-16 | 17 | 18 | 19 | 20
Start here to review the other four most recent superstar trades, which are grouped together because they make the Shaq trade look borderline shrewd for the Lakers:

2. The KG Trade
Timberwolves got: Al Jefferson, Ryan Gomes, Sebastian Telfair, Gerald Green, Theo Ratliff and two future first-round draft picks
Date: July 31, 2007
Kevin Garnett's age when dealt to Boston: 31
The assessment: This should tell you how poorly teams generally do when they trade away a franchise player. A deal skewered here countless times in the five months since it went down (and lots of other places) ranks as the second-best of its kind that we've seen in the past few years. Really.
Our original issues with Minnesota's thinking haven't changed. The Wolves waited at least one year too long to finally move Garnett, for starters, and came away with a fistful of maybes when they finally jumped.
Yes: Ratliff's contract provides some salary-cap relief for the Wolves. Yes: Getting back the first-round pick sent to Boston in January 2006 in the Ricky Davis-Wally Szczerbiak trade is a good thing, because the starting-over Wolves are so bad now. That pick is destined for the upper reaches of the lottery.
However …
Will cap room coming from Minneapolis seriously entice top free agents in the post-KG era? Does a lottery pick in this June's draft, furthermore, really excite you as much as it would have last June?
After taking two seconds to answer those questions, don't forget that Gomes is unlikely to be considered rotation-player material by any good team, while Telfair and Green are just trying to hang on as NBA players. Plus Boston's first-round pick in 2009 will almost certainly be a late first-rounder … and thus nothing to get too giddy about unless you think Garnett, Paul Pierce and Ray Allen will somehow miss the playoffs next season.
So it's basically Al Jefferson, one lottery pick in a draft of uncertain quality and financial flexibility in exchange for the player synonymous with 'Sota. Only one player, at this point, guaranteed to be a factor for a contender. Enough for you?
One rival executive we spoke with had some sympathy for the Wolves, since Jefferson already does look like a future All-Star. Said the GM: "They do get some points for getting a good big back."
Yet you'd like to think that they could have scored more for KG than "some points."
---

3. The A.I. Trade
76ers got: Andre Miller, Joe Smith and two 2007 first-round picks
Date: Dec. 19, 2006
Allen Iverson's age when dealt to Denver: 31
The assessment: As of Friday morning, Denver was a mere 46-38 since acquiring Iverson and is still not considered an elite team, even with one of the league's three highest payrolls.
Yet you still have to ask, one year later: How could the Nuggets not make this trade for what little it cost them in terms of assets?
Right. If Nuggets owner Stan Kroenke was willing to absorb the financial cost involved -- and it's a considerable cost given the skepticism that persists about Iverson, Carmelo Anthony and the cast around them ever reaching the NBA elite -- it was and remains a slam-dunk deal.
I suppose Sixers general manager Ed Stefanski can still change the complexion of things here if he gets a good piece or two in a trade for Miller between now and February. Or if the Miller deal that's widely expected around the league in the next six weeks simply leads to more salary-cap space for the Sixers, in addition to the financial flexibility Smith's contract created.
As it stands, though, Philly only has Miller, rookie Jason Smith, salary-cap relief and a bit of drama relief to show for the KG-type figure synonymous with this franchise … and no discernible franchise player to build around. The leaguewide consensus on both Andres -- Miller and Andre Iguodala -- is that both players should be cast as no more than the third- or fourth-best player on the team. "Iguodala is a No. 3 and Miller is a No. 4 or 5," insists one West exec.
The ability to get two first-rounders from the Nuggets was the clincher that prompted Stefanski's predecessor Billy King to take Denver's offer, but those picks only turned out to be No. 21 and the final pick of the first round at No. 30. The Sixers swapped with Miami on draft night to move up one spot to take Smith, then traded No. 30 to Portland (which selected Finland's Petteri Koponen) for a second-rounder (No. 42 overall pick Derrick Byars) who didn't make it out of training camp.
King needed to get a lot more out of those picks to save his job, since the trade he made for a franchise player almost two years before dealing Iverson away didn't work out, either, as noted below.
---

5 (tie). The T-Mac Trade
Magic got: Steve Francis, Cuttino Mobley and Kelvin Cato
Date: June 29, 2004
Tracy McGrady's age when dealt to Houston: 25
The assessment: With trades like this one and the next one, there really isn't a No. 4. Equal dissing with the Vince Carter trade is the most appropriate treatment.
After swiping McGrady from the Raptors at the cost of a single first-round pick in 2000, Orlando didn't get a single future pick from Houston when it shipped T-Mac out along with Juwan Howard, Tyronn Lue and Reece Gaines. And none of the principals obtained by the Magic are still with the team … including the front-office guy with the hockey background (John Weisbrod) who made the deal.
Francis was traded to New York within two years for Trevor Ariza and Penny Hardaway's expiring contract. Although that move did help to create the salary-cap space that enabled Orlando to sign Rashard Lewis in the summer of 2007, it's a stretch to make too much of that connection because (a) that certainly wasn't the plan when Francis was acquired and (b) Weisbrod's replacement, Otis Smith, also had to cut ties with Grant Hill and Darko Milicic before there was sufficient payroll room to give Lewis his $118 million.
The Magic got tons more out of McGrady's disastrous final season in town than they manufactured by actually moving him. With a 21-61 finish lowlighted by a 19-game losing streak in his farewell season, Orlando won the 2004 lottery and the right to draft Dwight Howard five days before the trade that ended the T-Mac Era. The Magic also snared Jameer Nelson in the draft when Nelson slipped to No. 20.
---

5 (tie). The Vince Trade
Raptors got: Alonzo Mourning, Aaron Williams, Eric Williams and two 2005 first-round picks
Date: Dec. 17, 2004
Vince Carter's age when dealt to New Jersey: 26
The assessment: It's probably no coincidence that three of the five GMs who swung these trades no longer work for those teams.
One could broaden the examination to investigate (for the umpteenth time) how or why Kevin McHale hasn't made it four out of five to be dismissed, but we'll focus here on Rob Babcock's brief Toronto tenure and how he sealed his dismissal with the Carter nightmare … which ironically led to Minnesota promptly hiring him back as a top aide to McHale.
The pressure was already mounting after Babcock's first draft pick -- Rafael Araujo at a way-too-high No. 8 in 2004 -- flopped almost immediately. Carter then began the following season in shutdown mode, playing lifelessly until he convinced the Raptors that they had to take whatever they could get for him.
Carter must have been convincing, too, because the Raps actually received less than whatever. Worse yet, Toronto ultimately paid some $10 million in a buyout for Mourning to go away, because Zo was even louder in his Canadian discontent than Carter.
The picks? Not much salvation for the Raps there, either. At No. 16 overall in the 2005 draft, they selected Joey Graham. The other pick was later dealt to New York in February 2006 to entice the Knicks to take on Jalen Rose's contract in exchange for Antonio Davis, with Isiah Thomas using it to draft Renaldo Balkman.
Even though the Raps' next boss (Bryan Colangelo) and Carter's heir as franchise player (Chris Bosh) managed to turn things around pretty quickly, they can't fully make up for the previous regime's insanity (no V). The Raps would be even further along if the Carter trade was just half-decent.
---
PS: Two trades that were narrowly spared inclusion on his list: New Orleans holding out for no more than Dale Davis, Speedy Claxton and cash for Baron Davis on Feb. 24, 2005; and Chris Webber going from Sacramento to Philadelphia one day earlier (along with Matt Barnes and Michael Bradley) for Kenny Thomas, Corliss Williamson and Brian Skinner. Allan Bristow resigned as the Hornets' front-office chief before the following season and Geoff Petrie is still trying to rebuild Sacramento's kingdom almost three years after Webber was exiled.

"I don't doubt Dallas and I don't doubt us."
Suns coach Mike D'Antoni, after spending a few days in Texas and hearing the sort of loud doubts about the Mavericks -- at least coming from fan and media types -- that his team has been getting back home.
Those same Suns and Mavs began the weekend with 18 wins each … matching San Antonio for the highest win total in the West. San Antonio, though, has won championships in three of the past five seasons, while Dallas and Phoenix have racked up nothing but near-misses.
D'Antoni understands the difference and knows that "everyone picks you apart" until you win that first title (or more). The part that confuses him?
"I thought everybody says it doesn't matter what you do in the regular season, it only matters what you do in the playoffs," D'Antoni said.

The Nets insist that they're not budging from their stance on Jason Kidd. They've let it be known that they don't want to trade him.
The problem? They keep losing. The Nets' victory over Miami was just their second in eight games. They'll have to get a lot hotter if they hope to chip away at Kidd's frustrations, with the latest Jersey rumblings this week suggesting that Kidd hasn't been thrilled with Nets coach Lawrence Frank recently.
The latest word on the GM grapevine, however, suggests that the Nets will try to move Vince Carter first, as opposed to the better-than-ever Richard Jefferson or Kidd.
The problem there? Carter's play has picked up this month after a dreadful November, but this is the first year of a new four-year deal worth $61.7 million … with a team option in Year 5 for $18.3 million. It remains to be seen what sort of market Carter would generate at those figures and with his 31st birthday approaching in January.
---
The Wizards have signed Mike Wilks as their emergency replacement for the injured Gilbert Arenas and Antonio Daniels, but they can only keep Wilks for 23 days without going over the luxury-tax line.
Washington was $107,249 under the luxury-tax line when it inked Wilks and 23 days of his services will cost them $104,257. But that could give Daniels enough time to make it back from a sprained knee.
---
As stated here in the summer when they traded for Jason Richardson, I really didn't want to be one of those guys who rags on the Bobcats for never spending and then rags on them some more when they finally do spend.
But I can't help it. Again.
The Bobcats were already slipping out of playoff contention by the time they acquired Nazr Mohammed. You might wish to counter that claim by saying it's too early to make such declarations, but don't forget that Charlotte plays 26 of its final 41 games on the road. The Bobs desperately needed to sustain their good start but were 2-6 in December before rallying Wednesday to beat Utah.
So Charlotte is forced to believe that Mohammed works as a long-term complement to Emeka Okafor, with three more seasons at nearly $20 million left on his contract after this one. The notion that Mohammed is going to help them get to the playoffs this season already looks dubious.
The greater concern, though, has to be Richardson. He's off to an even slower start than I feared in September, as a liability from the free-throw line and as a questionable perimeter fit alongside Gerald Wallace. .
Pistons versus Celtics. Kobe versus LeBron. Marc Stein joins NBA on ESPN Radio studio host Marc Kestecher to discuss those topics and more.
• Listen to the interview

Detroit's big win in Boston got all the coverage, but Dallas and Phoenix hooked up Wednesday night for yet another classic that went down to the final possession. Marc Stein joined Galloway & Company for a well-deserved Day After review.
Galloway & Co.
You can't point at one cause for a slump as deep and shocking as Utah's slide from 13-5 to 14-13 entering the weekend, but the loss of
Derek Fisher
is a good place to start. Especially with Jazz coach Jerry Sloan lamenting the team's worsening struggles from the perimeter.
And Fisher wasn't just a steady vet who could shoot well enough from deep to complement Deron Williams. "When Williams goes out of the game," said one veteran Western Conference observer, "there's a much bigger drop off now without Fisher to fill in."
No one's claiming that Fisher's presence alone could sort out Utah's ongoing defensive woes, but his influence is undeniable. Just look at what Fisher is doing for the Lakers.
No less an L.A. insider than Magic Johnson pointed out Thursday night on TNT that Fisher's return has quietly filled a major leadership void on a young team.
---
Happy Anniversary, Isiah Thomas!
Saturday marks four years in charge of the Knicks and Sunday's reward is a visit from Kobe Bryant, who has a thing for Madison Square Garden.
This will be Bryant's 10th trip to MSG, where he's averaging 34.3 points on 51.4 percent shooting in his past four visits. And he figures to be especially motivated after losing out on his only chance to play there last season thanks to that infamous one-game suspension for striking San Antonio's Manu Ginobili on a shot follow-through. Kobe's last MSG appearance was Jan. 31, 2006, when he went for 40 in a 130-97 cruise for the Lakers.
Isiah's numbers?
They don't really belong here in the West section, but since you asked: New York was 123-192 entering the weekend since Thomas was named president of basketball operations on Dec. 22, 2003; 38-59 with Thomas as head coach and (gulp) 12-32 since Thomas received a multiyear extension in March.
---
It sounds as though the Golden State Warriors will enjoy a fitting end to a memorable 2007.
Reason being: Don Nelson is apparently planning a New Year's Eve party in Dallas.
The Warriors will be on the road for a three-game swing starting Dec. 29. They play in Houston on New Year's Eve in a 6 p.m. local tipoff.
Golden State's next game after that is a Jan. 2 rematch with Dallas in the Warriors' return to the American Airlines Center for the first time since they ousted the Mavericks in the first round last spring. The Warriors are scheduled to make the short flight from Houston to Dallas after facing the Rockets so Nelson can have a soiree of sorts in the Texas town he knows best.

Five questions with Hornets center
Tyson Chandler:
Q: It is true what people say about Team USA taking you to a new level?
A: Oh, man. I think it kind of changes a person. It changes your whole mentality. I came back a lot more aggressive. I came back wanting to achieve a lot more. Like I'm not satisfied with the way I'm playing right now. I feel like I've gone through stretches where I could play a lot better.
Q: You're averaging about 12 and 12, so what specifically bothers you?
A: I guess I can't come down too hard on myself because I've been banged up the whole season with little nagging injuries. I had surgery on my toe like two months before Team USA and then played on it, so I never really gave it a chance to quiet down. … I haven't been able to explode like I normally can. But I'm having the guy who works me out all summer come [to New Orleans] soon and I'm going to start getting in two-a-days.
Q: They'll never come out and say it, but don't you think the Bulls regret letting you go now?
A: I don't know. That's a question you'd have to ask them. But they probably made the right decision [to trade me and sign Ben Wallace], because I wouldn't have been able to be the same player there with that [coaching] staff. I was too frustrated all the time. You can't play basketball frustrated and not thinking straight out there. Out there, I would have never become the player I wanted to become.
Q: Can the Hornets finally stay healthy enough to get back to the playoffs?
A: The crazy thing is we've still been banged up this season. I've been really banged up and Peja [Stojakovic], too. So we're still not at full strength. But it would be a huge disappointment [to miss the playoffs]. If we don't make it this year, some changes need to be made. Not to say it so bluntly, but I feel like this year we're a little more mature as a team, regardless of what happens or who goes down. There's no reason why we shouldn't make the playoffs. We've shown that there's no reason why we shouldn't be a top-five team in this conference.
Q: You ready for the obligatory "How good is Chris Paul" question?
A: I get that every now and then. But I don't mind it. I like boasting about him. He's a terrific, terrific player. There's not too many guys left in this league who are pure point guards. He's a pure, pass-first point guard and he's always worried about making other guys around him better. And he's a competitor. I know he wants to prove to everyone that he's the best.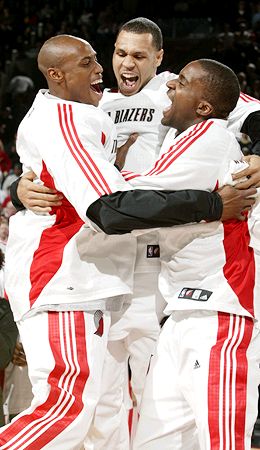 Sam Forencich/NBAE via Getty Images
Brandon Roy (center) and Blazermaniacs everywhere have every right to be giddy after a nine-game win streak. But we had to scold the reader (Box 10) who asked if Greg Oden should try to make it back this season.
Ray (San Antonio):
Does Kidd make Dallas better if they have to give up Devin Harris in the trade? Harris seems to be an X factor in guarding Parker and Nash. Parker will eat Kidd alive with his speed in the playoffs.
Marc Stein: The Mavs can't just think about San Antonio, for starters. I also strongly dispute your notion that Parker would "eat Kidd alive" and believe Kidd would greatly improve the Mavs' ability to cope with LOTS of other teams.
Arnold (Los Angeles): The Lakers and Suns will be meeting again soon. Will it be another Laker blowout or a Suns blowout … or will it be a close game?
Marc Stein: All I can think about is D'Antoni vs. Jackson. That's what I want to see on Christmas.
Elano (Manchester, England): With Oden a few weeks away from running, do you think if Portland scrapes into the playoffs he makes a comeback this season?
Marc Stein: Absolutely, positively not. Playoff talk in Portland is premature anyway, amazing as this run with Roy and Outlaw has been, but nothing that happens this season is worth bringing Oden back for. The win streak suggests that the future is obviously brighter than anyone imagined. Why mess with it?
John (Ohio): If I pretend to be from Manchester, will my questions be answered?
Marc Stein: It has to be a good question, too, but you have a point. The reference to my beloved Elano didn't hurt the last guy.
Jeff (Irvine, Calif.): Next to Bruce Bowen, are you the most famous Cal State Fullerton alum? We've got Jon Lovitz at UC Irvine!
Marc Stein: Are you serious? Ever hear of an actor named Kevin Costner? Aquaman director James Cameron? Desperate Housewives creator Marc Cherry? How 'bout my girl Gwen Stefani? Besides all the guys we've sent to the NBA (there have been nine others besides Bowen) and Major League Baseball, I also read recently that the lovely Ashley Force (of Funny Car driving fame) is one of the most Googled sports figures in the world. This ain't a small-time operation like Cal-Irving.
• Read Stein's full chat