Photo by Brian Babineau/NBAE via Getty Images
Celtics Make Their Point Against Magic

We close in on the new year with the Boston Celtics getting firmly back to their winning ways with a 103-91 victory Sunday over the visiting Orlando Magic.
The game gave us another look at two of the East's contenders. And it also gave us a chance to look at some developments in the East …
• This was another big game for impressive Celtics point guard Rajon Rondo, who with 23 points (8-for-10 FGs) joined the big three members, who each scored over 20 points. I love how active he is defensively and the way he's handling himself as a second-year player.
He's still not totally proven as a stand-still jump shooter. Also, in Wednesday's loss to Detroit, we saw Chauncey Billups posting him up -- but he's not the only guy in the league who has seen that happen.
• Orlando was called a "soft team" by coach Stan Van Gundy after getting blown out Friday at home by the Jazz.
You know what? He's right.
This team looks in need of a power forward to complement Dwight Howard. For starters, Rashard Lewis has to get more free-throw attempts -- he's only averaging 3.4 attempts from the line, down from 5.3 last season with Seattle.
Other than Howard, there's nobody who can post up, which coincides with toughness. When the Magic had Tony Battie (out for the season with rotator cuff surgery), I thought that gave them a tough guy who could knock down a shot. And Howard himself has to make his free throws, hitting only 5 of 16 from the line against the Celtics.
• If the season ended today, the No. 4 against No. 5 playoff matchup in the East would be the Hawks (14-12) vs. the Pacers (15-13). Atlanta seemed like it had the pieces for this to happen. Al Horford is up there for Rookie of the Year, producing on a winning team, as opposed to Kevin Durant's big numbers on a losing team.
As for the Pacers, Jim O'Brien has made the most of the roster, playing Mike Dunleavy at the 2 and even winning when Jermaine O'Neal's been out. Jamaal Tinsley has had some big nights for them.
• Something is going to happen in Chicago (9-16). Whether it's a major trade or a coaching move, this start can't be explained away by the Kobe distraction anymore. Also, Ben Wallace is just not the same player.
• In the months ahead, look for the East race for No. 1 to tighten up. Boston (22-3) has only played two games outside the Eastern time zone so far. I expect Detroit to keep plugging along. The Pistons (20-7) are in second, three games behind.
For a mid-December game, the Boston-Detroit showdown was very significant. Boston looked discombobulated in the last couple of minutes, which I think is a byproduct of having three great players who are all used to being the No. 1 option.
If they had beaten the Pistons, it validates that 20-2 mark they had. As it stands now, that game should be a great learning experience for the Celtics. Just like the Patriots have benefited from challenges in the past month, the Celtics now have something to measure their progress by. Beating Orlando, which handed Boston its first loss of the season on Nov. 18, is one step forward.
ESPN analyst Jon Barry is a regular Daily Dime contributor.
Dimes Past: December 8-9 | 10 | 11 | 12 | 13 | 14 | 15-16 | 17 | 18 | 19 | 20 | 22-23
After Frontline Falters, Thomas Promises Changes

By Chris Sheridan
|
ESPN.com
NEW YORK -- Let the record show that the moment when Isiah Thomas finally had enough came midway through the third quarter Sunday after the Knicks had fallen behind by 25 points and the crowd had again broken into a chorus of "Fire I-siah."
Just 56 seconds later, Eddy Curry came out of the game, grabbing a seat next to Zach Randolph, who had exited for good less than three minutes earlier.
Curry never returned, nor did Randolph, and the way the Knicks' reserves came storming back over the rest of the afternoon, falling just short in a 95-90 loss, convinced New York's head coach and president that the time for a more permanent shake-up has arrived.
"We probably have the wrong guys starting, and we'll look to change our lineup and get more energy in there," Thomas said.
The most likely change will come on the front line, where Randolph and Curry have both been deficient on defense while also showing themselves unable to coexist together as a double low-post scoring threat. Whether Stephon Marbury returns as the starting point guard remains anyone's guess, but his absence -- supposedly for bereavement leave -- becomes all the more suspicious the longer he stays away.
Jamal Crawford was the only Knicks starter on the floor during the final several minutes against the Lakers, being joined by David Lee, Nate Robinson, Jared Jeffries and Malik Rose. Depending on how much Thomas plans to shake up his lineup, those five players -- or four of them along with Quentin Richardson -- might actually be Wednesday night's starters when the Knicks take their 8-19 record into their first post-Christmas game, on the road against Orlando.
"Probably what we need is change, because obviously we're not doing something right," Randolph said. "I understand, because there's a lot of pressure on him and a lot of pressure on us."
Added Curry: "He just said he was going to make some changes and that nobody should take it personally."
The pressure seems to be building on Thomas, who has been chanted at, booed and otherwise derided in almost every way imaginable over the first eight weeks of the season. Owner James Dolan was again in attendance for Sunday's matinee, and again he made his usual postgame visit to Thomas' office before slipping out of Madison Square Garden without speaking to reporters. Dolan has not said anything publicly regarding the Knicks since giving Thomas a long-term contract extension back in March.
Thomas told reporters last weekend that he'd like two more weeks before people start passing definitive judgments on him, and this upcoming lineup change could be seen as his last-gasp effort at keeping his job.
"There's got to be a point in here where we get tired of this happening," Rose said. "No one in here is content with getting beat, but until someone says: 'This is not happening on my watch,' until we get that attitude and start to fight, it's not happening."
So the guys with the attitude that Rose spoke of, the guys who bring the "energy and effort" that Thomas told the team he's seeking, apparently will be the soldiers with whom Thomas makes what could be his last stand.
Chris Sheridan covers the NBA for ESPN Insider. To e-mail Chris, click here.

Sunday's Best

Kobe Bryant, Lakers guard:
The youngest 20,000-point scorer in history drops in 39 points, 11 assists and eight boards, sending the Knicks to another loss for the connoisseurs of boo at MSG.
---

Sunday's Worst

Larry Hughes, Cavs guard:
Poor Larry, in a big slump. He made only 1 of 8 shots in a 105-96 loss to the Warriors. He's 10-for-46 (21.7 percent) over his past five games.
---
Quote of the Night

"Most teams start doubling off Rondo. He's proven that he can knock that jump shot down. That's been the question of him going into the season and, up to this point, he's done a great job for us."
--
Ray Allen,
on Boston point guard Rajon Rondo.
• See how all 98 players fared
-- Andrew Ayres

NEW YORK -- Closure continues to elude the Los Angeles Lakers on the question of whether Kobe Bryant eventually will be traded, and coach Phil Jackson said something Sunday that will keep the question open.
Jackson was asked by ESPN.com to clarify a comment he made early last week in Chicago when he said of Bryant and his yet-to-be-withdrawn trade request: "There's going to be more to this story. There's still another chapter left in it."
Asked what he meant by that, Jackson replied: "Well, just that the idea that this team is going to satisfy what Kobe is desiring to do and wants to accomplish -- Kobe wants to win another championship, and whether we're ready to rise to that level or not isn't apparent right now.
"We need to grow and we have time to do it, but our players are young and so there's still playoff experiences this team needs, seasoning that they have to go through, an ability to weather some tough games on the road. Those are all things that I think will put extenuating circumstances in that."
On Saturday, Bryant came out for the first time and publicly acknowledged that the Knicks were one of four teams last summer on his list of preferred destinations, along with Chicago, Phoenix and Dallas. Bryant also refused to directly answer when asked whether he still wishes to be traded, passing up yet another opportunity to put the story to rest.
Jackson said New York "wasn't a team mentioned" when the Bryant trade talks were at their most critical juncture at the end of training camp, and Isiah Thomas said: "I never seriously thought the Lakers would trade him."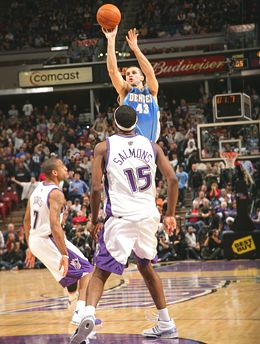 Rocky Widner/NBAE via Getty Images
Denver Nuggets forward Linas Kleiza nails the game-winner at the buzzer in Denver's 106-105 win in Sacramento. The Kings had led 90-80 with 11 minutes to play.

By ESPN Research
Shaquille O'Neal fouled out for the fifth consecutive game on Saturday. He can tie the record by fouling out on Christmas.
He's the first NBA player with five straight DQs since Steve Johnson in 1982, and the seventh player to do so all time.
Foul Departures

Name
Span
Gm
Don Boven, Mil
March 2-14, 1952
6
Steve Johnson, KC
Dec. 26-Jan. 5 1982
5
Bill Robinzine, KC
March 18-24, 1976
5
Walter Dukes, Det.
Jan. 14-24, 1959
5
Frank Ramsey, Bos.
Feb. 15-23, 1955
5
V. Mikkelsen, Min.
March 8-17, 1951
5

Ray (Springfield, Mo.): With the improvement of Andrew Bynum and the Laker bench, do you at all see the Lakers getting out of the 1st round in the 2008 NBA playoffs? Is it just me or do you not really like Kobe (best NBA player) Bryant?
J.A. Adande: If they can get the fifth seed or better they will definitely get to the second round. I'd like them against, say, Denver. But the question is, would that be enough to keep Kobe happy? And I have nothing against Kobe.
• See the full J.A. Adande chat