Photo by D. Clarke Evans/NBAE via Getty Images
Chicago Moves On To Life After Skiles

The Chicago Bulls' first game since coach Scott Skiles was fired wasn't much different than the first 25, with a fundamentally flawed team falling 94-79 on Wednesday at the home of the defending champion San Antonio Spurs.
It was obvious that the NBA's worst-shooting team had tuned him out. Almost all coaches have a limited shelf life. Since he looked disinterested and the team wasn't responding, the expiration date officially read 12/24/07.
I think the key to this downfall was Ben Wallace, whose lack of a great relationship with Skiles from Day 1 was the biggest issue. Without Wallace's energy and leadership, the Bulls are a below-average team. I've never seen Wallace, who is battling an injured left foot, playing with the kind of body language he has this year. He's getting eight rebounds a game -- that's a guy who can get that many in a quarter when he's right.
Maybe it's the headband-ban Skiles instituted last season. It doesn't take much to get a player to start changing the way he thinks about his coach. I like Skiles. He got as much as he could out of that group, including a 49-win season and winning a first-round playoff series over the Miami Heat.
But when you don't have that one guy you can throw it to in the post, you've got a problem. You look at the large amount energy that it takes for Ben Gordon, Kirk Hinrich and Luol Deng to get a basket, it's clearly a flawed team that must work too hard to score.
Teams were playing the Bulls differently this year. They're playing smaller, with Wallace's rebounding down, and that makes it harder on the Bulls' outside shooters. The team's field-goal shooting sunk to 41.27 percent, worst in the NBA. Its field-goal defense fell from second last season to 11th (44.72).
A low-post player makes everyone better through his ability to draw double teams. Look at the Spurs' Tim Duncan, with his 35 touches a game drawing the consistent double teams, which opens up shots for Brent Barry, Bruce Bowen, Robert Horry and Michael Finley. By comparison, Bulls rookie Aaron Gray wasn't drawing those in his limited minutes on the blocks against the Spurs.
The Bulls would have been better off keeping LaMarcus Aldridge, instead of dealing him for Tyrus Thomas. And I'm not a big believer that getting Memphis' Pau Gasol in a trade last season would have solved the post issue. To me, he's more of a finesse big man, and his teams have yet to win a playoff series. Getting or developing a big man who draws the double teams is the key.
Just look at the way Gordon is guarded now. He's getting guys chest-to-chest with him from 26- feet out. When he first came into the league, he had easier looks. His shots seem much more difficult now, with teams well aware of his game and the Bulls' approach.
This can have a chain reaction. If Hinrich (now shooting a career-low 38 percent) sees Gordon (also at a career-low 38.5 percent) is struggling with his shot, he's squeezing his own shot a little tighter. I can remember thinking that way when I was playing in Washington. A lot of our guys were missing their free throws, so when I got to the line, I ended up squeezing it a little tighter because I knew if I wasn't making the free throws, then we'd all now be missing them. It's contagious.
That's not Skiles' problem any more. His replacement would likely be a progression to a players' coach, but truth is, most coaches out there now are players' coaches. It comes down to someone giving them a fresh outlook, one who can initially get them playing better.
I don't know who it will be. I'd by shocked if Larry Brown hasn't called them, and wonder if they would reach out to Rick Carlisle. They just need somebody starting with a clean slate.
The Bulls are now 9-17, only 2 ½ games out of the eighth playoff spot in the East. I wouldn't rule out the playoffs yet.
The new coach is going to have a team that has to work far too hard to score. That's a flaw that doesn't appear fixable with this current lineup.
ESPN analyst Tim Legler is a regular Daily Dime contributor.
Dimes Past: December 15-16 | 17 | 18 | 19 | 20 | 21-22 | 23 | 24 | 24 | 25
Being Up Front About Changes Vital

By John Hollinger
|
ESPN.com
The new Bulls coach has to seriously consider a massive upheaval in the frontcourt rotation. Wallace has played the most minutes of the Bulls' five frontcourt players, but he's been far and away the least effective player. Rookie Joakim Noah has played extremely well in his limited minutes and is deserving of more extended run, and fellow newcomer Aaron Gray also needs playing time.
Until or unless Chicago makes its much-discussed trade for a traditional post player, going with high energy guys like Noah and Tyrus Thomas up front might be the best option to end the malaise -- at least with those guys out there the Bulls aren't playing 4-against-5 every trip, and they'll get some extra offensive boards from all those bricks the guards are firing up.
• See the full Hollinger blog
Chatting With David Thorpe: It's Business Time
Mykel Monroe GA: What do you think of the rumors of LeBron James going to the Nets when his contract is up, due to his friendship with rapper Jay-Z?
David Thorpe: From his own mouth, he's all about business. So anything's possible.
Steve Wood (Champaign, Illinois): What astonishes me is how unbelievable players can be such poor evaluaters of talent? I mean MJ, Isiah, McHale etc. have done horribly running NBA franchises. Why do you think this is the case?
David Thorpe: I always say -- how can it be possible to be so talented in more than one area of life? It'd be like Mozart was also capable of being a championship-level tennis player.
Gerry: (San Antonio): People always laugh at me when I say that Tim Duncan is a center. Which position does he play so I can know for sure?
David Thorpe: He's a 4/5. Don't let them laugh at you.
• See the full David Thorpe chat

Wednesday's Best

Chris Paul, Hornets guard:
Goes for 40 points (17 of 25 FGs), nine assists, five steals and five rebounds in a 116-98 win over the Grizzlies. More of this, and CP3 for MVP chants will grow louder.
---

Wednesday's Worst

Jason Terry, Mavs guard:
This one's a flaming dirigible night for the JET. Goes 0-for-10 from the field in a scoreless night during the 99-90 loss to the Jazz.
---
Quote of the Night

"It's tough to lose. But it's tougher to be the worst team in the Eastern Conference. You don't know what you're going to see from one night to the next."
--
Heat guard Dwyane Wade,
after his team fell to 8-21 with a 96-85 loss to the Sixers. Miami is 4-12 on the road.
• See how all 223 players fared
-- Andrew Ayres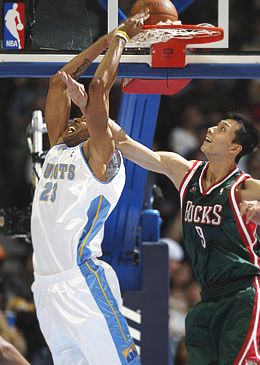 AP Photo/David Zalubowski
Nuggets center Marcus Camby, left, went for his third career triple-double (with 10 blocks) despite the efforts of Yi Jianlian and the Bucks in Denver's 125-105 win.

By ESPN Research
Need a win boost? Dump all your troubles on the Knicks. See how teams have fared in increasing their win totals in the season after dealing a player to New York.
Zach Randolph was dealt to New York in the offseason from Portland, which is now 16-12 after going 32-50 last season.
Win Addition By Subtraction

Season
Team
Player
Wins Added
'06-07
Blazers
Zach Randolph
?
'05-06
Magic
Steve Francis
+4
'03-04
Suns
S. Marbury
+33
'03-04
Bulls
Jamal Crawford
+24

The Associated Press
• Utah guard Gordan Giricek was not in the arena Wednesday for the Jazz-Mavs game and has not been with the team since he was sent home during an on-court argument with coach Jerry Sloan in their game at Charlotte on Dec. 19.
• Miami C
Shaquille O'Neal
had 10 rebounds, giving him 11,606 in his career. O'Neal is two shy of passing
Patrick Ewing
, who is currently 22nd all-time with 11,607. •
Jason Kidd
's 13 assists against Detroit gave him has 8,972 career assists, moving into sixth place on the NBA's all-time list ahead of longtime friend
Gary Payton
(8,966). • San Antonio played Chicago without its No. 2 scorer, reserve
Manu Ginobili
, who has a sprained left index finger. And on Wednesday, the Spurs lost key role player and 3-point shooter
Brent Barry
when he strained his left calf with 3:20 left in the first quarter. The team said Barry will have an MRI Thursday. • AL Rookie of the Year Dustin Pedroia watched the Celtics-Kings from courtside in Sacramento and was given a Kings jersey with his name. Pedroia, who grew up in nearby Woodland but plays for the Boston Red Sox, did not wear the jersey.