(Photo by Nathaniel S. Butler/Getty Images)
Looking To Build On Golden Moments Of 2007
Editor's note: Here's what some of our writers remembered about 2007, and what they look forward to in 2008 …
Chris Broussard, ESPN the Magazine: Being a former Clevelander, my favorite memory of 2007 is, of course, LeBron James leading the Cavaliers to their first appearance in the NBA Finals.
Granted, once there, they got trounced by the Spurs, but the ride was fun. Remember, as Phil Jackson would say, it's all about the journey! Pundits have mocked the Cavs' easy road to the Finals, but that's revisionist history. They beat a Nets team led by two perennial All-Stars (Jason Kidd and Vince Carter) and another All-Star caliber player in Richard Jefferson, then took four straight from the fearsome Bad Boys II; the highlight being LeBron's 48-point, Game 5 masterpiece on May 31 in the hostile environs of The Palace, in which he scored the Cavs' last 25 points.
What I'm most looking forward to in 2008? Easy. The star-studded Celtics' attempt to capture banner No. 17. The more the Celtics roll, the more I realize that we (the basketball-loving public) have been cheated. One of the greatest players of this generation -- and one of the most unique of all-time -- had the bulk of his career sullied by a horrendous supporting cast. Whenever he's had talent around him, Kevin Garnett has given us thrills.
He was the MVP in 2004 with Latrell Sprewell and Sam Cassell by his side, and now that he's got Paul Pierce and Ray Allen with him, he's leading what is beginning to look like a potentially history-making march.
Dare I say 70 wins? While I'm a Cavs fan at heart, it'd be real nice to see the Celtics' three greats finally get a ring, all while rejuvenating one of the greatest franchises in sports.
---
J.A. Adande, ESPN.com:
Baron on Kirilenko.
I don't have to provide any more details, do I? You know what I'm talking about.
There's something about being in the building for a buzzer-beating shot or a rim-rattling dunk. No matter how many times you see the replay, you'll always have your own memory, the unique perspective from your vantage point. You'll always remember the sound from the crowd. And you'll remember the feeling, how in an instant it turns from the realization that, "Hold up, he's gonna …" to the disbelief of "Oh no, he didn't!"
The fans in their yellow We Believe shirts went crazy. Afterward, it's all anybody wanted to discuss. Some of the Warriors, showing their youth, called it the greatest dunk ever. I wouldn't go that far. The Bulls-Knicks playoff series in 1993 alone gave us Michael Jordan over Patrick Ewing, Scottie Pippen over Ewing and John Starks over MJ and Horace Grant. Start with those.
The biggest plays capture not just a play, but a time. These were the audacious Warriors of 2007, winners of the greatest upset, by the numbers, in NBA playoff history. They weren't afraid of anyone bigger or better than them. Baron Davis' dunk on Andrei Kirilenko was the last great moment of this Warrior run. Utah still held a 2-1 series lead on Golden State, and the Jazz went on to win the next two games and end the Warriors' show.
I was just glad to get to Oakland before the curtain came down, happy to think "I was there" whenever I see that Davis dunk.
What do I want to see in 2008? Greg Oden's first NBA game.
---
Marc Stein, ESPN.com:
Everyone says what a bad calendar year it was. It's true: 2007 was an undoubtedly rough one with the composite ball fiasco … Kobe asking to be traded … Oden going down before he ever played a game … Isiah's trial … and the new lows, most of all, from L'Affaire Donaghy. It's a grim recap, I know, but trust me. There was some good stuff in there, too.
San Antonio-Phoenix was an epic series played at the highest level, even with the Amare Stoudemire and Boris Diaw suspensions. Phoenix and Dallas played some of the best regular-season games I've ever seen, each one somehow better than the last. On a lighter note, who can forget Barkley vs. Bavetta in Vegas?
My personal highlight had to be spending almost a week in Minnesota in late March stalking Kevin Garnett, giving me a front-row seat for the eerie end of an era. To then see the reality of a KG trade finally going through a few months later after so many years of speculation and anticipation … I'll remember 2007 just for that.
In 2008? I'm going to put down my usual pessimism and faithfully believe that our league will soon treat us to a surprise-filled playoffs that doesn't peak in the second round. And if you allow me to be totally selfish, what I'm most looking forward to is watching more games with my oldest son (Alexander The Greatest, age 4) … while hoping we can convince his busy little brother (1 ½-year-old Aaron) to join us. My happiest hoop memory of 2007, in a landslide, was fielding NBA questions from a curious little man who has already memorized 30 team logos and can't wait to bust open packs of basketball cards in search of Nowitzki, Nash and Shaq. Trust me again: Life gets no better.
---
Chris Sheridan, ESPN.com
On the NBA side, what sticks in my head about 2007 is
LeBron James
' explosion in Auburn Hills in Game 5 of the East Finals, and then the scene in Cleveland a couple of nights later when the Cavs clinched a spot in the Finals. You don't get to witness that kind of genuine civic elation every season, so you really appreciate it when the level of fan and team fulfillment is that strong. On the international basketball side, it was a thrill to cover Russia's upset of Spain in the Eurobasket final in Madrid.
As for 2008, there's nothing I'm looking forward to more than covering the Olympics in Beijing, where Team USA is either going to succeed or fail in Year 3 of team director Jerry Colangelo's three-year plan to restore American supremacy in men's basketball. This is the first time the U.S. federation has tried to keep a core together for a three-year period. James and Carmelo Anthony have grown as FIBA players since their painful initiation in Athens.
---
John Hollinger, ESPN.com:
My favorite memory of 2007? Well I can guess we can cross out the Finals … and the All-Star Game … and much of the playoffs. In truth, it wasn't a banner year for the league. But my favorite memory is one of this spring's few slivers of true excitement -- Games 1 and 2 of the Golden State-Utah series. Between the drama of
Derek Fisher
racing back from his daughter's surgery to hit a game-clinching shot in the Game 2 overtime, and the two hotly contested games between a pair of teams that weren't even supposed to be there, it was certainly the best basketball I saw this year.
What I'm looking forward to 2008 is more of the same -- i.e., a vastly more competitive postseason than we had a year ago. If we're lucky, maybe it will even match the magical spring of 2006. With several Western teams separated by seemingly an eyelash and a couple rising powers in the East, I'm looking forward to a genuinely competitive Finals and a genuinely interesting road to get there.
Dimes Past: December 15-16 | 17 | 18 | 19 | 20 | 21-22 | 23 | 24 | 25 | 26 | 27 | 28 | 31

By Eric Karabell
|
ESPN Fantasy Games
Eddy Curry is one of the most dropped players in ESPN leagues, largely because of his five-minute game the day after Christmas. I can't argue this move, since Curry isn't a great fantasy option to start with, and it certainly seems like he's no longer in the team's future plans, though he did get 12 and 8 on Sunday afternoon off the bench, including five offensive rebounds. Then again, a few of them came on his own misses.

Monday's Best

Gerald Wallace, Bobcats guard:
His 36 points and 8 rebounds help the Bobcats earn a much-needed 107-103 overtime win over the Pacers. The Cats trailed by 13 points with less than six minutes to play.
---

Monday's Worst

Royal Ivey, Bucks guard:
Accepting this award on behalf of the slumping Bucks, it's Royal, who's 1-for-9 shooting outing was flush in a 114-69 loss in Detroit. The 45-point margin of defeat was the third-worst in Bucks history.
---
Quote of the Night

"He doesn't get too high or too low. That works when guys see Jim being so calm. He leads us in kind of a relaxed way."
--
Bulls guard Ben Gordon,
who's averaged 31.6 ppg in the three games Jim Boylan has coached.
• See how all 156 players fared
-- Andrew Ayres
Hedo Turkoglu made plenty of bad decisions while playing Chicago, including seven turnovers. But hitting the overtime game-winner for Orlando was a good one.
• Watch highlights of every NBA game
By Chris Broussard
ESPN The Magazine
Over the years, while watching teams play in "hardwood classic" jerseys (throwbacks), I've often thought to myself, "It'd be cool if they wore the short shorts too. Then they'd really be old school." But after watching the Lakers do just that during the first half of Sunday's ballyhooed loss to the Celtics, I realized I couldn't have been more wrong.
With our eyes now trained to see players hoop in knickers/kilts/skirts -- or whatever you want to call the oversized shorts we all wear and think look cool -- seeing all that thigh was just a little too much. Heck, it looked like they were wearing Speedos, especially
Derek Fisher
. Thankfully, several players wore spandex (or something) under their shorts to retain at least a little innocence.
Kobe Bryant
had this fitting and hilarious quote: "I don't know what it feels like to wear a thong, but I imagine it feels something like what we had on in the first half. I felt violated. I felt naked. It's one thing to see films with guys wearing those things. … I'd rather stay warm, man." Kobe, I got news for you. I felt violated, too!
• See the full Chris Broussard blog
Korver Comes Out Shooting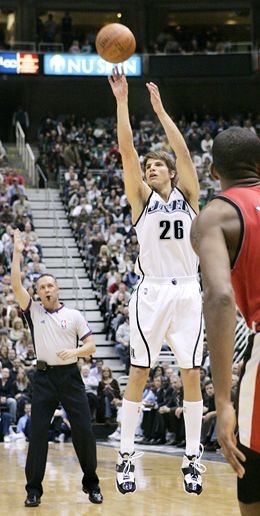 AP Photo/Douglas C. Pizac
Kyle Korver launches a 3-pointer in his Jazz debut. The former 76er scored 11 points in 18 minutes of action as Utah snapped the Blazers' 13-game win streak, 111-101.

By ESPN Research
For the Knicks in 2007, it was the worst of times and the worst of times. From the signing of Isiah Thomas to a long-term extension, to courtroom disgrace, to on-court floundering, it's been a season on the stink for the residents of Madison Square Garden.
Worst Record Entering New Year,
Knicks Franchise History

Year
W-L
Win pct
2005-06
7-21
.250
1963-64
10-29
.256
2007-08
8-21
.276
1960-61
10-26
.278
1964-65
11-26
.297

By ESPN Research
The Dallas Mavericks suffered an unprecedented first-round exit at the hands of the Golden State Warriors.
On the bright side, the Mavs finished the calendar year as the best team over the last 365 days -- not including playoffs.
Best Win Percentage, 2007 Calendar Year
NBA Teams, Regular Season

Team
W-L
Win pct
Mavericks
63-19
.768
Suns
62-22
.738
Pistons
59-25
.702
Spurs
56-24
.700
Raptors
50-32
.610