(Photo by Gary Dineen/NBAE via Getty Images)
What To Watch For The Rest Of The Way

With the first third of the regular season in the books, let's take a look at how the final two-thirds could play out by looking at a few team developments…
Team most likely to improve
The Boston Celtics. That's right, folks, the team that already boasts its big three, a club off to a 27-3 start, has room for improvement. The room is there when you talk about James Posey, Kendrick Perkins, Eddie House and Rajon Rondo.
They are going to get better in part because they are going to find a way to more minutes once the Celtics have wrapped up their playoff position. Doc Rivers should have already purchased the tuxedo for his Coach of the Year speech. I like them to finish with about 65 wins.
Team most likely to sink
The Minnesota Timberwolves. Al Jefferson is a stud and better days are coming for the Wolves, just not this season. Their situation is that of a team that's either standing pat or getting worse the rest of the way.
Team that looks among the worst in the regular season, but could be the biggest playoff threat
The Miami Heat won a title not so long ago. Dwyane Wade is a top performer, while Shaquille O'Neal and Pat Riley are proven in the playoffs. The Miami Heat are like a lurking "Friday the 13th" villain. Coaches throughout the league won't rest easy until they see the Heat officially eliminated.
Team that looks great in the regular season, but is a likely minimal playoff threat
The Portland Trail Blazers. The team recently went on a 13-game winning streak, and is one of the most exciting young teams in the NBA. They will be a joy to watch in the coming years. But their high level of play now is hard to translate to the playoffs because of their relative youth and inexperience. But the future is bright, and when Greg Oden comes back, if he's as advertised, watch out.
Contending team with the most glaring hole that needs fixing (and is realistically fixable.)
Utah is in need of some self-repair. Mehmet Okur where are you? You could see Okur and Andrei Kirilenko as both needing that consistency that once made them both All-Stars, a level of play that Carlos Boozer and Deron Williams are on now. Kyle Korver's the shooter they needed. With Jerry Sloan as coach, this is a team that can become very dangerous in the West.
Team that should stand pat
The San Antonio Spurs. Last time I checked, they might not be the team leading in television ratings, jersey sales and national TV appearances, but they are the defending world champ until they are dethroned.
The thing is, they are so well coached, they play at a championship level and find way to keep starters' game duration under 35 minutes. The Spurs rightfully see the regular season as all about getting in gear to win in the playoffs. When teams talk about franchises to model themselves after, it's San Antonio.
Team that needs to make a move, or else
The Chicago Bulls. Their two best players are Ben Gordon and Luol Deng. Both are up for contract extensions, both are unsigned. Scott Skiles has been fired.
What this team needs now is to develop an identity, which can be helped by getting an interior scorer and go-to guy. Getting Pau Gasol would be a great move for them, a face-up shooter who can complement their tremendous perimeter players. Seems like they have a glut of young big guys like Tyrus Thomas and Joakim Noah who do the same type of things.
Teams most likely to be playing come the middle of June
One is Detroit, which along with Phoenix has the best starting five in the NBA. This is a team with an improved bench to support a core group that has won a championship and now is cranking up the defense again. I don't think they'll be a team that will go out and get 60-65 wins, but when playoff time comes, trying to beat them 4 out of 7 will be all that anyone can handle. From the West, the Spurs, as long as most everyone is healthy, should be back.
ESPN analyst Jalen Rose is a regular contributor to the Daily Dime. For more about Jalen, visit his Web site: JalenRose.com.
Dimes Past: December 21-22 | 23 | 24 | 25 | 26 | 27 | 28 | 31 | January 1 | 2 | 3
Jay (Hazleton, PA): As a Mavs fan I'm having an internal conflict: part of me says that they've been playing pretty well, beating good teams, and (perhaps) saving it up for the playoffs. The other side says that they are inconsistent, losing to weaker teams, and need a shake-up (Jason Kidd?). What do you think?
Chad Ford: The Mavs are fine. I do think a piece like Jason Kidd would put them over the top, but they really don't have the assets to get him. If Dirk and Josh Howard are untouchable, that doesn't leave them a lot of room. Devin Harris would be attractive to some, but his contract (because he just signed an extension) will be difficult to trade and the Nets would have to take back a few bad deals to make it happen. As it stands, I think they're the third or fourth best team in the West and still have a legit shot at the Finals.
Kyle (Cleveland, OH): Do you see the Cavs making a trade this season? It seems silly to me when you consider that they will have a lot of expiring contracts after this season.
Chad Ford: They need to but the problem is that they DON'T have a lot of expiring contracts right now. They have around $5 million … that's not enough to get a big time player to help out. Andre Miller would be perfect, but I just don't think they have the juice to get a deal done. Given how well Miller is playing, I think the Sixers will want much more. It's too bad, a player like Miller would dramatically change things in Cleveland in my mind. They need a player besides LeBron who can consistently deliver every night.

Thursday's Best

Allen Iverson, Nuggets guard:
Beating the Spurs by an 80-77 count is good for Denver, Manu or no Manu. And when A.I. sinks 10-of-18 shots for 29 points on you, chances are it's a good night to be a Nugget.
---

Thursday's Worst

Delonte West, Sonics guard:
Misses all five shots, scoreless in 17 minutes in a 104-96 loss to the Suns. This from the guy who looked like a star in a 19-point, eight-assist game against his old team, Boston, on Dec. 27.
---
Quote of the Night

"When he's around the house screaming and yelling like he usually does, then I'm pretty sure he'll be all right. That was my biggest thing once he started acting like himself again. He's real loud, man."
--
Nuggets guard Allen Iverson,
after revealing the reason he missed practice this week: his 4-year-old son, Isaiah, fell face-first from a stool early Monday morning and required plastic surgery.
• See how all 59 players fared
-- Andrew Ayres

By Adam S. Reisinger
ESPN Research
The Celtics matched the best start through 30 games in NBA history with their 27th win Wednesday night. Five previous teams had started 27-3. Two of them (the '90-91 Blazers and the '71-72 Knicks) lost their 31st game to fall to 27-4. The other 3 teams … well, they took a while to suffer that fourth loss, so don't break out the champagne for the Celtics (27-3 entering Friday's game with Memphis) just yet.
Notably, all three of these teams set the single-season record for wins. The 76ers won 68 games, the Lakers broke that by winning 69, then the Bulls surpassed that mark, going 72-10.
Most Wins Before Fourth Loss

Year
Team
W-L
'95-96
Bulls
41-3
'71-72
Lakers
39-3
'66-67
76ers
37-3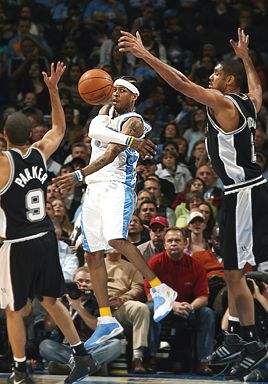 Garrett Ellwood/NBAE via Getty Images
Nuggets guard Allen Iverson makes a pass against the San Antonio Spurs. A.I. is shooting 45.7 percent from the field, on track for his most accurate shooting season since 1997-98.

Chad Ford dishes on Portland's solid season with Blazers GM Kevin Pritchard. What has been the key to the team's success?
Portland's winning ways

ESPN Research
The Chicago Bulls and Portland Trail Blazers made the following trade on June 28, 2006: Chicago traded the draft rights to LaMarcus Aldridge (the second overall pick) and a future Bulls second-round draft choice to the Portland Trail Blazers for the draft rights to Tyrus Thomas (the fourth overall pick) and the contract of Viktor Khryapa.
LaMarcus Aldridge vs Tyrus Thomas

Category
Aldridge
Thomas
PPG
11.7
5.4
FG pct
50.6
45.8
RPG
5.7
4.0
BPG
1.2
1.0