(Photo by Andrew D. Bernstein/NBAE via Getty Images)

Here's a ranking of the 10 teams that just might have the best shot at bringing home an NBA title this year ...
1. Boston Celtics -- Having shown on Saturday they can hang with the Pistons at the Palace, the prospect of hoisting flag No. 17 to the rafters now seems that much less far-fetched. Let's see how they look when they take on the championship team prototype, the San Antonio Spurs, first on Feb. 10 at home, then March 17 in San Antonio. Watch for those battles to come down to how the role players for both teams step up. Which could be exactly what we're talking about in June.
2. San Antonio -- Picking against these champs is like picking against gravity -- just not too sensible. But consider that the Spurs must come out of the West, where their tenuous hold on the No. 1 seed is currently under challenge by six teams that are all within three games of first place. What a battle! Maybe gravity's player efficiency rating is falling.
3. Detroit Pistons -- That 26-8 mark should project to the No. 2 seed in the East. With this lineup, they are primed for a title, and anything less has to be a disappointment. Winning it all would mean we'd no longer be stuck with images of Rasheed Wallace striking his familiar mouth open, palms forward stance of incredulity at officiating. For fun, maybe he could use that same expression when the champagne runs out.
4. Dallas Mavericks -- Confidence will keep building, as the memory of Oakland fiasco diminishes. The Mavs will be a tough out, no matter who comes along. The Spurs don't want a piece of these guys. The Mavs have even dispatched their Kryptonite, the Warriors, in both meetings this season.
5. Phoenix Suns -- While one can wring one's hands over Boris Diaw's steady sinking, this is still a formidable, motivated team. Steve Nash might be examined regularly for showing his age, since he turns 34 on Feb. 7. Seems like the Suns have at least three good seasons with the Nash, and three cracks at bringing that first title that Garfield Heard nearly brought Phoenix in 1976. Maybe this is the season.
6. Los Angeles Lakers -- Imagine Kobe Bryant changing his request from "trade me" to "parade me." A team that keeps maturing with Andrew Bynum can dare to dream. Still, a much longer shot than the five above this slot.
7. Cleveland Cavaliers -- These guys have already shown they can beat the No. 1 team on this list. Winning it all is the next step, and with LeBron James getting better and better, a team that can play defense like the Cavs has a chance. Imagine Larry Hughes at his best (instead of his injured worst in the playoffs) and that trouncing at the hands of the Spurs won't be the final word.
8. Utah Jazz -- Getting Kyle Korver should help. Still can't picture AK-47 riding the fire truck in SLC. If a title happened, it would be a tribute to Jerry Sloan getting his team to realize its full potential.
9. Denver Nuggets -- With their 21-12 record, they're on track for home-court advantage in at least one series. If there's any parades in Denver, expect the oft-injured Kenyon Martin (his field goal percentage is on track to improve for the eighth consecutive season) to have been a key part of the run.
10. Orlando Magic -- Dwight Howard seems to be on the Shaq path of title inevitability. Just hard to see that happening this season, with the the Magic running up against what should be a tough East semis and finals, only to come across a West team that is either the Spurs, or another team that is utterly ravenous at the prospect of a championship.
Andrew Ayres is an NBA editor for ESPN.com
Dimes Past: December 21-22 | 23 | 24 | 25 | 26 | 27 | 28 | 31 | January 1 | 3 | 4
Coaches Not Named Isiah Who Could Be Fired

By Chris Sheridan
|
ESPN.com
Randy Wittman, Timberwolves
We are nearing the one-year anniversary of the firing of Dwane Casey, whose 20-20 record was deemed insufficient. In the 72 games since, Wittman is 16-57. Surely owner Glen Taylor does not want to fire Wittman and then have to pay another head coach, but at some point he'll have to address this embarrassment. On Wittman's side: When the Philadelphia 76ers put together the worst record in NBA history, 9-73 in 1972-73, they did not fire coach Roy Rubin until they were 4-47. The Wolves would need to lose their next 20 to keep that pace. Odds: 8-1

Mike Brown, Cavaliers
When you put a few factors together -- he did not receive a contract extension after leading the team to the NBA Finals last season; he is one of the league's five lowest-paid coaches; his authority was publicly challenged by Damon Jones and Ira Newble when they refused to report in for the final minute last week -- he is one lukewarm statement from LeBron James or Dan Gilbert away from being a lame duck -- you can see how he'd make an easy fall guy should the Cavs' slow start extend into the third and fourth months of the season. Odds: 12-1
• See the full Sheridan story
NBA programming coming this week on ESPN channels ...
Tuesday Night: NBA Coast to Coast, 9 p.m., ESPN2; NBA Fastbreak 12:20 a.m., ESPN
Wednesday night: Pistons/Mavs, 9 p.m. ESPN; NBA Fastbreak 1:30 a.m., ESPN
Thursday night: Suns-Jazz, 10:30 p.m., ESPN Radio
Friday night: NBA ShootAround 7:30 p.m., ESPN; Heat/Hornets 8 p.m., ESPN; Bucks/Lakers 10:30 p.m., ESPN
Saturday night: NBA Fastbreak, Midnight, ESPN2
All times Eastern

Sunday's Best

LeBron James, Cavs forward:
Drops 24 points on Raps in fourth quarter, rallying Cleveland to a 93-90 win. Finishes with 39 points, 11 rebounds and eight assists.
---

Sunday's Worst

Kris Humphries, Raptors center:
On Dec. 28, dropped 14 points and 11 rebounds in a win over the Spurs. His four games since have been incrementally worse, culminating with a goose egg on the scoreboard in a loss to Cleveland.
---
Quote of the Night

"The hoop felt like the ocean."
--
Cavs forward LeBron James,
on sinking 8-of-10 shots in the fourth quarter.
• See how all 157 players fared
-- Andrew Ayres

By Andrew Ayres
ESPN.com
LeBron James' fourth-quarter takeover that delivers a win over the Raptors on Sunday pushed the Cavaliers to the .500 mark.
Since his return on Dec. 11 after missing five games (all losses), Cleveland has gone 8-5, including wins in its last three games. Now 17-17, the Cavs could grab hold of the No. 3 spot in the East if they heat up against a reasonable schedule, while the currently hot Nets and Wiz cool off.
The Road Ahead

Date
Team
Note
Tuesday
SEA
Three straight losses
Wednesday
@ATL
Four-game L streak
Friday
CHA
1-11 on road
Jan. 15
@ MEM
Gasol/Gay Not Enough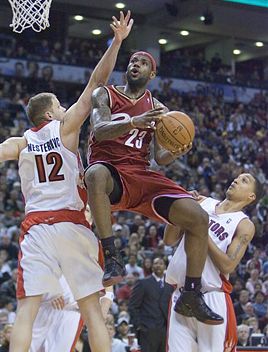 AP Photo/The Canadian Press, Frank Gunn
Cavaliers forward LeBron James went off for 24 points in the fourth quarter, despite the efforts of Raptors forward Jamario Moon, right, and center Rasho Nesterovic.

ESPN Research
The Phoenix Suns, which play host to the Denver Nuggets on Monday (9 ET), have won 9 of their last 11 games against the Colorado team. Phoenix has also won 5 straight home contests against the Nuggets. The fast-break style that both teams play should make for an exciting game.
Steve Nash vs Allen Iverson

Category
Nash
Iverson
Wins
10
7
PPG
13.5
25.1
FG pct
50.6
43.2
3-pt FG pct
34.0
28.3
APG
7.8
5.8