(Photo by Jonathan Ferrey/Getty Images)
Plenty Of Great Guard Candidates For West All-Star Roster

Picking the Western Conference forwards the last five or six years has been tough. Now, the guard choices are becoming equally difficult for the trip to the Sunday, Feb. 17 All-Star game at the New Orleans Arena. If you're looking at five forwards, five guards and two centers, there's a lot of worthy would-be All-Stars in the West who will be left out.
For some of the would-be stars, it's going to take until some are in their 30s before they make their first All-Star game. By comparison, the path to New Orleans is much easier from the East.
Here's the five West guards I'd pick, leaving off worthy candidates such as Tony Parker, Baron Davis, Deron Williams and Allen Iverson, to name a few. Tracy McGrady, getting a bump from voters in China, will likely get voted in again as a starter.
Here's my five …
Rose: Who's In My Five?

1. Kobe Bryant -- He trusted his teammates and it's paid off. Patience and development are working for the game's best player at both ends of the floor.
2. Steve Nash
-- Two-time MVP can make us take for granted 18 points and 12 assists per night. I've always appreciated his efficiency and durability.
3. Allen Iverson
-- Is he getting older or better? Both. Still in the top five in scoring, AI has had a rebirth in Denver when it was feared his career might be on the down swing.
4. Tony Parker
-- That's right, to the winner goes the spoils. He directs the Spurs' attack, and without his speed and playmaking ability, the face of that team changes dramatically. Great speed, with the ability to break down a defense and finish.
5. Chris Paul
-- This is a heartbreak pick. I want to reward Brandon Roy because of the season Portland is having. I think Deron Williams is better than Paul, but Paul is doing more with less. And since his Hornets host the All-Star Game, what better guy to usher in his NBA colleagues and the fans to the Big Easy? Paul's the call.
-- Jalen Rose
1. Kobe Bryant, Los Angeles Lakers
-- Right now, for MVP, I'd put Kobe second and
LeBron James
first. The general consensus tabs
Kevin Garnett
as the one, but you look at what Kobe has done with his supporting cast, and seeing the way the Lakers are playing better, Kobe's the runner-up for MVP.
He has played his most controlled basketball, been trusting of his teammates, and helped Andrew Bynum's development. This year, the way he starts out in the course of a game, he's letting the other guys get in the rhythm. In recent years, he'd have the killer instinct right from the tip -- then he would get frustrated when he got doubled in fourth while the other guys hadn't gotten going at all. The Lakers' team has good chemistry -- that's worthy of an All-Star performer, and a great surprise.
2. Steve Nash, Phoenix Suns -- To me he hasn't lost anything from his MVP-level performances, and continues to shoot at a ridiculous percentage (51.3 percent field goal, 45.7 3-point accuracy) and leads the league in assists per game, 12.3. I don't know where they'd be without him; when he's not on the court, they're not the same.
His season, and the Suns', has been a little bit understated because they haven't got off to incredible start they had in recent years -- the story now is Boston and Detroit. For a team flying under the radar, Nash and his team are playing at a high level.
3. Chris Paul, New Orleans Hornets -- A great blend of being able to take it over and run the team, Paul thinks like an old-school point guard but offers the quickness of one of the new-age guys. The Hornets are the most surprising team in the league. I knew they'd compete for last couple of playoff spots, but look at the record now, sitting at 23-11, right there among the West's best. Paul makes it happen.
Peja Stojakovic, David West, Tyson Chandler -- he's made those guys play at the highest level they're capable of. Chandler contributes offensively because of Paul. Paul's so strong with the ball and sure of himself, he's constantly breaking down the defense.
4. Brandon Roy, Portland Trail Blazers -- The reigning Rookie of the Year has blown up. It's important to note that the top 4 scorers on the Blazers are all 24 and under. To have that kind of chemistry, with young guys usually trying to get their own numbers for contracts, is a tribute to how well Roy handles the team.
He handles the ball as well as any guard in the league. He's all about that team playing well, the perfect guy to lead these young guys. If he has to get 30 points for his team to win, he will, or if he needs to be a playmaker and get 10 assists, he can do that too. Very good in fourth-quarter situations.
5. Manu Ginobili, San Antonio Spurs -- This is where it gets tough. The final spot comes down to the two San Antonio guys, but I'd have to go with Ginobili. If you look back at the way San Antonio started this season, trying to limit Duncan's minutes, Ginobili looked like the guy who was so good when San Antonio beat the Detroit Pistons in the 2005 Finals.
He didn't play for Argentina in this past offseason, and he got his body healed. Playing year-round year after year takes its toll on your back, joints, knees and ankles. He was a worn-out player last season, but now this is the guy we saw three years ago. He's still the one you want with the ball with six minutes or under to play. Parker's having a great year, too, but there's a limited amount of spaces in New Orleans.
ESPN analyst Tim Legler is a regular Daily Dime contributor
Dimes Past: December 21-22 | 23 | 24 | 25 | 26 | 27 | 28 | 31 | January 1 | 3 | 4 | 7
If You Own Andrei, Think Deal

By Eric Karabell
|
ESPN Fantasy Games
Utah's Andrei Kirilenko is owned in 100 percent of ESPN's fantasy basketball leagues, which is to say he's wisely owned everywhere. But in how many of those leagues are the owners thinking about dealing him? I own Kirilenko in one league, and I've been trying for weeks! The problem is, it's starting to get a little obvious this isn't going to end as well as it started, and nobody in my league will take the guy off my hands for proper value.
That's a drawback from being in a league with others who do their homework and can read signs (though I certainly prefer it that way). When an incredibly talented yet mystifying player like Kirilenko begins to show signs of trouble, everyone else in the league sees the same trouble. Well, trouble was here in the form of a statistical decline of December. Then the big
Utah Jazz
forward missed a game over the weekend. His back was hurting. Those signs aren't just cue cards the size of notebook paper, they're more like a 747 jet dragging a sign through the sky, or maybe a billboard along the highway.
• See the full Karabell blog
Chatting With Stein: Buying Bynum

Greg, San Diego:
Who would you rather have at this moment:
Jason Kidd
or
Andrew Bynum
?
Marc Stein:
Hard as it is for a J-Kidd devotee like me, you have to go with the size and youth given the progress Bynum has made. But the main reason I answered this question -- since I'm guessing my answer isn't terribly surprising -- is a nod to the zillions who have mentioned Bynum today. He is without question the most popular name in today's chat queue.
Paulo (Farmington Hills, MI):
Don't end the chat w/o commenting on the pistons/celtics game! How stupid were Pierce and Posey? Dude, its JANUARY!
Marc Stein:
You know what? Normally I'd agree with you, but given how tough some of us -- me at the front of the line -- have been grading the Celtics lately, I don't blame them for letting loose a little. The bar for Boston is miles higher than it is for any other team at the minute. So I understand their exuberance.
• See the full Marc Stein chat

Monday's Best

Marcus Banks, Suns guard:
He's alive! The bench denizen makes 7-of-8 pointers, good for a season-high 23 points in 21 minutes of action in the Suns' 137-115 win over the Nuggets.
---

Monday's Worst

Matt Barnes, Warriors forward:
The injury bug has bitten him this season, but his scoreless night in seven minutes of the action against the Spurs was not reminiscent of last season's Good News Barnes.
---
Quote of the Night

"But you can't expect Steve to make a Knute Rockne everyday. Hopefully, we're capable of being professional."
--
Suns guard Steve Nash,
on the pep talk given by Suns GM Steve Kerr before Phoenix took a 137-115 win over Denver.
• See how all 40 players fared
-- Andrew Ayres

ESPN.com
Milwaukee's Yi Jianlian is quietly having an excellent rookie season. He is averaging 10.7 points per games and 6.3 rebounds per game, ranking second to Seattle's Kevin Durant in scoring among rookies and second to Atlanta's Al Horford in rebounding among rookies. The last foreign-born rookie to reach 10.7 ppg and 6.3 rpg was Yao Ming, his fellow countryman.
Recent International Rookies Who Averaged 10 PPG And 5 RPG

Date/Player
PPG
RPG
2004-05 Luol Deng
11.7
5.3
2004-05 Nenad Krstic
10.0
5.3
2002-03 Yao Ming
13.5
8.2
2002-03 Nene
10.5
6.1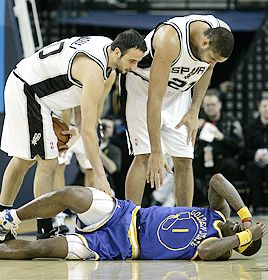 (AP Photo/Ben Margot
San Antonio's Manu Ginobili and Tim Duncan check on former teammate Stephen Jackson after a collision during the Warriors' win.

Elias Sports Bureau
Stephen Jackson is averaging 21.2 points per game this season.
But in 12 career games against San Antonio's Bruce Bowen, Jackson had averaged only 11.7 points and he hasn't exceeded the 20-point mark in any of those contests.
Until Monday. Score one for Jackson, who finished with 29 points for the Warriors in a 130-121 OT win over the Spurs.